Info
Find helpful information about Yodeck's Partner Programs and answers to frequently asked questions.
Can I pay annually as a partner?
Right now, our Partner's pricing model is monthly invoicing. But annual or multi-year prepayments are also an option and offer additional discounts!
What are the different types of Yodeck Partners?
Yodeck Affiliate
Affiliates direct sales lead to https://www.yodeck.com/ or may directly sign up customers on the Yodeck platform. After the customer has reached the Yodeck site or app, affiliates have no interaction with the customer. Affiliates do not bill or provide any service to customers. They only bring in new signups to Yodeck. When a tracked user signs up for a subscription, all payments are considered when calculating the affiliation fees.

Yodeck Reseller
Sell the Yodeck service directly to their customers and support them throughout the deployment and operation of the service.
Signup and bill their customers directly, while Flipnode LLC bills Resellers for the services provided at a discounted rate.
Are expected to provide local purchasing and assembly of Yodeck Players. Although not mandatory, it allows for higher service discounts to Resellers. They may provide Yodeck Players for free, as a lease, or offer them to customers for purchase. They may also provide additional equipment (TV sets, TV mounts, cables, network equipment, etc.) and installation services, directly or through a subcontractor, to provide a complete solution to their customers.
Are required to provide Yodeck support services to their customers through their Partner Account. These must include remote support of Yodeck installations and may consist of on-site support services. Providing a wholly managed service over Yodeck is also an option, where the Partner manages the customer's account, and the customer never has to deal with Yodeck directly.

Yodeck Whitelabel Partner
Whitelabel Partners are Resellers with their version of a Yodeck Portal. Users do not see Yodeck branding anywhere. Whitelabel Partners have the following benefits:
Custom CSS, changing text or branding, even hiding whole sections of the Portal.
Custom web address for the management Portal, e.g., https://app.yourcompany.com
Customized SD Card image for easy and safe SD card imaging with custom branding.
Additionally, there is an annual fee for servicing a Whitelabel Partner Account.
Whitelabel Partners are free to use their own pricing policy with customers, while the published Yodeck Pricelist naturally binds Resellers that customers can see on Yodeck.com.
How long does it take to set up my partner site?
Our team will have your Partner's site in less than 1-2 business days!

What do I need to qualify as a Yodeck Partner?
You need to be an IT or Digital Signage professional who provides Digital Signage solutions to other companies. That's it.
Of course, there is a minimum billable volume for Resellers and another for Whitelabel Partners, but these are low. And any difference between actual volume and minimum billable volume is reimbursed as soon as you go above this required volume, so you will not be losing any money.
I want to use Yodeck for my own customers!
We are establishing the Yodeck Partner Network, comprised of IT and Digital Signage professionals worldwide that will use Yodeck as the technology to provide complete turn-key solutions to end customers. We have 3 levels of Partners:
Affiliates – you bring in sales leads through ads/banners or direct contact, and you get a recurring affiliation fee, nothing more.
Resellers – you resell Yodeck subscriptions at a discount while accessing a Partner Account on our backend to support your customers.
Whitelabel Partners – you get everything a Reseller gets, plus your custom branding on our Portal, no mention of the Yodeck brand, and your own custom pricing.
Can I change from being a Reseller to a Whitelabel Partner?
Yodeck allows a Partner to easily switch from being a Reseller to operating as a Whitelabel Partner, and the opposite. Flipnode LLC will evaluate each switch request and proceed with a custom proposal for the switch.
Many Partners choose to start as Resellers and review our Partnership down the road to consider switching to Whitelabel. Others begin as Whitelabel from day one. We try to accommodate requests as they come in.
How do I support my customers?
If you are a Reseller (or a Whitelabel Partner), you get access to a Partner Account. This particular account allows you to log in as any user of your customer Accounts.
This way, you can log in and see exactly what your users see so that you can help them easily.
Finally, our own Yodeck Support Team is there for you. If you need help, you can escalate the issue to us, and we will help.
Can I use Yodeck for my customers without being a Reseller?
Short answer: Of course, but not on the Free Plan.
Here are the relevant quotes from our Terms of Service:
One person or legal entity may not maintain or use more than one Free Account. You must use a single Account for all monitors you manage through the service. Using multiple Free Accounts (which allow only one monitor to be managed) to manage multiple monitors is not allowed.
If you are using the service to serve your customers, then you are obliged to inform Flipnode about the services you provide using the service and to whom you provide them, along with any other information Flipnode may request you. You may be asked to sign a partnership agreement to continue your business as above.
The Terms of Service apply in whole to (i) the Account Holder, (ii) users to the Account Holder has provided access to the account, and (iii) end-customers and end-users that may receive services through the service indirectly by a 3rd Party acting as a Reseller or Partner.
Essentially, what that means is that you are very welcome to provide Yodeck-based services to your customers, but they must be on a paid account, even if they only use 1 Monitor. To do that, there are two options:
You (or your customer) should subscribe to the Monthly or Annual Plan for 1 (or more) screens using a credit card as if the customer was buying directly from us.
You can contact us and get a Reseller Account (or Whitelabel), allowing you to resell the service to your customers. We will bill you (through an invoice), and you will bill your customers.
How can I enable the Web, the Brighsign, the Android, Tizen, and webOS players on my site?
You can access your site's settings and enable the relative options in the Functionality section, as shown below.
Enable this option on your site allows accounts to create these players if the relative option is enabled.
Enabling Player Types
You need to find your client's account via your site settings to enable these player types for the specific account.
In the client's account Players section, enable the relative option and save the form; that specific account will be able to create the relative player type under his account.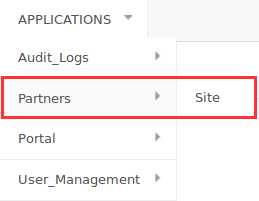 How do I create a Widget and a Template user for my site?
You can create a Widget and Template user account containing custom widgets and layout templates, which will automatically be inherited to your customers' accounts. If those user accounts contain the custom "Widget A" and "Layout A" and you create a new account under your site, the new account will automatically get the custom "Widget A" and the custom "Layout A" in addition to the default Yodeck widgets and layout templates.
To do that, create a new account under your site and use a distinct email address. Then edit your site's settings, specifically in the Functionality section, add the same email account as the Widget user and Template user and save the changes.

Notes
💡Existing accounts won't inherit any custom widgets or layout templates. This means that if you create the Widget or Template user today and add custom widgets or templates to it, existing customer accounts under your site won't inherit them automatically. Only accounts created after creating the custom widgets and templates in the Widget and Template users' account will be eligible to inherit the custom widgets and templates.

💡If you add at some point in time a custom widget or template to your Widget or Template users' accounts (for example, you have 2 and add a 3rd after a month), only new account registrations will inherit the newly added custom widget or template. Existing accounts will keep having the initial custom widgets and templates.