Digital Signage Partner Programs
Easy To Join – Easy To Sell
Easy To Join
Brand your own solution through a white label digital signage model or become a Yodeck reseller. Zero growth commitments, volume discounts up to 50%, and many additional benefits aimed at your success.
Easy To Sell
Provide a turn-key solution applicable to any industry, combining Yodeck's powerful digital signage platform with your core competencies such as installation, configuration & maintenance, or also marketing consulting & content design.
Easy To Deploy
Free easily customizable layout templates, stock media and apps. Offer a complete professional signage experience to your customers and gain the competitive advantage you need. Boost your business through increased customer loyalty and incremental revenue streams.
Easy To Manage
Effortlessly manage multiple accounts, monitor all your screens and provide professional support whenever needed, through our easy-to-use partner web console. Our team is here for you every step of the way, from technical support to customization solutions.
Applicable To All Industries
Digital signage can be easy, professional, and effective, no matter the industry.
Yodeck provides free, ready-to-use templates for most business sectors and use cases.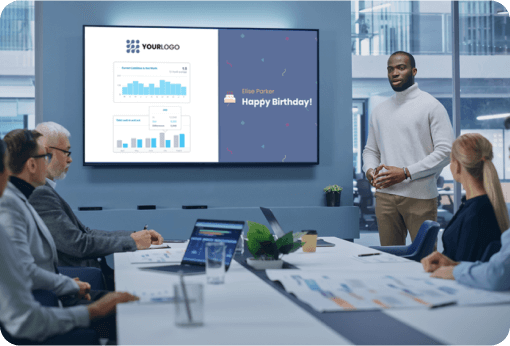 Upload Content In Seconds
Create attention-grabbing content in seconds with just a few clicks. Display images, videos, documents and playlists on screen with a simple drag & drop. Upload any type of content and effortlessly manage multiple screens.
Scheduling & Remote Management
Set different content schedules to target the right viewers, at the right time. Manage thousands of screens and upload, edit & display content remotely from your PC, using our online platform.
Free Apps & Templates
Choose from thousands of free content items, including professionally designed layout templates, stock media, and easy-to-use apps for every industry, easily customizable and personalized to your specific business.
Extreme Security & Reliability
Align your digital signage with your security policy. Enterprise-grade security including TLS, firewall & password policies, player lock-down & storage encryption features.
Supported Media Players
Yodeck integrates with a range of popular media players, allowing you to reach out to more customers, and enabling you to select and recommend the most appropriate player for the specific needs of each digital signage project.
Pair the power of the Raspberry Pi with Yodeck for the ultimate digital signage experience.
Web player
Yodeck Web Player is a useful option for basic deployments that require almost no setup.
Seamlessly integrate any BrightSign player with Yodeck's easy-to-use, award-winning software.
Turn Android devices into attention-grabbing digital signs with Yodeck's powerful software.