Introduction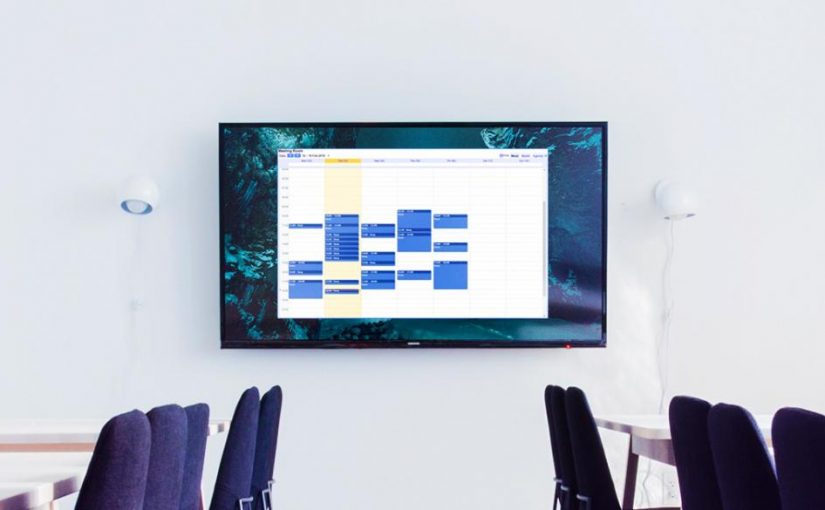 Users often ask us about new ways they can use Yodeck. And we love nothing more than helping you make the best use of your digital signage solution. Displaying a Google calendar on a wall-mounted TV screen is one such frequent request.
Being able to show a calendar on a display can be very useful, for various reasons. The most common usage scenario is mounting a TV screen outside a meeting room to show availability. Another use is internal communications in offices; or showing a calendar with corporate events in recreation areas, like cafeterias and reception areas.
Getting that Google calendar on a wall-mounted TV screen
Most calendars have a web version. We use the power of our scripting engine to run custom code on the web page that shows the calendar. Why? Here are a couple of reasons:
Authenticate in order to display the calendar or display details for the events in the calendar.
Get only the calendar data for the TV screen. In that case, you need to remove any surrounding buttons, links, service provider logos, and other stuff that just gets in the way.
Change the styling of the calendar, to better fit the rest of the content you might have on screen.
Refresh content periodically, in case the web version of the calendar does not refresh its content automatically.
With this technique, there is no limitation to what you can display on Yodeck; you can use any calendar provider, even a calendar from a local server, as long as it provides a link to view the calendar in a web browser.
For this guide, we will be showing you how to display a Google calendar on a wall-mounted screen, which is the most frequent request we get (we use it internally too!).
Creating a Google Calendar widget
The first thing you have to do is to follow this link and create a Google Calendar within your account.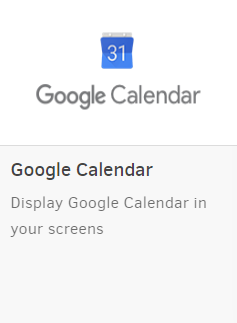 Click on the Google Calendar widget to add it and fill in the widget details as follows:
A name is required for the widget and an optional description for it.
Type an email address and a password to log in to your Google calendar account.
Choose the refresh rate of your graph (default one is 180 seconds)
Choose the type of calendar that you want to display.

Day
Week
Month
Year
Schedule
Custom date

Set the default duration the widget will appear in a playlist.
You can set the Play From / Play Until parameters. In other words, you can set the expiration date, which means that you can choose the exact date and time that this widget will play in your playlist or show, or you can choose the "Always" and "Forever" setting and the widget will never expire.
All Set
Finally, click " Save ". Your Google Calendar widget entry is ready! Now, go to "Monitors" and assign this widget to a Monitor without assigning any Schedule to Playback. Push to your screens and you are all set!
Your calendar should now be on display. Just keep in mind, since you are logging in using credentials, it might take 15-20 seconds for the login to complete and for the calendar to show up. We hope you find this guide to displaying a Google calendar on a wall-mounted screen useful.
Need Help?
The Yodeck Support Team can help you out! Reach out!