The Network tab contains the following wireless settings:
Enable WiFi: Toggle to Enable or Disable the WiFi service.

Enable Secondary WiFi: Toggle to enable the secondary WiFi. More details regarding the Secondary WiFi can be found here.

WiFi Network Name: Type your router's/access point's WiFi name
WiFi Mode: Choose the security mode that your router/access point is using. For Enterprise networks, choose the EAP mode from the WiFi Mode list and then type the Username and the Password.
WiFi Key: Type your router's/access point's security code. Leaving the WiFi key field blank and specifying a WiFi name in the "WiFi Network Name" field should connect the device to an open network.
WiFi network is hidden: Toggle to enable the hidden network service that isn't broadcasting its network (SSID).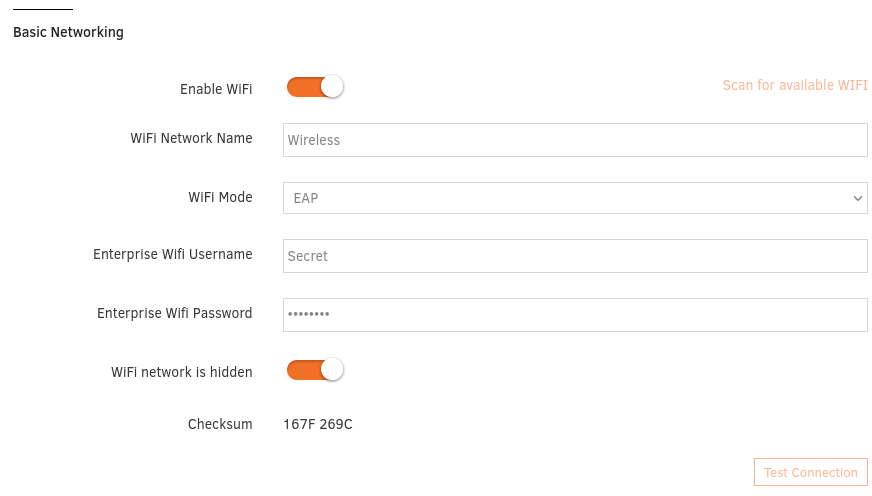 WiFi Credentials
Remember that WiFi network names and passwords are case-sensitive and must be typed in exactly as configured on your router/access point.
Secondary WiFi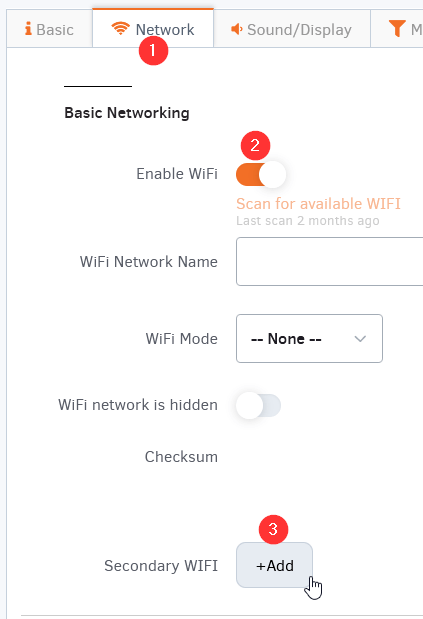 With the Secondary WiFi feature, you can configure your players to have 2 WiFi connections. This means that if the primary WiFi connection drops for some reason (e.g., bad signal), the player will try to connect within seconds to the secondary configured WiFi network without dropping the connection.
Also, this feature has other benefits, like setting up a secondary WiFi (your mobile hotspot) for your players before sending them to your clients. In that way, if anything goes wrong (the client changed the WiFi network, SSID, or password) and you need to visit the site, the player will try to connect automatically to your mobile hotspot and come back Online. After that, you can configure the primary WiFi to your client's wireless network.