By clicking on Devices, you will be prompted to a new page with more details about the devices hosted under your site (click to view).

How to download your Software image from your Site
First, go to your site's Dashboard, and then you can download the software image by clicking the latest image – 20XX-XX-XX, with your own custom boot logo (if you have joined the Whitelabel program) install it to your players.

How to activate an Inactive device
If you have enabled the option " New devices are created inactive" for an account, you can change an Inactive device to an Active one. From the Site Portal, go to your Devices, choose the device you want to set as Active, click the drop-down list, select the respective action, and click GO!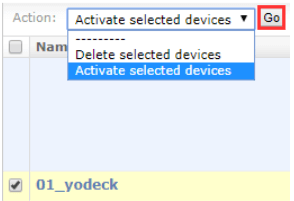 Please Read!
After the player's activation, remember to click the "Push to players" button on your client's account for the player to take the latest assigned content and start displaying it on your screens. Players activated at your Control panel but have not pushed the changes to them will still display the "Inactive" message on their screens.