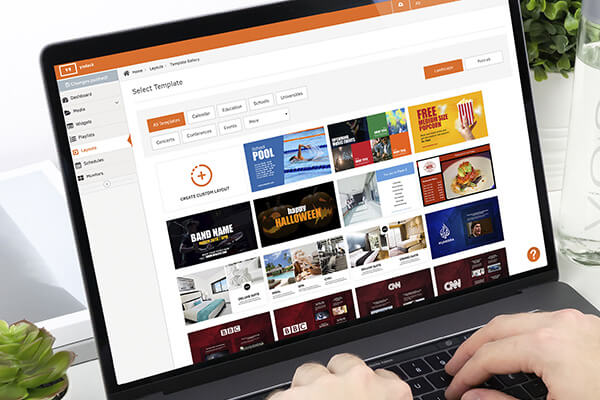 Free templates
for any industry
Grab our free screen layout templates and wow your viewers with professionally designed content. You'll find the perfect template no matter what industry you're in. Plus, they're fully customizable so you can tailor the template to your organization's branding. Simply make your text or image changes right in the layout editor, quickly and easily, with just a few clicks.

Want a different screen orientation? We offer free digital signage templates for both portrait and landscape orientations, so you can get great content on all your screens.
FREE MENU BOARD TEMPLATES
Cross-sell & upsell menu items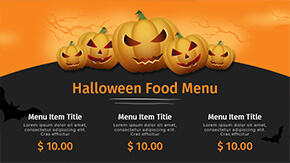 Promote the day's specials
Highlight locally sourced and organic ingredients. Upsell other menu items and drinks.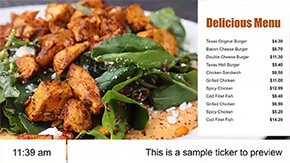 Put the menu on your TVs
No need to constantly update paper menus. Display menus on screen and edit price lists in seconds.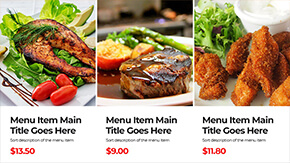 Highlight your best-sellers
Showcase your best dishes and menu pairings. Upsell other menu offerings while people wait in line to order.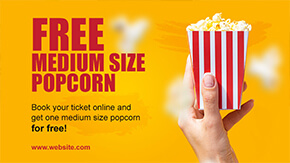 Liven up your menu board
Grab your customer's attention with eye-catching images, videos and text design.
DIGITAL SIGNAGE TEMPLATES FOR HOTELS
Spotlight services & amenities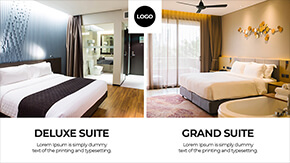 Showcase your hotel rooms
Advertise special offers and exclusive pricing at reception. Promote additional amenities, services and room upgrades.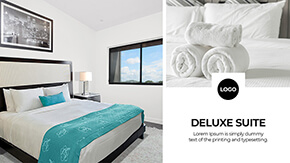 Promote luxury suites and villas
Entice guests at reception. Showcase luxury services like private chefs and personal trainers.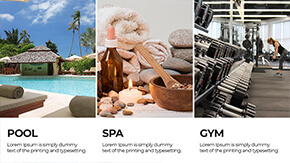 Upsell your hotel's facilities
Promote on-site spas, restaurants, events and activities, on in-room signage screens. Just use free digital signage templates for hotels.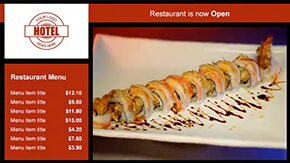 Show off your menu
Use videos and photos of your chef's specialties to promote your on-site restaurants.
Feel like an artist?
Create your own layouts on the spot, with our custom layout editor.
FREE TEMPLATES FOR NEWS FEEDS
Turn your TVs into a news hub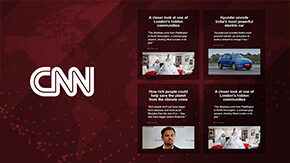 Highlight the latest news from around the world
Keep your viewers informed with developing stories and up-to-the-minute alerts.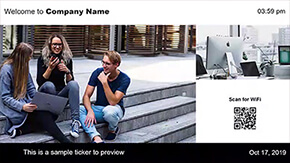 Display your industry's news and events
Focus on your industry's latest news. Keep your employees up to date with game-changing insights.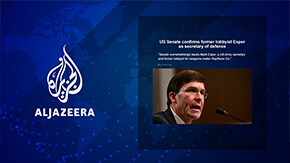 Show breaking news
Make sure your viewers are up to date with the world's most important breaking news and developing stories.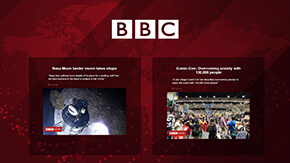 Present the news in any layout
Edit pre-designed templates to display the news in your preferred layout with minimal effort.
FREE TEMPLATES FOR SPECIAL EVENTS
Stand out with festive screen content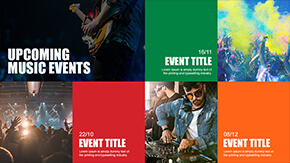 Are the holidays around the corner?
Promote your parties and events for the holiday season. Use our free digital signage templates and create great content in seconds.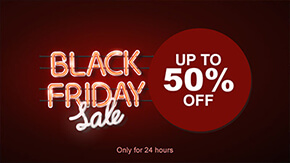 Black Friday made easy
Save time and money when you use our free digital signage templates. Advertise deals and sales in an attention-grabbing format to stand out in the crowd.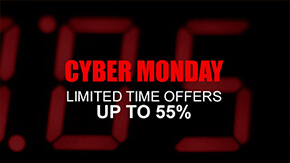 Cyber Monday makes your sales skyrocket
Offer professionally designed sneak peeks of your deals.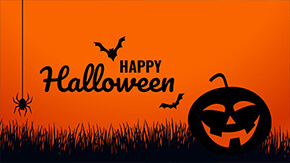 Trick or treat!
Put your viewers in the Halloween spirit with spooky templates. Advertise parties, sales and events.
FREE TEMPLATES FOR HEALTH-CARE & CORONAVIRUS
Inform & protect viewers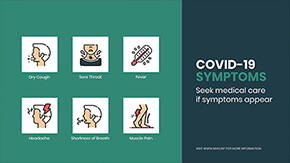 Use our animated templates
Show a series of safety guidelines using our pre-designed templates. Help customers adhere to in-store restrictions.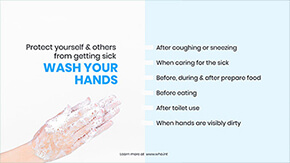 Increase health awareness
You can help stop coronavirus transmission by reminding your clients of safety protocols.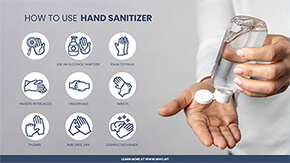 Inform your employees
Let your employees know how to minimize health risks in offices, shops and manufacturing plants.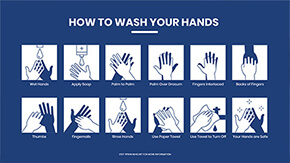 Keep people safe
Use our free digital signage templates as part of your health and safety strategy.
Frequently Asked Questions