Introduction
The Yodeck Amazon Player offers a useful option for clients who want a solution that requires almost no setup. Since no hardware or cables are involved, they must copy the registration number on the screen and paste it into the Yodeck Portal.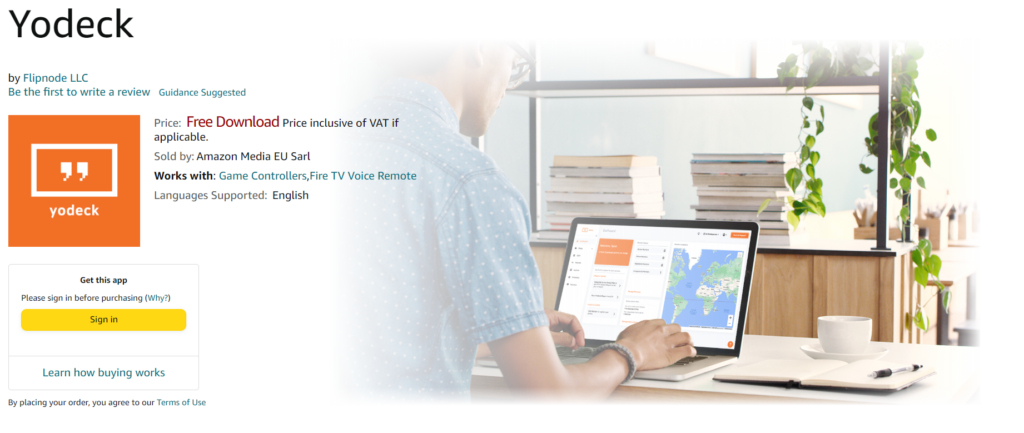 Setting up a Yodeck Amazon FireOS player
Following these simple steps, you'll be ready to use your Amazon Fire TV Stick for digital signage in no time! Here's a helpful guide on setting up your Amazon Fire TV Stick for digital signage:
First, plug your Amazon Fire TV Stick into your TV screen and follow Amazon's quick setup guide to get started.
Once your Fire TV Stick is set up, you must download the Yodeck app. To do this, use your TV remote to navigate the Amazon AppStore and search for "Yodeck". If you're using a laptop or PC, follow this link instead.
Once your app has been downloaded, launch it, and you'll be presented with the screen below that shows your unique code.
Registering a Yodeck Amazon FireOS Player on your Account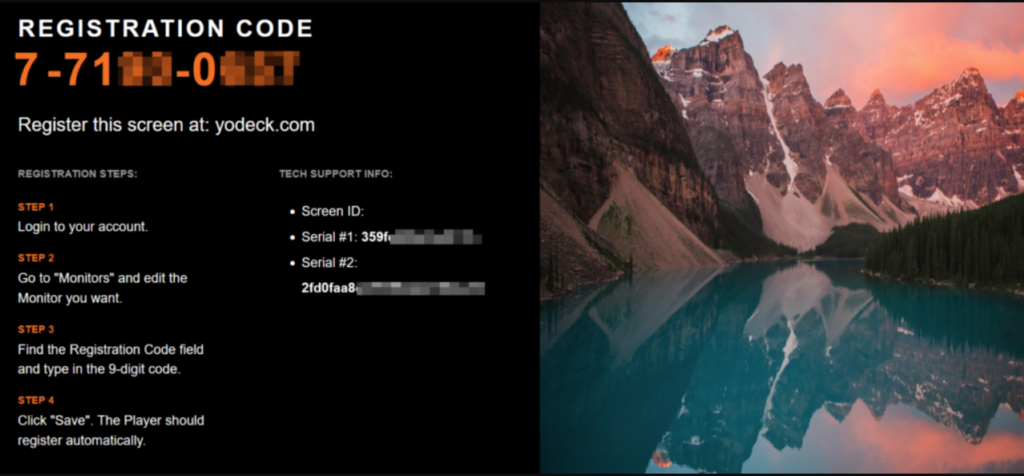 After you see the registration code on your browser/TV screen, register the player to your Yodeck Account.
Login to your Yodeck Account

Go to "Monitors".

If you haven't created a Monitor entry on your account yet, click the "+Add Monitor" button.

A new window will pop up. Choose the Amazon FireOS Player option.

In the "Registration Code" field, type in the 9-digit registration code you see on your browser/TV screen and click the "Save" button.

After a minute or so, your player should register with your Yodeck Account, and it should start showing content on the screen.
Limitations
There are currently some limitations. These are:
Apps with Script code. More details here.
Fire TV – 3rd Gen (2017) is not supported.
Fire TV – 1st Gen (2014) is not supported.
FAQ
Q. What happens if the Firestick loses power?
A. If you use a Firestick and it loses power, it will automatically resume playback when it gets back on.
Q. Can I turn the TV on or off using Firestick?
A. You can't turn on or off the TV using the FireOS player. This requires the CEC protocol, which FireOS does not support. If, for example, you set the content to "Turned Off", the screen will show black, but it will not turn off or go into standby mode.
Q. Can I use Firestick 24/7?
A. While durable and reliable, the Amazon Fire Stick is not designed for 24/7 operation over extended periods. We recommend restarting the Fire TV at least once a week, which can be done using a smart plug.
Need Help?
The Yodeck Support Team can help you out! Reach out!