Introduction
With our latest feature, you can display content from your Dropbox account (images, videos, and documents) directly to your TV screen using the Yodeck player. You only have to upload the content of your choice to a specific folder on your Dropbox account, and the Yodeck player will automatically display this content. There is no need to log in to your Yodeck account. There is no need to make any other changes; the player will automatically handle new content.
Limitations
Each Dropbox account can be paired only with one Yodeck account. You cannot use the same Dropbox account for multiple Yodeck accounts.
You must be on the Enterprise plan to use multiple Dropbox accounts within the same Yodeck account.
Supported File Formats
Check the support media formats for the Dropbox Playlist here.
Pairing your Dropbox with Yodeck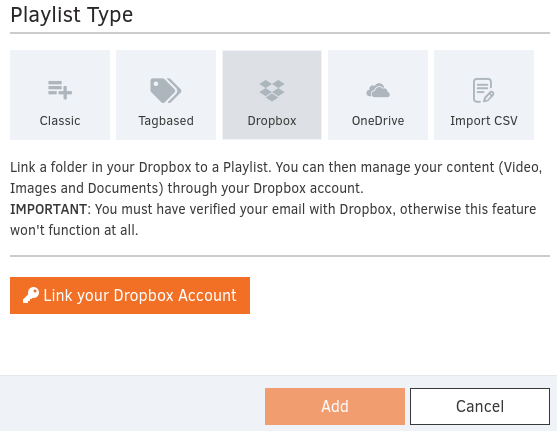 To create a Dropbox playlist, you click on the "Add Playlist" button found at the bottom of the Playlists list. In the pop-up window, select "Dropbox" and then click the "Link your Dropbox Account" button to authenticate and give access to your Yodeck account to use a specific folder on your Dropbox account.
After clicking the "Link your Dropbox Account" button, a new tab will open in your browser, asking you to log into your Dropbox account.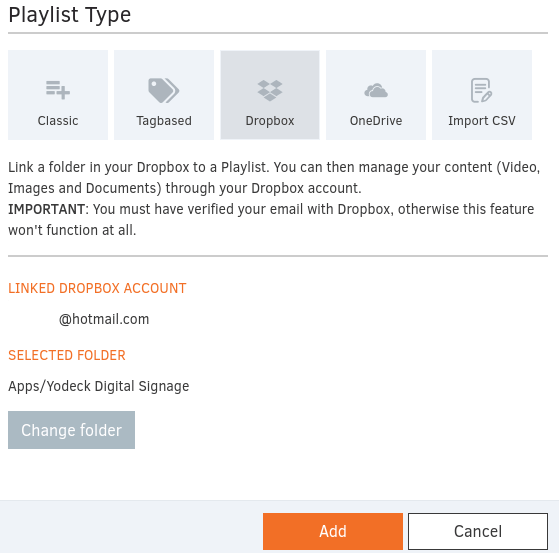 After successfully authorizing the Yodeck app, you will view the following window:
Click "Add" and your Dropbox playlist is ready.
Dropbox Playlist Settings
After creating the playlist, you will see some additional configuration options:
Type a Name for the playlist and an optional Description for it
Enable the "Add black gap between videos" option
The transition between the two videos right now is gapless. The last video frame will display gapless transitions between videos playing back-to-back. If you want a 0.5s black gap between the videos, enable the above option on your playlist.
Enable Image Transitions
Enable Random Playback
Set the default Duration for Images & Documents
Linked Dropbox Account: The Dropbox account with which your Yodeck account is paired.
Selected Folder: The folder where the player will pull the images, documents, or videos and display them on the TV screen.
How to add content to your Dropbox playlist
A new folder will be created under your Dropbox account and, more specifically, in the Apps section. This folder is called Yodeck Digital Signage, the default folder where your players will "pull" the images from it.
Feel free to add as many images, documents, or videos as possible. Note that the files you add to a Dropbox playlist will be played back in alphabetical order.
Syncing Files
After adding/removing files to your linked Dropbox folder, it will take up to 5 minutes for the player to start pulling the files. Remember that the folder needs up to 5 minutes of inactivity (not adding/deleting media) before syncing the content.
Need Help?
The Yodeck Support Team can help you out! Reach out!