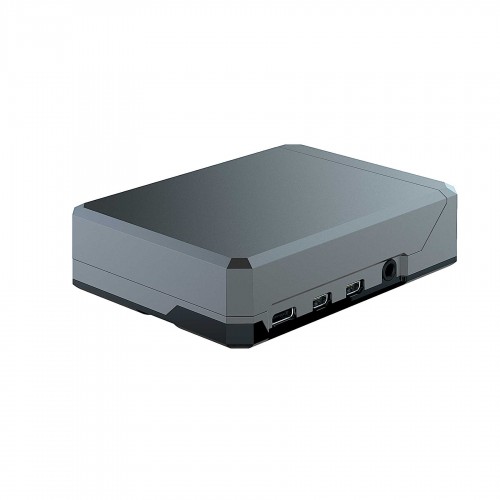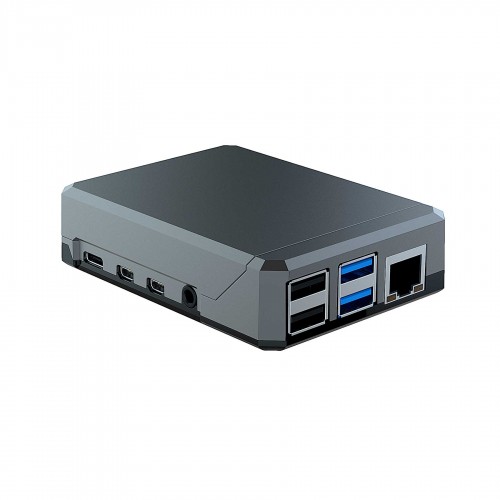 Introduction
Yodeck needs a device that will handle your media's playback onto your screen. We designed our own plug-and-play device, which we call the " Yodeck Player ".
With the " Yodeck Player " you get:
Get ALL the Yodeck Playboxes for Free
Yodeck Player is a simple and cost-effective solution for everyone. Besides, we give you for FREE* ALL the Yodeck Players you need for ALL your monitors with an annual subscription! Alternatively, you can buy a Yodeck Player for just $79*! (*prices do not include shipping).
Yodeck Player (Raspberry Pi 4) Specs
You can compare the Raspberry Pi hardware by following this link here. Please note that we provide the 1GB version for free with annual plans, while there is an upgrade to the 4GB version for an extra $20.
Metallic Case
Passive Cooling
The case acts as passive cooling for the high demands of the Raspberry Pi 4 Model B.
Sliding Magnetic top
The case has a magnetic top to keep the ports safe when not in use. By removing the magnetic top, you can very easily install a PoE HAT.
Access to all ports
All the ports of the Raspberry Pi 4 while keeping the Pi safe.
SD Card
We include a 16GB SD Card (Class 10), around 12GB, used for media storage space.
(
more than 10 hours of Full HD video files and more than 4 hours of 4K video files)
All SD Cards come with the Yodeck software pre-installed and pre-configured with your Yodeck account settings.
Official Power Supply
We include the Official Raspberry Pi power supply, with a plug suitable for your country.
HDMI 2.0 Cable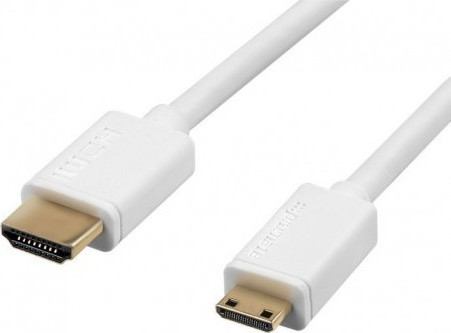 We include a 3ft (1m)-long micro-HDMI to HDMI cable (male-to-male), tested for 4K resolution.
Connection Diagram
Currently, we do not support using both HDMI ports on the Yodeck 4K Player (Raspberry Pi 4).
Only the left HDMI Port is being used from the Yodeck Software at the moment. As shown in the below picture (green circled micro HDMI port).
Why? Please read our detailed article here for more details.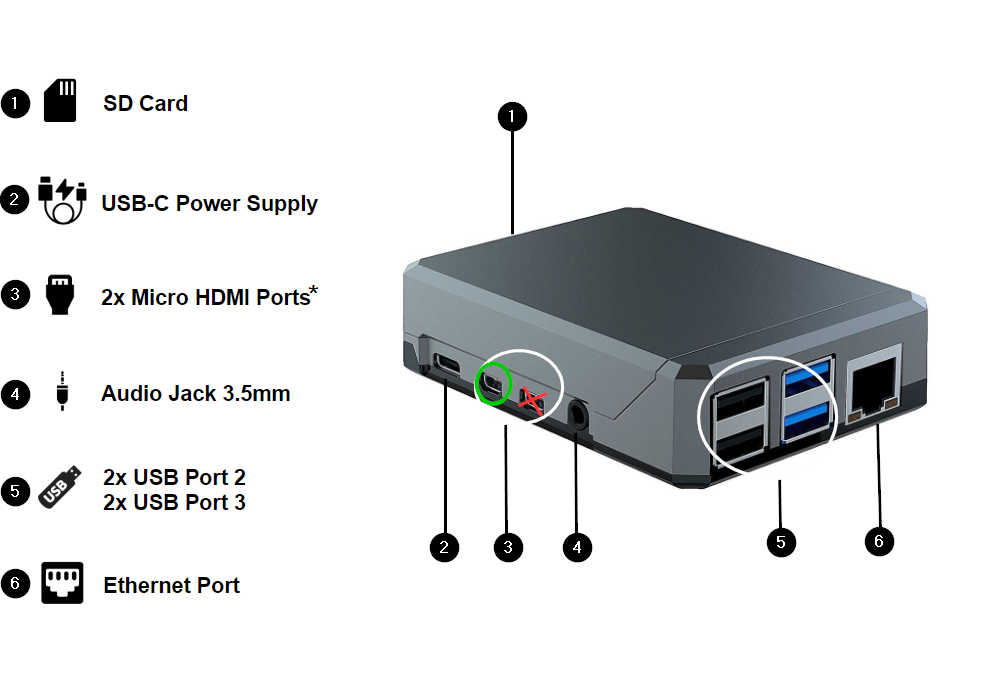 Hardware Description and Details
Module
Description & Details
Processor
Broadcom BCM2711, quad-core Cortex-A72 (ARM v8) 64-bit SoC @ 1.5GHz
GPU
Broadcom VideoCore VI
Memory
1GB, 2GB, 4GB, or 8GB LPDDR4 (depending on model)
Connectivity
2.4 GHz and 5.0 GHz IEEE 802.11b/g/n/ac wireless LAN,
Bluetooth 5.0
BLE Gigabit Ethernet
2 × USB 3.0 ports
2 × USB 2.0 ports
GPIO
Standard 40-pin GPIO header (fully backward-compatible with previous boards)
Video & Sound
2 × micro HDMI ports (up to 4Kp60 supported)
2-lane MIPI DSI display port
2-lane MIPI CSI camera port
4-pole stereo audio and composite video port
Multimedia
H.265 (4Kp60 decode)
H.264 (1080p60 decode, 1080p30 encode)
OpenGL ES, 3.0 graphics
SD card support
Micro SD card slot for loading operating system and data storage
Input Power
5V DC via USB-C connector (minimum 3A1 )
5V DC via GPIO header (minimum 3A1 )
Power over Ethernet (PoE)–enabled ( requires separate PoE HAT )
Environment
Operating temperature 0–50ºC
Compliance
For a full list of local and regional product approvals, please visit
https://www.raspberrypi.org/documentation
Production lifetime
The Raspberry Pi 4 Model B will remain in production until at least January 2026
Dimensions
(with case)
Length: 9.53 cm (3.75 inches)
Width: 7.15 cm (2.81 inches)
Height: 2.75 cm (1.08 inches)
Weight: 46g