Introduction
With this feature, you have the option to add layouts within your main Classic Playlist. In that way, each monitor will display, for example, the main Playlist, which probably has media for all your monitors, but also you have the option to display your Layouts one after the other.
How to place a Layout inside your Playlist
The first thing you have to do is follow the below quick steps to create a classic playlist.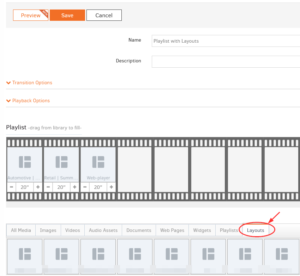 Login to your Yodeck account.
Go to the Playlists section and create a Classic Playlist.
Choose the Layout tab and add the Layout of your choice in the selection tab.

💡You can drag and drop or click the up arrow inside the Layout you want to add to your Playlist.
Layout's duration in a playlist
We strongly recommend setting the Layout's duration to 20 seconds or more. Lower durations might affect the result on the screen. The transition change from one Layout to another might not be so smooth.
Limitations
The "Keep Web pages Open" option is not available when you have a Layout inside your Playlist.
When you create a Layout, a custom one, or from a template, you cannot insert a Playlist on that Layout if that Playlist already has a Layout.
How-to Video
Need Help?
The Yodeck Support Team can help you out! Reach out!