Search Twitter or Instagram by hashtag and display hashtag-specific social media feeds on your screens.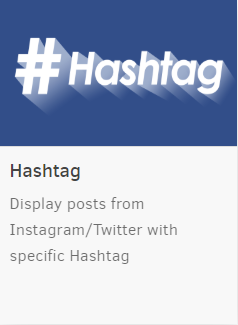 Click on the Hashtag widget button to create, then fill in the widget details as follows:
A name is required for the widget and an optional description for it.
Type the hashtag you want to get a feed for (one hashtag per widget).
Choose how many posts you want to show per row (max 12).
Select the refresh rate of your widget.

Toggle to ON to get Instagram posts with the selected hashtag.

Toggle to ON to get tweets with the selected hashtag.
If you choose to use Twitter, read this article here to get authorization to use the Twitter widget.

Toggle to ON if you want to include a Header bar in your Hashtag widget and further customize it.

More Settings
Set the default duration the widget will appear in a playlist.
You can set the Play From /Play Until parameters. In other words, you can set the expiration date, which means that you can choose the exact date and time that this widget will play in your playlist or show, or you can choose the "Always" and "Forever" setting and the widget will never expire.
Click "Save," and your widget is ready to use.