In today's retail environment, creating an engaging and unique first impression is incredibly important. With the rise of online shopping and years of pandemic restrictions, retail managers need to tempt shoppers back in-store.
But what's the best way to do this?
Well, digital retail signage displays are one of the most effective methods of connecting and communicating with consumers. They create a positive and unique shopping experience, helping to improve sales and customer perceptions.
With Yodeck's digital signage solutions, it's never been easier to start with retail signage displays. Discover the amazing difference retail signage displays can make to your business and how to design and optimize your digital signs for maximum profits.
The Importance of Retail Signage Displays: The Future's Digital
Digital signage includes any electronic screen that conveys a message. It's a simple idea that has so many possibilities.
While you might automatically think of video screens in shop windows, digital signs aren't limited to street-facing advertising (although this is a great place to start!). For instance, you might see smaller screens promoting impulse purchases near checkouts, immersive video walls in flagship retail stores, customer wayfinding information, or time-limited seasonal special offers.
With all these possibilities, digital signage can play an essential role in marketing your store and improving brand awareness.
Need convincing? Here are five key advantages and the stats to back them up.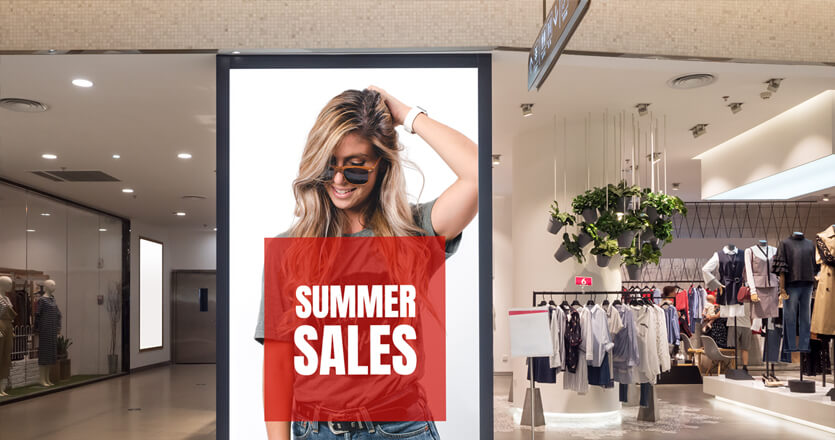 Increase footfall to your store
One of the biggest benefits of digital signage is increasing footfall in your store. With strategically placed designs and moving video content, you can draw people in to explore your products.
Images and videos are great for grabbing people's attention. In fact, visual content is 43% more persuasive than other mediums (like text or sound). So it stands to reason that digital signage can increase footfall to your store—with visitor numbers typically rising by 24%.
Communicate your brand's identity
Retail signage displays are perfect for showcasing your brand's identity and values. Whether it's highlighting your commitment to sustainability, showcasing unique products, or communicating your brand's story, digital signage is a powerful tool.
65% of people say they still remember visual information after three days. Moreover, digital displays can capture 400% more views than conventional displays. So get your messaging right, and your brand will stick in people's minds for all the right reasons.
Drive product sales
Promotional digital signage spurs purchases and helps cross-sell effectively. Drive sales and increase revenue by highlighting your products and creating urgency with time-limited promotions.
One study showed digital signage increased the average purchase price by 29.5%. In addition, retailers reported like-for-like sales increased by 50% when they replaced traditional static signs with moving digital screens.
Connect online and offline experiences
Linking online and offline retail experiences is incredibly important, and digital signage is a great way to bridge this gap. Through retail signage displays, you can feature social media content, hashtag walls, online reviews or interactive elements like QR codes and competitions.
With 44% of shoppers reporting that social media influences their purchase decisions, digital screens are an important tool for enhancing engagement with your brand.
Create consumer loyalty
Digital signage can increase consumer loyalty by providing an engaging and memorable in-store shopping experience. It's an essential tool for making customers feel valued and entertained.
Digital retail signage can increase customer satisfaction by 46% and grow repeat custom by over 30%. Done right (i.e., beautifully designed and strategically placed, which we'll discuss next!), it builds a strong relationship with your consumers. You'll create a positive impression that encourages shoppers to return to your store repeatedly.
How To Create Effective and Attractive Retail Signage Displays
So, how can you ensure your digital retail signage displays are fully optimized and working hard for your store?
This comes down to three main elements: appealing design, optimum screen placement, and consistent monitoring and adapting for success.
Let's look at each aspect, and how to maximize the impact of retail signage displays for your business.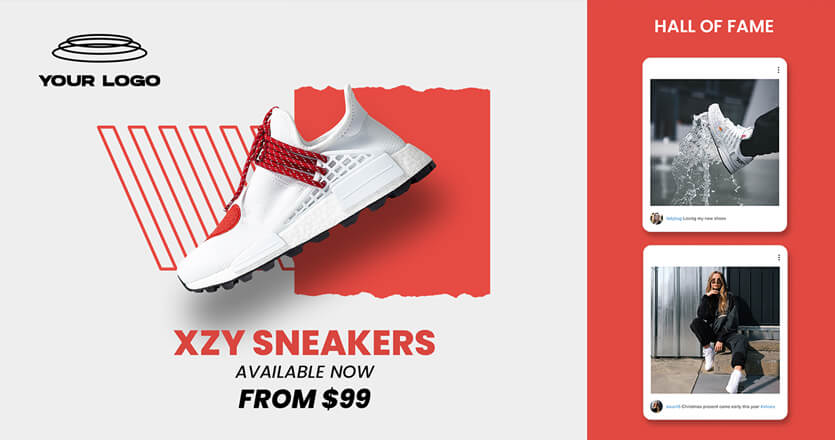 Creating appealing digital signage displays: Key design tips
To create stunning digital retail displays that communicate your brand identity and resonate with shoppers, there are a few essential elements to bear in mind.
Colours. Choose colour schemes that are eye-catching and match your brand's identity.
Fonts. Keeping fonts easy to read and legible from a distance is vital. This is especially critical for outdoor retail signage, which needs to capture attention, even from across the street.
Images and graphics. Use top quality (i.e., high-resolution) images, videos, and graphics that showcase your products to best effect.
Clear and concise messaging. Always keep your messaging simple and easy to understand, with a clear call to action.
Sound. Adding music and voice messaging might not always be appropriate (for instance, this could feel overwhelming in a small space), so consider your space and audience carefully. Seek feedback, track and analyze responses to your content, and you'll be off to a great start.
If you're just beginning with digital signage design, we've written an in-depth guide to creating attractive digital signage. From aspect ratios to layout and organization, there are plenty of tips to get the creativity flowing.
Deciding on the placement and positioning of your retail signage displays
The placement and positioning of your retail signage displays depend on the type of content you're creating as well as the architectural elements of your store.
For instance, a full-length 4K video wall is an entirely different proposition to smaller screens in a POP (point-of-purchase) scenario. A "meet the team" feature might work for some industries and stores, but not others. This might be great in a pharmacy store (where patient trust is crucial), but not so relevant in a fast-paced fashion outlet.
So it's a good idea to think about potential uses, before deciding on location. With a digital display, you can create virtual mannequins, time-limited offers, communicate specific product information, or large-scale street branding (to name just a few options!).
While the exact location will differ depending on your content and store layout, as a rule of thumb, place your displays in high footfall areas like entrances, near key product lines or checkouts.
Also, consider your audiences' "dwell times". For instance, people spend longer in changing rooms and near point-of-sale signage than entrance lobby. Work this into your content scheduling, creating faster, snappier playlists for busy areas and longer rotations for slower spaces.
"For more inspiration on digital retail displays, explore our case study on the luxury watchmakers Richard Mille's use of in-store product videos.
With Yodeck as their retail digital signage partner, Richard Mille used digital signage software to remotely manage screens and keep content on-brand in their worldwide boutiques."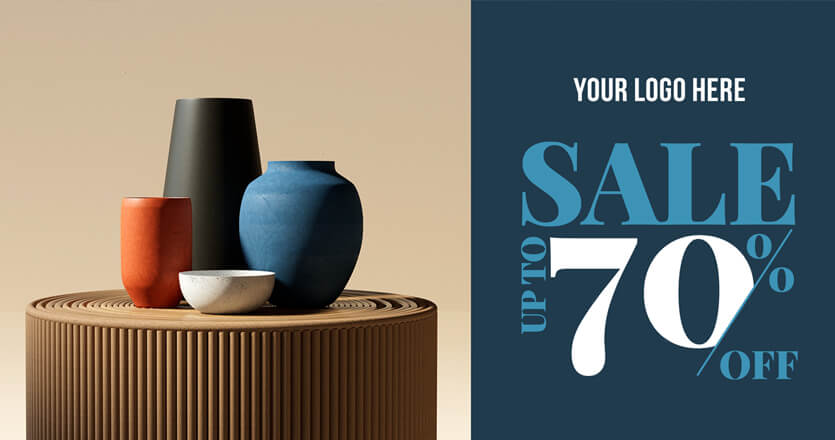 Tracking, analyzing and improving your digital signage
Don't forget to track and analyze the results of your retail signage displays. This ensures they'll remain as effective as possible.
In a Yodeck retail industry survey, 89% of business owners reported digital signage increased the number of customers making in-store purchases. It's a telling statistic, showing companies determining the ROI (return on investment) for their digital signage displays.
To do this for yourself, track things like foot traffic, sales item data, and customer feedback. If you've spotlighted a particular line or product, have sales increased? For content that's based around building your brand, have you seen an uptick in footfall, social media interactions or repeat custom?
Use this information to make ongoing adjustments and improvements to your displays—and you'll have signage that truly enhances your brand and drives sales.
Choosing The Best Digital Signage Solution For Your Brand
Digital signage displays can make a massive difference to retail businesses of all sizes and sectors. They can drive revenue, engage potential customers, increase footfall, and create a strong brand identity. By designing effective displays, placing them strategically, and monitoring impact over time, retailers can optimize displays for maximum profits.
So all that's left is choosing a provider!
If you're getting started with digital signs for your retail space, you'll want a provider that aligns with your brand's values and identity. Digital signage software should be user-friendly, making it easy to create on-brand designs and update messaging in real-time.
It's also important to consider the scalability of your digital signage solution. Even if you're starting with one screen, will it be able to grow with your business? Can it support multiple locations and adapt to your changing needs?
Of course, budget and cost are also vital. Digital signage solutions can vary in price, so make sure your plan is affordable and offers good value for money.
With Yodeck, you're covered on all fronts.
Our user-friendly "drag and drop" design software (with thousands of expert-designed templates and apps) is ideal for busy retailers. With our "plug and play" media player, you don't need to be a tech-whiz to get up and running. All you need is a screen and the content you want to display. We'll even pre-configure the player to your Wi-Fi settings, so you just need to plug it in, and off you go.
A Yodeck account is also completely free for anyone getting started with a single screen. After this, our affordable plans start at $7.99 per screen, per month. It's fully scalable, so whether you have a single screen in a single store or multiple locations around the world — Yodeck can support your needs.
Discover how Yodeck works and start optimising your retail signage displays today.