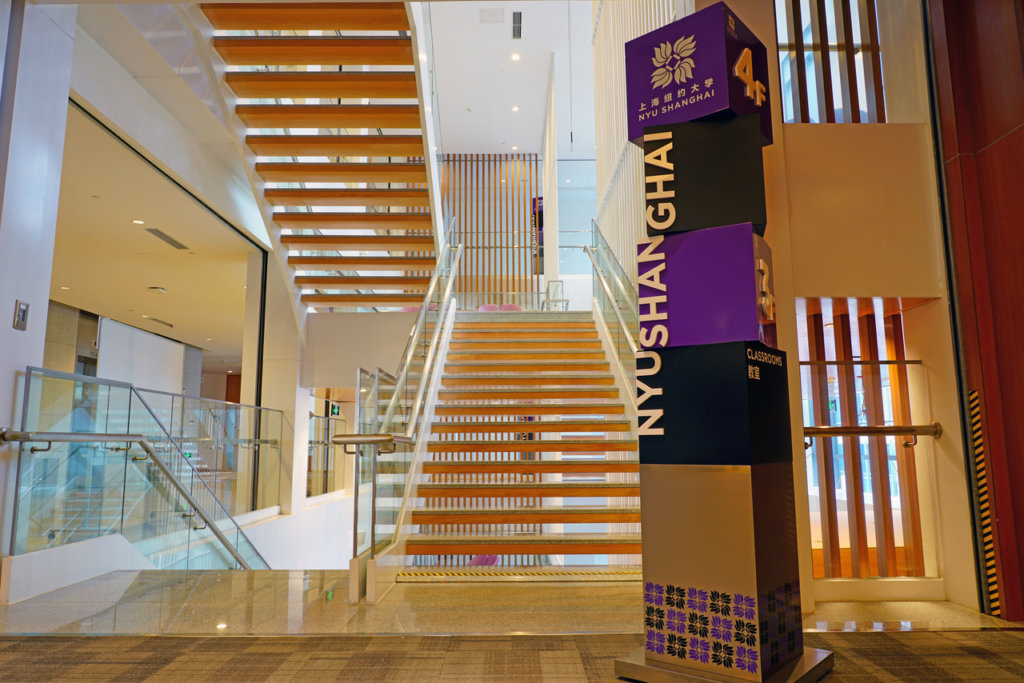 This case study examines how and why New York University chose Yodeck as their higher education digital signage solution. Specifically, the university uses Yodeck for a project-based deployment displaying data visualizations of air quality on TV screens at their campus in Shanghai. Their students and faculty members constitute their target viewers. The air sensors deployed at their campus, which provide live air quality data by location, provide the content.
About New York University

Known as one of the world's leading universities, New York University provides top-ranked academic programs to more than 50,000 students. The private university has campuses in New York, Shanghai, and Abu Dhabi. The New York University Shanghai (NYU Shanghai) is jointly established by New York University and East China Normal University of Shanghai. At NYU, the approach to learning combines the best aspects of a great research university and an outstanding liberal arts college. Furthermore, as an innovator in higher education, the university undertakes nearly $1 billion in research annually.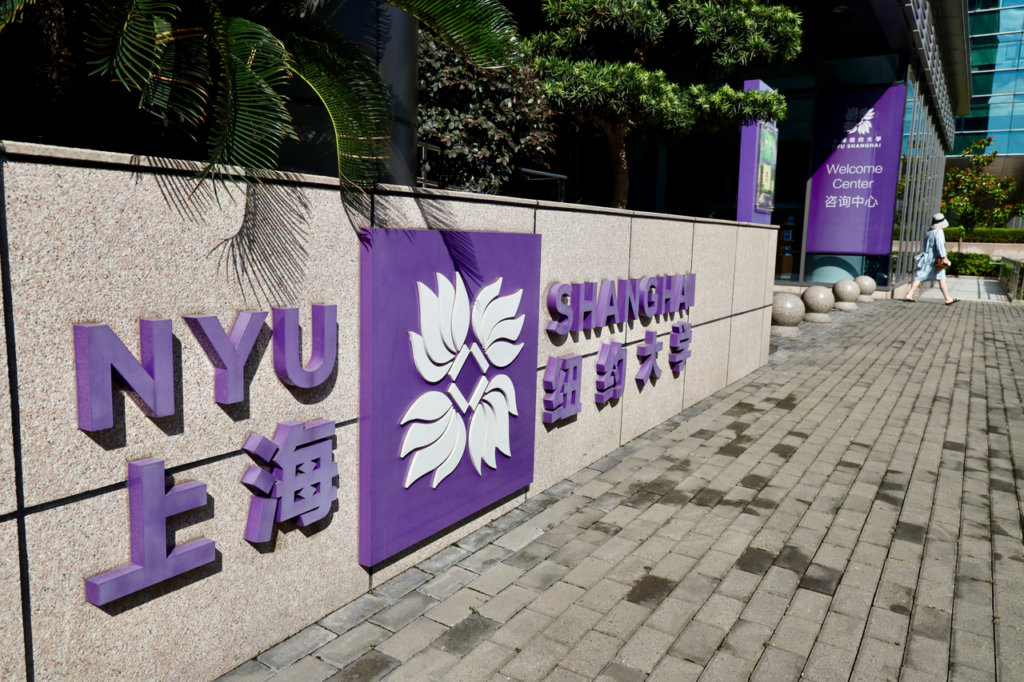 The Need
An award granted to an Environmental Sensing Group at NYU funded the installation of air quality monitors and 2 live data displays at the NYU campus in Shanghai. As part of the research group, Student Project Leader Caspar Lant deployed the air sensors and oversaw the project.
Before discovering Yodeck, Caspar considered various solutions for displaying live data on screens in the university's main entrance. Initially, Capspar considered a static web page to display the content. Yet, with the display located in Shanghai and Casper in New York, this was less than ideal. Especially, for example, when changing a URL or refreshing a page. After a Google search, Casper identified Yodeck's digital signage as a solution for remote management of screens deployed abroad.
The Solution
For this specific project, the priority for the university's research group was to ensure that the data from their air sensors located in Shanghai was displayed accurately through live data visualization on screens at the campus, with central control from New York. Additionally, the research group required a cost-effective digital signage solution with easy integration.
At the outset of the project, Casper didn't believe that it would be possible to get funding approved for a specialized piece of hardware. Although he had a few Raspberry Pis, Casper didn't foresee being able to create an open-source project within the set time frame. So, Yodeck's enterprise solution seemed like an obvious way to resolve the issue.
As Yodeck is user-friendly, the integration of the project was a simple process. Casper flashed the Raspberry Pis then hooked them up an HDMI cable. This removed the need to hire the services of an integrator to set up the Raspberry Pi with Yodeck digital signage.
This specific project required a digital signage solution that allowed quick and easy content updating. So, Caspar developed a web front-end to constitute a public-facing website. In this case, two 1080p TV screens mounted in the campus lobby hooked up to Raspberry Pis. Anyone could view the air quality live data uploaded onto the Yodeck displays they had employed.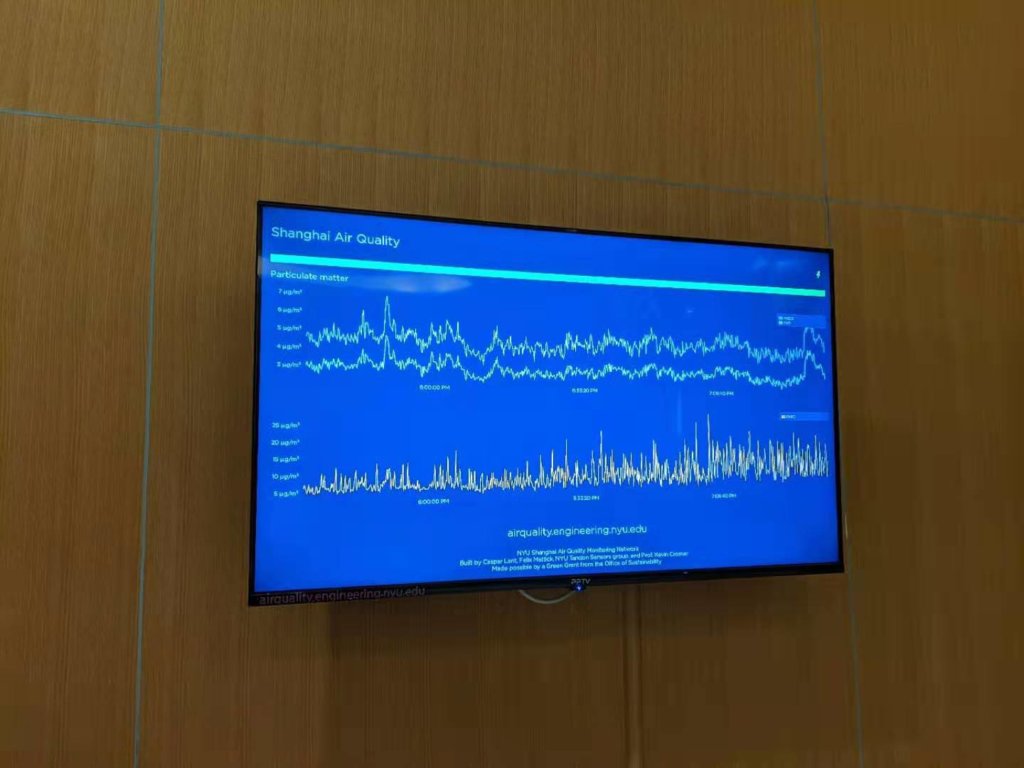 "I like the fact that Yodeck has a web interface. It's nice that it's flexible enough that you can upload images, video and audio."
CASPAR LANT
Student Project Leader
The Results & Benefits
Using Yodeck for their digital signage provided the university's research group with a quick and affordable way to make information available to the student body and the university staff in a digitized format.
The ability to power the credit card-sized Raspberry Pis from a USB port on the back of the TV screens allowed for a professional appearance on-site. Casper had inspected digital signage already displayed at the NYU Physics Department. But, when he looked behind one of the TVs mounted on the wall, he noticed a piece of aluminum hardware extruding on its back. He noted that the hardware was superfluous compared to what the Raspberry Pi offers.
Yodeck is versatile enough to be paired with custom solutions created by tech teams, with the potential to be part of specialized solutions. Most of Casper's time working on the project was a month dedicated to web development. Due to Yodeck's ease of use, Casper installed Yodeck's digital signage before completing the website.
The Yodeck dashboard provides multi-screen management and centralized digital signage that is scalable and easy to manage. Therefore, Caspar could make real-time edits from anywhere, schedule content, and scale live data across the university campus. Critically, the university's research group maintained central and secure control of all content displayed in Shanghai. At the same time, they could rely on remote updating & management from New York.
Most importantly, Yodeck's digital signage has been an effective communication tool for this university research group's project to communicate environmental information effectively to students and staff.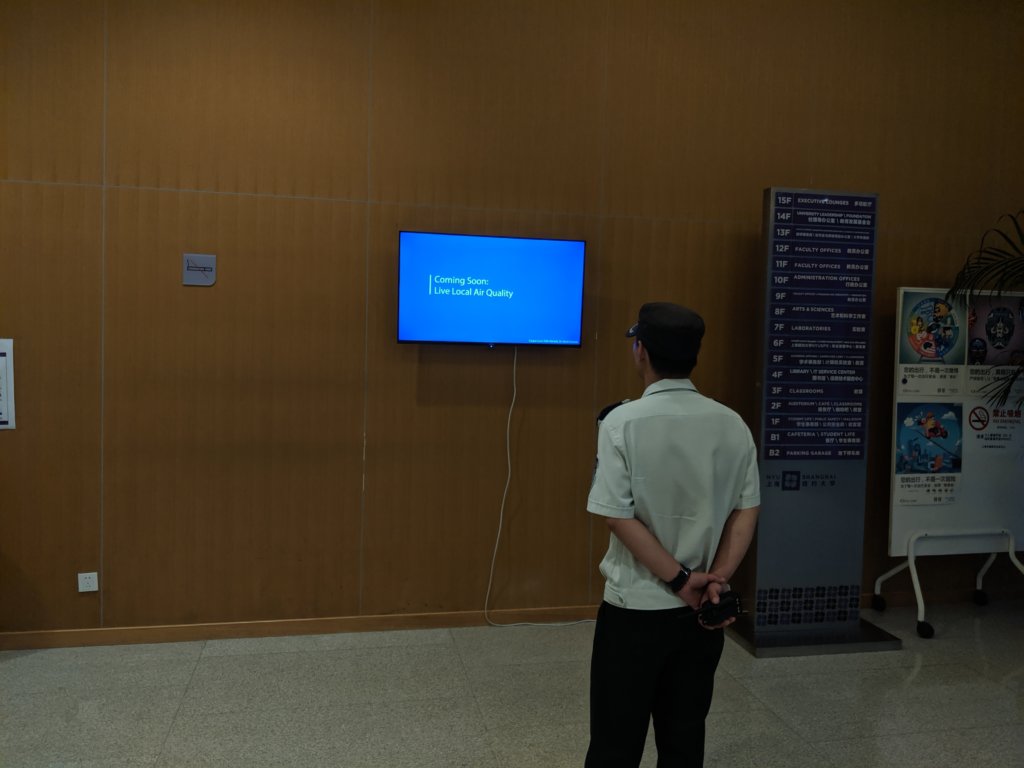 "If we expanded this project to one of NYU's other campuses, I would definitely try to continue to use Yodeck. And, similarly, I would definitely recommend it to anyone that had a similar necessity. I think it's a cost-effective and scalable solution to digital signage."
CASPAR LANT
Student Project Leader