When you want your advertising to stand out from the crowd, digital signage is a good way to go. Compared to traditional posters and banners, the combination of screens and digital display software lets you convey more information, increase the time people spend looking at your ads, and adapt your digital content.
And with solutions like Yodeck, display digital software might not be as expensive as you think, which means that this dynamic advertising tool is no longer just for larger businesses.
Read on to discover the benefits of using digital display software to manage advertising in your locations. You'll find out how to get the most from your screens and learn how digital signage software can boost advertising conversion rates in a range of different businesses.
What are the benefits of advertising with digital signage?
The main benefit of using a digital display is that you're not confined to a single static image. You can scroll through different screens and adapt your ads to their location, the latest news from your business, or even the time of day.
For example, when you use Yodeck's content management software to design professional-looking advertising screens, you'll have the option of pushing video files, presentations, and slideshows to your screens. These formats give you more space to build brand awareness by showing what makes your business special. You can also add apps like live social media tickers or QR codes to further increase engagement with your ads.
These digital displays are:
-Attention-grabbing. Ads on LCD or LED screens are bright and beautiful. They turn heads even in crowded areas.
-Robust. Compared to a paper poster or a temporary sign, digital advertising looks good for longer and is less likely to be damaged. You can use Yodeck's display digital software on screens indoors or outdoors.
-Flexible and customizable. You can push the same ads across your whole location or adapt the information to different areas of your business.
-Secure. Features like a firewall, password protection, and two-factor authentication make sure your data is protected.
-Time-saving. Advertising with digital signage means you don't need to order new posters every time you have an event and there's no wait time for printing. You'll save paper and the cost of distributing marketing materials to your different locations.
How digital signage can be used throughout the customer journey
Digital signage lets you tailor your advertising to each stage of your customers' journeys. Think of the screens as guiding the customer through their interaction with your business.
Shop window signage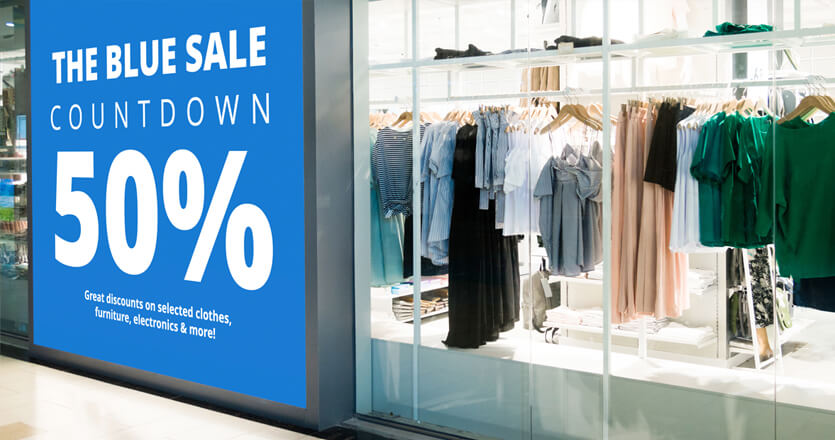 You can start by enticing people to come inside. Shop-window displays can stop window shoppers in their tracks, even in a busy environment like a shopping mall or high street.
And once a moving ad showing your best-selling products catches their attention, they'll spend more time watching. This is time you can use to tell them something more about your brand and convince them to come inside to experience more.
Welcome signs
Once a customer enters your store, restaurant, school, or office, you can use another screen to welcome them. These screens also help people orient themselves, telling them where they need to go to find what they need. When they feel comfortable and welcome, they'll spend more time at your location.
Navigational signs
You can then use navigational signs to direct people around your location, reassuring them that they're in the right place and even upselling other products you offer.
Using Digital signage to attract repeat business
Now, imagine that someone is already convinced, and they're sitting in your waiting room or standing in line at the cashier. Even at this final stage, you can continue to use digital signage for advertising your loyalty program, encourage customers to follow you on social media, or sign up for your mailing list.
Once they follow you, you'll be able to use your other marketing channels to encourage them to come back again.
Studies have shown that using digital signage can increase revenue by as much as 33%. Compared to traditional signs, it also increases brand awareness and recalls by up to 31%. This means that your customers are more likely to become repeat customers and more likely to recommend your business to their friends and family.
3 ways to use display digital software for advertising in restaurants, retail stores, and schools
Wherever you have a product or an event to publicize, you can use digital signage to turbocharge your marketing efforts. It's no wonder big names like Domino's Pizza, Richard Mille boutiques, and New York University choose Yodeck as their digital signage software solution.
Restaurant advertising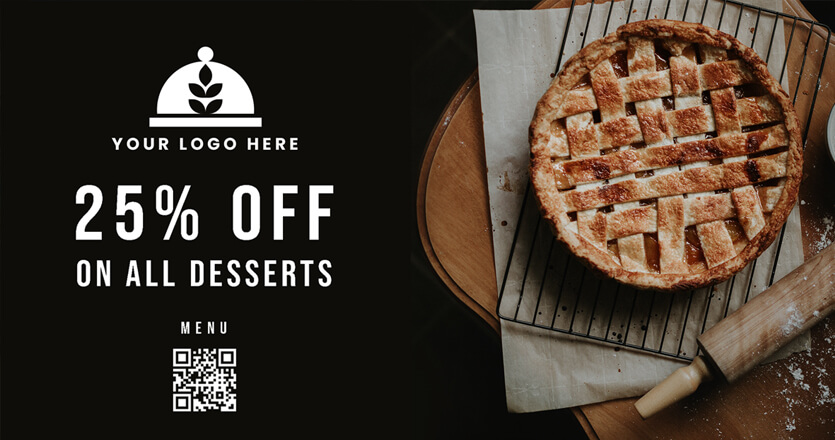 Digital display software is a great investment for restaurants, from nationwide chains to local cafes. Advertising screens are the perfect place to showcase your food and drinks.
There are several benefits to switching to a digital menu board:
Digital screens are more hygienic than a shared paper menu.
You don't have to replace or reprint menus when they become damaged.
You can update your digital menu board when you sell out of a certain item, removing a potential point of frustration for your customers and staff.
You can also use digital signs to promote short-term offers like meal deals, seasonal specials, or discounts you might get if you supersize your order. If you offer more services like home delivery, event catering, or if you host events, this is also a great time to make sure that your target audience knows.
And the best thing about using digital screens to give your customers more information? It entertains them as they wait for their order. If you put interesting, professional content on your screens, studies have shown that customers believe that they've waited for 35% less time than if there hadn't been a screen to look at.
Retail advertising
Digital signage can help make sure the people who visit your retail store know about the full range of products you sell.
Digital display software gives you total control over what you advertise and when. You could tie your in-store ads to paid ads that you've been running online. But you can also advertise something else they might be interested in. For example, if someone generally comes to your store to buy homeware, they might be interested to know that you also have a jewelry counter.
You can also use digital signage to tell your customers about special offers. For example, if you own a shoe store and you're offering 25% off when someone buys three pairs or more, you can use the offer on a shop window display to attract customers. Then, remind them of the offer with a screen near the checkout so they're more likely to pick up that third pair of shoes.
This flexible, customizable advertising can also create a sense of urgency and drive traffic when you have a sale. Using Yodeck's CMS, design and schedule screens to build anticipation and encourage people to come for the first day of the sale. At the same time, different queue screens for the final few days of the sale to tell people that they don't want to miss out on the biggest discounts.
But perhaps the biggest advantage of using digital signage over traditional static signs is that they make it easier to turn customers into followers. You can add QR codes to take people straight to your social media pages, or even display your social media feed in store. This gives some 'social proof' of your brand's reputation and helps to grow your audience online.
Advertising in education settings
They're places of education. But marketing is still important in schools, universities, and colleges to build a sense of community and make school events successful.
Whether you need to raise awareness about a fundraiser, sell tickets for a school social or trip, or tell people about a new menu option in the cafeteria, digital signage can help.
Digital signs are a great way to:
Display up-to-date menu boards in the cafeteria
Advertise sales in the campus bookstore or merchandise store
Spread the word and drum up support for charity events
Give up-to-date and useful information about what's happening in school, including connecting your digital signs to a school google calendar to show upcoming events
Build school spirit and promote the values of the school.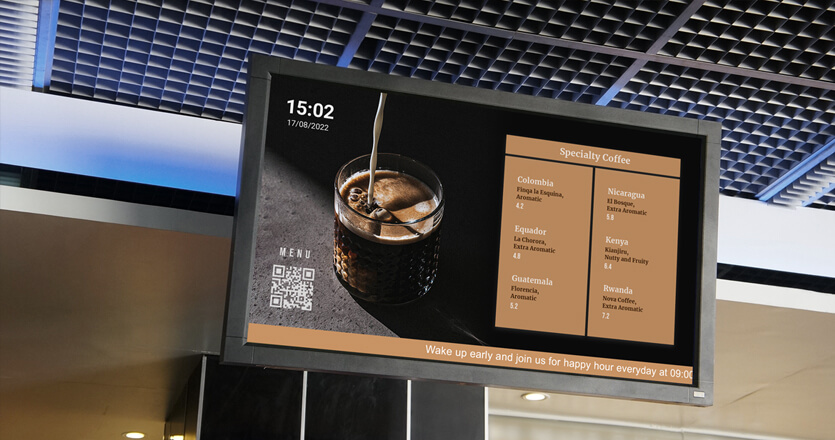 The best places to use digital signs in schools are high-traffic areas like the welcome area or reception. You can also use screens where people congregate and spend time, like in the cafeteria or gym, so that students and staff have extra time to read the information in a playlist.
There are lots more ways to use digital signage in schools. It can be an educational tool and it can support your health and safety procedures. And because the screens are fully customizable and you can update them at any time, the same screens can do both at different times of the school day.
Get your message to the right people at the right time with Yodeck
Yodeck is a digital display software platform that works with your existing hardware.
Just sign up for a Yodeck account and connect the content management system to a Yodeck media player, BrightSign media player, Android device, or a Raspberry Pi. It's a simple matter of connecting the HDMI cable to your screen and switching it on.
Then, you're free to customise and schedule your professional-looking content with the Yodeck CMS software. Drag and drop your content and push it to your screens, whether you're using one screen to advertise at a pop-up event or 50 screens in a large retail store.
It's free to start, and your first screen is free forever.
Book a demo or get a quote today.