Sales and marketing are critical for retailers. Digital signage for retail is a solution retailers use to attract customers and drive sales in brick-and-mortar stores. However, can retailers actually measure the impact of their digital signage displays? And, specifically, how much does digital signage increase sales? We surveyed business owners in the retail industry in order to find out if they could measure the ROI of their digital signage.
Digital signage for retail ROI survey demographics
Firstly, we wanted feedback from business owners across the US to ensure results reflected the current marketplace. Subsequently, 100 people from the North Eastern states answered our survey questions. Overall, we found that the primary motivation for retailers employing digital signage was predominantly sales-driven.
At the time of our survey, 46% of respondents stated that they use digital signage for customer-facing communications (e.g., in-store promotions, direct customers to specific products), whereas 45% use digital signage for both customer-facing communications and employee communications (e.g., employee training, announcements to employees about new promotions).
In addition, 68% of survey participants said that they initially implemented digital signage to boost sales. Meanwhile 58% chose to invest in digital signage to showcase products and services. Furthermore, we asked respondents to specify how they use digital signage at their retail location(s) to establish the primary use cases. Specifically, 80% of respondents stated that they use digital sales signage and promotions purposes. In addition, 49% said they use the solution to display brand updates.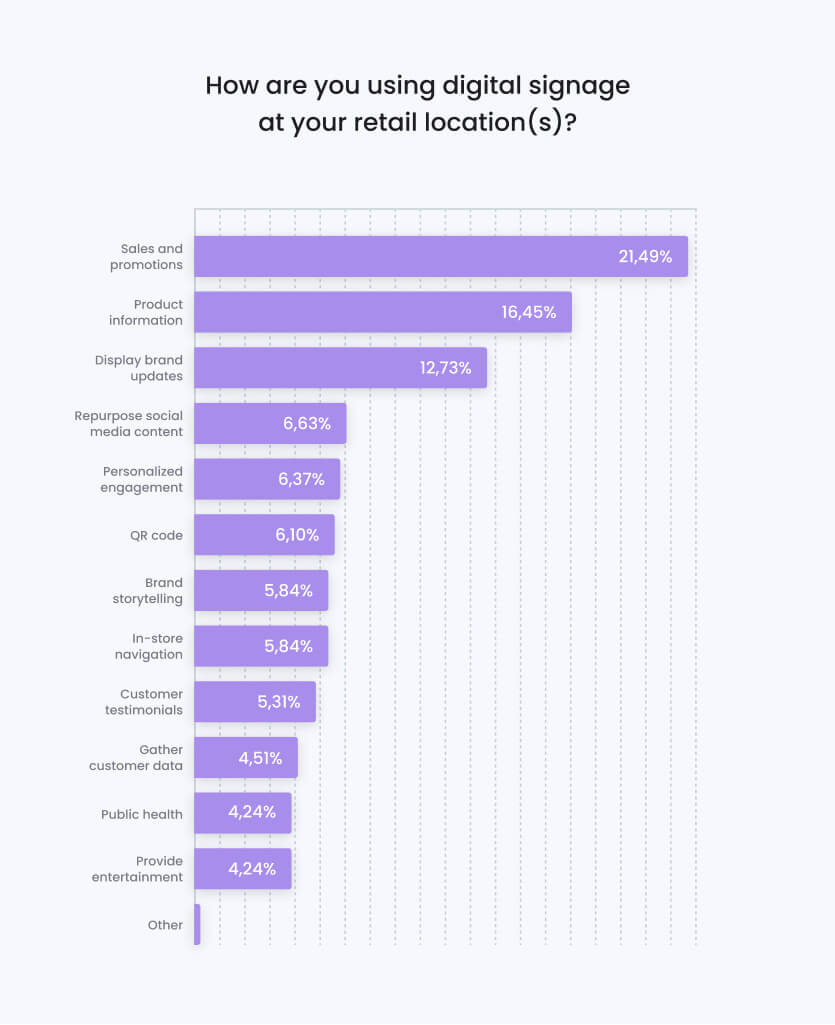 89% of retailers can determine that digital signage boosts sales
We understand the importance for retailers to be able to determine the ROI for capital investment. Therefore, initially, we wanted to find out if business owners could tangibly assess the go-to-market effectiveness of digital signage for retail sales.
Without a doubt, survey results revealed that most retailers could measure the impact of their digital signage for sales and promotions. Similarly, 89% stated that they agreed (53%) or strongly agreed (36%) that digital signage has increased the percent of customers who make a purchase (vs. customers who are just browsing in-store).
79% of retailers who use digital signage say it helped cross-sell
One of the most obvious benefits digital signage offers retailers is the ability to feature product information. Or upsell related products, and show special offers to customers. The technology has the ability to quickly advertise products. It also engages visitors in a customer journey, and helps them make confident shopping decisions. This could be why 79% of respondents said digital signage had helped them to upsell and cross-sell in-store. Unsurprisingly, of retailers that use digital signage for sales and promotions, 81% agreed that they could measure the impact digital signage has had on their business.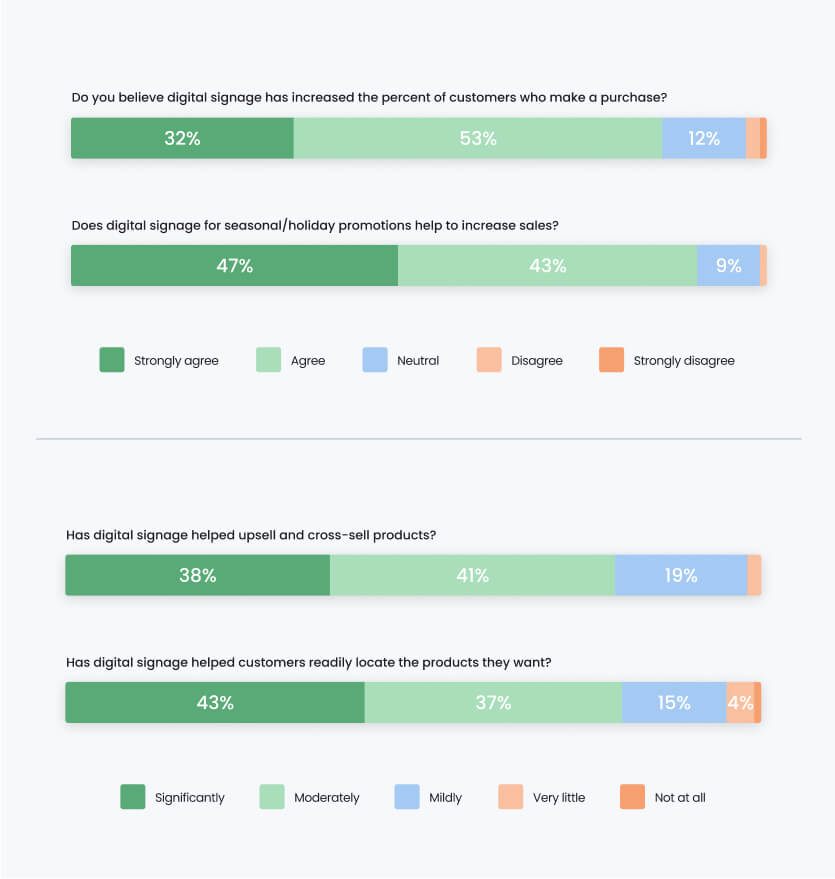 90% think digital signage makes brand and merchandise more recognizable
We also asked survey participants about brand image. The majority strongly agreed (43%) or agreed (47%) that digital signage positively impacts brand awareness. Therefore, when strategically placed in high-traffic areas, digital signage can be a powerful tool for building a brand identity across multiple locations.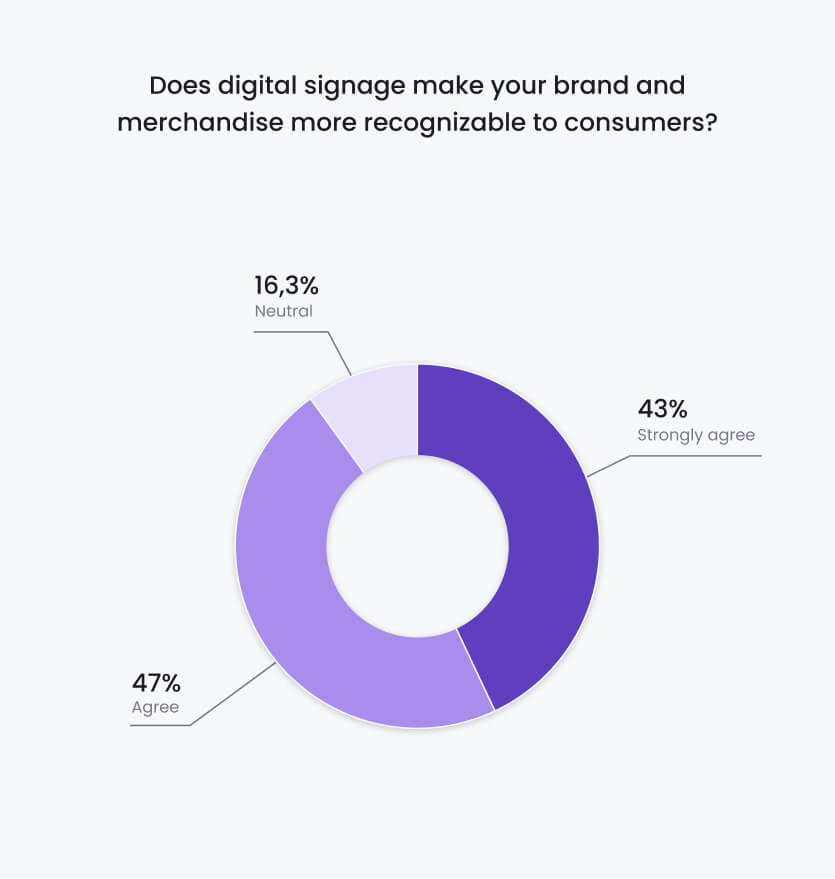 Digital signage for in-store navigation correlates with increased sales
We found interesting results when it came to the impact of different digital signage use cases on sales. There is a strong correlation between using digital signage for in-store navigation or wayfinding and its impact on increasing sales. 82% of retailers picked 7 or higher, on a scale of 1-10 (when asked how using signage for wayfinding affected sales). Obviously, wayfinding digital signage in a retail environment can reduce in-store pain points. It helps customers orient themselves, find what they're looking for, save time, and plan out their route across a store.
Digital signage in street-facing windows increases in-store traffic
Survey answers demonstrate, as you'd expect, that storefront digital signage drives retail traffic. When asked if using digital signage for street-facing signage increased in-store traffic, 75% of respondents picked 7 or higher, on a scale of 1-10. Crucially, this indicates that digital signage drives a greater volume of store visitors, increasing the likelihood of more sales.
Real-time health & safety information improves customer experience
Digital signage in brick-and-mortar retail locations captures customers' attention. Therefore, it's ideal for displaying health & safety signs. An interesting finding emerged when we asked retailers who use digital signage for displaying public health notices or emergency alerts if they can measure the impact digital signage has had on their business. Surprisingly, 88% said that they could. This suggests that delivering safer retail experiences and gaining shoppers' trust can positively affect business performance.
In-store social proof sways shoppers
Our survey results confirm that social proof impacts retail businesses. Of business owners who use digital signage to showcase customer testimonials, 80% agreed that they could measure the impact digital signage has had on their business. Along with primary information, such as product and pricing details, secondary information, like social proof (reviews and testimonials), can be used as a selling tool to turn a consumer into a customer, and be the determining factor of a sale. Generally, digital signage can unify brand marketing across platforms and physical sites. This offers an omnichannel approach to customer service and engagement.
Business benefits of digital signage
When asked how their company had benefited from digital signage, business owners said a 'boost in sales and exposure,' 'our numbers show sales have increased in the time we have been using digital signage,' and 'sales go up for all new products when put on digital boards.'
In relation to the customer experience, respondents commented that 'people say it catches their eyes,' 'the customers seem to enjoy it better,' and they get a 'better customer response.' Others claimed that they 'have more customers online and in-store,' and 'more informed, loyal customers.'
Some respondents chose to highlight customer communications. One said it's 'easier to keep in touch with customers, we can better advertise as people pass the store, and communicate deals in-store.' In terms of customer engagement, a respondent said, 'we've received a large jump in customers browsing our page and sales within the past 3 months of having digital signage,' while another claimed they had benefited from 'more traffic.'
From an operational perspective, responses revealed a theme of efficiency. Business owners claimed they had benefited from 'less face time with customers,' and 'it has taken our company to the next level with digital literacy.'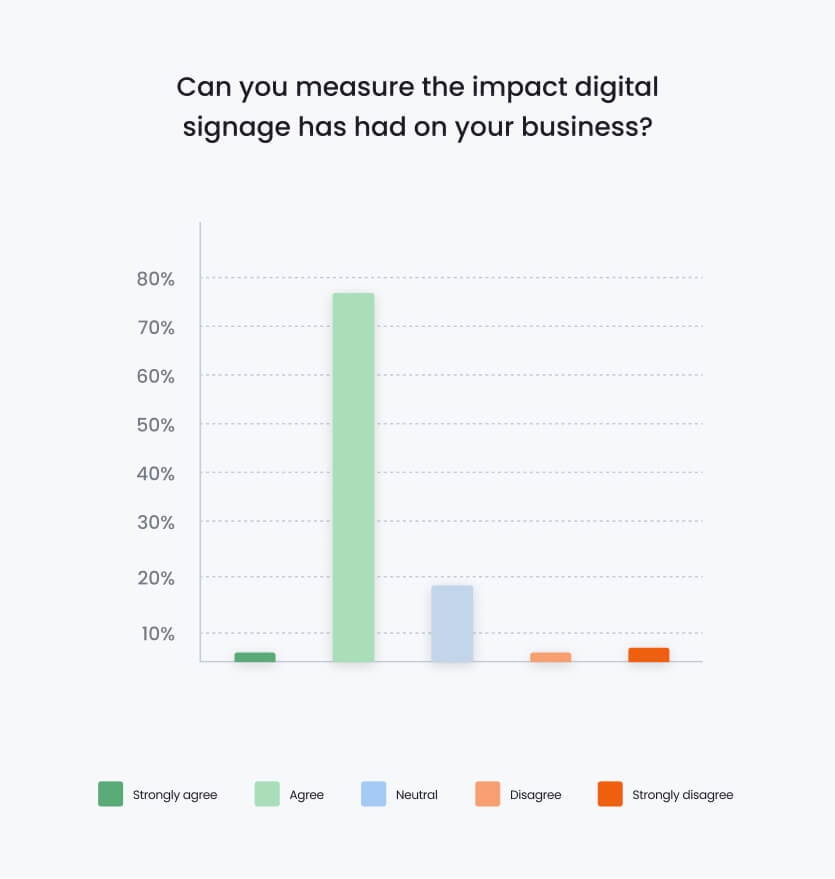 Proven value for retailers
Our consumer-based survey identified the multiple advantages of digital signage for retail locations. Digital signs can drive traffic, increase purchasing decisions, and enhance a brand's digital presence in-store and online. Specifically, retailers can leverage it in many ways to improve the customer experience and increase sales. Moreover, both customers and retailers benefit. Overall, it's a cost-effective, scalable solution. Retailers overwhelmingly agree that it benefits their business. Therefore, based on our findings, it's a capital investment worth investing in.