There is no better place to observe the impact of signage than in the retail world. More so, digital signage is a rapidly evolving aspect of modern visual communication and has been a quiet transforming force for retail.
As retail environments are rapidly evolving to meet new challenges, effective retail signage has assumed a most significant role. It has become an influencing factor for consumer behavior and in-store experiences.
This application, along with new technology developments, has kickstarted an industry-wide transition from traditional signage to innovative retail digital signage solutions. In this article we will delve deep into the elaborate world of retail signage to understand its various forms, application and effectiveness.
An Overview: What is Retail Signage?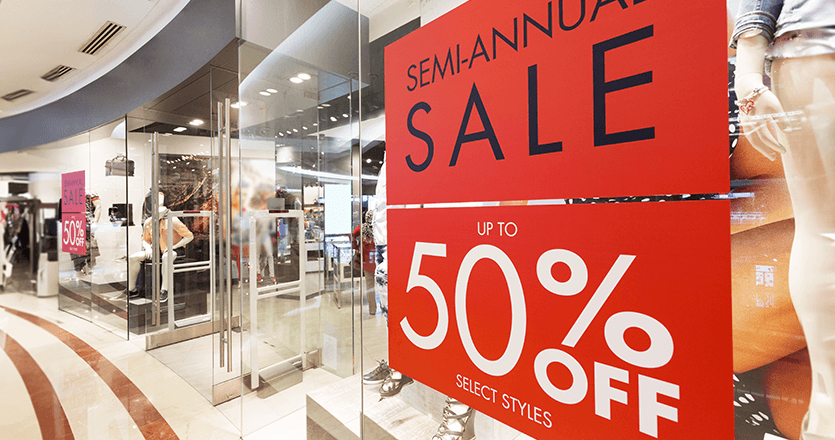 Retail signage is the use of posters, print material and signage displays in retail brick-and-mortar stores for (mostly) marketing purposes. It constitutes a powerful communication tool and it serves as a silent salesperson. It quietly directs, informs, and influences customers as they navigate storefronts and aisles.
From enticing outdoor business signs beckoning passersby to explore what lies within, to in-store signage meticulously designed to guide, advertise, and facilitate seamless navigation, retailers meticulously craft each sign to contribute to a store's visual appeal and the holistic customer experience.
But not all retail signage is the same. An important distinction has to be addressed between traditional and digital signage. This separation involves identifying unique characteristics, features, or qualities of each type of signage communication. This allows for clear differentiation and understanding of these methods.
Traditional signage has served brick and mortar stores for centuries. But it offers static messages with limited flexibility in terms of content modification. In contrast, digital signage for retail stores introduces new game-changing affordances.
A quick overview of these developments reveals a new dynamic canvas, where messaging can be modified and optimized in real-time. And in turn, these developments provide unparalleled flexibility and engagement opportunities for retailers.
The Leap to Digital Signage: Why it's Necessary
Digital signage in retail contexts represents a synthesis of technology and visual communication strategies. The goals behind this new medium are multifaceted and include–among others–enhancing customer engagement and store profitability through impactful sales signage. 
Retail display signs today offer vibrant visual appeal, dynamic content delivery, interactive features, and tailored messages. Αll of these are aimed at creating an immersive and responsive shopping atmosphere. Most importantly, business owners say it works, with 89% of them saying that they can determine that retail signage boosts sales!
Digital signs for retail stores offer multiple benefits that cannot be overstated or ignored in this competitive sector. Firstly, they're cost-effective in the long run, reducing the need for printing and other associated costs with traditional signs. Secondly, the versatility of digital signage allows for varied content types, from text and images to video and interactive content, providing retailers with a manifold tool for customer engagement. Lastly, the ease of updating content ensures that stores can keep their messaging fresh, relevant, and aligned with ongoing promotions or seasonal trends.
Benefits of Optimizing Digital Signage
Remote Management
With digital signage retailers gain the ability to manage content and screens remotely, a feature that is crucial for those operating chain stores or brands with presence in multiple locations. This necessity for remote management is precisely why cloud-based solutions have come to dominate the market.
The impact of cloud-based digital signage is transformative, irrespective of the field it is applied to—be it educational institutions, factory floors, or traditional brick-and-mortar retail stores. These cloud solutions not only streamline the content management process but also ensure that messages are consistent, timely, and updated across all locations. This accuracy offers retailers brand uniformity and economical central management.
However, it is not only big brands and chain stores that stand to gain from in-store signage. Small and Medium-sized Businesses (SMBs) also benefit from heightened visibility and enhanced engagement with their customers, especially when it comes to affordable and easy-to-use signage software.
Automation and Scheduling
In a retail environment, things change quickly. Promotions, events, and inventory levels evolve, and so having a strategy for dynamic content scheduling is essential.
Automation and scheduling thus become indispensable tools in the retailer's toolbox of effective retail display signs. These tools help maintain a continuous flow of fresh and pertinent content on the displays, mirroring the vibrant and ever-changing retail atmosphere.
Platforms like Yodeck offer the capability to schedule your content and create playlists featuring different pieces of content. This in turn ensures that your signage messaging goes live at specific times, aligning with promotional calendars and sales.
This strategy not only ensures consistency in messaging but also relieves staff, freeing them to focus on core operational activities. In even more advanced applications, automated retail signage adapts to inventory levels. This presents the audience with an accurate reflection of available products and offers and therefore improving the overall shopping experience.
Fine-Tuning Signage Content for Impact
As retailers move to adopt modern storefronts and interior signage, content creation becomes one of the most crucial pain points. Especially for those who lack creative resources for content creation.
Despite that, numerous solutions allow for the crafting of content that is not only visually captivating but also strategically aligned with the brand's guidelines, voice, and customer experience. They have achieved this by incorporating content creation tools or ready-made assets into their platforms as an enticing add-on.
Yodeck's platform in this case unlocks many creative tools for impactful content creation. The availability of customizable content means that messages can be tailored, enhancing the visual appeal and relevance of each retail display sign deployed. Whether it is the stock photo and video library, the continuously updated gallery of free customizable templates, or the integration of numerous popular apps to their signs, retailers now have an arsenal of creative and impactful instruments at their fingertips.
Strategic Signage Placement and Visibility
Digital signage effectiveness is also contingent on its strategic placement and visibility. With Yodeck's remote management feature, retailers can control and modify their displays from any location. Optimal placement of digital signage is a critical factor in its effectiveness. Consider high-traffic areas where customers are likely to spend time. Avoid placing displays in areas with excessive glare or poor visibility. A well-placed sign can transform an ordinary shopping experience into an extraordinary one.
How Yodeck Makes the Upgrade Seamless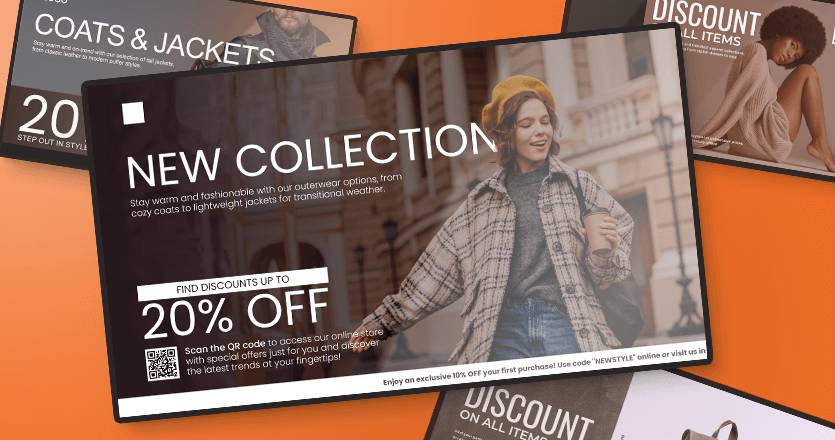 When it comes to seeking an optimal balance between cost and functionality, Yodeck stands apart from the competition. A testament to the ease of use and effectiveness that Yodeck offers are the stellar ratings on software review sites. Couple this with the fact that we power more than 130,000 screens globally, and then you quickly see why Yodeck ranks so well.
Yodeck has simplified the process of transitioning to digital signage for retail stores.
The Yodeck video tutorials, as well as the platform's user-friendly interface, extensive documentation and content tools ensure that even individuals with minimal technical knowledge can get their signage up and running in no time. Furthermore, automated content scheduling means that your signage is always relevant, updated, and in sync with your store's marketing calendar.
Conclusion
Upgrading your traditional retail signage with a digital signage platform is a forward-thinking, yet easy, step. It not only enhances visual communication but alleviates almost all pain points related to traditional retail signs.
Even if there is no technical background or previous experience with digital signage software, with a little research getting started becomes easier than most people would think.
Yodeck's platform offers all the necessary tools to create a communication channel that resonates with the modern consumer's expectations. With ease of use, affordability, and a suite of features at its core, Yodeck simplifies the transition to digital signage, making it an accessible and viable option for retailers looking to elevate their in-store communication and visual appeal.
In conclusion, optimizing digital signage in the retail sector is not just about technology; it's about understanding your audience, creating compelling content, and strategically deploying displays. By implementing these strategies, professionals in the retail industry can create experiences that captivate customers and drive sales to the moon!