Explore 7 key factors in choosing the best digital signage software for a small business and get ready to drive your organization into a new era of communications — and profitability.
Up until very recently, digital signage was regarded as an exclusive communications channel, reserved for the chosen few who could afford its hefty price and sweeping complexity. Digital signage displays were once only seen outside banks, large multinational corporations and well-known fast-food chains.
However, times have drastically changed. Cloud-based digital signage technology has simplified the setup process greatly, the price of both professional and consumer screens has decreased and digital signage media players have evolved into plug-and-play devices.
Nowadays, digital signage is used in small businesses – from small restaurants and cafes to retail stores and small hotels – as an easy and affordable way to connect employees, engage customers and increase sales.
Yet, not every digital signage software is designed to cater to businesses of a smaller size. In fact, choosing the best digital signage software for a small business is no easy feat. Some digital signage systems are a nightmare to set up, some are too difficult to use and others are simply extremely expensive.
Below you will find a few reasons why you should invest in digital signage as well as some useful tips on what to look for in a digital signage software for a small business to ensure maximum efficiency.
The impact of digital signage on small businesses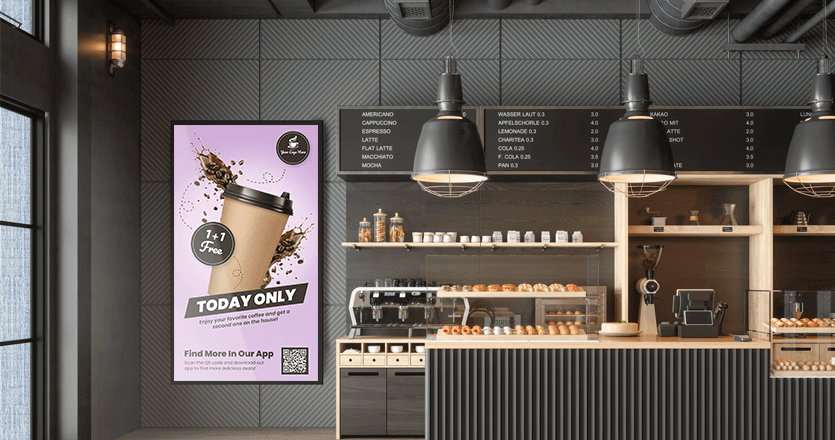 Digital signage is an invaluable marketing tool for businesses of any size across many different industries. Digital signage can benefit SMBs significantly by enhancing visibility and client engagement. For example, through eye-catching displays with real-time content updates for sales and offers, you can boost brand awareness and attract foot traffic with digital signage for retail.
Digital signage is also used in cafes and restaurants for creating dazzling digital menu boards that can modernize and revamp any small business and propel it to the next level. Moreover, strategically placed hospitality digital signage screens in small hotels and BnBs will help you upsell your services, highlight auxiliary products and promote activities or events.
Finally, dynamic displays can be used to connect and inspire employees at the backstage of the operations. For instance, digital signage in offices can help boost productivity and strengthen team bonds.
What to look for in a digital signage software for a small business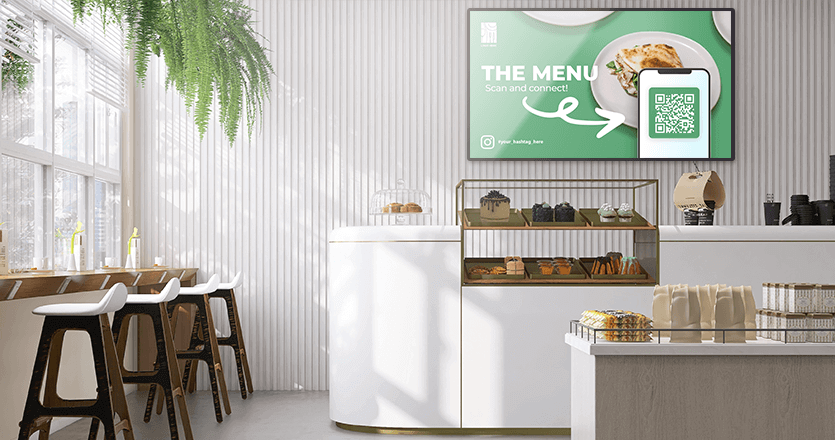 As mentioned above, digital signage might be an excellent tool for small businesses that need to expand their reach but choosing the right digital signage software will be a make-or-break factor. Before you design your digital signage marketing plan and start creating content, make sure to spend some time evaluating all the different options available.
What makes a software ideal for your small business digital signage deployment will largely depend on your business objectives, your available resources and -of course- your budget. Nevertheless, there are some key features and functionalities you should look for, regardless of your intended use case.
These are the most important factors to consider when choosing the best digital signage software for your small business.
1. Easy setup
First off, look for digital signage software that requires no technical expertise to set up and manage. Without any doubt, if you don't have the technical skills to deploy a digital signage network, maintain a dedicated server and be on top of software updates and customizations, you should opt for cloud-based digital signage software. This way, the technical ownership and responsibilities will be taken care of by a digital signage software provider. Finally, make sure that your digital signage CMS of choice is fully compatible with any digital signage media players or extra screens you already own.
2. Scalability
Scalability might seem like the least of your concerns when researching digital signage software for a small business, but it really should be at the top of your list. Sure, you might not be worried about adding more screens right away, but you certainly will be when you realize the value digital signage can bring to the table. Pick software that will allow you to add (or remove) screens with no additional costs, downtime or other disruptions.
3. Content Creation
Using new software to create content is not always as easy as advertised. Make sure that you choose a digital signage CMS with a user-friendly interface that supports all kinds of media formats. Even better, sign up for Yodeck and get access to hundreds of ready-made digital signage templates for every industry and any occasion, completely for free. Now all you have to do is just edit the one you like with your own text and logo and you're good to go. You can create your first digital sign in less than 3 minutes.
4. Security and Support
There's also a wide range of technical features that you should look out for in a digital signage software. Make sure your digital signage provider has taken all necessary precautions to ensure data privacy and security for your content and hardware. In addition, check whether they can provide customer support in case you have any issues or need help operating the software.
Finally, most digital signage software providers also offer training in the form of online resources such as blog posts, video tutorials, webinars or live product demos. These can be extremely helpful if you (or your employees) are new to digital signage.
5. Third-party apps and integrations
As a small business, you probably won't be able to make time for content creation frequently. Luckily, you won't need to. Digital signage software like Yodeck offer free digital signage apps that will allow you to easily transfer and repurpose content you are using on other platforms into attractive digital signage – like social media walls. Moreover, you can easily use apps to display calendars, news, weather, time and slideshows on your screens instantly. Conversely, check if the software supports integration with other tools that are crucial to your business like POS systems, CRM software, project management apps or dashboards.
6. Remote Management
Remote management capabilities will undoubtedly be crucial to picking the best digital signage software for your small business. In short, you should be looking for a cloud-based digital signage solution that will give you complete control over players, screens and content from any location. The ability to schedule and update content remotely is especially useful for small businesses that operate across different locations. It will enable you to create sales signage for time-sensitive promotional campaigns with real-time updates on offers and announcements.
7. Cost
Finally, the most obvious factor to consider is the cost of a digital signage CMS. First off, you'll have to choose between an on-premise and a cloud-based digital signage solution. For an on-premise solution, you'll have to purchase a software license that can be quite expensive. On the other hand, cloud-based software is subscription-based with a monthly or annual fee. One of the most important benefits of cloud-based digital signage software is that you will only be charged for the number of screens you use. Even better, with Yodeck you get the first screen for free; forever.
Bonus: Online reviews
This isn't about technical details or software features, but it's just as important. Online reviews are a surefire way of determining what the best digital signage software for your small business is. Before you sign up with any provider, read what your industry peers have to say by going through comments, scores and awards on the most popular software review platforms like G2 or Capterra. For example, check out Yodeck's reviews. Even if you were skeptical before, our stellar reviews leave little room for doubt.
Introducing Yodeck: The best digital signage software for small businesses
Yodeck's award-winning digital signage software is ideal for small businesses in any industry. With a wide range of free digital signage apps and hundreds of free digital signage templates, content creation with Yodeck is as easy as 1-2-3. Plus, we've designed our app with users' needs in mind. Even if you've never used digital signage software before, the user experience is so intuitive that you'll have no trouble setting up your first digital sign in seconds. You won't even need a digital signage player. Create your design and see it on a screen using your regular web browser in just a few clicks.