These are the most important factors to consider when choosing digital signage management software.
Choosing the right digital signage management software is going to be a challenge if you're just getting started with digital signage. With an abundance of options available, finding the perfect solution for your business needs can be overwhelming.
The vast majority of digital signage providers can vouch for basic tasks like uploading and previewing any media format on a display.
However, if you want to truly enhance your customer experience, streamline your digital signage operations and unlock the full potential of your screens, you'll have to look for advanced digital signage features.
Regardless of the size of your business and the number of your displays, these are the 7 key features you should be looking for in digital signage management software.
1. Easy Content Creation
One of the first things you'll do when deploying a new digital signage system is create appealing content for your target audiences. Hence, the in-app content creation process and features will be paramount to attracting customers and increasing engagement.
Apart from all the standard digital signage features like the ability to support all kinds of media formats and playback preview, there are many more you should be looking for.
For instance, Yodeck offers an easy drag-and-drop editor, hundreds of stock media and free digital signage templates for any industry that will make content creation effortless. In addition, you can easily create custom layouts and playlists with instant transitions, add media tags and quickly filter the content you deliver to each screen.
2. Content Scheduling
The next step after creating media, layouts and playlists is content scheduling. Setting up schedules manually can be excessively time-consuming if you are handling numerous screens in your network. It's also terribly inefficient if you are setting up a digital signage advertising network or getting started with digital signage for retail where delivering content at the right time is key to success.
Content scheduling features will allow you to easily plan ahead by scheduling repeating events, on/off hours for your screens, download hours for the media players or audio volume levels.
With Yodeck's advanced media scheduling features, you can even create custom schedules for each media item. This means that you can deliver targeted content at the exact day and hour that you need to capture specific audiences.
3. Offline Playback
Offline playback is a digital signage CMS feature that is often overlooked but it's extremely important for companies that have displays over multiple locations. In some cases, businesses like retail chains set up screens in regions where internet outages are an issue. A digital signage service that offers offline playback will ensure that your content keeps playing on the screens without you having to worry about connectivity problems or physically accessing the network.
Yodeck's digital signage management software guarantees that your media players will deliver content to displays for up to 30 days without an internet connection, as all data, media and schedules are downloaded locally. Moreover, logs and data are backed up daily at Amazon AWS S3 buckets for effortless recovery and redeployment in case of failure.
4. Seamless Integrations
Apart from in-app content creation and scheduling, you'll also need to draw data, media and preexisting content from a wide variety of external sources to retain consistency and simplify operations. Choosing a digital signage management software that allows for seamless integration with third-party apps and platforms is going to be crucial to your Time to Value, the success of your campaigns and your overall digital signage ROI.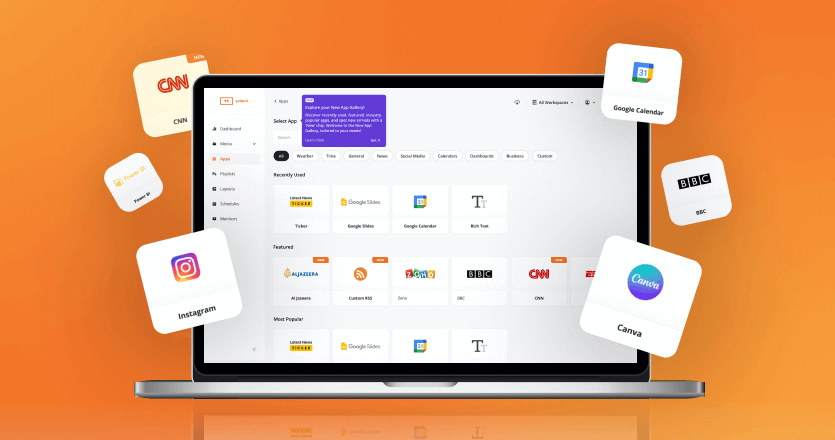 If you choose a digital signage CMS like Yodeck you'll get access to a wide array of free digital signage apps that include:
5. Remote Management
Remote management is one of the most important benefits of cloud-based digital signage. Choosing a digital signage management software that supports remote management means that you'll be able to manage content from any location simply by using a web browser.
Cloud technology will allow you to edit and adjust content on the fly, make last-minute changes, or deliver real-time updates. Even more importantly, you can also remotely manage your digital signage media players, monitor and report on the status of your network and quickly assess device health across locations and timezones.
Some of the remote management capabilities you should look for in a digital signage CMS include:
6. User management
Advanced user management features are beyond any doubt one of the most useful features of digital signage management software; especially for enterprise-level solutions. Apart from the capability to add unlimited users, companies that require multiple teams to access the digital signage system will need complete control over user permission levels to ensure a seamless workflow and leave no room for mistakes.
Luckily for you, Yodeck offers a complete user access management solution that will allow you to set user roles with different access rights to content, displays or locations, group users and create workspaces to have a complete overview of your digital signage network. In addition, you can use Workspace Hierarchies to organize workspaces according to your organization's structure to manage both users and content in an easy and intuitive way.
7. Security
Last but not least, security should be one of your primary concerns when looking into digital signage management software. If you're planning to register for a subscription to a cloud-based digital signage solution, make sure to carefully evaluate any offer, especially if you're planning a large-scale deployment. Digital signage security features aren't limited to corporate protocols and company procedures. More specifically, these are the most important indicators of advanced security:
Get started with Yodeck's award-winning Digital Signage Management Software
Yodeck's unbeatably easy digital signage management software is built around the real needs of users. We always strive for improvements to make onboarding as intuitive and easy as possible. After you sign up, you'll be able to start using a wide range of advanced digital signage features right away without any prior experience or technical expertise.
You can create your first digital sign in just a few minutes and see it on a screen – even without a digital signage media player. More importantly, if you sign up for an annual plan, you'll get plug-and-play Raspberry Pi media players for each of your screens completely for free!