As any estate agent knows, the real estate market is incredibly competitive. To stay ahead of competitors, agencies need to keep their marketing fresh and cutting-edge. Too many agencies still rely on static signs and paper printouts in their windows. This means extra time, effort, costs, and unnecessary printed materials.
So, what's the alternative?
One of the best ways to keep your real estate marketing ahead of the curve is real estate digital signage. With Yodeck's digital signage solutions, you can promote your listings and social media feeds, keep audiences engaged, and showcase constantly evolving digital content.
In this article, we explain what real estate digital signage is, how it can help your property business and ideas for putting your screens to good use.
Ready to refresh your signage? Let's go.
What is Real Estate Digital Signage?
Real estate digital signage refers to any electronic screens displaying any kind of messaging or marketing.
We're talking digital messaging that's fully customizable with the ability to display real-time data and make changes wherever you are. You can schedule content in advance and create playlists, video walls, newsreels, and more.
This could include property listings -tailored to different audiences and times of day- agent contact information, marketing materials, open house times… and any video, image, data, and multimedia content you can think of.
To get started, you only need a screen, a media player like Yodeck's simple and reliable "Plug and Play" media player, and the content you want to display. It's that easy.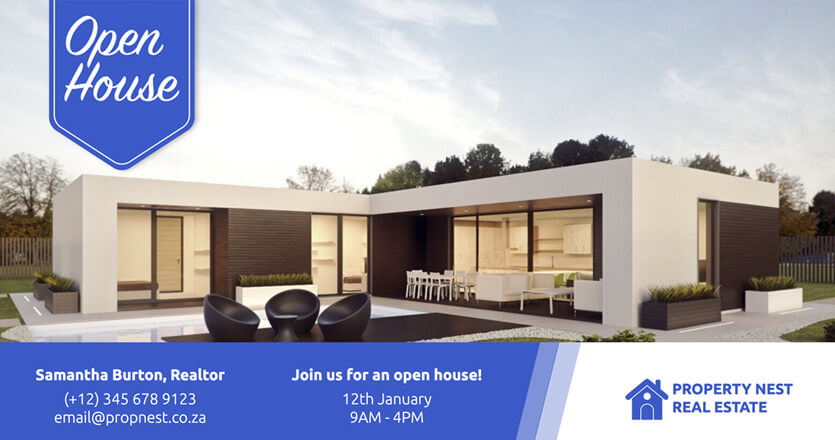 What are the Benefits of Real Estate Digital Signage?
There are so many benefits to real estate digital signage, especially when compared to traditional static signage and posters.
Just some advantages include:
Improved real estate listing visibility. With content displayed on digital screens (as opposed to printed boards or flyers), messages are easier to read and catch people's attention. This helps increase brand awareness, build engagement, and generate sales leads.
Enhanced communication. Communicate with potential buyers and sellers more effectively. Update content at the click of a mouse, with real-time changes for sold properties, new photography, upcoming events, and virtual tours. You can also incorporate social media channels, customer reviews, and useful information like weather updates and news headlines your audiences might appreciate.
Reduced costs. Are you creating print adverts for every property and replacing them each time asking prices or business priorities change? If so, this isn't just bad for the environment but comes with extra costs in terms of time and money. With digital signage technology, though, these concerns are a thing of the past.
Advance scheduling. With digital signage, you can pre-program your content for different locations and times of day. If your branch is next to high-traffic areas like a commuter train station (for instance), then quick-fire advertising of city-center flats could be a good option at rush hour. For a suburb branch at school pick-up time… what about family homes and longer dwell times?
Easy updates. If you work in the real estate industry, we don't have to tell you how fast things change. Unlike classic printed signage, digital signage lets you update content in real-time, without waiting for printers' deadlines or design teams. Quite simply, the power's back in your hands.
What are the Potential Uses of Real Estate Digital Signage?
You might already have ideas about ways to use real estate digital signage for your branch. Pre-scheduled property listings? Aspirational virtual tours? Meet the team videos? Useful local information? No problem, it's all possible.
Here are a few more ideas to help you get started.
Outdoor digital signs: Attention-grabbing street-facing content
This is one of the most common forms of real estate digital signage, often installed on the side of your building or in shop-front windows.
Once you've installed your screens, the possibilities are up to you. What about rotating "meet the team" displays, slide shows of new and recently sold properties (useful for home buyers as well as sellers) or highlighting local businesses and events? You could feature community celebrations, schools, weather, parks, shopping centres… anything that might improve customer experience and perceptions.
You could also use your real estate digital signage to display customer testimonials (building trust and brand awareness), Instagram feeds or full hashtag walls. With Yodeck apps, this could come directly from your social media channels or specially created designs.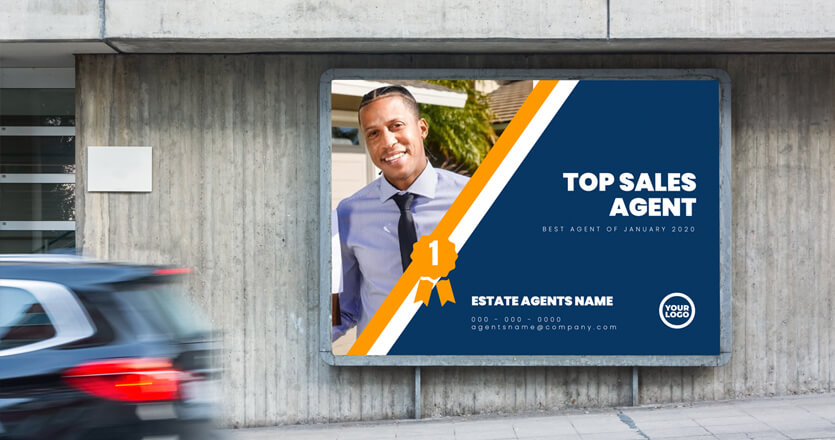 Indoor digital signs: Improve the office space experience
Digital real estate signs aren't just about displaying properties to passers-by. You could also install screens in your real estate offices or client waiting rooms.
This might include wayfinding signage, company communications, or real-time updates from sales teams. You could highlight impressive real estate agent performance, birthdays, new staff members, or sales graphs… anything that leads to team cohesion, competition, and pride.
Depending on the location (and your audience), think about tips for buyers and sellers, property floor plans or branded marketing. Your digital signs could even promote adverts from third-party companies such as removal companies to solicitors and mortgage brokers. Could this add an extra revenue stream for your real estate business? If so, it's a win-win for realtors and potential customers alike.
Of course, lots of these ideas would work well in indoor and street-facing settings. So think about what content is right for your audience and use this as your basis for creating your digital signage.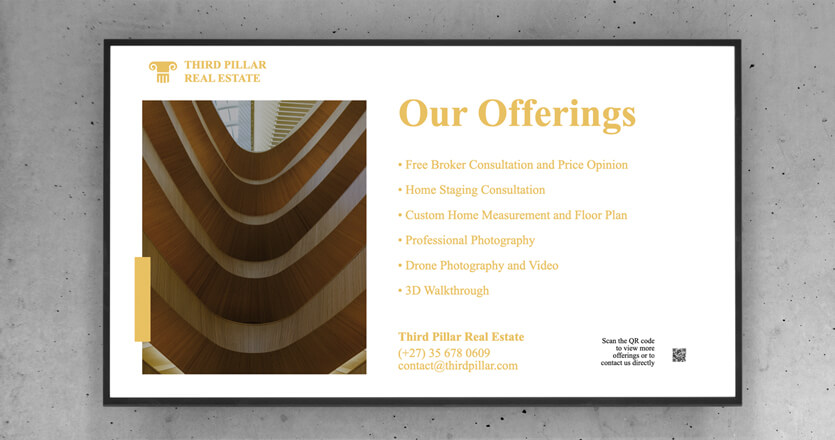 How to Create Effective Real Estate Digital Signage: 7 Tips
If you're getting started with real estate digital signage, here are some essential tips to keep in mind.
Use high-quality images and videos
Images and videos are fantastic for capturing attention and engaging potential buyers and sellers. But if they're fuzzy and unclear, this will detract from perceptions of your branch.
Always use high resolution images and videos that display your real estate listings in the best possible light.
Keep your content concise and to the point
People have short attention spans. So it's important to keep your content short and sweet.
Get to the point quickly and ensure your message is easy to understand.
Choose eye-catching fonts and colors
Use eye-catching fonts and color schemes to make your digital signage stand out from the crowd.
As a rule of thumb, go for contrasts between light and dark (i.e. dark backgrounds and light text, or vice versa). This combo is easiest to read and ensures your messaging grabs attention.
Speak in clear, accessible language
Use clear language that's easy to understand, keeping things as simple as possible.
Avoid using jargon or technical terms that potential buyers and sellers may not understand.
Understand the relevant regulations
If you're displaying advertising screens outside your branches (or any other property for that matter), you'll need "advertisement consent".
To adhere to planning regulations, your screens must be kept in a safe condition, clean and tidy, not obscure any transport signage (such as road signs), and have the full permission of the site owner.
Carefully consider your digital sign placement
Location is just as important when planning digital signage as it is in the property market.
Carefully consider the size and placement of your real estate digital signage. For example, is it clearly visible from the street? If it's indoors, have you checked your screens don't feel overwhelming for workers, visitors or potential clients in lobby areas?
Get out there and make sure your screens are displaying the right content, in the right place, at the right time.
Consistently track your results
Always track the results of your digital signage campaigns, to see what's working and what's not.
For example, do spotlighted properties sell quicker? Have you seen an uptick in buyer enquiries? This will help optimize your campaigns and get the most out of your digital signage investment.
Get Started with Yodeck's Unbeatably Easy Digital Signage
Want to get going with digital signage for your estate agency? Well the good news is that it's easier than ever with Yodeck.
For anyone starting with a single screen, a Yodeck account is completely free. This gives access to thousands of design templates and apps, content scheduling tools and preview modes.
Once you've created your content, all that's left to do is plug in your media player and turn on your screens.
Discover how Yodeck works and get started today.