Whether you're in an office, hospitality setting, or factory floor, productivity depends on effective communication. In fact, according to research by Gallup, disengaged employees cost the economy nearly $8 trillion. That number is so high because many workplaces aren't communicating effectively. 
So, how to improve your workplace's productivity? One strategy that can have a huge impact is to use digital signage for employee communications. It's simple but effective. In fact, in our survey at Yodeck, 86% of respondents said that digital screens in offices improved productivity.
In this article, you'll discover how Yodeck's digital signage works—and how it can benefit you too. Read on to find out more. 
What is Digital Signage?
Digital signage is a type of technology that lets you display any content you like on a digital screen. In a nutshell, it's that simple.
You probably have a variety of strategies for sharing critical information with your employees and colleagues already. Maybe the walls of your workplace are covered with whiteboards, paper posters, or pinboards hosting important notices. Or maybe your email inbox contains bulletins, newsletters, and progress reports. 
In the workplace, digital signage can bring all this information together and display it on clear, attractive, and visually engaging screens. And what's more, it can combine that information with other things your colleagues need too—from wayfinding information to health and safety notices, from meeting room availability to event announcements. 
The thing about digital signage is that it can do anything. With Yodeck you can show everything from video streamed directly from YouTube to your task management system. All you need to do is add media to the software, and you can show it to all your staff in moments. 
Yodeck makes communicating with your employees effortless while giving them the information they need to be productive too.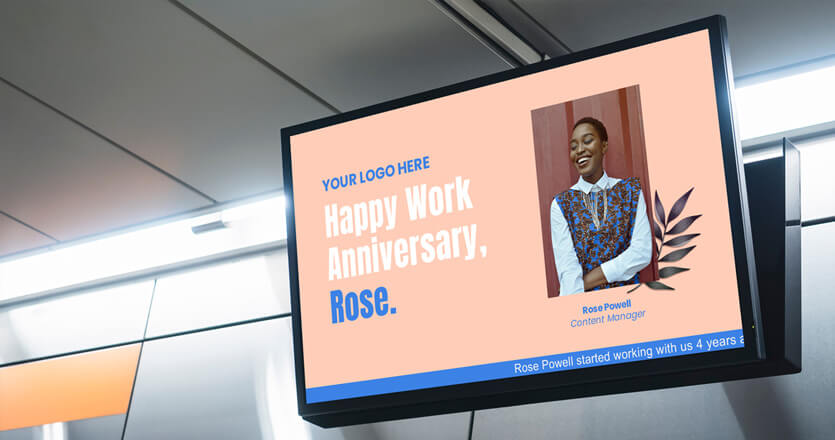 What are the benefits of using digital signage for employee communications?
Digital signage improves your workplace in two fundamental ways: it gives your employees everything they need to work, and it makes communicating that information much easier. 
This has many benefits.
Boost workplace productivity. Yodeck studies show that digital signage has improved productivity in 86% of cases. The same number said that it improved motivation too.
Improve workplace culture and well-being. In the same study, 82% of respondents said that digital signage helped create a better workplace culture, while 77% said it improved well-being.
Strengthen health and safety. Research has shown that effective digital signage can reduce the risk of workplace injury by 20%—in the office, manufacturing, and logistics. 
Make communication effortless. Have something to share with your colleagues? Forget about printing it out or firing off an email thread. Instead, display it on your digital signage. The process couldn't be more straightforward. And when you need to update your message, change your event venue, or add extra details, you have to update your playlist and push the new version to your screens.
Have a more significant impact. Bright, stimulating, and visually appealing, digital signage attracts attention and gets your message to everyone who needs to see it. Moreover, evidence suggests that 57% of people who see digital signage want to know more about the thing displayed.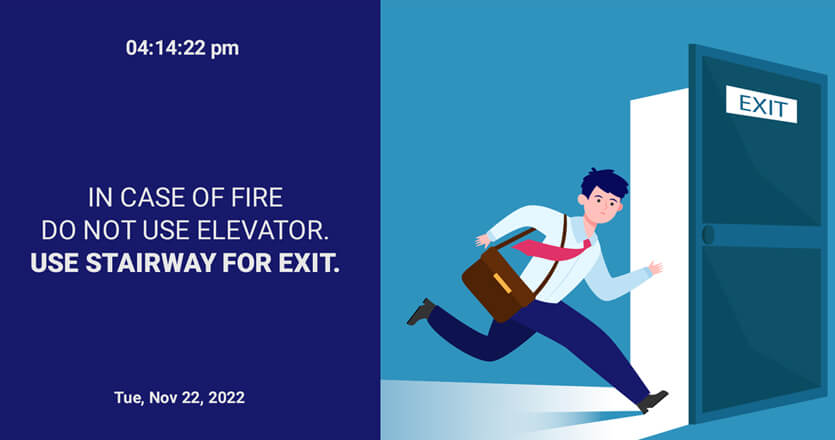 How Swissport and Visma Use Digital Signage to Improve Employee Communications
Businesses across the world are already using digital signage to make communication easier between their employees. Read on to explore how two global companies use Yodeck to build a better working environment and improve their productivity.
Swissport 
Working with over 200 million passengers and four million flights a year, Swissport is the world's largest provider of cargo handling for the aviation industry. The company came to Yodeck in search of an easy, flexible way to communicate with staff across the globe.
Specifically, they were looking for a digital signage tool to display all the time-sensitive information — such as flight statuses — that staff needed. At Yodeck, we could provide exactly that. 
Now, Swissport uses over 30 screens on location in Brussels to help their cargo-handling operations. What's more, they're using digital signage to share business performance, safety information, good news stories, and a whole lot more.
"For me, [Yodeck] is the modern application of the office posting board, but easier to use, cleaner in the work environment, and which allows people to still share information very easily. It's a single solution for a lot of different applications. … You have a one-size-fits-all solution. I think we will be using more and more screens, especially with people now also coming back to the office."
Stijn Vanroogenbroek, Internal Communications Manager at Swissport
Visma
Visma is one of northern Europe's leading software companies, with 7,000 employees based in over 12 countries. The company needed a way to coordinate and share crucial information with all of these remote teams.
That's why Visma chose Yodeck.
We supplied Visma with digital signage technology that lets them display dashboards to visualize and monitor service health and other key metrics. That information helps these remote teams to do their jobs better. 
And Yodeck's digital signage has also helped Visma's IT team to improve the working lives of their colleagues. Now, they're providing extra information to workers, including details of corporate events, local office news, weather, and transport schedules.
"The major plus point for us was the fact that Yodeck was so easy to set-up, and so easy to use; we have multiple locations so it was important that getting our content deployed, even by remote branches, would be a breeze. And it is!"
Vidar Ellingsen, Application Management Engineer
How You Can Get Started with Yodeck's Digital Signage
Other businesses are enjoying the benefits of improved internal communication with Yodeck's digital signs. It's time that you did too.
At Yodeck, we make it easy. You can get started in three simple steps. 
1. Sign up for a free Yodeck account
With Yodeck, you can use our content management system, completely for free. All you have to do is sign up with Yodeck to explore all our features.
Select from templates to start your design or add apps to effortlessly import data from other programs, apps, and databases. You can see how everything works before you spend anything at all. 
Only need one screen? With Yodeck, the first screen is always completely free—so you can see how it looks before you scale up. 
2. Order a Yodeck player to connect any screen
You don't want to have to invest in specific hardware to benefit from digital signage. Instead, trust that you can display your signage on any screen with Yodeck.
The Yodeck player makes that easy. All you need to do is plug it in and your existing screens will be compatible. From there, it's as easy as pressing play to share content with your colleagues. 
3. Create your content and reap the benefits
Your signage can display any content you would like. Whether that's training materials, KPI dashboards, or your own bespoke slideshows, you can show it on your Yodeck screens.
Drag and drop your content into the Yodeck content management system and you're ready to go.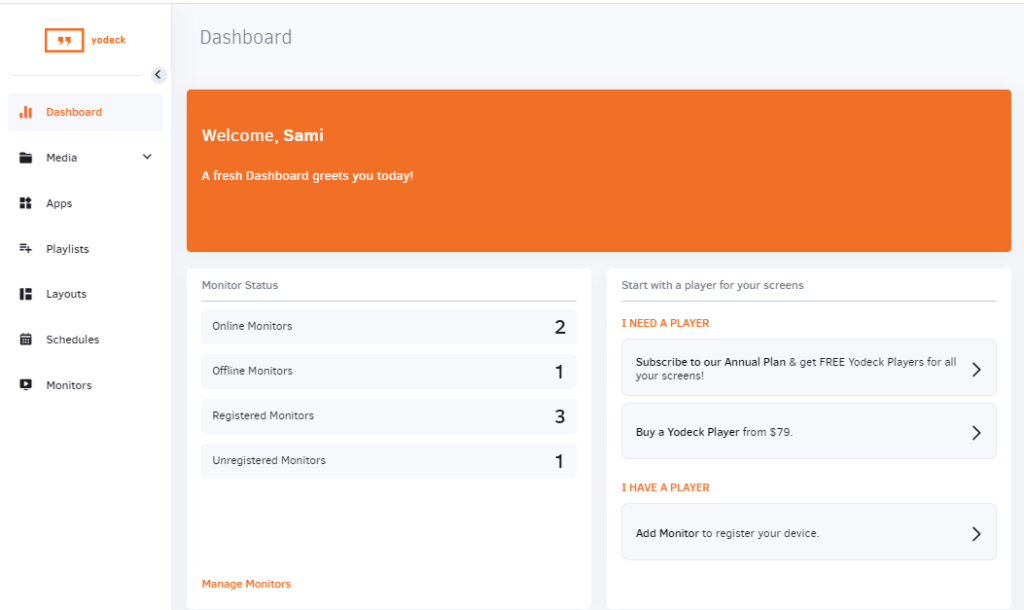 Book a Demo with Yodeck Today 
Yodeck is the unbeatably easy solution for digital signage in the workplace.
Flexible, drag-and-drop content management. Any content you need, all on one screen.
Compatible with any screen. With a Yodeck player, you just need to plug it in.
Scalable to suit you. Whether you need one screen or a thousand, we can support you.
Ready to use digital signage for employee communications? Book a demo to see the features in action.