KPI screens are a form of digital signage that can display the information your business needs exactly where and when you need it. Don't waste your time fumbling around searching for critical business data. Instead, put it in full view of all your teams—and boost productivity and alignment.
With digital screens—across your office, factory floor, or in your warehouse—you'll ensure that no team member ever loses track of your key performance indicators (KPIs). What's more, you can use the same displays to recognize staff performance, deliver important announcements, and a whole lot more too.
In this article, we'll show you how you can put your KPI screens to use with Yodeck, as well as some of the proven benefits you can expect.
What Can KPI Screens Be Used For?
KPI dashboards are versatile screens that you can use to align your teams, improve productivity, and just make life easier.
Here's a taster of what your displays can do.
First up, display your business performance. The core function of your KPI screens will be to share your company's progress. Highlight key data, track goals, and showcase your successes. By integrating your display with task management or performance tracking software, you can share real-time performance data too.
Deliver presentations showcasing KPIs, progress, and your business's values and history. Digital displays aren't just limited to live data. You can use it to deliver sales presentations or support team meetings too.
Use your office KPI screens as signage for events. Digital signage is as versatile as you need it to be. Want to offer wayfinding guidance or practical information when you're hosting an event? Your KPI dashboard can do that as well.
Manage meeting rooms. Prevent bottlenecks and confusion by easily managing bookings for your meeting rooms with your digital displays. Show when rooms are occupied and display future availability with Google Calendar integrations.
Make announcements and share emergency information. Your staff will be used to looking to digital screens for information. Use them to share news, upcoming events, and any emergency announcements.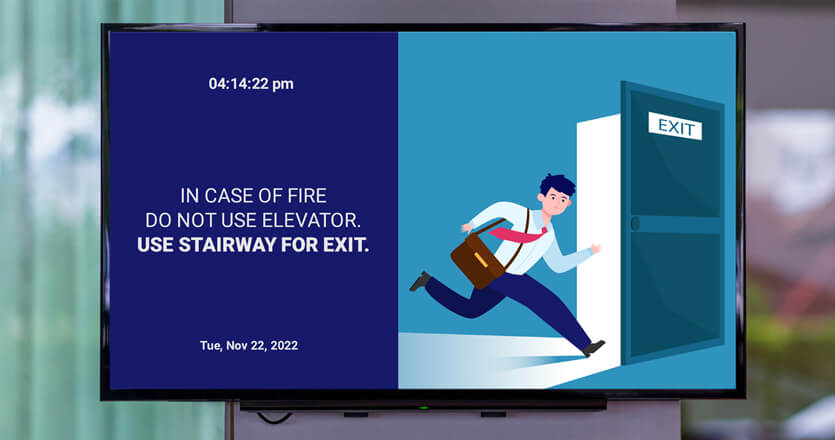 Case Study: How Visma Provided Teams with Critical Data Using Yodeck's KPI Screens
Visma is a multi-billion dollar business technology brand. Headquartered in Oslo, Norway, the company has 7,000 employees across 12 European countries, serving nearly a million customers.
The team at Visma approached Yodeck for a way to share the same critical data across all of their locations at the same time. With our KPI screens, we could do exactly that—and a whole lot more.
Our data dashboards gave Visma critical data on service status and software delivery to clients. The brand was able to display its internal warning system on all screens too.
We ensured important metrics were visible across all digital displays in real-time.
The KPI screens doubled up as information boards, sharing weather and traffic data as well as internal announcements and events.
"The major plus point for us was the fact that Yodeck was so easy to set-up, and so easy to use. We have multiple locations so it was important that getting our content deployed, even by remote branches, would be a breeze. And it is!
"We love the intuitive platform and the fact that everything just works. We needed an engaging way to improve internal communications as well as a simple solution to display data dashboards. The best part? We were up and running in literally five minutes." (Vidar Ellingsen, Visma).
What are the Benefits of Using a Digital KPI Display?
As Visma found for themselves, there are many benefits of using digital dashboards to display KPIs and other critical data.
It's easy. With Yodeck, creating informative and visually engaging displays is effortless. Don't worry about tracking down key data yourself. Just integrate apps into Yodeck and you'll see all your performance KPIs in real time.
It's adaptable. As we've seen, Yodeck displays aren't limited to highlighting business data. You can provide employees with training resources, offer wayfinding information, welcome new staff, and just entertain your colleagues too. In fact, with Yodeck, you can use your digital displays for anything you want. Our content management system supports all types of media, from video to PDFs.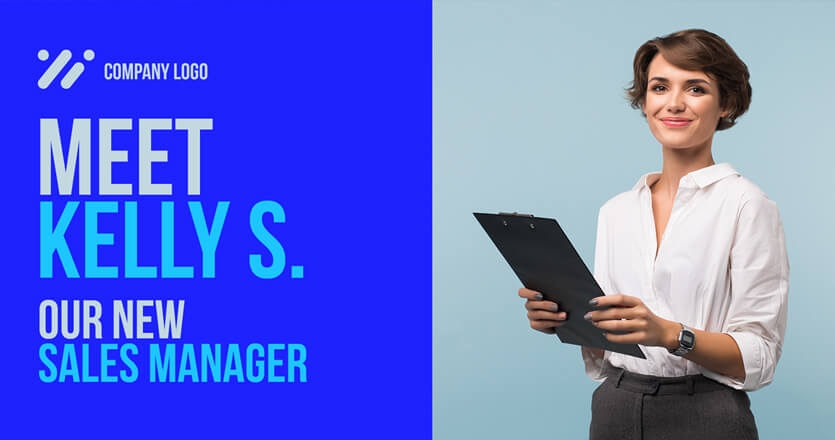 Inspire greater interest. Our research found that using digital screens in the workplace promotes further interest in the things displayed. This encourages employee engagement, which in turn increases productivity.
Boost alignment. Keep your teams on the same page, wherever they're physically located. By ensuring everyone is aligned, you'll encourage productivity and build a stronger team identity.
Work smarter. Digital meeting room signage, for example, can boost efficiencies, prevent frustration, and save you a lot of money. Data shows that office digital signage saved one multinational as much as $500 million.
There are so many good reasons to use digital screens in your offices and workplaces. Book a demo to get started right now. Or read on to discover how to ensure your KPI screens really boost performance.
How to Make a KPI Screen that Boosts Productivity
At Yodeck, we speak with enough businesses to know that you've enough on your plate as it is. You're looking for KPI screens to make life easier, not to add just another task to your already busy workday.
That's why we're committed to making workplace digital signage as easy as possible. All you need to do is follow these steps to get started.
Login to Yodeck
Set up an account with Yodeck and you'll have access to all the features of our content management system, completely free of charge.
Explore our apps, templates, and design options to put together the content for your first screen. While you can scale up to as many displays as you need, your first screen will always be free.
Add apps to your display to integrate key data
What is it you want to show your staff? Whether you need to get them up to speed on your sales campaigns or keep them on track with your equipment productivity, all you need to do is link up your screen to your real-time data source.
That's easy regardless of whether you're using Tableau or Power BI, Google Analytics, or BareMetrics. Yodeck's apps let you effortlessly bring your data up on-screen. And, if you don't find the app you're looking for, get in touch and we'll get to work on making it possible.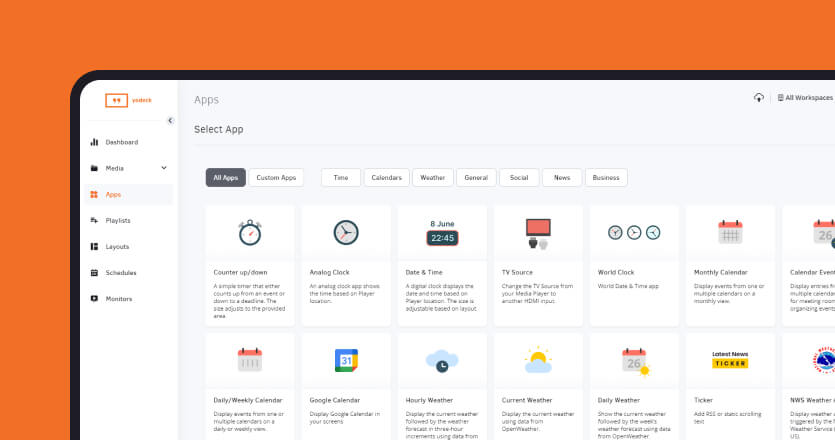 Use templates to make the display visually appealing
You'll no doubt have things you want to share with your team aside from your KPIs. Whatever that might be, you can use our template library to make these displays truly engaging while saving yourself the time.
Want to welcome new team members? Effortlessly show you care. Need to present some key charts to your sales team? There's a template for that too.
Share anything from new products to safety information. Even stream your social media feed so that internal staff know the nice things customers are saying about them.
Yodeck Makes It Easy
Ready to create KPI screens for your own office? With Yodeck, it's so easy to get started.
Manage all screens centrally. No matter how many displays you want to use, you can handle it all from a single screen or device. Design, schedule, and manage your content centrally.
Choose from pre-designed templates. You don't need design or IT training to get set up. Build easy-to-read charts, choose from data visualization options, and adapt everything to match your brand.
Plug and play setup. All you need is your Yodeck account, the Yodeck player, and a monitor.