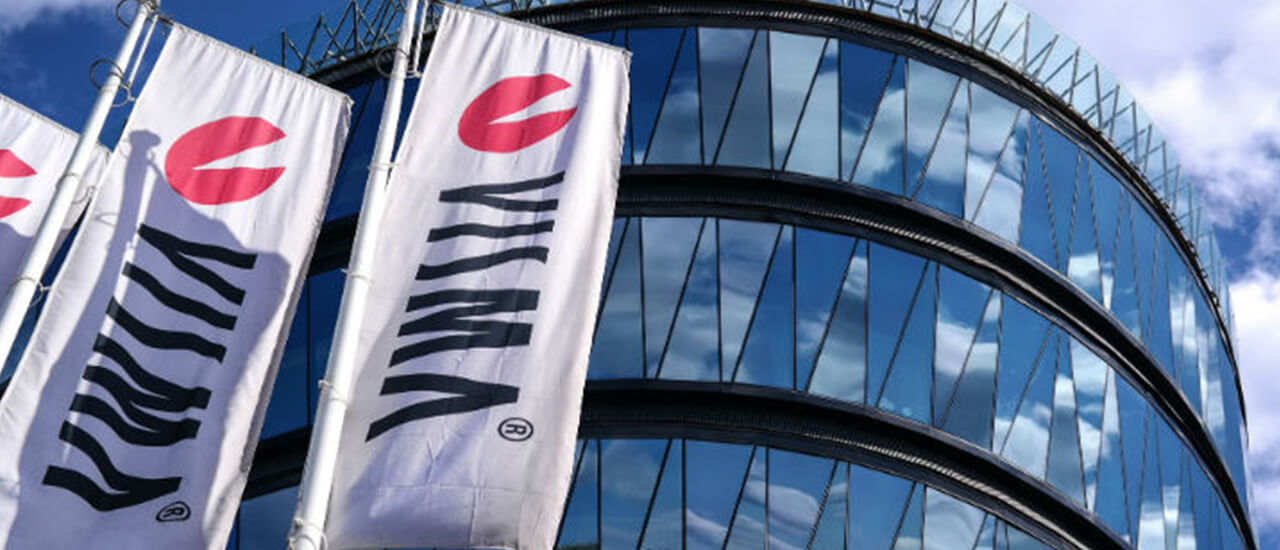 This case study explores why and how Visma uses Yodeck Digital Signage Software throughout three of their global offices for the display of project-critical data dashboards through an office digital signage solution. We interviewed Mr. Vidar Ellingsen, Application Management Engineer at Visma Software International, based in Solo Area, Norway.
About Visma

Visma makes businesses more efficient, through offerings of software, commerce solutions, retail IT-solutions, and IT-related projects and consulting. Visma simplifies and digitalizes core business processes within the private and public sector. Nearly 800,000 customers in Northern Europe utilize Visma's products and services. The group has more than 7,000 employees and its net revenue amounted to 9,146 million in 2017.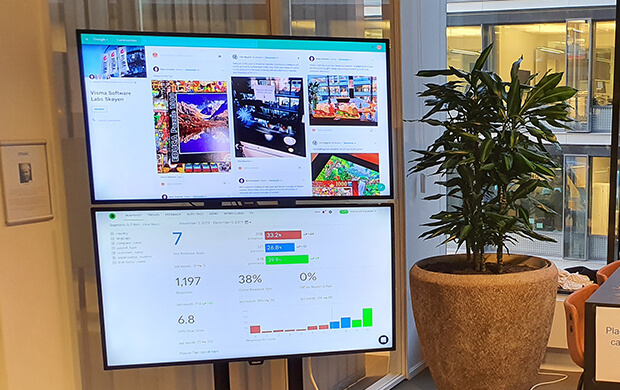 The Need
Visma's software division of nearly 200 teams carry out performance monitoring for software used by their customers. With staff spread across their offices in Norway, Sweden, Denmark, Finland, Latvia, Lithuania, the Netherlands, UK, Ireland, Romania, Poland and Spain, as well as a wide network of distributors and partners, their main need was to display dashboards for service status/health, and for visualizations concerning software delivered to customers. They also have a warning system which they needed to be visible on screens in various locations throughout their facilities. A virtual development organisation (R&D), across borders.
Additionally, the HR department also uses Yodeck to create digital signage for corporate communications. Sharing information about various topics, from local weather and traffic conditions, to corporate events and other company-wide news and announcements.
The key factor in essence was for all employees across locations to have the exact same critical data in front of them. With updates to important metrics available in real-time. The secondary need was to make employees lives easier in terms of facilitating their journey to and from work. As well as access to important company information.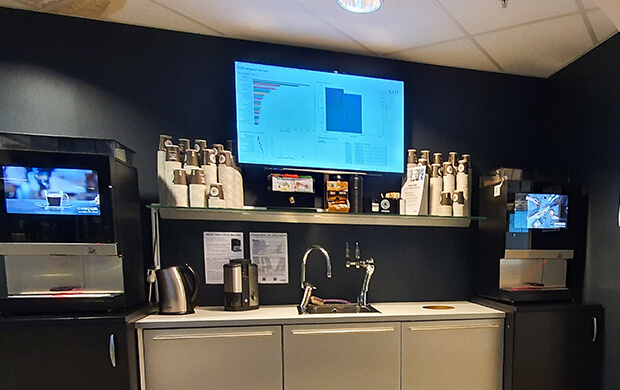 "The first screen we set up was at our HQ in Oslo; it was strategically placed via the coffee machine so everyone would see it and the reaction from staff was incredibly positive."
VIDAR ELLINGSEN
Application Management Engineer
The Solution
Before discovering Yodeck, initially Visma used a Google Chrome Stick solution which simply opened up a browser. Of course this did not serve their requirements as effectively as they wanted. So, after evaluating vigorously various solutions, Yodeck was selected to come to the rescue with a robust solution to display dashboards.

For the software team's work projects, the implementation of Yodeck means that all of the screens show the relevant dashboards in order to effectively monitor performance in real-time. This offered Visma the visibility of complete, real-time statuses in order to manage work effectively. While it also provides them with the transparency across the different teams that they needed. All that, with the help of Yodeck's functionality to display dashboards.

In terms of the screens used for better information sharing by the HR department, the adoption of Yodeck means that they can now create playlists with the content they need. The HR team use it for event digital signage and sharing information about corporate announcements. Also, they elected to display dashboards about local office news, and local weather and public transport schedules.

Generally, the demand from Visma was for a solution that could be implemented easily. That is, due to the fact that many of the professionals who would be using it – namely Human Resources – are not particularly tech-savvy. Yodeck facilitated this need fully.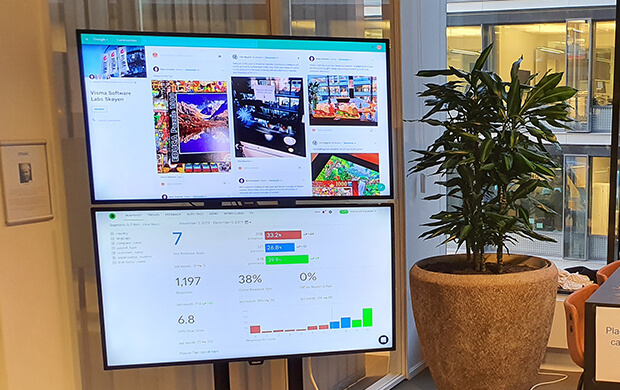 "The major plus point for us was the fact that Yodeck was so easy to set-up, and so easy to use; we have multiple locations so it was important that getting our content deployed, even by remote branches, would be a breeze. And it is!"
VIDAR ELLINGSEN
Application Management Engineer
The Results & Benefits
With all the critical data they need shared across locations for all staff to see, Visma's software teams are now more efficient in their daily work. While they are also always up to date with the latest company news. What's more, their commute and general daily office life has been made much easier. The idea to display dashboards in the workplace proved to be so useful!

Overall the main benefit that Yodeck has given Visma is having the necessary information shared on-screen with the right people. At the right time, in the right place, with the minimum of fuss. Yodeck has also freed up the time of software teams to work on other more critical matters to the company's business.
In addition, because Yodeck is based on Raspberry Pi, Visma also benefits from low power consumption. Have piece of mind that they are using an environmentally friendly solution, as well as one which is extremely portable.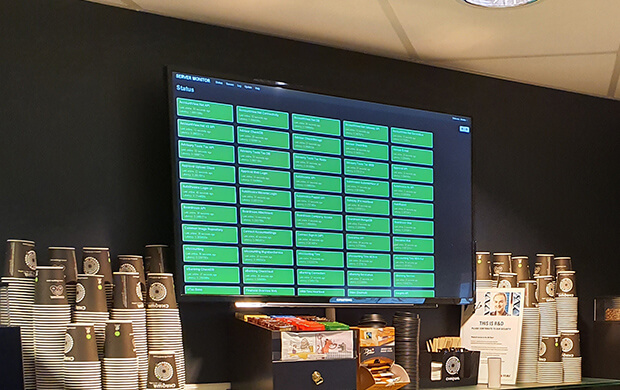 "It's great that Yodeck is not based on proprietary hardware. On top of that, it is super user-friendly; we were amazed how fast we got it set up. It took just half-an-hour to show our HR team the Yodeck portal. And, after that, I have never had to intervene even once. That speaks volumes."
VIDAR ELLINGSEN
Application Management Engineer
The Last Word
"We love the intuitive platform and the fact that everything just works. We needed an engaging way to improve internal communications as well as a simple solution to display data dashboards. The best part? We were up and running in literally five minutes."
VIDAR ELLINGSEN
Application Management Engineer