Digital signage is widely used in offices of all types, but how does it offer value to the modern workplace? We conducted a survey to gain insights into how effective digital signage for offices is, and its impact on everything from employee engagement and retention to wellbeing and workplace culture.
Survey demographics & use cases
First off, we requested feedback from professionals working in offices across a full range of industries. In total, we surveyed 100 people based in the US; 21% in the Northeast, 18% in the Midwest, 36% in the South, and 25% in the West.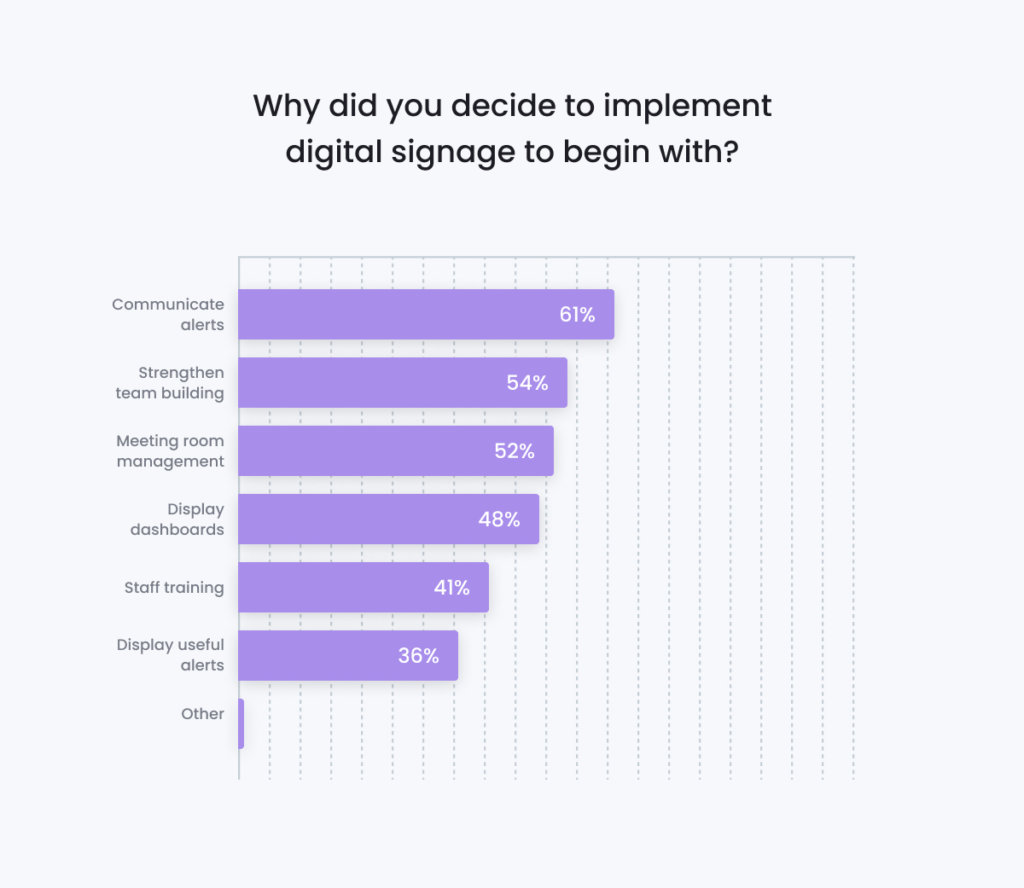 Initially, we wanted to find out why our respondents decided to deploy digital signage in the first place. As a communication tool, 61% implemented digital signage to communicate alerts, 48% to display dashboards, and 36% to display useful content like weather or traffic updates. 
Meanwhile, 54% implemented digital signage to strengthen team building. Others (41%) said they set up digital signage for performance purposes (staff training) or operations (52%) such as digital conference room signage.
Interestingly, when we asked respondents how they are using digital signage today, there was an uptake in usage for displaying useful alerts and meeting room management. Of course, digital signage makes meeting room bookings more efficient by displaying availability and digital schedules for usage, while screens can be instantly updated with real-time information.
Clearly, digital signage in offices improves day-to-day operations by sharing company-wide messaging. On top of that, with more people returning to the office and shifting to hybrid work, employers need to offer a well-connected workplace.
86% increase in employee motivation
Employee productivity is essential for a company's profitability. Notably, our survey demonstrates that digital signage is impactful in this area. The majority of respondents we surveyed (86%) stated that digital signage in the workplace improves the level of productivity, resulting in better performance for their business.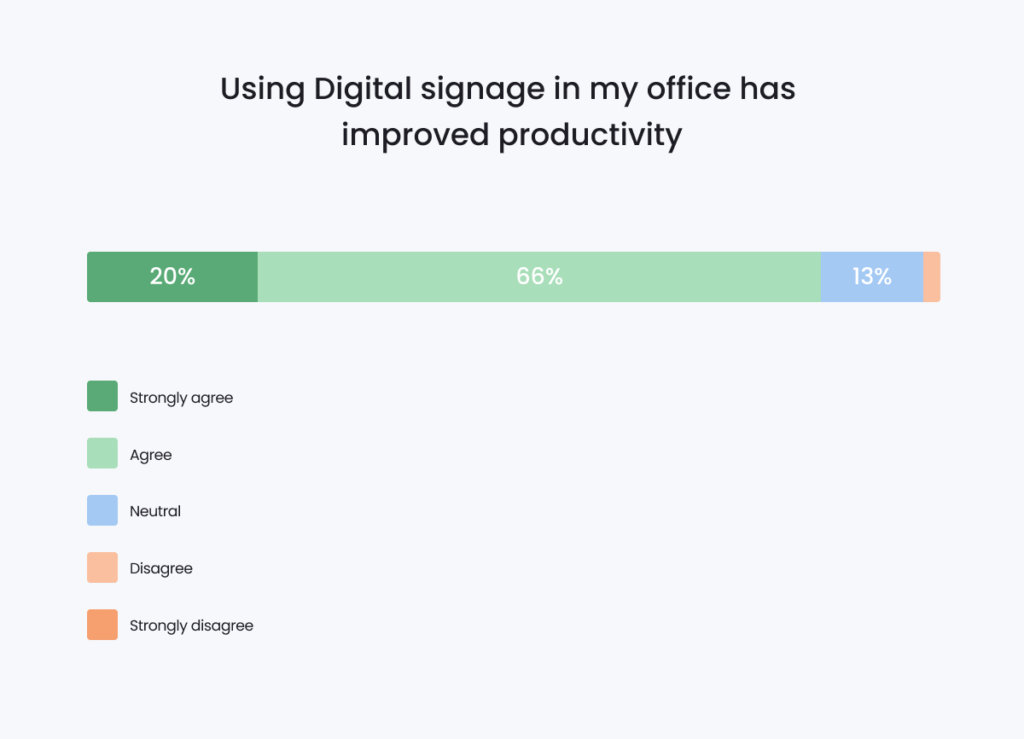 Indeed, Swissport, who use Yodeck Digital Signage in their offices, describe office digital signage as a very versatile tool. "It's a single solution for a lot of different applications. It leaves you with a lot of options to market or communicate internally or externally… (digital signage) is the modern application (of the office posting board) which is easier to use, cleaner in the work environment, and which allows people to still share information very easily."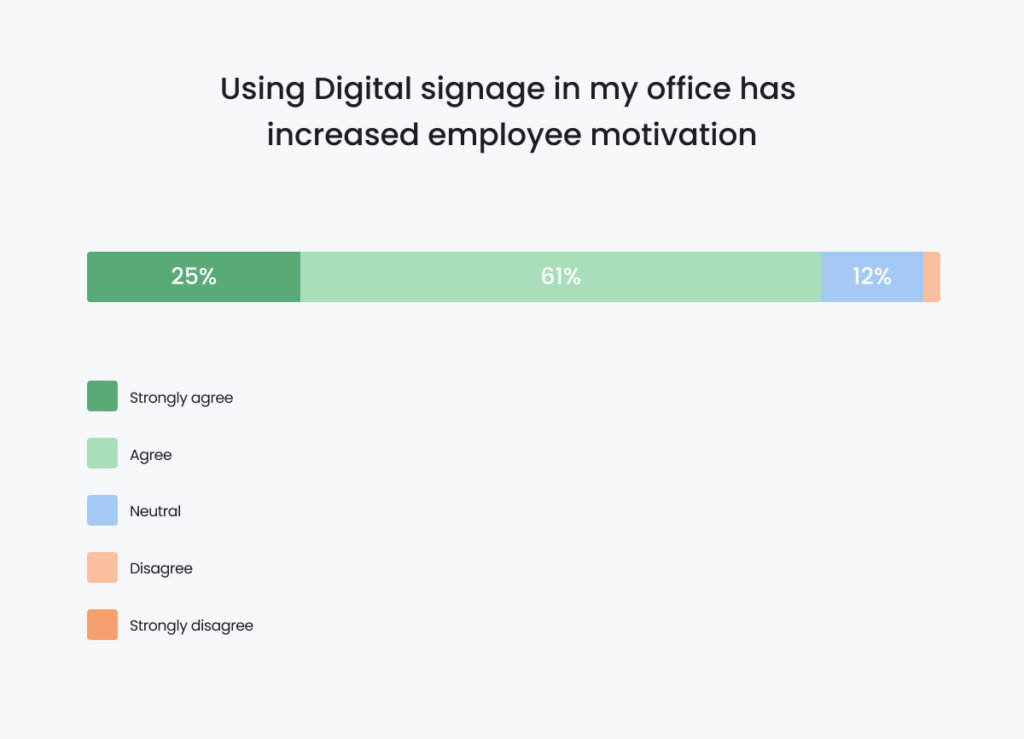 Our survey results also emphasize a correlation between digital signage and how driven workers are. Specifically, 86% of respondents believe that digital signage for internal communications increases employee motivation. Typically, displaying digital dashboards and company goals helps teams achieve targets and develop a sense of belonging.
69% say using digital signage helps retain valuable employees
Employee retention is more important than ever. According to Gartner, employee annual voluntary turnover is likely to jump nearly 20% this year. That's a leap from an annual average of 31.9 million employees quitting their jobs (pre pandemic) to 37.4 million quitting in 2022. Moreover, in today's competitive job market, studies have found that the cost of replacing an employee can range from one-half to two times of their annual salary.
Beyond negatively impacting profitability, employee turnover also disrupts productivity, lowers staff morale, and affects the customer experience. Fortunately, digital signage helps to cultivate a positive employee experience. Case in point, 69% of respondents who use digital signage in their offices believe it helps retain their best employees. In fact, digital signage can engage employees from day one. It modernizes onboarding and orientation right through to staff training, as well as supporting more safer and efficient collaborative spaces.
Using digital signage in offices enhances employee wellbeing
There's no doubt that, since the pandemic, workplace wellness has been pushed higher up the corporate agenda. Indeed, the U.S Bureau of Labor Statistics reported that 7.8 million workers had an illness-related work absence in January 2022. However, taking a proactive approach to workplace wellbeing can prevent stress and burnout, reduce absenteeism, improve productivity and reduce absenteeism. In short, wellbeing initiatives help both individuals and organizations thrive.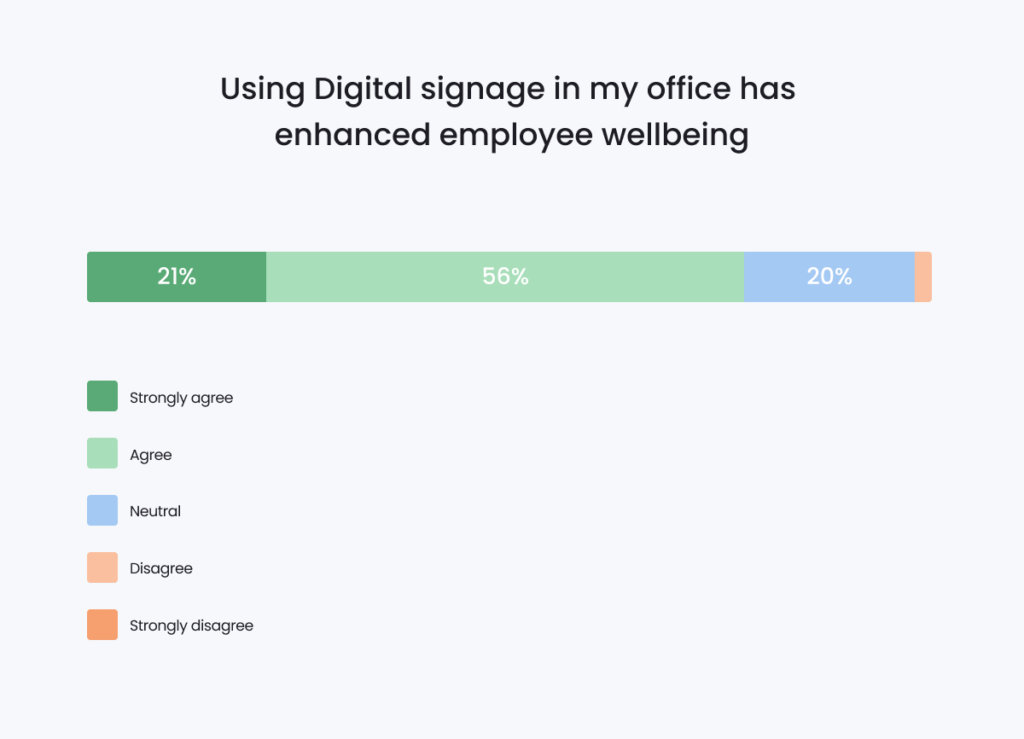 From our survey, it's clear that digital signage plays a significant role in communicating workplace wellness. Almost 80% of respondents say using digital signage in their office has enhanced employee wellbeing. Think displaying safety alerts, or promoting wellbeing programs and policies in recreational areas designed to support healthy behavior. Digital signage really does have the versatility to promote all types of wellness strategies.
82% think digital signage creates a better workplace culture
We also asked survey participants about workplace culture. 82% of respondents picked 8 or higher, on a scale of 1-10, when asked to what extent digital signage created a positive workplace culture in their office.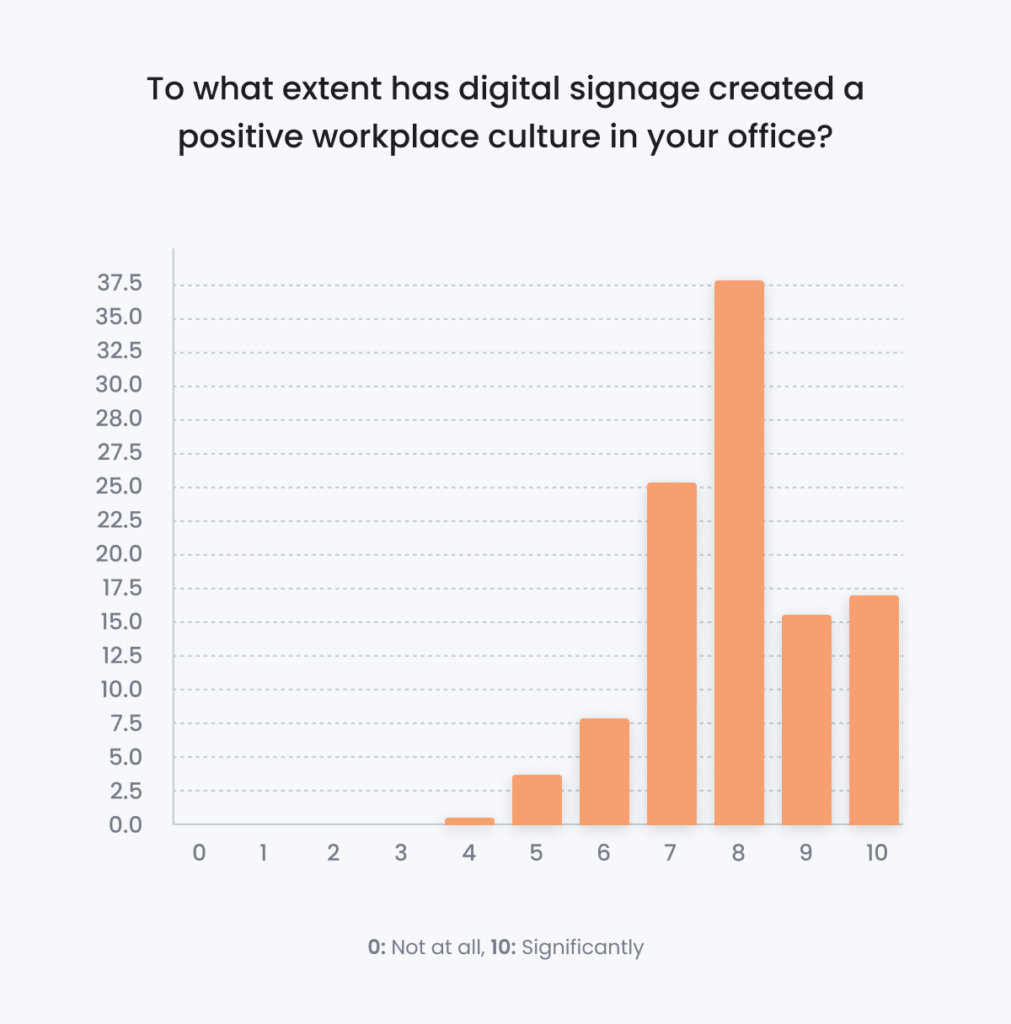 A successful company culture is a key factor for business growth. Crucially, digital signage is an all-in-one solution for strengthening internal communication processes and more efficient workflows. Employees can be kept aware of and aligned with corporate KPIs. While apps, such as social media, news and RSS feeds provide entertainment while making office spaces smarter.
Certainly, digital signage helps cultivate a workplace culture that retains and inspires employees. It offers immeasurable value at all touchpoints from lobby displays and wayfinding to training experiences and corporate presentations. Ultimately, it improves internal communications while increasing productivity. And with providers such as Yodeck offering super affordable pricing and free hardware with annual plans, office digital signage undoubtedly offers a strong return on investment. As well as the benefit of low costs initially to set it up.