Here, we explore the many benefits of digital moving signage over their classic counterparts. Learn about the potential uses for your business and how to get set up with Yodeck's unbeatably easy digital signage, so you can create and display moving messages in no time.
Conventional scrolling LED signs are used by businesses up and down the country to advertise their services. They're found outside takeaway restaurants, high-street tech stores and train station platforms.
And it's not hard to see why. These signs grab people's attention, let you update essential messages and they're pretty affordable too.
But if you want to communicate more than a few words, the benefits of classic LED scrolling signs soon dry up. They can also look, well, a bit basic.
So, what's the alternative? Digital moving signage.
What's the Difference Between Digital Signage and LED Scrolling Signs?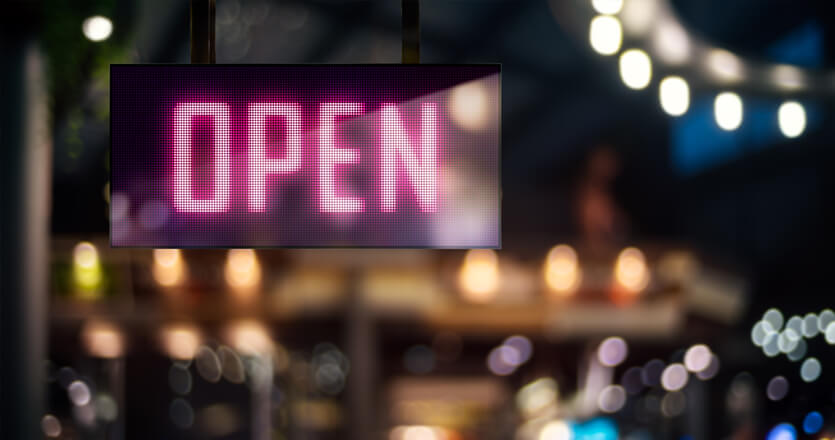 When we talk about conventional scrolling LED signs, think of the classic light-up banner signs you might see outside shops, fast food joints, cinemas… anywhere that has a short, simple message to share.
This could be "PIZZA", "OPEN TODAY", a 7 pm showtime, or departing trains and buses.
But this is much more than just a simple banner message when discussing digital moving signage. With a laptop, media player and a screen, you can display anything from rolling news and video displays, to real-time updates of social media feeds, from weather data to changing menus, special offers and company-branded advertising. You name it.
The difference is a bit like comparing those early black and white mobiles (Nokia 3310 anyone!?) and the latest generation of smartphones. While the more basic models were great when they launched, there's just no comparison with our current technical capabilities, ease of use, and possibilities for communication.
What are the Benefits of Digital Moving Signage?
If you're thinking of replacing your conventional LED scrolling signs with something a little more modern, there are loads of advantages.
Here are just a few reasons why investing in digital moving signage is well worth your time.
Greater flexibility and customization
With a digital scrolling sign, you aren't limited to letters and text. You can create branded color schemes, insert your logo, specific fonts and high-resolution graphics, display YouTube videos and social media integrations… the list goes on.
Easy changes and scalability
With traditional LED moving signs, updating content can be time-consuming. For instance, will every sign need individual updating if your business moves to a new location? 
With digital moving signage, you can manage thousands of screens from a single device. Controlling and updating your content is simple and hassle-free, no matter how many screens you manage.
Create professional, memorable messaging 
Another benefit of digital moving signage? It simply looks better. 
With digital signage, your organization obviously cares about communicating with customers, visitors, and service users. As updates are so easy, you can continually adapt and optimize your designs, incorporating any app or branding updates as you go.
Proven results
In short, moving digital signage works.
Clear and up-to-date information is so important in many different situations, whether improving product sales, enhancing your brand image, or helping students find their way around a university campus. 
In retail spaces, nearly 70% of shoppers made purchases after seeing digital signage. Manufacturing employers saw a 41% drop in health and safety incidents, while office managers reported an 86% rise in productivity with moving digital signage. Quite simply, can you afford not to go digital?
Easy technical set-up and design
If you think digital moving signage is too complicated, think again. Especially when compared with programming and installing multiple classic LED signs, digital signage is simple, fast, and easy. 
With our durable Plug and Play Yodeck Player (that supports all standard screen resolutions) and free layout templates, apps, stock images and videos, you can create and display stunning moving signage in moments.
How Can I Use Digital Moving Signage?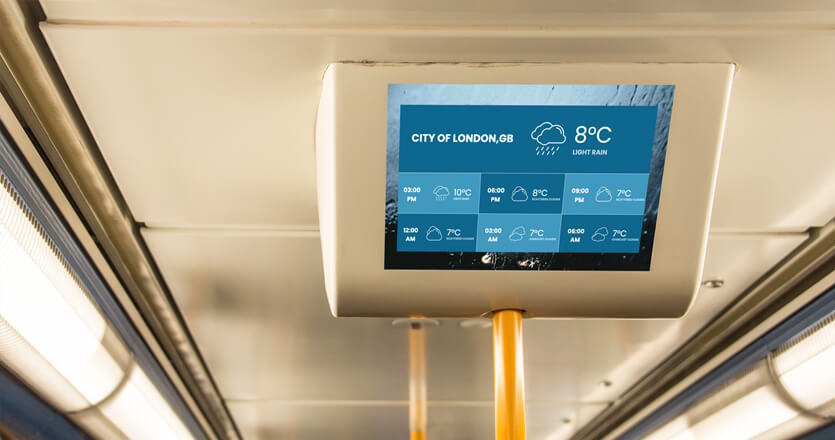 Digital moving signage offers so many benefits over more conventional signs. So, what are some of the ways you can put this to use?
While this will depend on the nature of your business (and your communication needs), here are some ideas.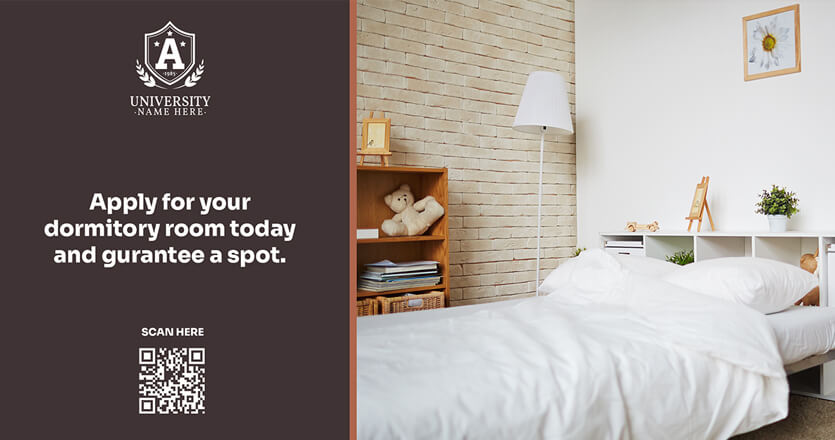 Communicate Complex And Changing Information: No Matter The Setting
What links all the ideas above? The fact that moving digital displays let you communicate multiple messages in a clear and concise format.
Just think, if your message is more than five words or so, you'll either need a very long LED banner display or customers have to wait while your message scrolls through. Do you have the space—and do they have the time—for this?
Alternatively, need to make quick updates? With conventional moving signage, this can be time-consuming if you have more than one sign.
But with a moving digital display, you can create fully customizable displays highlighting rotating promotions (for instance, restaurant breakfast, lunch, and evening deals changing throughout the day), community-building messages, or important safety and wayfinding information.
What's more, you can also schedule content in advance, so you know the right message is hitting your audience at the perfect time.
How To Get Started With Yodeck
Want to get started with digital moving signage? Well, the good news is with Yodeck, it's easier than ever.
Whatever type of business you work with, you can design, schedule and display moving digital content affordably, easily and professionally.
So, how does it work?
Yodeck's digital signage solutions let you display any type of content on any screen. We provide hundreds of free expert-designed templates and apps, so you can seamlessly integrate real-time information, social media feeds, weather updates, and videos. 
Yodeck users can set schedules in advance and manage just one (or thousands!) of screens remotely. You can also make the most of our cloud-based software, so updating and controlling your moving digital signage is a breeze—no matter how many locations you're managing.
To get set up with Yodeck, the process is easy:
Sign-up for a free Yodeck account to access all our features. Yodeck is free for anyone managing just one screen. If you're running more than one screen, our affordable plans start at just $7.99 per month, per screen.
Order your Yodeck media player from us. Our Raspberry-Pi tech even comes preconfigured for your Wi-Fi, so it's ready to use straight out the box. No hassle, no fuss.
Connect your player to your screens. Use the HDMI to micro HDMI cable that's included with your player and make sure it's connected to a power supply. It will automatically turn on, and you're ready to go.
Now all you need is some attention-grabbing content for your screens! Drag and drop your own media or choose from thousands of free videos and stock images. Click "Push to Players" and you're officially live!
Ready to get started? Sign-up for a free Yodeck account and create stunning digital moving signage today.