Hospital Digital Signage
Display health tips and awareness messages, enhance hospital wayfinding signage, advertise your services and entertain patients and visitors.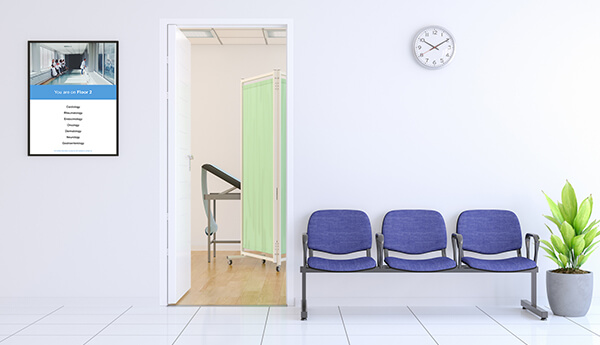 Show health tips for patients
Give patients and visitors valuable health tips they'll use. Present prevention campaigns and also remind people of hygiene guidelines. Display awareness videos on screens in waiting rooms, elevators and other common areas.

Streamline visitor wayfinding
Help patients and visitors find their way to clinics, bathrooms, gift shops and cafeterias. Display directions inside clinics, near elevators and high-traffic spaces. Also, healthcare wayfinding signage makes it easier to navigate your premises.

Display staff updates
Keep doctors, nurses and staff informed of meetings and announcements. Show reminders of health and safety protocols in staff rooms. Also, use your screens to advertise training opportunities or other events.

Communicate alerts
Inform patients, visitors and staff of up-to-the-minute disruptions or delays, evacuation orders or other emergency alerts. Also, show warnings if elevators are out of service.

Donor recognition
Honor and thank benefactors and volunteers who helped pave the way to success. Spotlight videos for a more personal and engaging touch with hospital digital signage software.

Show wait-time updates
Inform patients of estimated wait times. Also, display clinic-specific educational messages with waiting room signage to make wait-times less frustrating. Use digital signage content to minimize perceived wait times.
Free digital signage templates
for Hospitals
Grab our free screen layout templates and wow your patients with professionally designed content.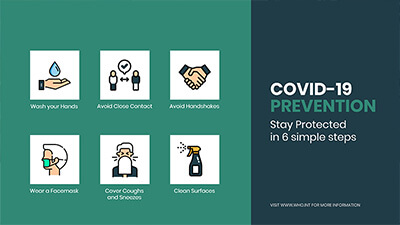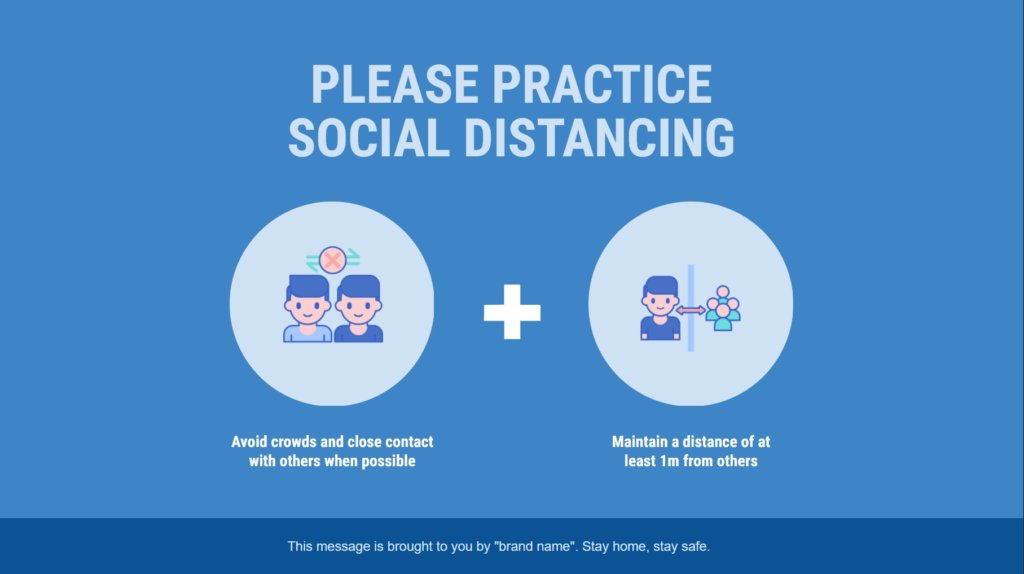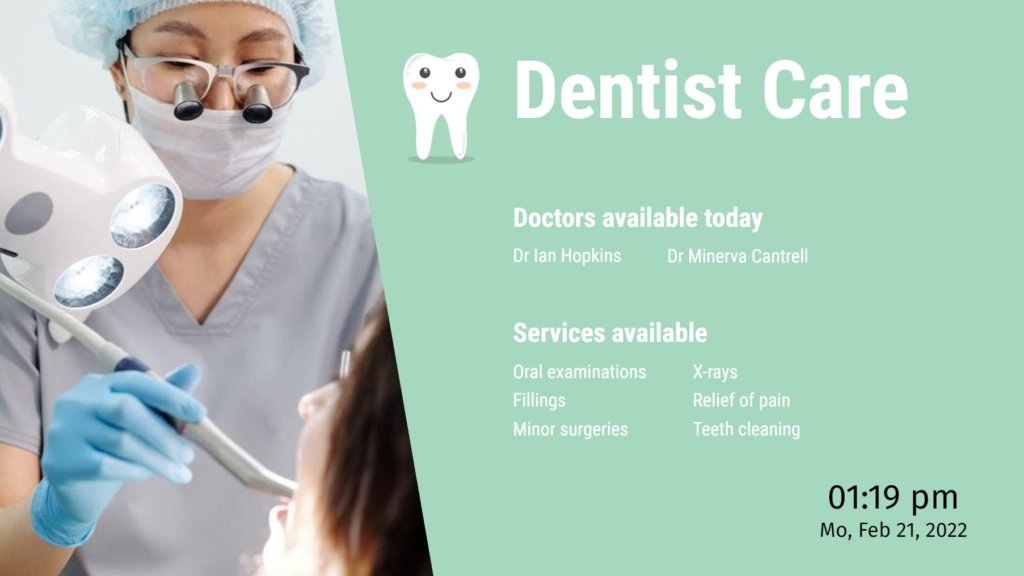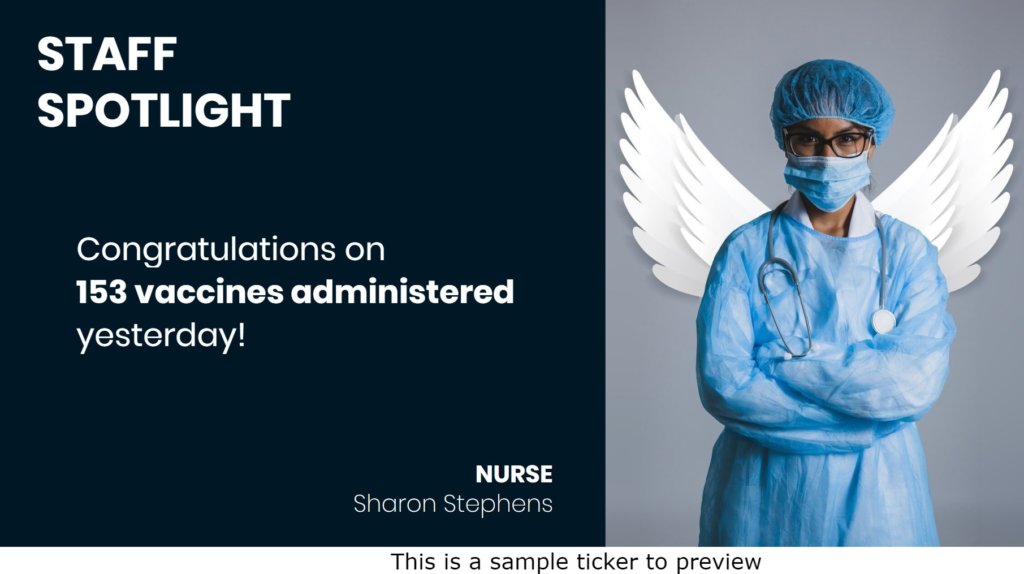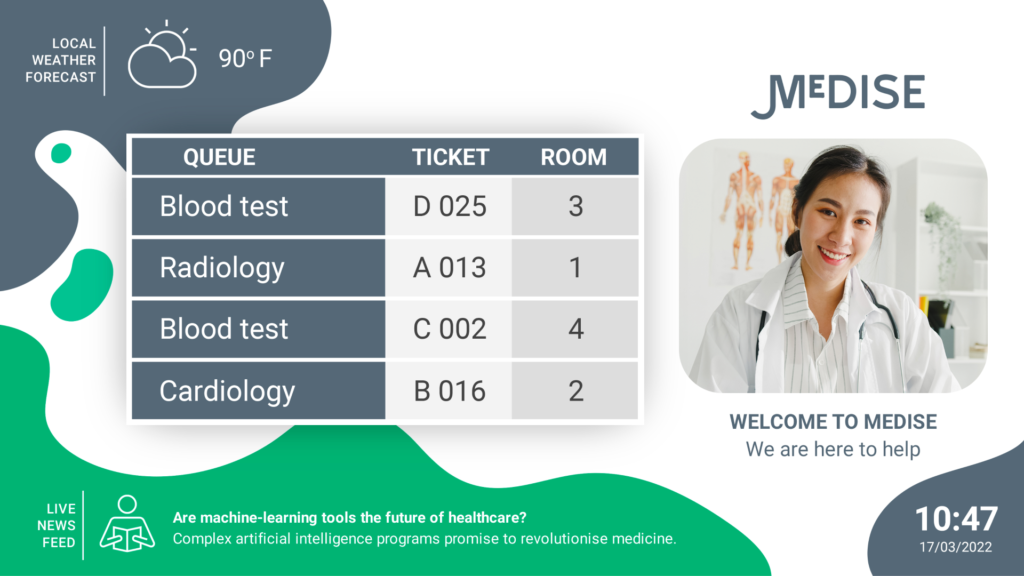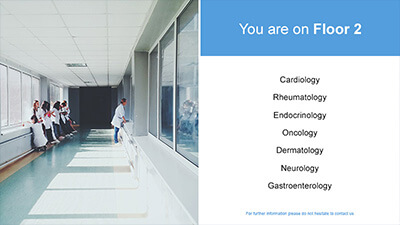 Run one screen for free
See the benefits of Yodeck in action! Put your screens to work and amaze your viewers!
Why Yodeck
Easy to Use
With our drag & drop feature you can upload content files from your PC to our platform, in seconds. Also, anyone can create professional digital signage content that makes an impact using free stock images and videos from our Galleries. Additionally, you can update and display content remotely through our online platform, without physically going to each screen.
Affordable Price
Find the right plan for your organization. Our extremely affordable pricing plans offer unbeatable value for money and have a huge suite of intuitive features. Also, get free, complete, preconfigured Raspberry Pi Yodeck Player kits with annual plans.
Plug-and-Play
Our easy-install digital signage solution requires no tech expertise. Anyone can set it up. And content management is equally easy, for all departments.
Extreme Security
Get enterprise-grade security features, including SSL, firewall and password policies. Plus, rely on Player lockdown and storage encryption capabilities. We know how important security is to you, and our digital signage solution meets your requirements.
Remote Support
Get hassle-free troubleshooting with Yodeck's free remote-access tech support for all plans.
Featured Posts
Screen location can be tricky to get right. You got your free Yodeck account and bought our snazzy Raspberry-powered plug […]
Doctors and digital signage? Doesn't seem like they've got much in common. But think again.
Great digital signage content is the #1 factor that guarantees target viewer engagement. Why?