Your menu board is one of the first things your customer is going to see, so it's crucial you make the right first impression. It's not just about which food and drink options you have to offer; you also want to communicate your brand. What's your unique selling point? What's the overall vibe? How can you tempt your customers to come back for more?
Whilst creating the perfect board might seem like a tall order, enlisting some unique, eye-catching menu board ideas is a great place to start. We've got tons of options for you to try out here at Yodeck.
But first, let's explore what makes a great digital menu board in the first place.
What Makes a Great Menu Board?
Your menu board is probably going to take pride in place (perhaps over a coffee bar or the takeaway counter). That's why you want to make sure it really delivers.
Digital signage for restaurants can showcase your mouth-watering offerings, communicate your brand clearly, and encourage people to buy more, both now and in the future. Here are some things to look out for when taking your menu board to the next level:
It should be easily readable. You want to give your customers the smoothest experience possible, so make sure your menu boards are easy to read. Rather than overcomplicating things, aim to make your menu design clear and simple. In our experience, bold, clean graphics and larger font sizes work best.
It should be on-brand. The menu board will be a key point of focus for your customers, so make sure it aligns with your brand. While this might mean including your logo, it could also be as simple as choosing colors and fonts that reflect how you've chosen to decorate the wider space.
Costs should be crystal clear. You want your customers' focus to be on your amazing food and drink, not on how much it costs. So keep things really transparent by displaying prices clearly on your menu board, including the price for any extras.
It should explain how ordering works. Avoid bottlenecks by explaining exactly how your order system works, especially if there are multiple options for customization, etc.
It should be up to date. Sure, there are going to be some menus you want to keep consistent. But leave room for variation to keep customers engaged, for example, special deals, or daily or weekly meal specials.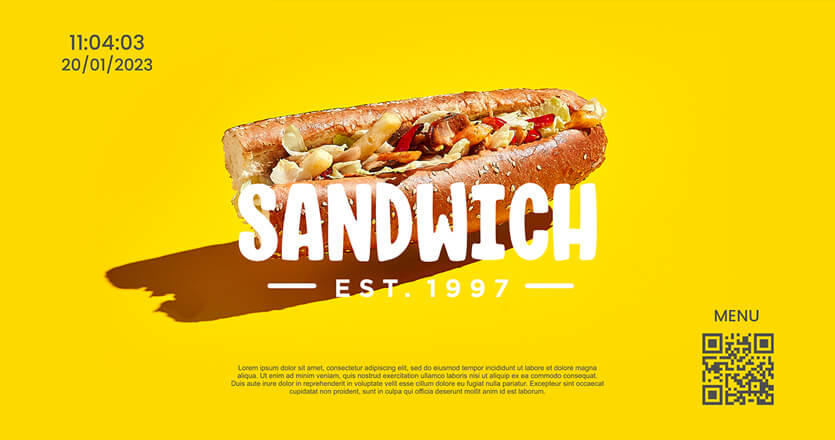 So now you know what a superb menu board looks like, what kind of benefits can you expect? Let's take a look.
Why Use a Digital Menu Board?
Because menu boards are such an integral aspect of the customer journey, they make a big difference to your customer's overall experience. At Yodeck, we believe that digital signage is the top choice for restaurants, takeaways, and cafes.
Here are six reasons why:
Digital signage can be changed easily to accommodate menu changes or things like daily specials.
It can be animated with eye-catching apps, movies, and slide decks.
It can be centrally coordinated across multiple sites.
It provides opportunities for cross-selling and upselling.
It helps avoid waste and costs on printing.
It allows you to communicate helpful information, including things like opening hours, news alerts and nutritional information.
Every business can benefit from digital menu signage—whether you're a global fast food chain or an independent coffee shop. And research by Yodeck shows that those benefits translate into increased revenue.
For example, 82% of business owners who use digital signage to display product information (e.g., supplier content, calorie count, or coffee roasting practices) say it has increased their sales.
Want to get the very most from your digital menu board? Take a look at our five magnificent ideas below.
5 Magnificent Menu Board Ideas
When it comes to menu board ideas, we've got loads of stunning templates for you to choose from. And, because our templates are completely customizable, they'll never be generic.
Take a look at five of our favorite menu board ideas to get your creative juices flowing:
Don't just tell customers what you offer. Show them
When it comes to food, research shows we really do eat with our eyes. So use a digital menu to entice your customers with beautiful, animated images of your food and drink selection, rather than just relying on a static poster image of one dish.
Wow your customers with great offers and deals
If you only display the same old offers day-in-day out, your customers are bound to get bored. So instead, regularly display new offers with digital signage. Our research has shown that according to 80% of business owners, digital signage has increased the number of customers who place an order.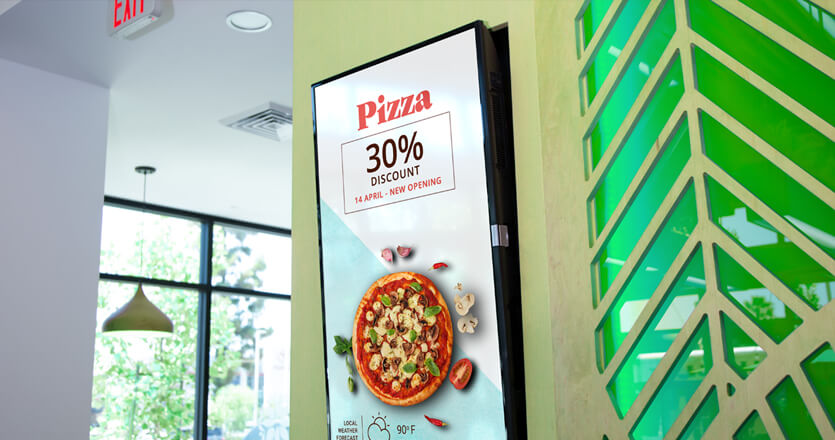 Show your customers what's going on behind the scenes
Open kitchens are all the rage these days. Why? Because customers want to be involved with how their meal is being prepared—in terms of preparation, ingredients, and hygiene.
Even if your restaurant building doesn't allow for an open kitchen, you can create one virtually. Shoot a video of some of your masterpieces being prepared, then create a QR code menu with a link for all your customers to see. Easy! 
Clearly display allergen and nutritional information
You'll need to follow any specific legislation on communicating allergen information according to your location. But even if not specifically mandated, the more transparent you are about ingredients and allergens, the more reassured your customers are going to be.
The perfect place for your weekly specials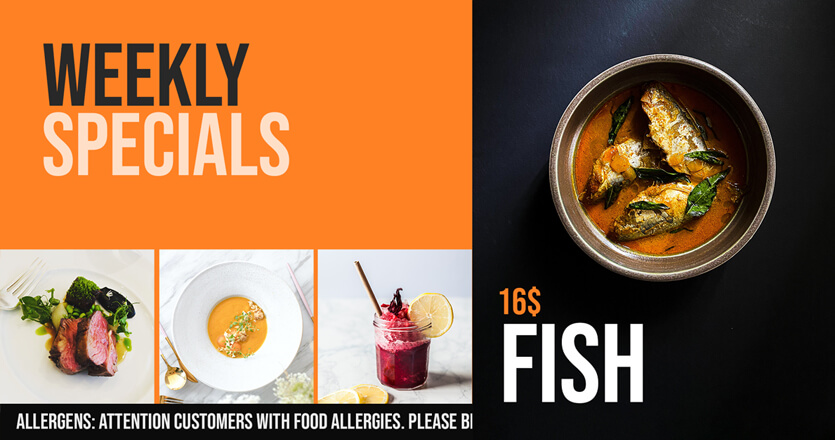 Specials are great for showing your customers the diversity of things you offer and letting them try something new (perhaps for a discounted price). So use our digital signage templates to keep things bright and fresh, and make sure your customers come back for second helpings.
On the subject of keeping things fresh—have you seen our selection of free apps? They can really add an extra dimension to your digital signage. For example, why not consider adding a news ticker and weather updates to your busy coffee shop menu? Your morning customers will really appreciate the extra info on their morning commute.
Case study: How Domino's Pizza use Yodeck for centralised and up-to-date menu boards
When it comes to takeaway pizza, Dominos is one of the best-known brands out there. In Greece, the brand has 34 outlets and over 40 points of sale and aims to offer its customers the highest quality pizza at the best price possible.
Since Dominos operates as a takeaway, it relies on high-quality advertising to tempt customers to buy more whilst they're waiting. But branches of Dominos in Greece were having to rely on manual updating of their digital signage using flash drives—with no centralized control.
So Dominos reached out to Yodeck for a centralized, robust, and affordable solution:
"The important thing for us was that we needed an easy-to-use, robust digital signage solution that we could comfortably manage from our central offices, and of course, one which could fit our low advertising budget. In Yodeck that is exactly what we found."
CHRISTOS ATHANASOULIS
Digital Marketing Consultant
Here's how Dominos is benefiting from Yodeck's digital signage solution today:
Plug-and-play Raspberry Pi platform means Yodeck's players are completely pre-configured and robust enough to stand the harsh conditions of busy kitchens.
Promotional advertising can all be managed from Dominos HQ, but individual branches can customize content for local offers and events.
Visually engaging digital menu boards entertain customers whilst they wait and provide a more modern, innovative retail environment.
Yodeck: Delicious Digital Menu Boards at the Touch of a Button
When it comes to digital menu boards, Yodeck's got it taken care of. With our huge range of tempting templates, easy-to-use online dashboards, and affordable price plans, you'll be cooking up unique menu boards in no time.
Create and update in double quick time. Our intuitive online dashboard makes digital menu signage easy—simply drag and drop, then plug and play.
Update all your menus from one point. Perfect for chains and franchises, all of your content can be managed from HQ. Need to add some local customisation? No problem, screens can be managed individually too.
Apps galore. There's more to menu boards than food and drink. Use Yodeck to add social media hashtags, news tickers, weather info and more.
Get started today—your first screen is totally free!