Students of all ages are surrounded by screens. From smartphones and gaming consoles to personal computers and TVs, looking at a screen is nothing new for them.
But as education digital signage solutions become more and more widespread in campuses and classrooms, new features and functionalities are already transforming many aspects of the technology and its application in education.
Can digital signage be interactive?
Although we have talked in length about the benefits of digital signage in schools and while schools and universities are still just starting to explore these solutions, interactive displays are coming into the foreground too, bringing with them more capabilities for students and staff to augment the learning experience.
Like any other new technology, interactive digital signage software's uptake in education can allow for new tools that are visually appealing, highly engaging and incredibly effective in facilitating the learning process for both students and teachers.
With this new technology, educators are now able to create more dynamic and personalized lesson plans that cater to individual learning styles and needs, which will ultimately result in better educational outcomes for students.
Introducing interactive digital signage in the classroom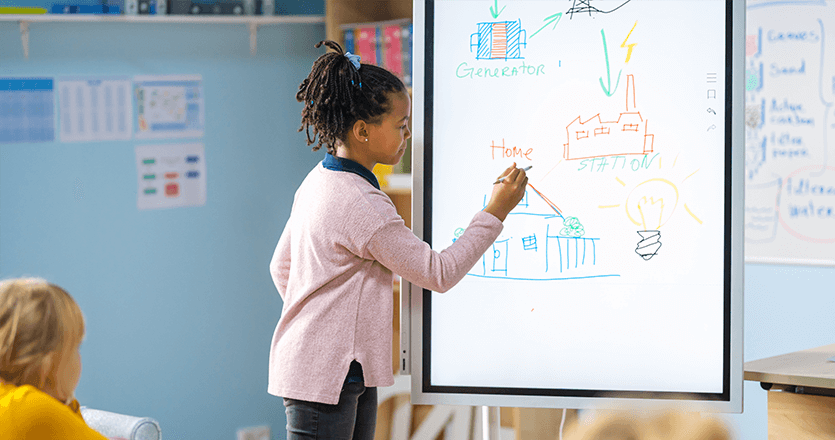 Digital signage in schools is already gaining popularity throughout campuses and facilities, replacing bulletin boards and wayfinding static posters, but interactive displays can also greatly impact the educational experience inside classrooms too. Below we will take a closer look at the ways educators can incorporate interactive digital signage displays within their classrooms.
Collaborative learning
Being actively engaged with an interactive screen, students can better keep their attention focused and turn the learning experience into a group project. They can collaborate in real-time, share ideas and exchange feedback over the collectively developed material, all while screen and student interaction makes concentrating on the shared task more fun and easier. Increased attention and participation will also make it easier for them to contribute to other group discussions and activities, as well as foster new friendships and create new stronger bonds among them.
Real-time feedback
What about the ability for students to get real-time feedback? Providing real-time feedback for more and more classroom activities can also be considerably beneficial to the learning process. By receiving feedback about their work in real-time, students can adjust their approach and make improvements more swiftly, which can in turn facilitate more effective collaboration and learning.
Turn pop quizzes and other exams into playful time
Students are seldom happy with pop quizzes. But this does not need to be the case anymore, as interactive classroom signage can make pop quizzes a fun experience for students by gamifying the process. Other types of exams, which can also spell stress for students, can also be turned into interactive processes. This way, educators have increasingly more tools in their arsenal to transform such experiences into more engaging and effective learning activities.
Amplify teamwork and confidence with playful interactivity
Through interactive touchscreen digital signage displays, students can collaborate with each other more easily, enhancing their ability to work in teams and learn from each other. They can hone their communication and problem-solving skills as they work together to identify problems, develop solutions, and implement them. A playful and collaborative environment will almost certainly improve students' social skills, creativity and confidence as they are exposed to different ideas and perspectives, which will have to be taken into account to reach a team decision.
Virtual field trips and enhanced material
Much like in museums today, interactive screens can offer unique ways for students and educators to engage with immersive educational content without having to leave the classroom. This allows teachers and students to explore new tools, making their daily life more interesting and vibrant. The new capabilities can also gamify linear stories with students taking a more active role, where they can choose different paths while interacting with the screen.
Interactive presentations
Presentations are essential in education, utilized by both teachers and students to present work and deliver information. But the traditional static presentations can be draining for the classroom's attention even with the most exciting content. Interactive digital signage can turn static presentations into vivid and engaging classroom activities, incorporating multimedia elements such as images, videos, and sound effects.
Interactive displays outside the classroom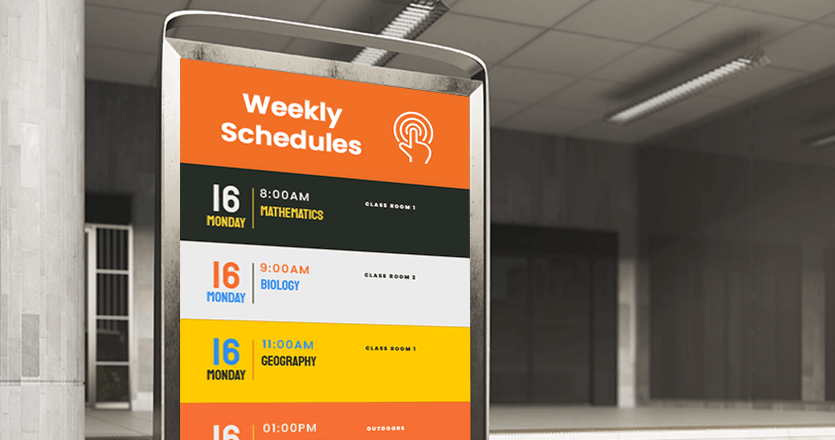 Digital signage is a versatile and effective tool for communication, wayfinding, engagement, and promotion on university campuses and classrooms and as screens find their way into increasingly more of these places, students and faculty alike have much to gain.
But similarly to interactive digital signage displays inside the classroom, the advanced features of interactivity can impact the ways screens are used outside of them as well.
Smarter information kiosks
Information kiosks are where students head to find useful information such as classroom and lab locations, important announcements and safety updates. But with interactive touch screens, your kiosks can be the smart hubs where students find all they need for their campus life in a hassle-free and quick manner. Scrolling through class schedules, wayfinding digital signage with campus maps, and daily announcements, students are able to find just about anything they need with a touch of their finger.
Timetabling meeting rooms and classrooms
Similarly, students and educators can utilize interactive screens for scheduling their activities in a more dynamic and effortless manner. Reserving classrooms and meeting rooms, browsing through what other facilities are available, and quickly locating where their next class is are just some of the ways interactive digital signage can make everyone aware about resource availability throughout the campus.
Interactive bulletin boards
Plain old bulletin boards are a thing of the past. Or at least they should be, as they can easily be transformed into digital bulletin boards. No need for students and teachers to shuffle through various pieces of paper to find what they are looking for. Now the information they are looking for can be found in seconds, while the work of updating the boards can become a painless, waste-free, and streamlined process with digital signage.  
Cafeteria menu browsing
Lunchtime can be busy in cafeterias, but that does not mean that it should be an unpleasant experience. With interactive screens, digital menu boards can be displayed along with what's on offer, daily specials and health information, all while allowing the user to browse what's available and place their order on their own.
Upgrade the educational experience with interactive digital signage
Digital signage has become a popular tool for information sharing in education. Nonetheless, the new possibilities unlocked by novel interactive features make signage an essential part of institutions that strive to create a participatory and engaging experience for both students and faculty. Whether with tablets or large touchscreen devices, you can easily introduce interactive digital signage to your institution today.