From streamlining communications and making event management effortless to boosting engagement and school spirit, the benefits of digital signage in schools are revolutionizing the education sector.
Dull old noticeboards, uninspiring blackboards, and worn-out marquees are being replaced by digital school signs that have the potential to modernize and rejuvenate any educational institution.
From K12 to the most prestigious colleges, educators and school administrations treat digital signage in education not just as a quirky prop but as an essential tool that drastically transforms the learning experience.
Below we'll explore the top 9 benefits of digital signage in schools and how it contributes to the growth of students and institutions, individually and collectively.
In essence, school digital signage is a cost-effective alternative to outdated printed signs and a game-changer for modern schools.
What is Digital Signage in Education?
Digital signage in education refers to the use of screens, monitors, video walls or any type of display to convey information, announcements, and various types of content in educational institutions such as K-12 schools, middle schools, colleges and universities. Digital signage in schools is a versatile tool that transforms communications by presenting dynamic and visually appealing content for various purposes to create a modern and technology-enhanced learning environment
How is Digital Signage in Schools used?
From digital library signage and event promotion to campus wayfinding displays, digital signage in educational institutions can take many forms. Here are some innovative applications of digital signage in schools:
Benefits of Digital Signage in Schools
In the ever-evolving landscape of education, the integration of technology can play a pivotal role in transforming the learning environment, making processes more efficient and creating a strong sense of community. Digital signage as a means of communication is making strides in turning regular displays into innovative tools for an interactive educational ecosystem. These are the most important benefits of digital signage in schools and educational institutions: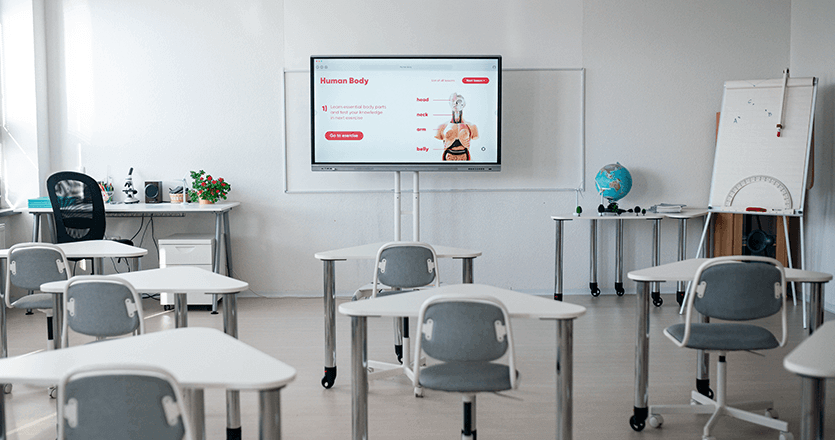 Digital Signage for Schools Leads to Increased Engagement
Once frowned upon as an unnecessary distraction, educational digital signage is making its way into classrooms as an innovative tool that boosts engagement and rekindles students' interest. Digital signage in schools makes lectures more interesting by incorporating interactive elements like videos, maps, graphs, puzzles or quizzes into the curriculum mix.
This use of captivating media in the classroom complements lessons, increases participation and, more importantly, bolsters pupil inclusion by accommodating different learning styles.
Outside the classroom, digital school signs can be set up in hallways or common areas to serve a wide range of purposes. From welcoming a new student or celebrating a birthday to featuring individual or team achievements, campus digital signage enhances the sense of community and the collective feeling of connectedness.
In addition, you can use educational signage to lift students' morale and school spirit through motivational quotes, lauding students for awards or scholarships and replaying event highlights.
Streamlined communications
Digital signage for schools and universities is transforming communications by replacing conventional educational signage like posters, notice boards and displays. The reason behind that is simple; digital signage is probably the most viable means of mass communication across large campuses and school building complexes.
Digital signage software for schools allows administrators to automate messages between staff, students and parents at the touch of a button. Digital displays can be used as interactive noticeboards to instantly share useful information like exam schedules, rules and regulations or messages from the principal in real-time.
Even better, a user-friendly digital signage CMS will allow you to use apps, ready-made templates and layouts to tailor and distribute engaging content in seconds. And most importantly, by choosing a cloud-based digital signage solution, you can control all of the content delivered throughout your screens remotely; all from one place.
Effortless Campus Navigation with Digital Wayfinding Signage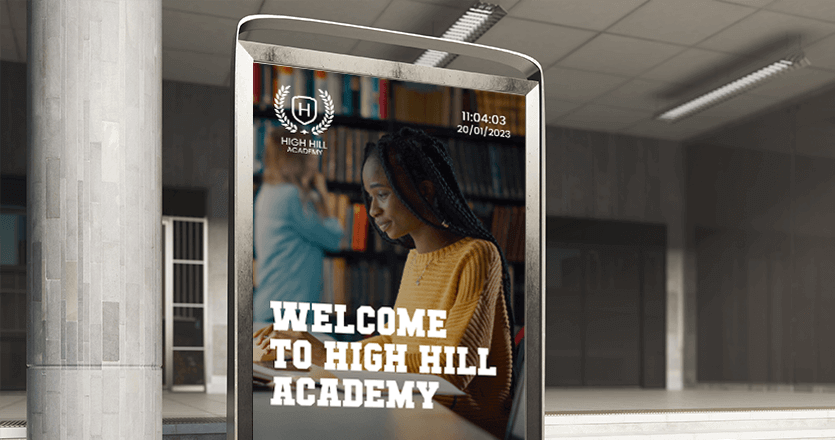 Wayfinding is one of the most impactful benefits of digital signage in schools, especially when it comes to schools and universities with massive campuses. Why rely on conventional school signage when you can create an engaging university experience with moving arrows, interactive maps, visual directories and listings?
No matter how large or complex the layout of your campus is, digital school signs will allow students, visitors and teachers to find their way to lectures, offices and meeting rooms in a fun and easy way. What's more, you can use wayfinding digital signage provide useful information about the status of classrooms, other facilities like gyms or swimming pools, dorms, ongoing events or even display train and bus schedules near the campus exits.
Digital School Signs for Facility Management
Room and facility management can prove to be a daunting task for schools and universities. One of the most effective benefits of digital signage for the education sector is that it can centralize and simplify the operations of any kind of facility, including school cafeterias, libraries, labs, gyms, swimming pools, sports courts or even dorms.
By deploying a digital signage solution for schools, you can link certain screens to a reservation system or a calendar and easily inform students and staff about the status of classrooms, meeting rooms and common areas. Better yet, apart from displaying schedules and timetables, you can also set up a digital menu board to upgrade your school cafeteria or even completely transform your library with free digital signage software for schools.
Boost attendance with Digital Signage in Schools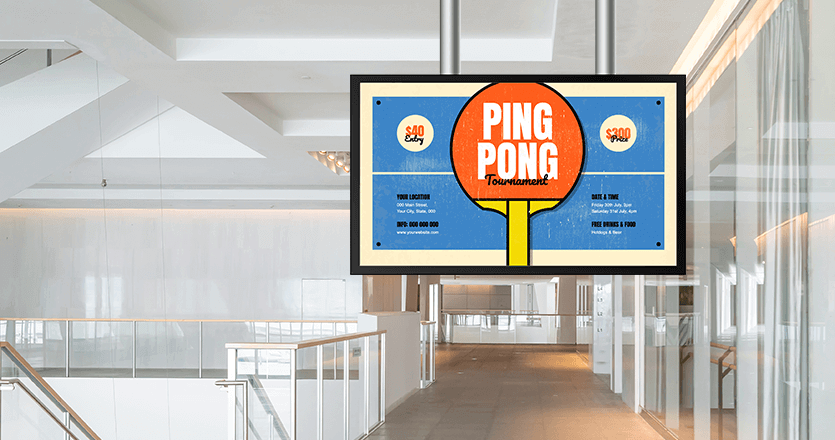 As you already know, a large part of signage found in schools and universities is dedicated to promoting events and happenings. The importance of signage in the community is clearly beyond question when it comes to keeping students and staff informed and engaged.
Nevertheless, there are all kinds of events taking place annually in schools such as career fairs, extracurricular courses, teacher-parent meetings, dances, sporting events, concerts and many more. This means that perpetually designing, printing and distributing conventional signs can be both time-consuming and pricey. That's where digital signage for schools comes in. School signs used as digital signage for events will allow you to attract attention and advertise upcoming events, display real-time updates or even create flashy countdowns and reminders in order to boost attendance.
School Branding
The power to revamp and reinforce an educational institution's branding is one of the benefits of digital signage in schools that often goes overlooked. However, digital school signs are an exceptional way for schools to stand out from the competition, build a strong brand identity and, ultimately, increase enrollment rates. And there are actually several different applications of digital school signs towards this goal.
First off, campus digital signage will reinvent the appearance of your school grounds, while welcoming new visitors and winning first impressions.
In addition, a digital marquee sign for schools will allow you to display your school's history, core values and achievements, inform visitors about scholarships and curriculums or highlight the careers of your star alumni.
Moreover, digital signage for schools is a great way to boost your crowdfunding activities by advertising fundraising events, boosting awareness, or even setting up digital donor walls as an extra incentive.
Finally, by showcasing your feeds, hashtags and accounts on a digital signage social media wall you can feature student-generated content and foster a sense of community.
School Digital Signage Keeps Students Safe
Strategically placed digital signage in schools has the potential to save lives in case of an emergency. Traditional emergency signage typically found in schools and universities like evacuation routes, assembly points or fire safety protocols usually goes unnoticed and is hard to remember during a crisis. By integrating a digital signage solution into your safety procedures, you can minimize risks and ensure that urgent broadcasts are both prompt and eye-catching.
Using digital signage software, you can set up emergency alerts and notifications for extreme weather warnings, earthquakes, fires, power outages or any other security issue that might be dangerous to students and the faculty. Better yet, you can even create weather alerts that are automatically triggered by US National Weather Service and warn students about imminent threats instantaneously.
Digital Signage for Schools Improves Internal Communications
We mentioned several ways in which your students can benefit from digital signage in schools. But what about the teachers and professors? Digital school signs can help enhance productivity, motivation and teambuilding. In addition, digital signage for internal communications serves as a visual aid to deliver important messages across different teams and buildings on large campuses.
However, that doesn't mean that smaller educational institutions can't benefit from digital signage. Even a single screen used as digital meeting room signage can make a huge difference by simplifying the booking process, maximizing cooperation and engaging employees.
Go Green while Saving Money
You might be thinking that deploying a digital signage solution for an organization as large as a university will be an expensive decision, but the truth is that digital signage in schools actually saves you money. The average school spends a surprising amount of money purchasing, printing and scanning paper. Not to mention the equipment needed or the draining of your staff's time and IT resources. Taking everything into account, a digital signage solution for schools might be more cost-effective than you thought.
Furthermore, the switch from print material to digital signage will minimize the impact your institution has on the environment and help you meet your green goals, all while teaching children an important lesson about environmental awareness and sustainability.
Getting started with Yodeck's digital signage solution for education
It becomes apparent from all the above that traditional signage found in schools is missing the mark in helping educational institutions handle their communications in an easy and cost-effective way. The irrefutable benefits of digital signage in schools signify a new era in education where the use of innovative technology will be the driving force behind an institution's status and growth.
Yodeck's free digital signage software for schools is a cloud-based solution that features effortless remote screen management, easy media editing and a wide variety of free templates designed specifically for schools and universities.
That's exactly why some of the most recognized educational institutions worldwide like New York University have decided to trust Yodeck for their digital transformation.
And now it's your turn. Take advantage of the benefits of digital signage for schools and revolutionize your communications in just a few steps. The first screen is completely free.