When students and staff head to campus, it's unlikely that signage is the first thing on their mind. Yet whether they notice it or not, the visual information, guidance, and direction they see have a big impact on their experience.
Digital signage in education helps students find their way around, stay safe, and keep informed about events, notices, and standards. For staff, it's just as important, as it can help teachers better organize their work and deliver a superior education.
Yet, schools are now only just starting to use signs to their full potential. Instead of relying on paper signs or pinboards to share important announcements, many educational institutions are turning to digital signage. That means signage that's visually appealing, easily updated, and driven by technology.
In this article, we'll show you just how powerful digital signage can be. But as well as being versatile and engaging, with Yodeck it can be really easy too. 
What Kinds of Signage are Typically Used in Schools?
Wherever you go around schools and campuses, you'll see signs, notices, posters, and visual announcements.
While they're typically taken for granted, this signage is actually used in more ways than we can possibly list here. But without digital signage, you'll need separate displays for each use case:
Welcome signs. When visitors and students enter your school, it's natural that you'll want to make a good impression. Signage helps to showcase your values, your achievements, and your identity.
Safety announcements. The COVID-19 pandemic made health and safety signage much more widespread, but it's always been there in schools.
Wayfinding information. Students and other site users need to find their classrooms, teachers' offices, and administrators. Wayfinding digital signage displays help them do just that.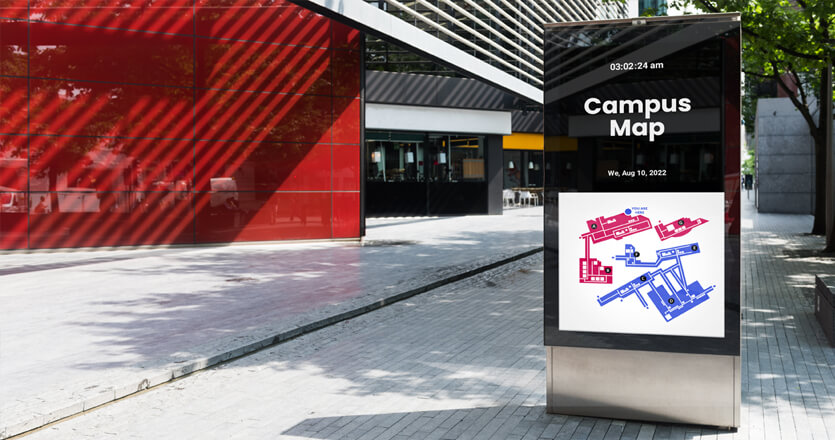 Event publicity. If your school is running a bake sale, disco, or sporting event, you can advertise it to pupils and parents with digital signage for events.
Exam results. After tests and exams, scores will often be listed for students to see. Yep, even this counts as signage.
Cafeteria menus. Digital menu boards will show students what's on offer, including daily specials and health information.
Behavior guidance. Maybe you want to prevent parents from parking outside the school gate or ensure students are dressed smartly throughout the day. Attention-grabbing digital signs can be a visual way to enforce those standards.
There's no doubt that signage in your schools is doing a lot more than this too. That said, the chances are that, when using physical signs, these frequently go out of date, are thrown away, and replaced.
But it doesn't have to be this way. While your signs are fulfilling crucial functions, there are easier and more sustainable ways to share key information—and do a whole lot more too. One of those ways is digital signage.
What Digital Signage Can Do Better
Digital signage in schools can do everything your physical signs can currently do, plus a whole lot more.
Provide dynamic wayfinding information. Students, staff, and any visitors to the school need to be able to find their way around. But with so many classrooms and changing timetables, they can lose track of where they need to be and when. Use campus digital signage to provide that information live—to better help everyone find their way.
See live meeting room and classroom usage. In schools, it's common for the needs of classes and teachers to clash. But timetabling issues shouldn't have to get in the way of a satisfactory education. With conference room digital signage, you can link up your screens to a shared Google Calendar, to keep track of which rooms are being used and when. It helps everyone keep an eye on which resources are available and ensures the student experience goes unaffected.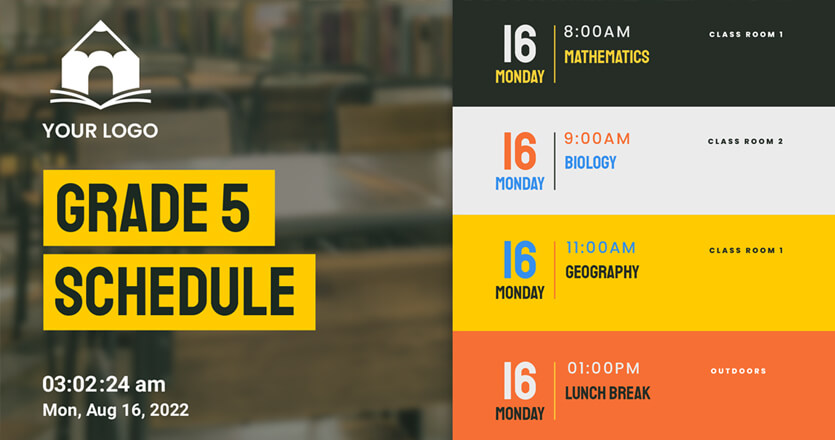 Display real-time emergency alerts. Sometimes, emergencies occur and you need to keep everyone safe and informed, quickly. With digital screens, you can ensure crucial messages are reaching everyone as soon as possible.
Share social media updates. The vast majority of schoolchildren are using social media, and it's likely that your school is already too. You can help to cultivate a positive community on-site by sharing updates, messages, and news on an engaging social media wall.
Engage students with educational content. Digital signs are not inert noticeboards. They can be engaging, interactive displays too. For example, why not use your screens for library digital signage to deliver educational content to students even when they're not in the classroom? Your signs can show fascinating videos, share relevant news stories, and showcase inspiring quotes too. 
Advertise upcoming events. Whether it's a bake sale or a parents' evening, your screens can build interest in events through stimulating and visually appealing notices. In our research, we found that the majority of people who see things on digital signage want to find out more about what's shown. Your digital signs could make a difference in event participation.
Digital signage can bring a host of new opportunities for you to engage, inspire, inform, and educate your students. And it helps make life easier for your school staff too.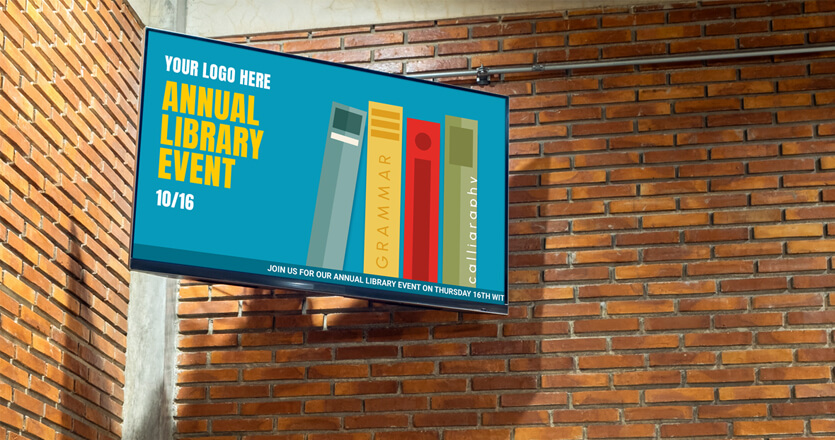 What to Look for in Digital Signage for Schools
Ready to get started with digital displays in schools? Make sure you choose a digital signage solution that makes it easy. Here are some things to consider when making your investment.
A versatile media player. To be able to do everything you want with your digital screens, you need a content management system that can handle all types of media. For example, with Yodeck, you can display any media you would like on your screens—whether that's videos streamed directly from YouTube, PowerPoint slideshows, pdfs, or social media feeds.
The ability to manage all your screens centrally. You don't want to invest in displays across your school only to realize that you have to control them all individually. Instead, find a digital signage provider like Yodeck that lets you update all your screens from a single device. You don't even need to be there in person. You can set up your screens remotely, design a playlist in advance, and update all the content wherever you might be.
Compatibility with any monitor. As a school, resources can be tight, and you might not want to invest in many digital monitors before you start with digital displays. Instead, find a signage solution that lets you use any monitor. With Yodeck, all you need is the Yodeck player to allow your content to be shown on any screen.
Pre-designed visuals and templates. It's completely understandable for your school not to have the time, expertise, or resources to create beautiful, visually engaging signs at will. The good news is that to build eye-catching digital displays, that's not at all necessary. At Yodeck, we give all our users access to our vast library of templates completely free of charge. This way, you can find all of the visuals you need to get started. What's more, they're all completely customizable.
Yodeck: Unbeatably Easy Digital Signage for Schools
Affordable and flexible. Your first screen is always free, so you know exactly what you're getting. Then, when you're ready to scale up, you can add as many displays as you like.
Secure. As a school, security is a priority. With two-factor authentication, restricted users and IP addresses, and the most up to date security certifications, you can trust that all data is as secure as it should be. Find out more about our security policies.
Easy to get started. With our intuitive content management system and range of premade templates and apps, you can get started without any technical know-how.
At Yodeck, we make digital signage, whatever you want to use it for. Set up your first screen for free and find out more!