Library digital signage is an excellent tool for engaging and informing your users. It can advertise community events, opening times, popular authors, weather updates… and well, pretty much anything else you want. From wayfinding signs to creative campaigns and interactive displays, there are plenty of exciting opportunities.
If you're getting going with library digital signage, this guide explores digital signage ideas and all the tech you need to get up and running. 
With Yodeck's cloud-based digital signage platform, you can quickly and easily design, schedule and display content for your library.
So let's get started.
What is Digital Signage?
Digital signage is any (digital) screen used to share information or advertising. It's as simple as that.
We see digital signage all the time, whether we're aware of it or not. You could be ordering a pizza, checking timetables at the train station, or waiting for a doctor's surgery. Chances are, you've interacted with digital signage without even realizing it.
But how does it work?
Well, digital signage involves connecting a screen to a piece of hardware known as a "digital signage player" or just a "media player". With the help of digital signage software, from the likes of us at Yodeck, you can create, upload and display any content you want. And if that wasn't enough, with the latest cloud technology (i.e. storing things on the internet rather than a hard drive), you can manage all your screens from a single location.
Sounds good, right?
From café menu boards to wayfinding digital signage and opening times, as well as fun content like "author of the day" or advertising your latest library event—you can create any kind of library digital signage you want.
What Benefits Can Digital Signage Offer Libraries?
Let's start with why private and public libraries need digitization. It's all about changing and adapting for the modern day, transforming libraries into truly welcoming, productive, and community-driven spaces.
So much learning takes place online now. As a result, library digital services are just as important as books, journals, magazines, and newspapers. To stay relevant, libraries are re-examining their inventories and the way they interact with patrons.
In this brave new digital world, paper flyers, posters, and catalogs might seem a bit outdated. So, what are your options?
Enter digital signage.
Digital signage lets library staff update announcements, event notices, and customer info in real-time. This means everyone stays informed and feels part of the library community, with updates provided as soon as changes take place.
Here are some advantages of using digital signage in schools:
It's easily updated. Edit images and important information in a matter of minutes. What about highlighting newly arrived books or the latest library card advantages? Whatever it is, there's no more printing and pulping outdated posters and leaflets.
It's highly visible. You can place screens in one (or several) high footfall areas of the library. With options for video, scrolling tickers picks from staff members, and slideshows, your signs will draw attention.
Modern and welcoming. Digital signage communicates that your library is a forward-looking research and study space. In addition, it says you genuinely care about improving and simplifying users' overall experience. What's not to like?
Pre-scheduling is effortless. Digital signage lets you schedule information and announcements for specific days and times. There's a double bonus here—making sure information is timely and relevant to your audience and letting you plan ahead.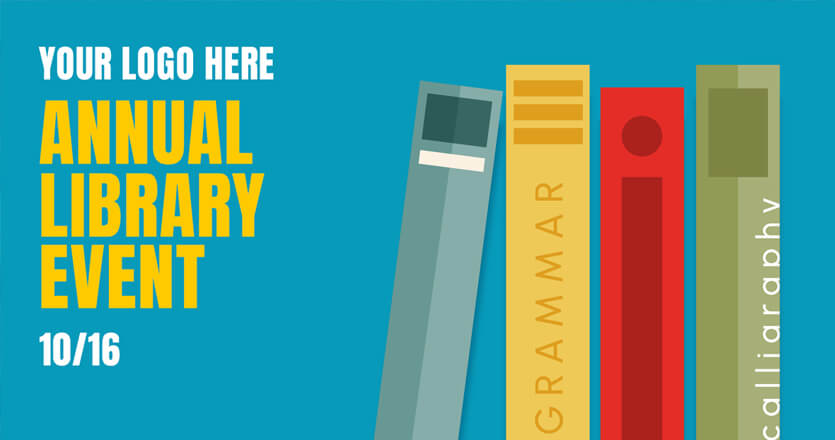 Monitoring can be done remotely. If you need to make changes, you don't have to search for every single flyer or the signs pinned up in remote corners of the building. Instead, you can create, edit and update your library signage from a single laptop or computer.
What are the Uses of Library Digital Signage?
With a digital signage display, you can create an immersive and engaging library environment that adds to your patrons' experience.
Here are 10 ideas on how to incorporate digital signage in your library.
Wayfinding signage. If you're running a large university library (for instance), wayfinding signage is essential for helping visitors navigate the library space and find the resources they need. This could point the way to meeting and breakout rooms, toilets, specific collections or vital information in the event of an emergency.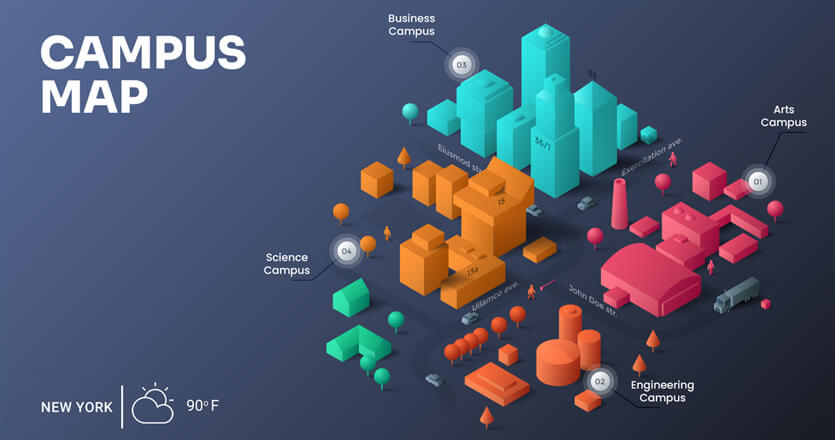 Interactive games and quizzes. Make your library feel engaging and welcoming with games and quizzes. Could you encourage users to take part in competitions (with simple games like "finish the quote"), answer fun and thought-provoking questions, or submit book recommendations?
Staff picks and "wall of fame." Could you highlight specific writers and poets (for example on birthdays and special occasions) or showcase librarians' picks of new books and items? It's a great way to educate and interest users and make staff and faculty feel involved.
New arrivals and popular authors. Because digital signage is so easy to update, you can edit (and pre-schedule) displays to showcase your latest arrivals, featured authors, inspirational quotes, top loan requests of the week or month, or upcoming library events… whatever it is you fancy.
Social connections. What about linking your digital signage with your social media accounts? Displaying your feeds on a social media wall is a quick and easy way to engage users and highlight your services in a fun, accessible format. Hashtag competition, anyone?
Café menus and specials. If your library has a café or restaurant, why not promote their services with your digital signage? As well as pointing the way to cafés, you can also display seasonal promotions or just remind users that tea or coffee is nearby.
Community partnerships. University digital signage is a great way to schedule and display messages about campus groups, student (or community) services, and relevant events or activities in your local area. It's also a perfect opportunity to generate extra revenue, as local businesses will likely pay for adverts.
Rolling news or weather updates. If readers are working for the whole day, regular updates like weather forecasts or rolling news can be a useful and welcome distraction.
Computer or meeting room availability. Digital signs can be paired with real-time information on things like computer availability, what meeting rooms are taken, and footfall. It helps empower users, reduce delays, and streamline library services.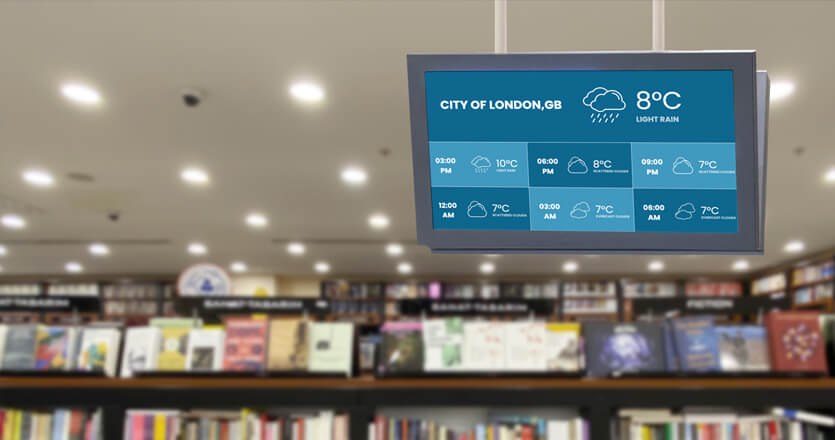 Facilities and opening time announcements. Have your opening hours changed over Christmas? What about facilities, member services or certain areas closed for a special event? Instead of creating physical signs (which will only get thrown away shortly after), communicate these changes quickly and clearly with digital signage.
What Do You Need for Digital Signage?
If you're getting started with digital signage for your library, you'll need four main things:
A digital screen (or screens)
Compatible media players
Digital signage software
The content you want to display
Here's the process in more detail:
Screens
First things first, you need to decide what screens you want for your digital displays.
This can be anything from small tablets to interactive kiosks, wall-mounted TVs, or full video walls.
If you don't have the latest smart TVs, don't worry! You can pair most regular screens with our Yodeck media player.
Media players
Secondly, you'll need a compatible media player (that works with your screens) to connect and play your digital signage content.
With a Yodeck media player (based on Raspberry Pi technology), you'll have a system that's reliable, durable, and easy to use. Our players support any aspect ratio and screen resolution, to display your picture-perfect library signage.
Digital signage software
Next, it's time to investigate digital signage software platforms.
With a Yodeck account, you have instant access to our free (and fully customizable) layout templates, as well as intuitive scheduling, the ability to turn screens on and off, and remotely update and display new content.
You can also make the most of free apps letting you display posters, word of the day, weather updates, calendars (and more) at the tap of a mouse. Yodeck also lets you handle all your content remotely, so it's easy to update and control multiple screens wherever you are.
Content creation
So, you've got your screens, media player, and software tools in place? The only thing left to do is create your content!
We've already written a guide to best practices in digital signage design as well as more technical tips, so check these out if you're getting started with digital signage.
But stick with the three principles of creativity, clarity, and community and you won't go far wrong. The great thing about digital signage is you're free to experiment and try different tactics — seeing how your signage works for your library users. You can edit, alter, create and update content any time you like.
With Yodeck, digital signage solutions have never been simpler. Our "Plug and Play" Yodeck Player as well as free layout templates and content apps let you create and display stunning digital content in just a few clicks.
Create a free account today or book a demo, to enjoy a seamless, straightforward setup for your library.