Whether you're an independent coffee shop or a larger hospitality business, your cafe signage does a lot more than tell your customers what's on the menu. When done right, it can communicate your brand, encourage customers to spend more, and win their loyalty.
But most cafe signs and menu boards aren't really pulling their weight. Some are still using off-putting visuals or are cluttered with outdated menu items or prices. Others are failing to take advantage of new technologies to attract, delight, and entertain customers.
The truth is that they're limiting their sales as a result.
That's why we're here to make the case for digital cafe signage—i.e. tech-driven signs that are easily updated, visually appealing, and proven to increase customer spend.
In this article, we'll run you through exactly what digital coffee shop displays can do, the benefits they bring, and how to make the most of them.
What Can You Do with Cafe Signage?
Most customers take cafe signs for granted. But while they may not notice, it's doing an incredibly important job right before their eyes.
Typically, cafe signage does three main things that cafes and customers can't do without:
They showcase your brand and business identity. Before customers even see the information that's on your signs, they're getting an impression of the sort of business you are.
Think about your outdoor cafe signs, coffee menu boards, or any other display you show around your business. All of it should communicate your values and character, your brand, and the kind of cafe you run.
The impact of your signs is immediate. According to some studies, customers have already formed a first impression within seven seconds of seeing you.
They display menus and entice customer choice. Only after your signs have already formed an impression will customers check out your food and drinks offerings.
For obvious reasons, this is a key moment in the customer's engagement with you. It's your signage—table menus, behind-the-counter displays, and how the options appear to your customers—that's doing the heavy lifting here.
They share key information and promote special offers. Is there something your customers really need to know about you? Customers are likely to only find this out through your cafe signage.
Maybe everything is vegan, or there's a special offer on a particular coffee blend. Your displays need to make this message as clear as it deserves to be. It'll influence your customers' expectations and buying decisions and mean that your staff doesn't have to explain everything.
There's no doubt about the crucial role your signage plays in your cafe. But in reality, they can do a lot more. It's time we introduced you to digital cafe signage and what it can offer your business.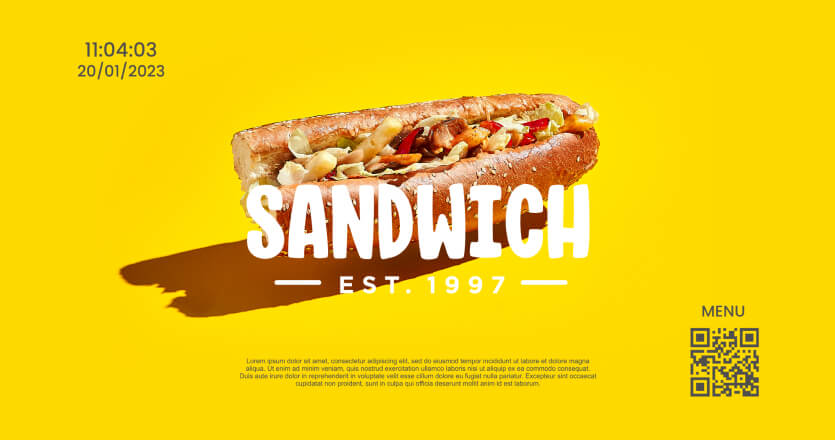 The Added Benefits of Digital Cafe Signage
Here's what more you can do with Yodeck's digital coffee shop menu boards:
Stimulate customer interest and drive sales. We found that 59% of customers that see digital food signage want to know more about the items shown. The result? Increased sales.
In fact, over 80% think digital signage for food & drinks promotions and offers increases sales, upselling and cross-selling.
Encourage customer interaction and advocacy. Digital signage can be installed with an interactive display where customers can select their orders. But there are plenty more possibilities for interaction. For example, your Yodeck displays can drive deeper engagements with your brand. Add social media apps to your screens to encourage follows, sign-ups, and shares.
Entertain guests while they wait (and encourage more sales). While guests wait for their coffee to be ready, you can use digital signs to show videos telling the story of your brand or products. This way, you'll reduce the perceived time they're waiting and help them get to know you better.
Host third-party ads for an extra revenue stream. Your coffee shop is part of the local community. You can deliver added value to customers—and secure extra revenue—by sharing adverts from other businesses they might be interested in.
Update all of your screens centrally. Out-of-date menus look amateur and can frustrate customers with unavailable products. With digital cafe signage, you can update your offering across all your menus and displays with a single click.
Take Domino's Pizza's word for it:
"The important thing for us was that we needed an easy-to-use, robust digital signage solution that we could comfortably manage from our central offices, and of course, one which could fit our low advertising budget. In Yodeck that is exactly what we found." (Domino's Pizza)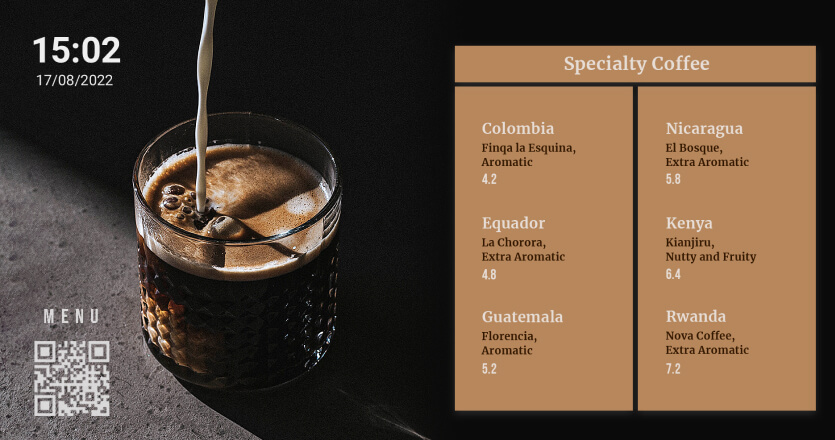 3 Cafe Sign Ideas
You've had a taste of what you can offer customers through your digital cafe displays. But, truly, the opportunities are endless.
Your cafe digital signage is where you'll showcase the very best of your brand. This way, it should share what makes your cafe different, while making your products as enticing as possible.
Here are three ideas you can use from Yodeck's templates to make your cafe signage win over your customers.
Make your food look authentic and irresistible
Let your food do the talking by presenting a clean and clear menu board with high-quality images. With a template from Yodeck, all you have to do is add in your product, your images, and logo and you'll be ready in moments.
2. Show recipes while customers wait
Help your customers prepare a meal themselves and they'll be thinking about you long after they've left your cafe. What's more, they'll get an insight into the real creative process behind your cooking.
You can add any video you want to a Yodeck template like this, to give customers a real insight into who you are as a brand.
3. Direct customers to your other stores
Got more than one outlet across town? Let your guests know exactly where they are. On your digital cafe signage, you can literally guide them to your other destinations, through maps and step-by-step guides.
A video of the storefront makes this even more engaging.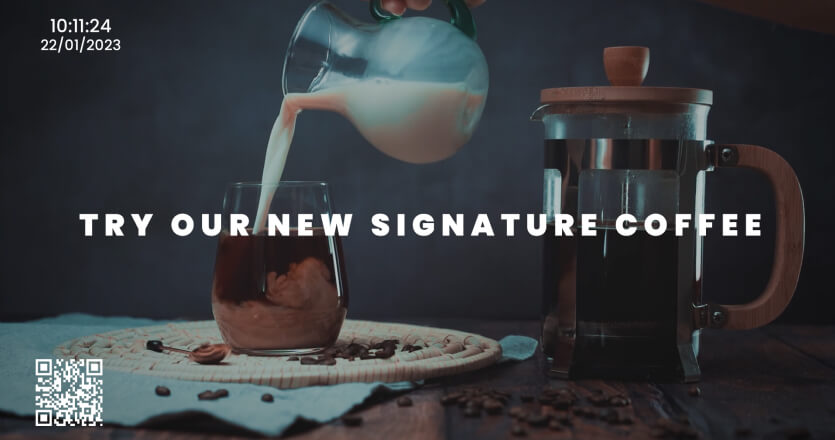 Best Practices when Using Digital Signs for Cafes
There's so much Yodeck's digital signage can do. But whenever you're using digital displays in your cafe, there are some things to bear in mind.
Here are four best practices to remember when designing your signs:
Use high-quality visuals that match your brand across all your screens
As we said above, your customers will form an impression of your cafe from your signs before they even read the words. That means that high-quality signage tailored to you is a must.
Start with a Yodeck template, but customize it to share your own story—and one that resonates with your target customers. Include only slick visuals and accurate copy that builds trust and loyalty.
Then, keep it consistent. If you're using multiple screens, create a cohesive journey across each one.
Update your signage throughout the day and year to keep your menu relevant
Digital signs make it really easy to offer automated, scheduled messages and menus.
Got a breakfast menu that ends at noon? Change your menu automatically so that customers know what's available at any given time. Run a seasonal menu? Effortlessly update it so it's accurate across all screens.
Yodeck makes that easy. All you need to do is set the time or date you want your menu to change, and all your signs will change automatically.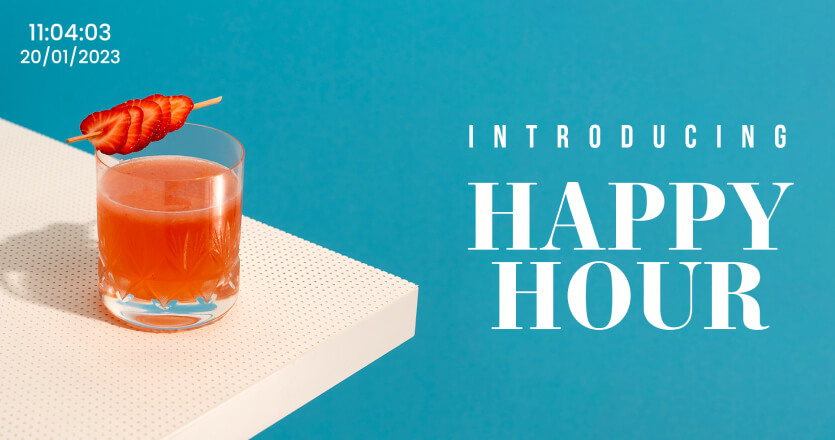 Deliver content to your customers that they actually care about
You can put literally anything on your digital cafe signs. But that doesn't mean you should put anything on there. To get value from your screens, you need to give customers the added content or information that's useful and attractive to them.
For example, if you run a cafe that's busy with professionals at lunchtime, your Yodeck display could include an app where they can check in with news and financial affairs. Or, if you're a roadside coffee place, include traffic information or weather forecasts on your signs.
Highlight your very best offers to maximize sales
Customers don't always want to read through a whole menu. Often, they just want to be inspired. In fact, as many as 40% of cafe sales are thought to be impulse buys.
To make the most of opportunities like these, make sure your highest-margin offers are the first thing customers see when making their orders.
Don't forget to make it look irresistible. For added loyalty, you can encourage social follows in return for the deal.
Yodeck: The future of cafe signage
At Yodeck, we're making digital cafe signage easy. Whether you're a boutique coffee shop or a chain with hundreds of outlets, we can help you make your signage effortlessly attractive.
From just one screen to as many as you need. With Yodeck, a single screen is completely free. But we can handle as many as you need.
Choose from ready-made templates, apps, and visuals. We make getting started simple, with our huge template library.
Update your cafe displays instantly. No matter how many screens you use, updating them all is as easy as clicking "Apply".
Use your cafe signage to boost sales and win loyalty.