There is no doubt that printed signs were efficient. Until now. Nowadays, almost everything is digitized. People are scrolling nonstop on their phones, so retailers must think of innovative and catchy ways to grab their attention.
In addition, a significant percentage of people are much more aware of the environment. In that case, Digital signage is not only a modern way of capturing attention but is also an environmentally friendly alternative to traditional signs.
Think before you print
Over the past few years, humanity has gone greener. While we recognize the importance of treating our planet with care and mindfulness, there are still numerous areas where we can make significant improvements.
For example, in the U.S., businesses waste 21 million tons of paper annually. From printed copies to discarded documents and unnecessary memos are used carelessly every day.
Also, keep in mind that the procedure of paper production releases harmful gases into the air, such as nitrogen dioxide, sulfur dioxide, and carbon dioxide, which contribute to climate change and air pollution.
Being aware of your options is the key to finding a better way.
Digital Signage vs. Traditional signs
Considering the escalating apprehensions worldwide regarding climate change and the environmental effects of human actions, it is imperative to examine ways businesses can decrease their carbon footprint.
Be a planet hero!
Let's explore some of the reasons why digital signage is more friendly for the environment than printed signs:
Minimize the waste
It is more beneficial to show digital signage on eco-friendly displays to update them without physical materials remotely. This not only minimizes waste but also it is more affordable for the users.
On the other hand, traditional signs require materials such as plastic, inks, and paper which are significant factors in environmental pollution. As time passes, conventional signs may wear out, become outdated or lose relevance, necessitating their replacement. Such replacements often contribute to considerable waste that eventually ends up in landfills.
Viable design
Contemporary digital signage is primarily manufactured in an eco-friendly way. Designers tend to use pure materials that don't contain harmful chemicals for the environment or humanity. As a matter of fact, they can mostly be recycled, which is one of the essential things in decreasing the environmental impact. Additionally, there is the option of using renewable sources, such as solar power, to contribute even more to energy saving.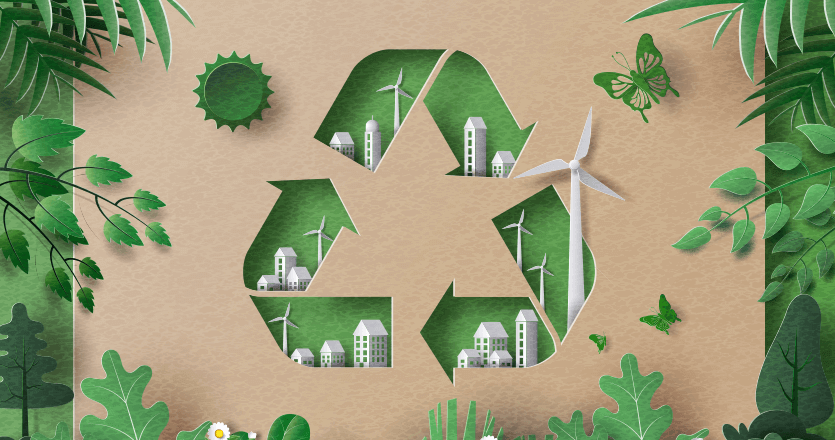 Reduced energy consumption
In order to consume less energy with digital signage, you can use LCD screens or LED digital signage. Both types of electronic displays don't need regular replacement as they were built to last. The average lifespan of an LCD screen is estimated to be ten years. 
Bonus: Then, you can easily apply your content to your screens with Yodeck, only in a few steps.
On the other hand, printed signs quickly become obsolete and outdated and must be replaced regularly.
Decreased transportation
One more perk of digital signage is that it can be administrated remotely and does not require transportation. This could also contribute to minimizing the carbon footprint.
Conversely, conventional signs need transportation back and forth to where they need to be installed. Especially when the signs need to be put over long distances, it could have an even more negative impact on pollution.
Celebrate with Yodeck Earth Day signs
Spread awareness about Earth Day among your audience by displaying relevant content on your screens!
Check out our Yodeck free templates here!
Consider utilizing digital posters that promote recycling, reminders, a compilation of photographs showcasing people worldwide participating in ecological activities, or just providing information about local environmental events.
With Yodeck, you can create the most memorable and caring Earth Day signage for your business. Encourage individuals to engage in positive actions and safeguard the environment.
To sum up
Digital signage offers low costs and time savings while decreasing the environmental effects of traditional signs' standard installation and maintenance. By adopting digital signage, businesses can significantly reduce their carbon footprint and contribute to a more sustainable future.
This can enhance their reputation among customers and stakeholders who are increasingly concerned about the impact of human activity on the environment.
History-wise
In April of 1970, the initial Earth Day occurred when there was a lack of established legal or regulatory frameworks, such as the Clean Air Act, to safeguard the environment. In response to this need, Senator Gaylord Nelson conceived Earth Day to compel the issue into the national discourse. Now, in 195 countries, people celebrate Earth Day. Through the years, humankind discovered several ways of participating, such as picking up litter and planting trees, recycling, or even turning off the lights and limiting water usage. Each of us can uniquely contribute to creating a better future for our planet.