Workplace break rooms are where colleagues go to chill out, rest, and build connections with each other. They're a crucial place for employee well-being. But you can improve their experience even more; you can engage, entertain, and educate people too with digital break room signage.
Digital signage allows you to create and share content that's visually stimulating, informative and proven to boost employee productivity. And with Yodeck, it couldn't be easier.
In this article, we want to show you what you can do with digital break room signage—and why you'd want to. Plus, find out everything you need to know about Yodeck's unbeatably easy digital solutions.
Ways to Use Digital Break Room Signage to Improve Employee Experience
Digital signage uses tech-driven visuals to engage audiences, entertain them during waiting periods and downtime, and share whatever key information they need. In workplace break rooms, they can help you strengthen bonds between your staff and your business and ensure everyone is up to speed.
Here are some ideas you can put to use right now with Yodeck's templates.
Recognize achievements and outstanding performance. Celebrating your staff can build morale and show that you care. Digital break room screens make that simple, giving you opportunities to highlight top performers or showcase company successes.
Inform staff of company news and upcoming events. Is there something everyone in your workplace should know? By sharing that news on digital displays, you'll make it much more likely to be noticed.
Keep your team focused on company goals. Break rooms can be a good opportunity to double down on business objectives and strategies. Do you have an important milestone coming up? Use your display to build motivation to achieve it.
Alternatively, share key data on dashboard displays to keep everyone on the same page.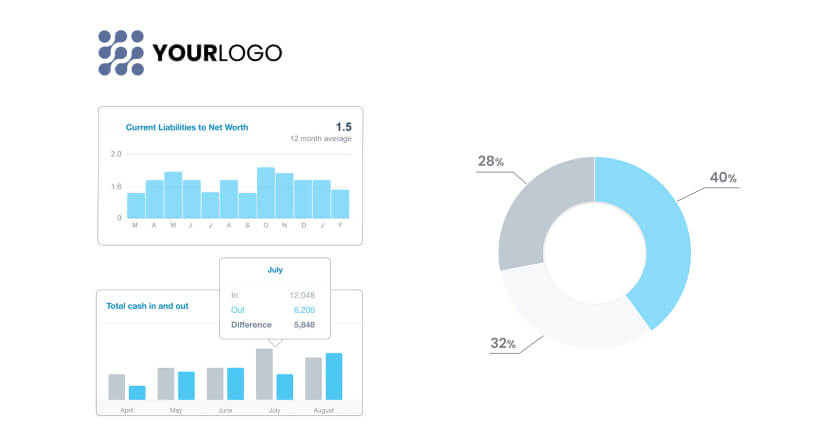 Display educational, safety, or training content. Don't rely on just sharing important content with staff while they're working. Simply, they'll have other things to be doing. Reinforce safety messages during their downtime, so they'll have nothing else on their minds.
Celebrate employee birthdays. If it's someone's special day, wish them well. It'll make them feel appreciated and share the love throughout the team.
Entertain staff in their downtime. The break room is for time out, after all. Use your digital displays to entertain, inform, and engage them in their breaks with appropriate content.
Ultimately, there are so many things you can do with Yodeck's digital break room signage. Learn how one Yodeck client used their displays to create alignment across their different teams.
Case Study: How Visma Kept Its International Teams on the Same Page with Yodeck
Visma is a multi-billion dollar business technology brand. Headquartered in Oslo, Norway, the company has 7,000 employees across 12 European countries.
They came to Yodeck to help them improve internal communication. Visma wanted digital displays to share critical information across their different sites. We provided that and much more.
Updates on service health, key metrics, and performance visualizations are completely aligned across the sites where Yodeck is deployed.
Screens are placed above coffee machines, so staff actually see them.
HR also uses the screens to share relevant information with colleagues, from weather and traffic data to internal announcements and events.
"The major plus point for us was the fact that Yodeck was so easy to set-up, and so easy to use. We have multiple locations so it was important that getting our content deployed, even by remote branches, would be a breeze. And it is!
"We love the intuitive platform and the fact that everything just works. We needed an engaging way to improve internal communications as well as a simple solution to display data dashboards. The best part? We were up and running in literally five minutes." (Vidar Ellingsen, Visma).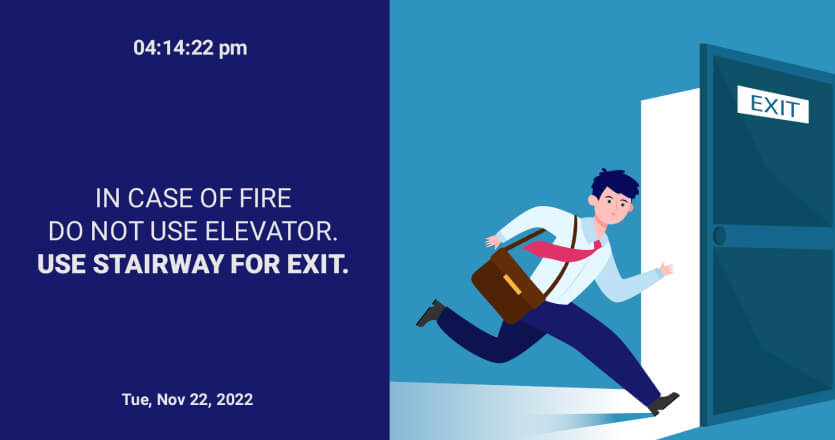 The Business Benefits of Digital Workplace Signs
In many ways, the use cases speak for themselves. But studies have revealed some clear benefits of using digital screens in the workplace.
Here are three impressive advantages backed by recent research.
Easily keep employees informed and engaged. Teams perform at their best when they have all the information they need at their fingertips—whether that's critical business data or corporate strategy. One study found that only a third of employees in a typical business described themselves as "engaged". But the most engaged businesses were 21% more profitable than disengaged ones. Digital signage can make the difference.
Build a healthier workplace culture and show staff you care. With digital workplace signage, you can recognize individual contributions and show staff how important they are. A study by Glassdoor found that over half of employees would stay longer at their job if they felt more appreciated by their bosses.
Improve safety at work. Whatever your workplace, you can use digital signage to improve working conditions, ensure compliance with health and safety regulations, and prevent accidents. For example, one study discovered that digital workplace signage can reduce injury by 20%. Meanwhile, our own data showed that COVID-19 signage can improve compliance by 28%.
Find out more: How digital signage can revitalise your office
What to Look for in Digital Break Room Sign Providers
Digital signage in the workplace has the power to bring serious benefits to your business. But let's be honest: not all digital displays are equal.
To secure the benefits your business deserves, look for a signage provider like Yodeck that offers the following:
Easy updates of all screens all at the same time. You don't want to have to manage your screens individually. With Yodeck, you can update and operate all your different screens—across all sites—centrally.
A range of apps and up-to-date templates. Your colleagues don't always have the time to build apps from scratch or design eye-catching visuals themselves. Instead, find all the inspiration and essential tools you need to get started in Yodeck's template library.
Scheduling options. Need information to change throughout the day? That's easy. Simply create a playlist in Yodeck and schedule when you want particular messages to appear.
Compatibility with any media type. There's so much you'll want to do with your digital display—and you need a provider that lets you do everything. Yodeck is that. You can display pdfs, slide decks, videos, images, and more.
Plug and play setup. All you need is your Yodeck account, a Yodeck player, and your monitor and you're good to go. You can be displaying digital content within minutes.
Affordable pricing. With Yodeck, you can use your first screen completely free. Then, if you're ready to scale up, we can support you with as many office signs as you want.
At Yodeck, we make digital break room signs easy. You can set up an account and try it out for yourself. Or, book a demo to find out how it works.