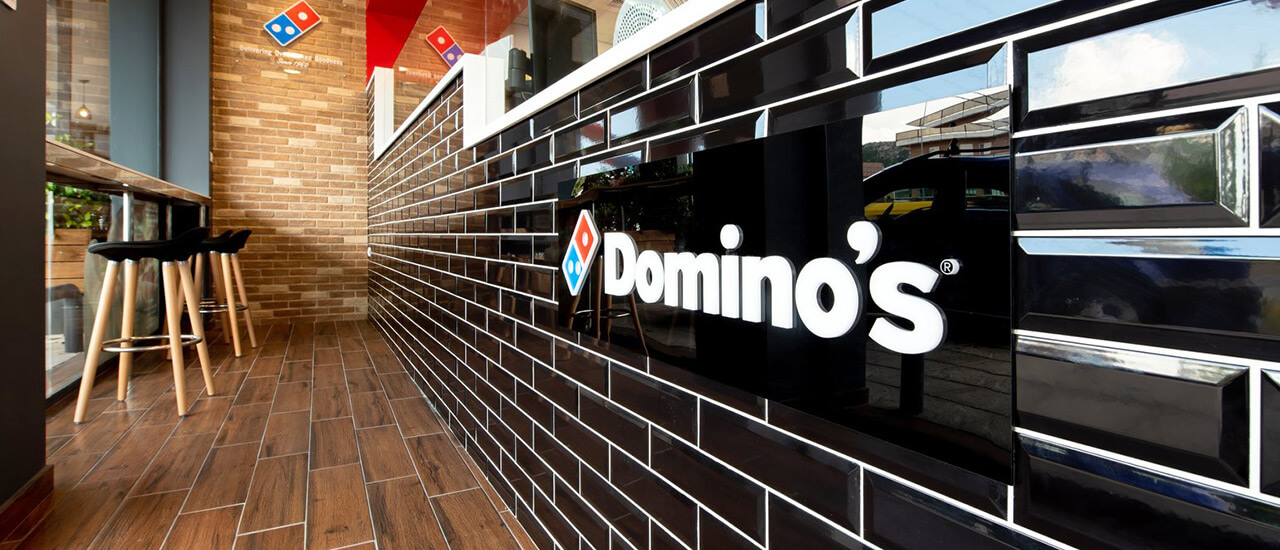 This case study explores why and how Domino's Pizza uses Yodeck throughout their network of takeaway restaurants for its centralized digital menu boards, attractive signage, the display of promotional offers and more.
About Domino's Pizza
Domino's Pizza is one of the world's best-known takeaway pizza restaurants. In Greece, the brand has 34 outlets (owned and franchises) and over 40 points of sale. In parallel, Domino's Pizza Greece, managed by Anatron, also exports raw materials and technology to branches in neighboring countries. Namely, to Bulgaria, FYROM, Romania, Cyprus and Malta. Domino's company culture is based on offering the highest quality standards and customer service; while the company's goal is to offer their customers the highest quality pizza at the best value.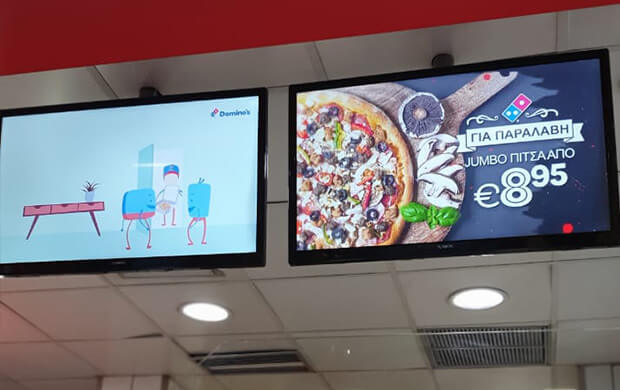 The Need
The first priority for Domino's Pizza when they came to us for a consultation, was to replace their outdated "DIY" solution; a flash drive, which they were using for digital menu boards and signage in all of their outlets. Without a centralized control over the screens, the HQ could not control if correct content was being shown; or any content at all. They wanted to ensure accuracy throughout their digital menu boards. So as well as wanting to move with the times and offer a more attractive and inviting retail environment for customers, the management wanted to open up new avenues for additional revenue; with season promotions advertised on screens. And they needed to have greater control over their digital menu boards.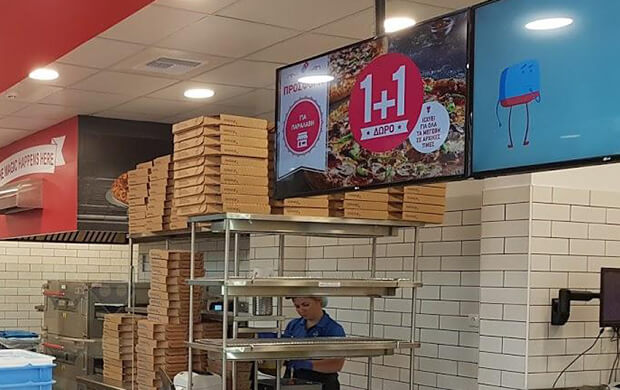 "The important thing for us was that we needed an easy-to-use, robust digital signage solution that we could comfortably manage from our central offices, and of course, one which could fit to our low advertising budget. In Yodeck that is exactly what we found."
CHRISTOS ATHANASOULIS
Digital Marketing Consultant
The Solution
Before being introduced to Yodeck, Domino's did not have centralized digital signage. Instead, several DIY solutions were sporadically in place in various branches. After evaluating several solutions, they selected Yodeck for a pilot test, to see if it could save the day. And the rest, as they say, is history.

After a successful pilot period, screens were installed in all branches across Greece, with various content use cases. Yodeck's Raspberry Pi technology was exactly what they were looking for. It's robust enough to withstand harsh conditions resulting from the flour and dough processed in the stores' kitchens. With the Raspberry Pi, overheating isn't an issue. Additionally, all Players arrive at Domino's Pizza headquarters pre-configured. So, it's a plug and play solution that's up and running digital menu boards in a few hours.

Currently, Domino's Pizza use Yodeck to display videos and images for seasonal promotions, as well as animated advertisements. They focus on digital menu boards. Content is general promotional, cross-selling and/or up-selling, while also keeping customers entertained. The goal, of course is to boost sales in restaurants. Yodeck made adopting QSR digital menu boards easy and effective.
How it works
The majority of their customers – around 80% – simply come into the store to pick up an order. So, the content on the screens helps stimulate impulse purchases; and provides them with entertainment while they wait a few minutes for orders. That's the beauty of digital menu boards. Customers make impulse buys while staying entertained. All screens are synced centrally. Domino's can manage all their screens from their HQ; and push content when and where they want to show it. Where necessary, they can also allow local branches to display their own content for ad-hoc promotions, events, etc.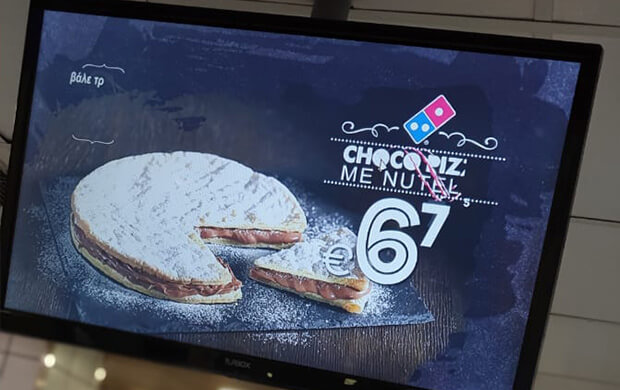 "The screens help us try to cross-sell and up-sell products. Most customers come into the store to pick up their order, so they have already ordered their main course. We try to up-sell side dishes and drinks, etc. As well as this, the screens also provide customers with something to look at while their order is packaged."
CHRISTOS ATHANASOULIS
Digital Marketing Consultant
The Results & Benefits
With screens for all of their outlets synced centrally and the ability to push content easily where and whenever required, Domino's are now able to maximize their opportunity to generate additional revenue with digital menu boards. And this, with the minimum of fuss. And without the need to invest in more staff or an additional IT/media content manager; all because they decided to go with Yodeck. On top of this, Domino's also offer their customers a more modern, retail environment. That is, while raising their profile as an innovative digital signage adopter.

Overall, the main benefit that Yodeck has given Domino's is clear; they can show customers the right content, at the right time, in the right place. And in a very simple way. This means that Domino's operational, commercial and marketing teams can work on more critical matters to the company's business.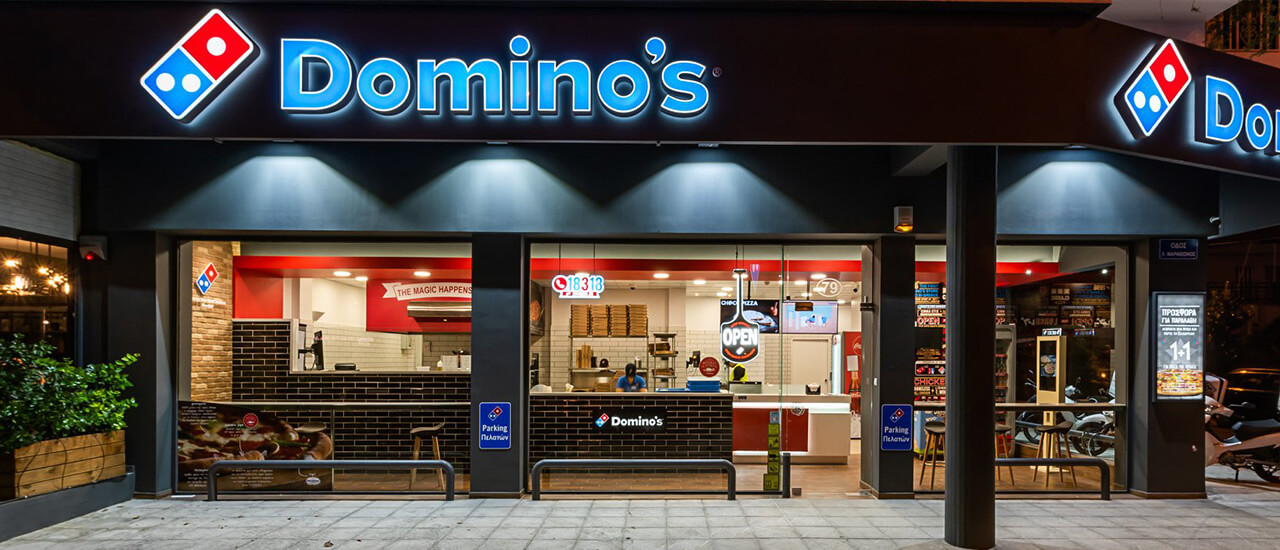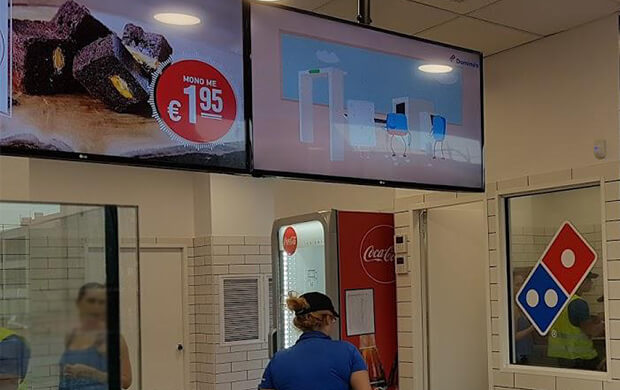 "As a digital marketing executive I found it very easy to navigate and use, but when I needed it the team were exceptional in providing guidance. Overall we found that all the best things about Yodeck – a hi-tech tool, simplicity, and great value – were matched by superb customer service and support. Especially after sales; we felt we were treated special and their technical team supported us all the way through deployment and beyond."
CHRISTOS ATHANASOULIS
Digital Marketing Consultant