Are you struggling to come up with ideas to engage your students? Generate innovative digital bulletin board ideas and elevate your communication to a new level. This solution offers numerous options and encourages engagement among the student community. It is an excellent tool for conveying your messages, capturing attention, and avoiding boredom.
Yodeck Digital signage solutions enable you to create the most captivating digital bulletin boards effortlessly.
Why digital bulletin boards over traditional boards?
In general, digital signage in education is proven more efficient, especially when catching students' attention. As a matter of fact, according to a Nielson survey: Digital signage has a fantastic recall rate of 83% more than essential traditional signage.
Digital bulletin boards, aka virtual bulletin boards, are the best way to share information, promote internal events, or even present student accomplishments with dynamic content.
Let's explore some of the perks that digital bulletin boards offer in education: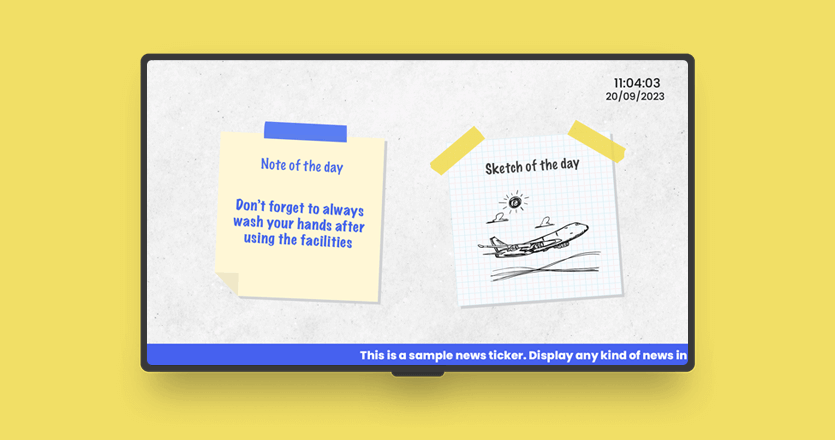 Enhanced communication
The implementation of digital bulletin board ideas has the potential to improve communication between teachers and students. Teachers can quickly post announcements, assignments, and other important information that students can access anywhere and anytime. In addition, students can use digital bulletin boards to collaborate on group projects, exchange thoughts, and interact with each other easily.
Elevated engagement
The most engaging way of learning is through dynamic and interactive content. Teachers can take advantage of digital bulletin boards for students and use multimedia to stimulate interest, such as music, images, and catchy videos.
Time-efficiency
Time management is everything, especially when it comes to the education field. Digital bulletin boards can save time for both teachers and students. Teachers can quickly post and update content, and students can easily access the information they need without searching through piles of paper or navigating a complex website.
Use excellent and catchy free Yodeck templates to save you even more time!
Tailoring to specific needs
The way that digital bulletin board ideas can be tailored and adapted to students' needs also offers convenience. Teachers can customize the content to match each class's learning methods and style, and students can tailor their experience by choosing the details they desire to see and interact with.
Adaptability
One more advantage of digital bulletin boards is that they are flexible and convenient. They can be accessed from any device with an internet connection. Teachers can update or change the content from home, on the go, or wherever.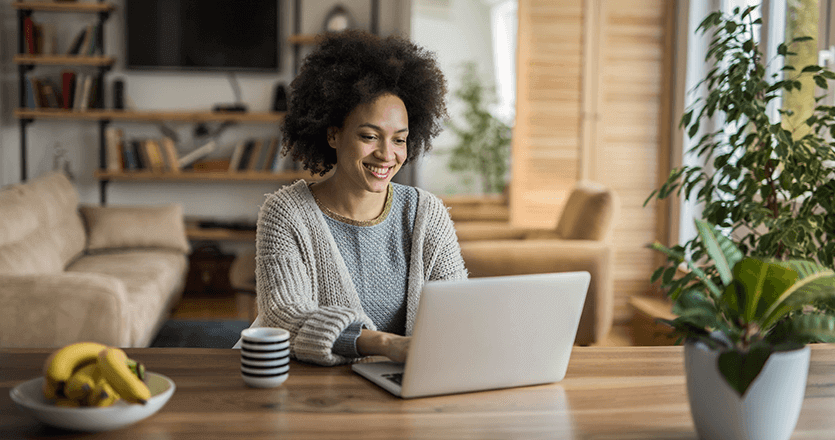 Eco-friendly
Digital bulletin boards are much more environmentally friendly than traditional bulletin boards. Paper waste is a significant issue even nowadays. Still, with the digital bulletin, you can contribute to reducing paper waste and instead use eco-friendly and low-consumption screens to achieve your goals.
Built to last
The classic and old-fashioned pinboards can easily be damaged and last less than the digital ones. The paper can very quickly get wet, tear, or even the ink starts to fade. On the other hand, digital bulletin boards offer more excellent durability over time.
6 tips to enhance engagement
One of the most challenging audiences to engage with is students. Capturing and maintaining their attention requires a significant effort, so you must go the extra mile. However, there are many ways to use digital signage in education and stimulate interest.
Include multimedia: As mentioned above, multimedia is an effective mean in terms of increasing engagement. Including multimedia such as images, videos, and interactive content helps students better understand complex concepts and retain information.
Consistently posting: To maintain student interest and engagement, it's vital to regularly post new and fresh content on the digital bulletin board. It's important to vary the content to keep it intriguing and updated.
Foster interaction: Encouraging students' interactivity with awesome digital bulletin board ideas, such as commenting on posts, asking questions, and sharing ideas, creates a sense of community. It also establishes a collaborative learning environment.
Provide motivation: Offer further motivation to students actively participating in discussions or posting pertinent content on the digital bulletin board. Extra credit or rewards can inspire students to interact more with the material and their peers.
Customize content: It's crucial to keep in mind the interests and needs of your students when generating ideas for digital bulletin boards. Doing so can increase their interest and involvement, resulting in a more productive and rewarding learning experience.
Gamification: Integrating game-like elements into the digital bulletin board can enhance the appeal and engagement of learning activities. This may involve quizzes, challenges, and other interactive activities to promote student participation and make learning fun.
To sum up
In conclusion, Digital bulletin boards can be a valuable tool for enhancing student engagement in education. Using multimedia and fostering student interaction, you can develop an active, engaging learning environment that promotes student collaboration and success.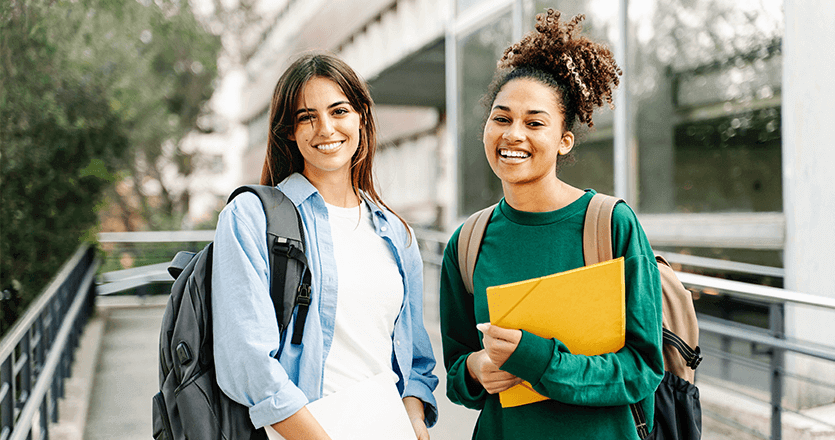 How can bulletin boards be utilized in real-world scenarios?
Yodeck digital signage can provide you with practical strategies and best practices to start engaging your student community right away.
Here are some real-life examples of some digital bulletin boards ideas and how they can be effectively utilized:
-Post important real-time announcements such as exam schedules, class timings, event cancellations, etc.
-Post a timely reminder of project deadlines to ensure students are on-track.
-Play engaging videos of fire safety mock drills, safety guidelines, and best hygiene practices.
-Showcase digital citizenship best practices and digital safety guidelines.
-Conduct digital design contests to boost student interaction and participation.
-Display a map or a guide through the campus, school or library.
-Post a "Congratulations!" message to the winning sports team or a "Best of luck" before the examination.
-Showcase student work and display student projects, artwork, and accomplishments.
-Display seasonal messages such as a warm "Happy Holidays" or "Happy Easter" wish can make all the difference.
-Post fun activities such as virtual field trips, challenges, games, and quizzes to motivate students and enhance their learning outcomes!
-Display news worldwide and world clocks to keep students informed.
-Organize a poll for the day's song and play the winning track on the digital bulletin board!
-Display feeds from campus organizations, clubs, and departments on a social media wall to help students stay informed.
-Promote campus resources like career services, tutoring, and mental health services.