With the Coronavirus pandemic dominating 2020 and 2021, a lot of things that we have taken for granted changed, including the way we get information. As more and more industries around the world re-open, business owners need to communicate all the latest COVID-19 updates that tend to change every single day. During these challenging times, coronavirus safety signs have proven an effective way of communication. There is a primary need to keep people safe and inform them about all the measures that are applied in shops, restaurants, schools and public transport.
In this new reality, a really important question has arisen. Is health and safety signage still effective when it comes to increasing compliance? Do shoppers and visitors still value coronavirus safety reminders? Additionally, does it change their perception of a business if they don't see any coronavirus signage for business use? We conducted a survey to better understand the impact and effectiveness of coronavirus safety signs in terms of compliance.
Coronavirus safety signs survey demographics
Firstly, we wanted feedback from a cross-section of people across the US, to ensure results reflected the current mindset. Subsequently, 400 people answered our survey questions. Additionally, of those, 24% were from the northeast, 10% from the west, 39% from the South and 19% from the midwest.
At the time of our survey, 81% of participants lived in an area where COVID-19 government restrictions affected their daily activities. Specifically measures included lockdowns, masking, and social distancing mandates. Meanwhile, 71% of participants said they were fully aware of the current COVID-19 government guidelines and restrictions in their area. Another 23% said they were somewhat aware and only 6% said they were not aware at all. With this data as an overview of restrictions affecting people, we subsequently sought more qualitative information about how coronavirus safety signs continue to affect compliance and behavior.
96% of Consumer Comply With COVID-19 Safety Signs
Firstly, we wanted to get a baseline in terms of general compliance regardless of the presence of signage reminders. Most importantly, 87% of people said they follow guidelines all or most of the time. On the other hand, 9% of people stated they follow guidelines only when asked to. Additionally, 4% said they don't follow the guidelines at all. Specifically, over 10% of the population blatantly refuse to comply with safety guidelines. WIth current transmission rates on the rise around the globe, this small percentage of people could increase case numbers significantly. Therefore, an attempt to increase compliance through coronavirus safety tips could prove vital. 
Specifically, displaying coronavirus safety guidelines in locations that are frequently visited might help business owners prevent their staff and customers from contracting coronavirus on-site. Survey answers showed that within the last 30 days, 85% of people visited a grocery store, while 72% went to a gas station. Similarly, 67% of respondents went to a retail store and 57% went to a bar or restaurant. Also, 44% of people went to a hospital or other medical facility. Finally, coronavirus safety signs could reach more people when displayed in popular locations.
Do coronavirus safety signs still make an impact?
Although safety reminders could be a useful tool for reminding people of guidelines, it's important to ascertain that they still impact actual behavior and improve compliance. Our survey highlights key findings and suggests safety signs still constitute a vital part of the awareness arsenal. 
Firstly, coronavirus safety signs are still something people remember seeing as they go about their daily lives. Most importantly, 96% of people who went to a grocery store remembered seeing a sign. Similarly, 97% remembered seeing one in hospitals, and 89% of shoppers recall them being used in retail environments. Also, 84% of people who went to a restaurant or bar recall seeing them.
However, only 68% of respondents remember seeing coronavirus safety tips at a gas station – an alarmingly low number considering it's one of the most frequently visited locations. Of course, this does not necessarily mean coronavirus safety signs were not on display. It could simply be that the format and design of the signage hindered its effectiveness. Furthermore, this suggests that there is room for improvement in this sector. Using formats that make more of an impact, such as images or text that's more visible, could improve effectiveness and compliance. Also, using TV screens to digitally display coronavirus safety signs could make these guidelines stand out more easily.
How people change their behavior to improve compliance after seeing health and safety signs is of paramount importance. Although most people did not need to make any changes, 28% of people either referenced safety signs or made adjustments to comply. Most importantly, this suggests coronavirus safety signs still help with compliance.
Majority of Consumers Still Report Awareness of COVID-19 Signs
As coronavirus safety guidelines still play a major role in our daily lives, it was interesting to see if awareness rates waned as the pandemic progressed. Surprisingly, only 26% of people said their awareness diminished, they observe them but don't pay attention, or they just don't see them anymore. Simply put, the staggering majority of people are still aware of coronavirus safety signs, which might play a role in continued compliance with health measures such as wearing a mask and maintaining social distancing. 
Additionally, the social context within which people see coronavirus safety signs affect compliance. Specifically, 57% of respondents state that they are equally compliant at work and during everyday activities when they see a health and safety sign. So, displaying masking or social distancing reminders can be equally effective in an office setting or at a grocery store. On the other hand, 27% of people admitted they are more compliant at work, while 14% said they follow the rules more conscientiously outside the workplace.
Similarly, we found interesting results when it came to awareness levels of health and safety signs. 41% of respondents said they rate their awareness at 10, meaning they are extremely aware of coronavirus safety signs. Also, 19% said they rate their awareness level at 9, while 15% rate it at a level of 8 out of 10. Additionally, 10% rate it at 7, while 7% rate it at 6. Only 3% gave it an awareness level of 4-5. Most importantly, this shows that despite continued exposure to coronavirus safety signs, a whopping 75% of people still have an increased awareness of the information they communicate.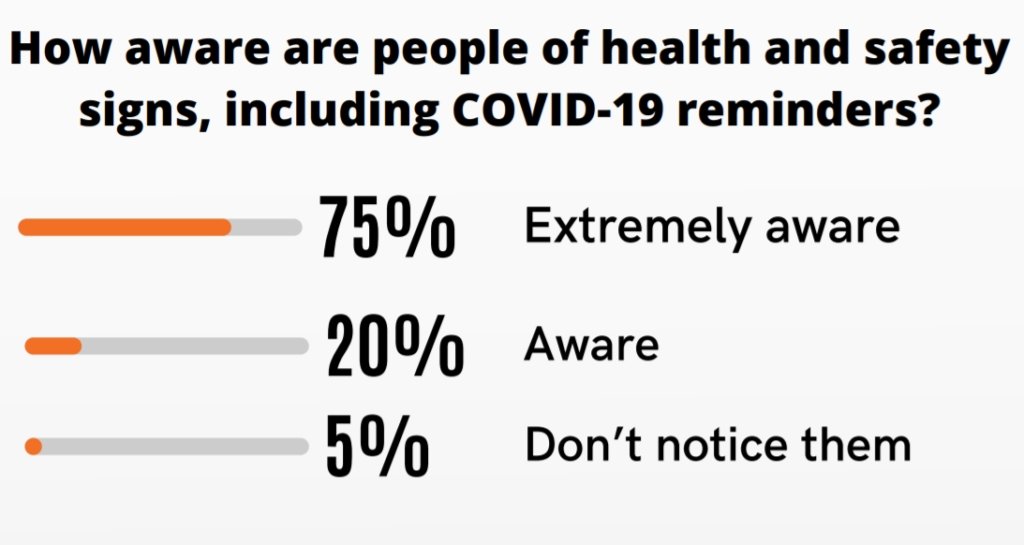 Lack of COVID-19 Safety Signs Leads to Consumer Concern
Although some business owners might assume that coronavirus safety signs are superfluous by now, since people must be more than well-versed in what safety guidelines must be followed, the opposite seems to be true. Specifically, when people don't see coronavirus safety signs on display in shops, restaurants or other locations, it negatively affects their perception of the business and their customer experience. A staggering 63% of people felt wary, scared or lost confidence in the store's management and employees. Most importantly, it seems that businesses gain shoppers' trust and improve customer experience when displaying health and safety signs.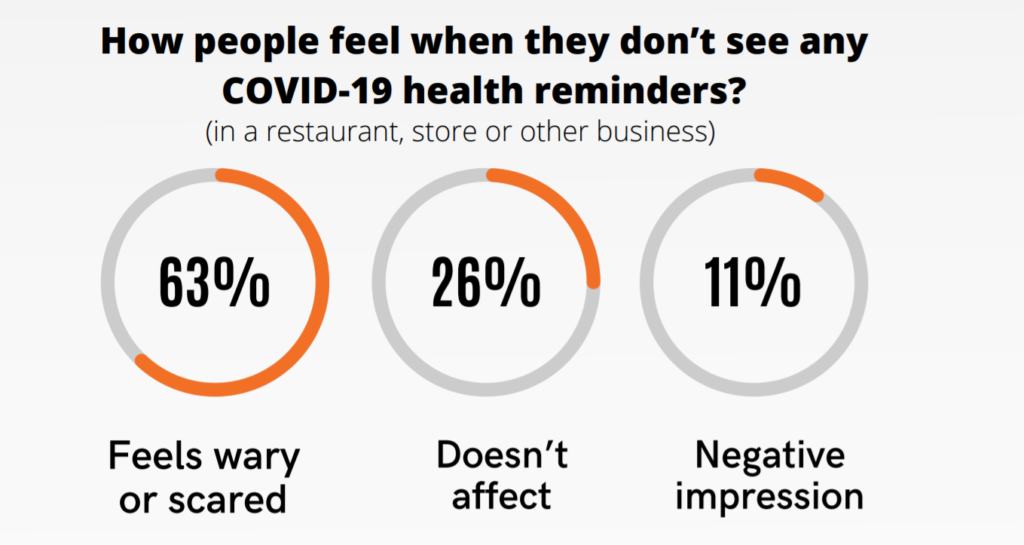 We also garnered important insight into participants' perceptions of the effectiveness of coronavirus safety signs. Only 24% believe that health and safety signs are no longer effective. If anything, this shows that simply seeing guidelines on display increases people's confidence that safety measures will be followed in shops, restaurants and other areas.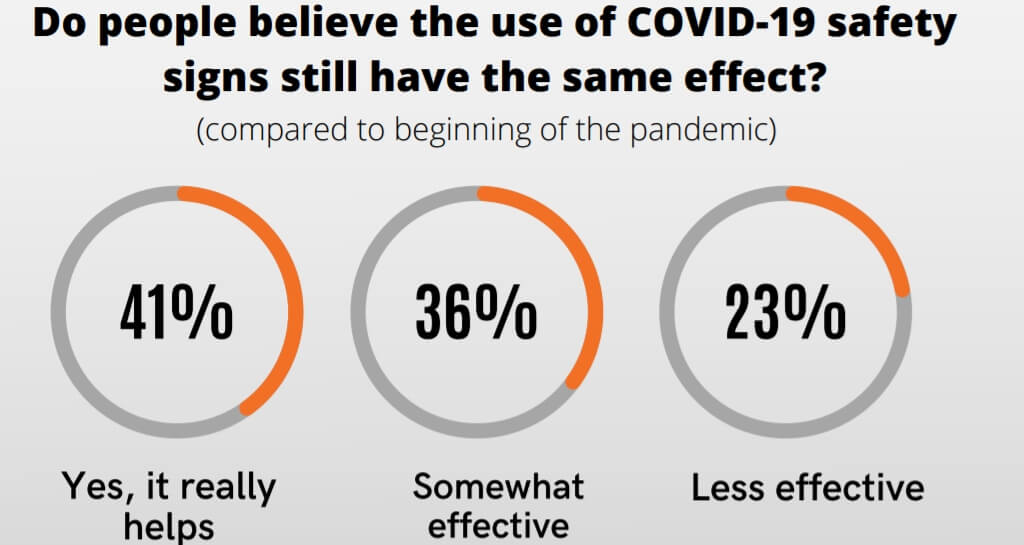 Furthermore, we wanted to find out what kind of health and safety signs proved more effective. Ranking them from 1 to 4 (1 = not effective; 4 = very effective), 33% of participants replied that a printed cardboard, a paper or an audio message played over an intercom or loudspeaker are very effective. Meanwhile, 30% of them replied that a flyer, pamphlet or handout is also very effective. Also, 27% thought that a message written on a chalkboard is really effective. Additionally, 26% of participants responded that a hand-written paper sign is effective, while 17% chose a digital sign on TV or other type of electronic display as the most effective type of health and safety sign.
In the same context, we also were curious to know which type of message format has the biggest impact on getting participants to comply with health and safety guidelines, when they see a digital sign on a TV or other electronic display. A text message or image on a digital signage or TV screen seems to be equally effective in improving compliance with safety measures.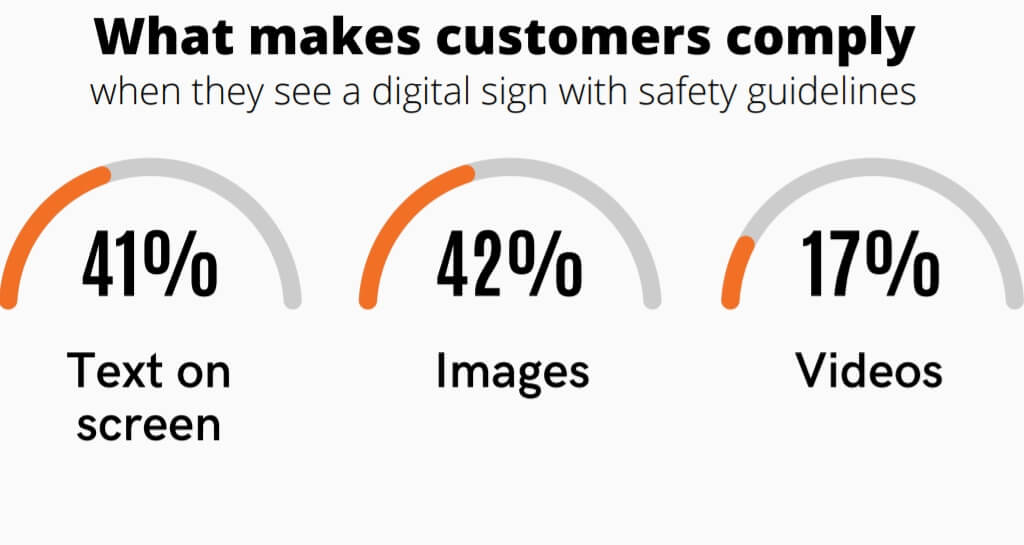 Last but not least, we asked participants if they pay attention when they see a digital sign about sales, promotions or other advertisements (not including health and safety information). On a scale of 1 to 4, 40% replied that they pay attention to the sign, 43% would likely see the sign, 16% say they don't pay that much attention, while 2% would not pay any attention to the sign. Most importantly, despite the ubiquity of screens as marketing tools, most people would pay attention to the promotions on display. This is especially useful for shops, restaurants and other businesses that utilize digital signage as part of their sales strategy and business plan.
Businesses Still Benefit from Displaying COVID-19 Safety Signs
From all the information garnered from this survey, there seem to be a number of advantages to displaying health and safety signs in businesses. Specifically, most people still have an elevated level of awareness when it comes to noticing these signs. Also, it increases their confidence that other shoppers and visitors will comply with these measures. Most importantly, if businesses choose not to display health and safety signs, it negatively impacts people's emotional response, creating a sense of fear and wariness, thus creating a negative customer experience. Similarly, it erodes trust in the business and its management and employees. Finally, since awareness levels of health and safety signs are still high, perhaps they do improve compliance with guidelines, such as mask-wearing and social distancing. Therefore, they might play a role in preventing new infections in public places.