Undoubtedly, the TV you purchase is the priciest part of your digital signage deployment. Crucially, you must select one of the best TVs for digital signage so as to ensure top-notch image quality and clarity. After all, in order to attract the attention of customers, visitors or teams, you need a TV that displays crystal clear images and videos with vibrant colors. Most importantly, whether you want big-ticket commercial-grade digital signage displays or affordable Smart TVs, you will find the perfect display that fits your budget and use case. Just browse the list we put together for you and make a purchase you won't regret.
In this article, we recommend the following:
Check our latest Android release and turn your TV into digital signage for free
Most affordable digital signage TV models
If you're just starting out and want to test the benefits digital signage brings your business before investing in high-end screens, start with these. Firstly, they'll make less of a dent in your budget, and secondly they might just be the best TV for digital signage if you want less high-end deployments.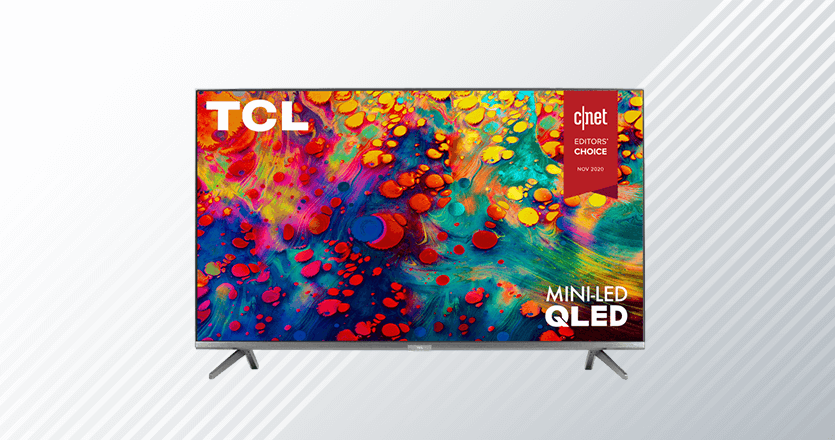 Most importantly, it costs around $400-$500 which is a minimum investment. Also, it boasts features such as 4K for great resolution and QLED tech for extra brightness and a longer lifespan. You also get Dolby Vision HDR which brings more accuracy and contrast to colors.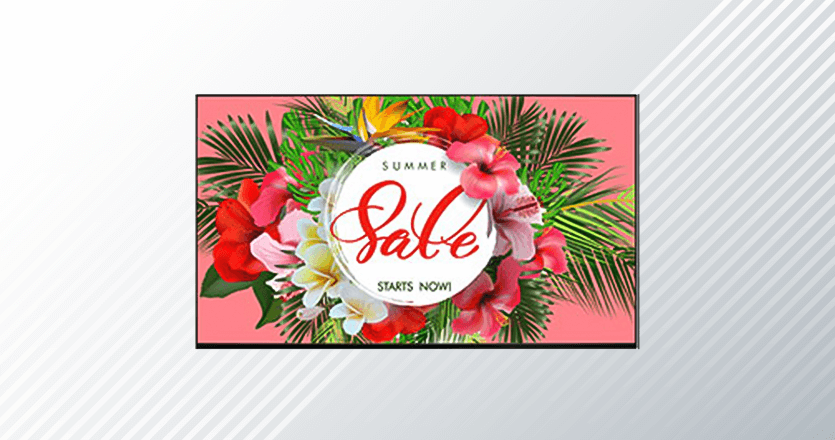 Similarly, this TV offers the same value for money as a digital signage screen, with a price tag of $400-$500. With this model, you get features that include 1080p Full HD for a super clear, super smooth viewing experience. Additionally, you get touchscreen capabilities, which might prove useful for more interactive customer experiences.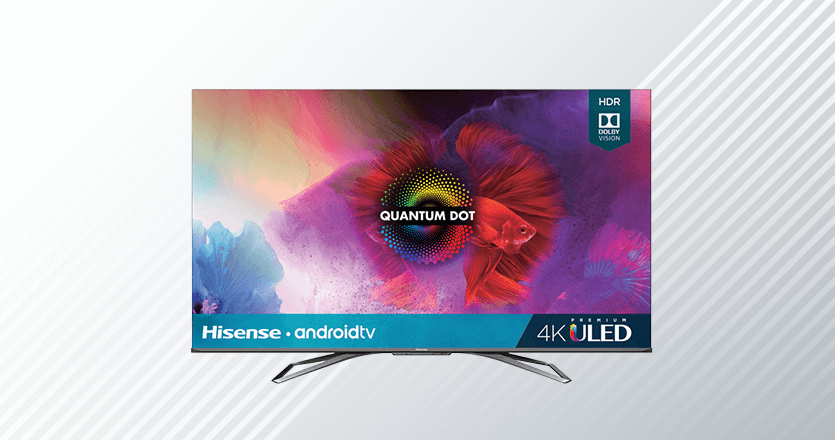 Although priced slightly higher at $699-$799, it offers 4K resolution along with top-notch color quality and great contrast ratio. Specifically, with this kind of contrast ratio you get rich blacks that look amazing even if you want to set up a digital signage display in darker locations. Certainly, this feature benefits businesses in the entertainment industry, such as escape rooms, or in low-light pubs. Similarly, museums have certain exhibition areas that require a darker ambiance.
Why select one of these TVs for digital signage?
All three TVs can operate 16 hours a day, 7 days a week. Therefore, if you run a business such as a retail store, restaurant or even need screens for office lobby TV display software, the hours these TVs can display content covers your signage needs.
Commercial-grade TVs for a digital signage screen
For businesses that want to invest in more sophisticated TV technology as they incorporate their digital signage deployment into their marketing strategy, we chose a few options to help you out. Commercial digital signage displays offer professional, robust and reliable solutions that operate 24/7 for serious signage usage.
What is a commercial grade TV?
Although commercial signage displays come with higher price tags, they offer a great solution for enterprise settings such as offices, airports, hotels and more. For example, these organizations require robust, reliable screens that often display content 24/7. Especially when they're paired with lobby TV display software, businesses get guaranteed, consistent top image quality and reliability. Also, many come with an embedded digital signage player, so you don't need external hardware. Additionally, commercial-grade TVs have a longer lifespan.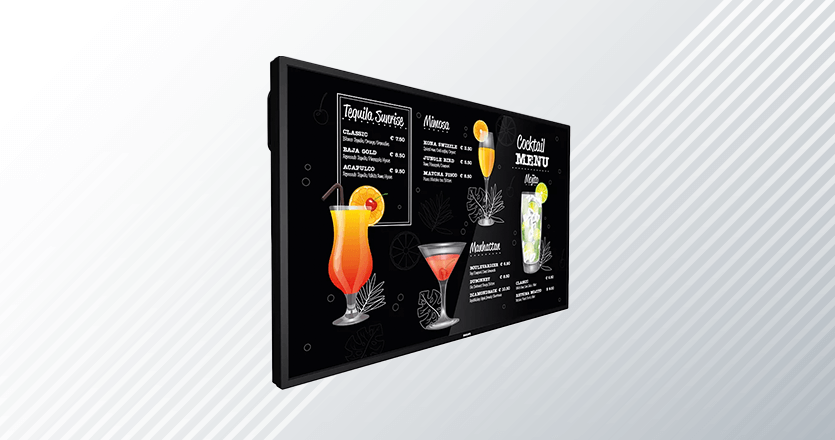 Firstly, this brand and model includes a number of helpful features within the more low-end $1,000-$1,200 price range. Of course, 4K resolution is a given. However, you also get an HTML5 browser which makes it easier to turn your TV into a digital signage screen. Also, its wide angle view means that customers that go to your shop or restaurant can see everything on your screen, even when they're not standing right in front of your TV.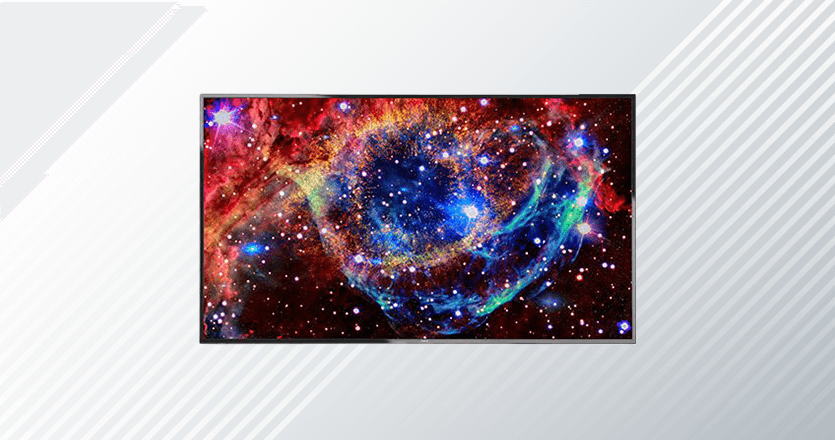 Most importantly, this model offers one more affordable commercial-grade digital display option for $1,200-$1,400. But with features like backlight, 4K Ultra HD, thin bezels, and a USB port for 2V/5A power delivery, you get enterprise-grade tech at a reasonable price. Backlight works great for venues that have different light levels throughout the day. Specifically, it adjusts the TV's lighting source so as to optimize image quality for viewers. Also, thin bezels means you get a small TV frame and a bigger screen. Crucially, it makes creating impressive digital signage video walls much easier.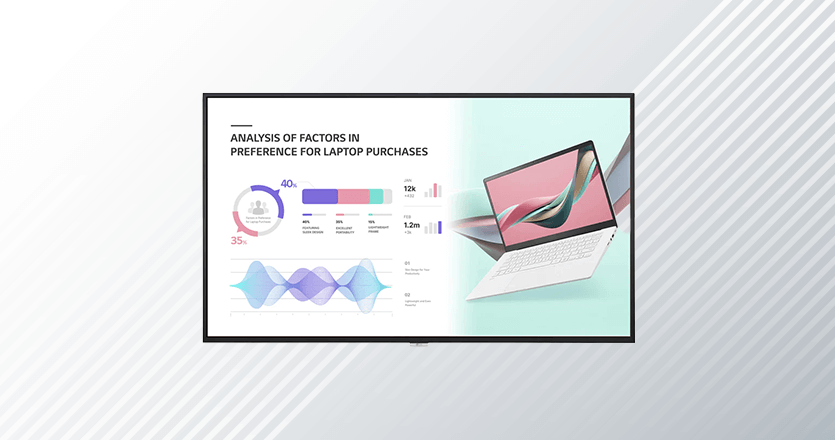 With a price tag of $1,300-$1,500, you get a number of features that help you deploy your digital signage solution. Specifically, this model offers features such as 4K, WebOS and WiFi. Crucially, WebOS allows you to pair it with a number of digital signage apps and software, such as Web Players. Although it comes with its own digital signage content management system, WebOS offers the option to use another company's digital signage solution.
However, once you choose a TV, how do you turn it into a digital signage solution quickly and easily?
How to transform TVs into digital signage
Firstly, you'll need digital signage software as a content management system (CMS). A CMS lets you quickly and easily upload, edit and display media on your screens throughout locations, totally online. Also, it helps you schedule content, so you can display the right content at the right time and on the right screen so as to appeal to specific customers or visitors. Furthermore, you'll need external hardware as a media player that you connect to your TVs. On the other hand, some TVs have pre-installed media players that you can use instead of external hardware.
What software is used for digital signage?
Most software lives on the cloud, which means you access your digital signage software online by simply signing up and logging in. Also, you do all your digital signage uploading and editing on your own laptop or PC, no matter where you are, without going to each TV. Most companies offer both monthly and annual subscriptions. Or you can try software before subscribing. Just find the best free digital signage software for you. Similarly, you have to find the best digital signage hardware to go with the software you choose and the type of your deployment.
Choosing the best TVs for digital signage
There are a number of TVs that work great for digital signage. Most importantly, you'll find models that fit both your budget and the kind of features you need for your business. Crucially, you must decide whether you want to go with more affordable, retail TVs or commercial-grade TVs designed specifically for digital signage. The choice is yours and must meet your business needs.