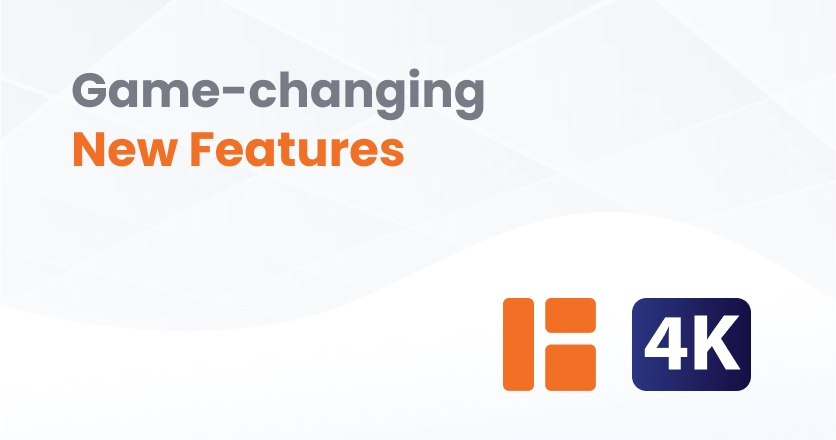 Start your summer signage with a bang, as this duo of new features will surely get your screens noticed. Layouts in Playlists give you some serious superpowers. Add your beautifully-designed screen layouts to Classic Playlists, and it's a given you'll consistently grab the attention of people that matter most to your business. Also, 4K video support means those of you with premium content will see premium resolution on screen. What's more, we added a super-handy description field in the 'Monitors' tab so you can add useful info that helps you in your day-to-day screen management.
Add Layouts in Playlists in seconds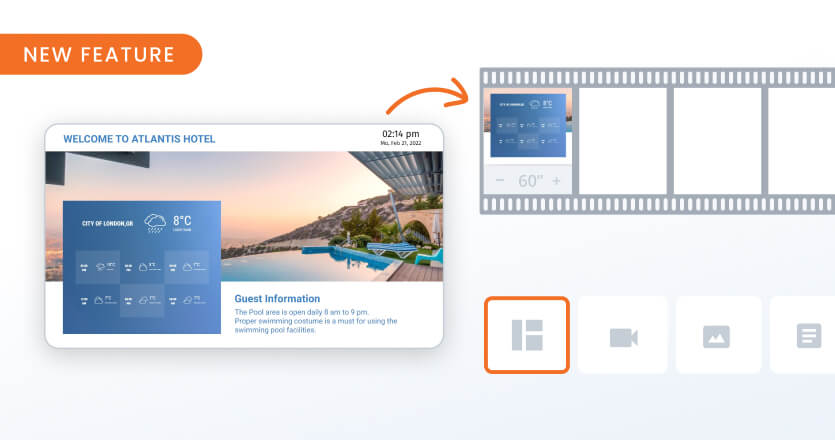 Add your beautifully designed layouts to a Classic Playlist, and make sure your signage screen-time packs even more of a punch. After all, screen layouts shine in the attention-grabbing department. They get the most TLC from both your content and design teams because you know they make the most impact on customers. So, it makes perfect business sense to use Layouts in Playlists in order to get even better business results — whether your goal is to increase sales, promote events or raise awareness.
Also, it's super simple to do. Simply drag & drop your layouts into our handy Playlist filmstrip. Of course, you can create a Playlist that includes a combo of both Layouts and other media or has just Layouts. Then, sit back and watch that powerful sprinkle of signage magic fire-up and engage customers, visitors and teams. Layouts in Playlists? Now that's a winning digital signage combo.
4K video support for stellar image quality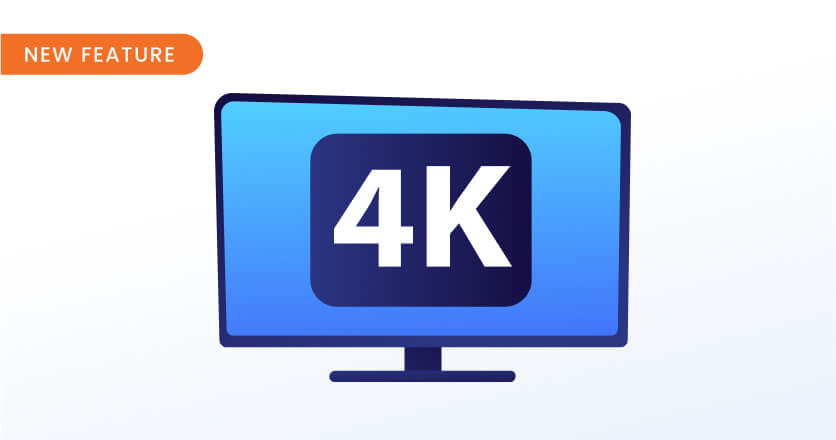 Brighter colors and clearer images – that's what your customers, teams and visitors will see with 4K video support. Crucially, that also helps with grabbing their attention. So go ahead and display premium video content to take advantage of the benefits 4K video resolution brings to your signage screens.
Also, it's super easy to enable this feature. Go to 'Account Settings', and it's right there under the 'Content' section. However, you'll need Yodeck Players with 2GB of RAM or more to support 4K videos. In addition, you'll have to enable 4K video resolution under each Monitor setting in advance, and of course that monitor must be a 4K TV, too.
Get useful info fast using the Monitors' description field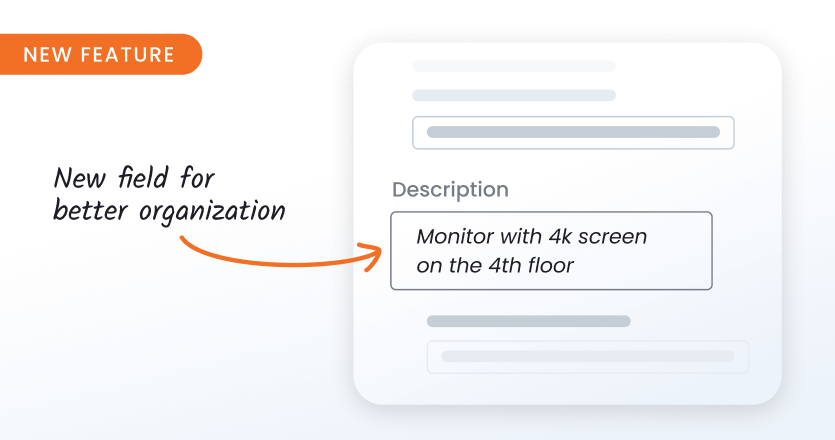 A tiny bit of organization goes a long way, especially when it comes to getting daily support tasks done very efficiently. That's why we added this field in the 'Monitors' tab. So you can type in any useful, practical information you want that helps you identify your screens and streamline support operations. Also, it's fully searchable in the 'Monitors' listing for even more ease-of-use.
For instance, instantly seeing installation details means you immediately locate that specific screen and it also assists with remote troubleshooting. Similarly, point of contact details allow you to reach out to the person specifically in charge of that screen. And boom, tasks get underway in the blink of an eye. Think of it as spring cleaning for your signage screens – with a burst of time-saving benefits for your business.
Release Notes
New features
Our engineering genies felt especially generous this spring, and made your #1 wish come true with Layouts in Playlists! Add any Layout in Classic Playlists the same way you added any other kind of media – just drag & drop them into the filmstrip and you'll see them on screen. Also, you can add as many Layouts as you want and creatively mix things up by having a Playlist that also shows apps, images and videos.
In addition, 4K video support makes businesses with premium content now able to display at this level of resolution. You'll find this new option to enable 4K video in 'Account Settings', under the 'Content' section. Please note, though, that only Yodeck Players with 2GB of RAM or more support 4K videos. Also, you'll have to enable 4K video resolution under each Monitor setting in advance, and of course have a 4K TV screen.
Our new Monitor description field assists companies with many screens to include additional details about each monitor, so as to organize and identify their digital signage screens. Specifically, users can type in any information, such as installation and point of contact details. This feature helps resolve practical issues. For instance, adding installation details makes it easy for users to find the screen or troubleshoot it remotely. In addition, including point of contact details means you can reach out to the person specifically responsible for the screen in seconds. Also, it's a fully searchable feature in the 'Monitors' listing.
Improvements
The Google News App now supports all languages, including Arabic and Chinese.
Also, we made it easier to immediately identify all required fields you must fill out in the forms inside the portal. Just look for an asterisk beside each field, and save yourself a ton of time.
Text tickers in Web Players now look great. We did a little tinkering and they all move smoothly across the screen.
When you make any changes in the 'Monitors' details screen, whether they have to do with content or under any of the tabs such as 'Network' and 'Sound', just use the new 'Save and Push to this Monitor' button. So this means you can perform both tasks, with the click of a single button. You'll be sure any changes you made take immediate effect.
Also, when you create new content and need to save it in a specific Workspace, you'll now find Workspaces listed alphabetically for your convenience. In addition, they're fully searchable, too.
Our Calendar Events Feed App got a much-needed makeover. It now supports multi-day events, and you also have the option to hide past events and only show current and upcoming events. We gave you even more options, including the ability to display a specific number of events and hide the name of the calendar. You'll also find we took the App's organization in the Portal up a notch, too.
Bugs fixed
The name of each Workspace now displays fully in a wide screen.
Also, the 'Move' and 'Delete' folder options now work when you choose either one from the listing drop-down dots.
Furthermore, if you manage many screens, you can now use grid view to see all your monitors' screenshots. This option is under the 'Monitors' section. It will prove useful for large accounts that couldn't get an overview of all screenshots (just 25). They're all there now, ready and waiting for your discerning digital signage supervision.
Moreover, monitor screenshots while in grid view weren't always the same as what was actually playing on screen. Specifically, the browser sometimes cached the wrong screenshot, but we got that sorted and swiftly restored screenshot accuracy.
Our perennial favorite 'Play from, Play until' field denotes expired content with a strikethrough, but that wasn't reflected when searching for content. So now you can still see all your current offers when searching, but also know for sure which ones expired as soon as you see the tell-tale strikethrough.