Yodeck: the perfect signage software for your NEC displays
NEC Display Solutions provides a large selection of professional digital signage displays that allow you to embed a Raspberry Pi unit inside their chassis. Yodeck was designed exclusively for the Raspberry Pi, making it the top digital signage software solution on this hardware platform.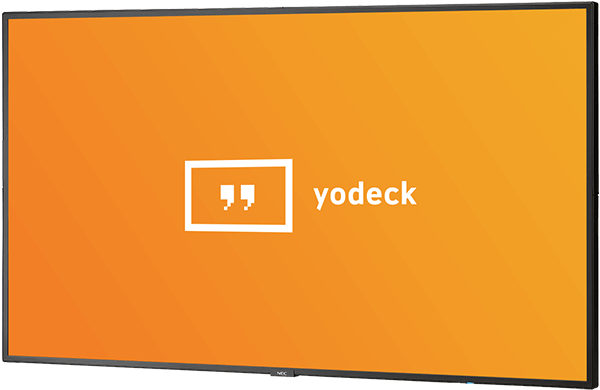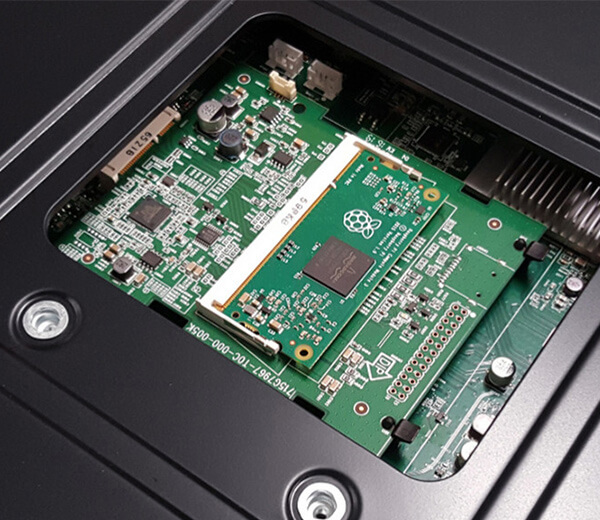 Why trust Yodeck's digital signage software for your NEC displays?
We went that extra mile that others skipped. Yodeck provides deep integration with Raspberry Pi-powered NEC displays, automatically adjusting fan speed for quiet and safe operation, retrieving display information and more.

What this means is that digital signage professionals can trust that Yodeck will run perfectly and offer superior performance on their NEC displays. The embedded Yodeck Player and easy to install Yodeck software together offer a vast range of user-friendly content creation and screen management features that guarantee professional results on-screen.
What digital signage features
do you get with Yodeck?
Whether it's retail digital signage, digital menu boards for cafes and restaurants, corporate communications, transportation, ad networks, or any other use-case, Yodeck can serve them all. With a complete feature set, Yodeck can work for you, either on one or thousands of NEC displays.

Content creation becomes streamlined with Yodeck. Our free stock image and video galleries, professionally-designed screen layout templates and comprehensive app gallery offer users unprecedented ease of use. Meeting the needs of businesses and organizations across all industries and sectors, Yodeck combines professional digital signage with an unbeatable user experience at an extremely affordable price.

With more than 3,000 customers and 230 resellers in 160+ countries, Yodeck is the most reliable and robust digital signage solution on NEC displays. Match your high quality displays with the best software available for the Raspberry Pi.
Get Started with Yodeck
Unlock the power of digital signage with our easy, professional and secure solution.
How to Install Yodeck on NEC Displays
It's quick and easy to install Yodeck on NEC displays. If your NEC Raspberry Pi Compute Module uses the Yodeck bootloader, simply flash Yodeck's image to the Raspberry Pi Compute Module, with a regular USB flash drive.

Installation happens straight from the NEC MediaPlayer if you don't see the Yodeck bootloader.
Our clients love us
Because we provide free digital signage software that's intuitive and simple to use!