Being a successful hotelier is not an easy task, as it requires a combination of skills, knowledge, and strategies. Providing excellent customer service, maintaining high standards, and meeting the needs and expectations of guests are essential for a positive guest experience.

The hotel lobby is the first and last area guests see, and it plays a vital role in setting the tone for their stay. As such, it is important to leverage this space as an effective tool to communicate essential information and engage visitors. Digital signage can be a versatile and powerful solution that provides guests with useful information and creates an attractive, modern ambiance for your hotel lobby. At Yodeck, we offer a wide range of hotel lobby digital signage templates that can help you enhance your guests' overall experience and differentiate your hotel from competitors.
1. Reviews
One of the most important factors that guests consider when choosing a hotel is the reviews. Hoteliers can use digital signage to display these reviews, showcasing positive feedback and promoting their brand to potential guests. This also encourages guests to share their experiences and leave their own reviews, which can lead to more positive feedback and increased bookings.
2. Bar & Restaurant
Hotels with bars or restaurants can utilize digital signage to display important information such as opening hours, menus, and happy hour specials. By doing so, hoteliers not only inform guests about these offerings but also help them plan their meals and make the most out of their stay. In addition, mouth-watering pictures of food and drinks can be displayed to attract guests to visit the bar or restaurant and boost the hotel's revenue.
3. Guest Information
When someone travels to another city or country, they are usually looking for a relaxing experience. Providing important information such as the local weather, flight schedules, and any changes can be incredibly helpful for your guests and enhance their overall stay at your hotel. Even for those traveling for business with a lot on their minds, displaying the time and keeping them informed about important information can help them stay organized and less stressed. By providing these conveniences, you can help your guests feel more comfortable and enjoy their stay to the fullest.
4. Wayfinding
Navigating a new hotel can be a daunting task for guests, especially when they are in an unfamiliar place. By using digital signage for wayfinding, you can help your guests navigate around the hotel and easily locate important areas such as the front desk, elevators, and restrooms. This not only helps guests feel more comfortable during their stay but it also provides a more enjoyable experience at your hotel. Digital wayfinding signage can also be customized to display maps and directions to nearby attractions, which can further enhance the guest experience and encourage them to explore the area.
5. Emergencies
In the event of an emergency, guests need quick access to important information and phone numbers. Digital signage can display emergency information and important phone numbers to ensure that guests are informed and can quickly get help if needed. You can also use a template to display important hotel phone numbers, such as the front desk or room service.
6. News Feeds
Keeping guests informed about important local news and events can be a great way to engage with them and create a welcoming atmosphere. You can use a customizable template to display news feeds and other relevant information. You can also display information about local events, such as concerts or festivals, to help guests plan their stay.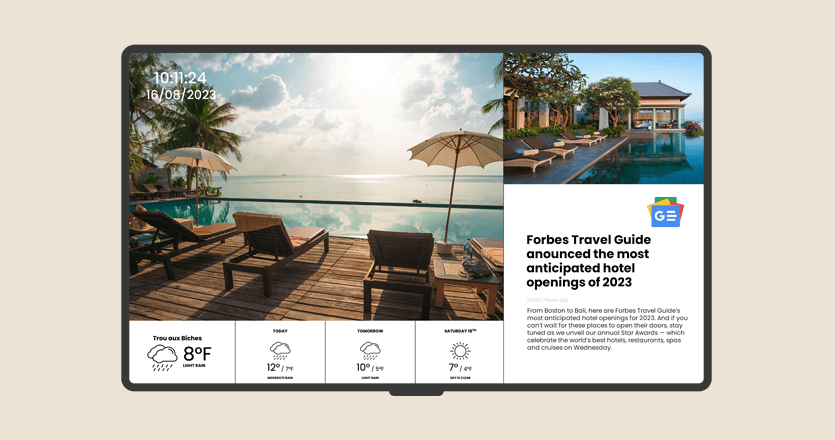 7. Social Media
Social media may be the most powerful tool for promoting your hotel and engaging with guests. By displaying your hotel's social media feeds on the hotel lobby digital signage, visitors can easily follow and engage with your brand on their own devices. You can also use social media to showcase user-generated content, such as photos or videos posted by guests.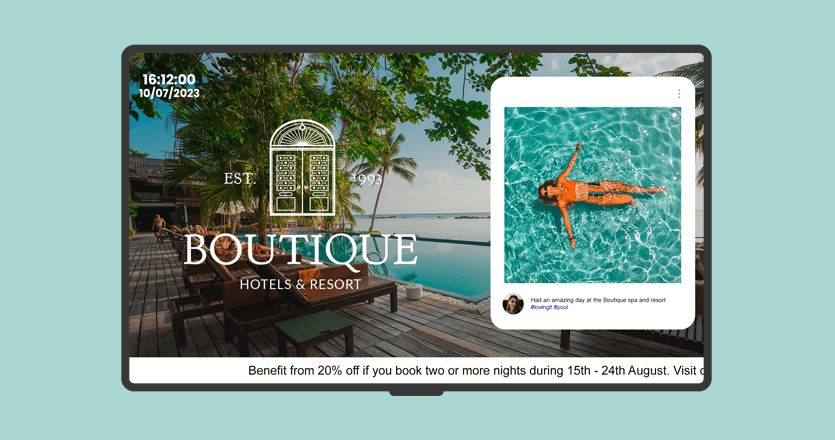 8. Welcoming
Another effective way to create a warm and inviting atmosphere in your hotel lobby is by utilizing digital signage to display images or videos showcasing your unique amenities, such as the spa or pool or the history of your hotel or location. Additionally, displaying welcoming messages can help guests feel valued and appreciated, further enhancing their overall experience at your hotel.
9. Events
If your hotel hosts events or important conferences, digital signage can be an effective way to communicate this information with your guests. By utilizing a template, you can display your upcoming events and promote them in an eye-catching and informative manner. This can help generate greater interest and attendance, ultimately leading to a more successful event and satisfied guests.

To conclude, the use of digital signage in hotel lobbies can significantly improve guest experience and communication. By utilizing the nine useful template examples provided, hoteliers can effectively provide guests with important information and create an attractive and engaging atmosphere in their lobby. These template ideas can serve as a great starting point for designing digital signage specific to your hotel's needs and preferences.