Events run best when everyone knows what they're supposed to be doing and where they're supposed to be. That's why having the right directional signage for events is crucial for the smooth and safe running of any get-together, large or small.
At Yodeck, we can help you give your visitors everything they need when it comes to wayfinding digital signage, from visually engaging maps and schedules to safety alerts and QR codes. And, with loads of slick templates and apps to choose from, we'll help make digital signage for your next event easy.
But first, let's start with the fundamentals. Why do visitors need directional event signage in the first place?
What is directional signage?
Directional signage or wayfinding signage is a form of signage that displays visual information to help viewers find their way within a particular environment like a university campus, an office building, a hospital or a large event venue.
Event directional signs are a specific type of wayfinding signage used in event sites like festivals, conferences, sports events and trade shows to guide attendees to important areas and points of interest such as registration areas, event stages, exhibition booths and help desks, as well as emergency exits, parking areas and public transport stops.
What are the Benefits of Having Directional Signage at Events?
Whether it's a glitzy gala, a university-based conference, or a team-building session, events can present many challenges—and lots of opportunities for your brand.
To get the most out of your event, and keep everyone safe, you'll need clear, visually appealing directional signage. For example, a simple sign letting your visitors know where all the toilets are located on site can help prevent queues and bottlenecks. Digital signage for events is also crucial in the event of an emergency, as you'll need ways to communicate important information quickly and effectively.
Just take a look at the potential upsides to use directional signage.
It helps your visitors find their bearings. Don't let your attendees wander aimlessly. Giving them clear directions helps them find where they want to go much quicker. It can also aid in crowd control, helping to avoid needless bottlenecks and queues.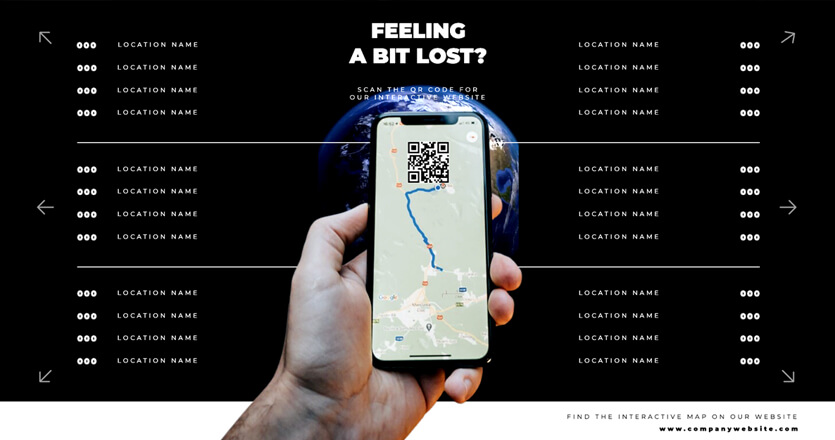 Directional signage keeps your visitors safe and informed. Always keep your visitors informed with clear, relevant, up-to-date information. Wayfinding digital signage can keep your visitors in the loop, telling them if there's an emergency, a change in schedule, or a malfunction, such as a broken escalator.
It can help you drive revenue. Hosting events is a great way to engage with your customers. Increasing customer engagement is key to driving business revenue—which is why Forbes declared that customer engagement should be every business's top priority in 2020. As directional signage can guide your visitors to social media zones and product merchandise, though, it can also be used to help you drive sales directly.
It can bring visitors back. A satisfied attendant will be more inclined to return to your events in the future. Digital signage can make that even more likely with strategically positioned adverts too.
Directional signage isn't just a 'nice-to-have'. It's a crucial part of keeping your visitors safe, comfortable and engaged.
We know this from the workplace, where digital safety signage reduces workplace injury by 20%. And, with the opportunities to sell additional products and merchandise, directional signage can really help boost your revenue.
What Do Visitors Need from Signs at Events?
Don't underestimate the amount of information guests expect, on everything from schedules to car park locations, and where to get their coffee. No one wants to print that all out—and in this day in age, you don't have to.
So here at Yodeck, we believe that directional signage works best when it's digital. Here's how digital directional signage can deliver what your guests really need:
–Navigation. They say a picture paints a thousand words. In concrete terms, images are much more likely to be remembered than words alone (psychologists call this the 'picture superiority effect'). So get on your visitors' wavelength with beautifully illuminated digital site maps, room listings, and line-ups.
–Real-time alerts. When an emergency arises, use digital signage to display live alerts and use up-to-date directional signage to usher your guests to safety.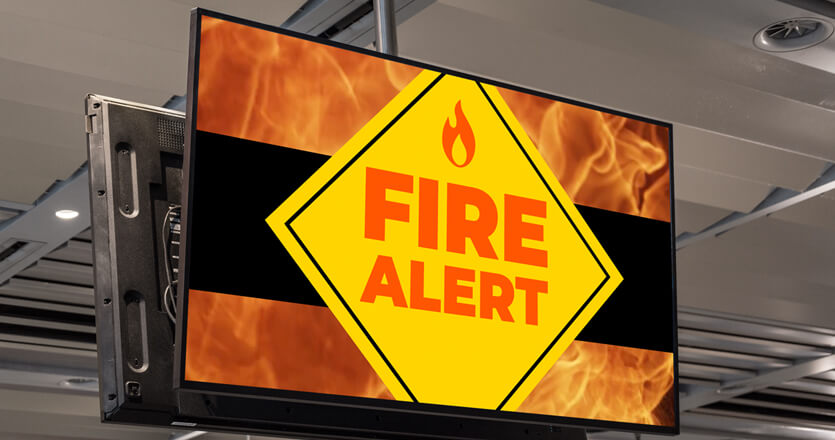 –Live event schedules. Deploy digital technology to create event schedules tailored to each conference and meeting room. If something changes, don't rely on word of mouth. Instead, just update your conference room digital signage to seamlessly instruct attendees when and where to go.
–Find additional ways to engage. Use digital directional signage to create excitement about your event and your brand. Enhance reach and publicity with wayfinding signage that directs visitors to social media walls that display tags, QR codes, and custom feeds.
The best bit? At Yodeck, you can control all your digital event signs from one place, so if you need to update your visitors with some crucial information, you can do it all at the touch of a button.
Case study: How TUI Used Yodeck for Hotel Lobby Digital Signage
TUI Group, a market-leading global travel company, needed a digital signage solution to engage its customers better across the world. They wanted to focus their efforts on busy areas with lots of foot traffic, such as its hotel lobbies, gyms, and restaurants.
TUI needed high-quality content that could be coordinated centrally, but that could also be tailored to each location. What's more, given the remote nature and hotter climates of some hotels, any digital signage solution had to be able to work offline and be robust enough to cope with higher temperatures.
So TUI group engaged with Yodeck for a flexible, reliable, digital signage solution. Here's what we offered:
A reliable, offline-capable digital signage solution that could be used in all hotel locations thanks to our use of the Raspberry Pi platform.
Increased brand engagement, and the ability to effortlessly roll out brand standards at all new properties.
Tailored content, to advertise location-specific excursions, special offers and events, which could be easily updated by staff at any time.
After an initial low start-up cost, TUI Group is now benefiting from savings from all the Yodeck screens they now use. And this has been set to continue, as the company planned to set up digital screens in all of the new hotels they opened in the summer of 2022.
"For us, the top feature is having control of all of our screens worldwide. So we can see what is actually being played in Vietnam and at the same time in the Dominican Republic.
We can change the content from anywhere in the world at any time of day. We do not need to ask somebody to change the content on our behalf. It takes just a few clicks, and 2 minutes later, the content is updated. That, for us, is the biggest strength and functionality of Yodeck."
KAI WOLFFRAM
Head of Global Operations & Analytics at TUI
How to Get Started with Digital Directional Signs
Got an event coming up? Here are our top tips for getting started with directional signage.
1. Do your research
What do you want to communicate with your audience? And more importantly, what do you need to share with your visitors?
Depending on your location, the specific type of event and venue size, obligations will vary. In the UK, for example, the Health and Safety Executive publishes information on regulations for things like safety signs.
Although it's crucial that you do your own research to work out what information you need to display, here are some ideas of the types of signs you might want to consider:
Emergency signs. For example, directions to fire exits, assembly points and first aid stations.
Site maps. Whole overviews of the venue site or building so people can navigate more easily.
Signposts. Helpful directions to things like toilets and event spaces and for orderly queuing.
Whatever you decide, pre-loading content onto all your event screens is easy with Yodeck. Just add media to your playlist on our content management system. Need to change the displays or communicate an alert in a hurry? No problem, our online dashboard makes it a simple fix. Decide what to display and when
2. Decide what to display and when
Although there are certain types of directional information you'll want to display at all times, there are others that might be better displayed at particular points during your event.
Here are some potential ideas:
Directions to catering/coffee during breaks at conferences.
Arrows pointing to a designated "selfie area" during the interval of a concert.
Weather and traffic information displayed as banners when visitors start to make their way home.
Alerts displayed during emergencies such as a live shooter or during adverse weather conditions.
Directions to the gift shop at the end of a theme park or museum event.
But with Yodeck, the sky's the limit. We've designed our digital signage solution to be totally customizable, so you're free to show whatever media you like.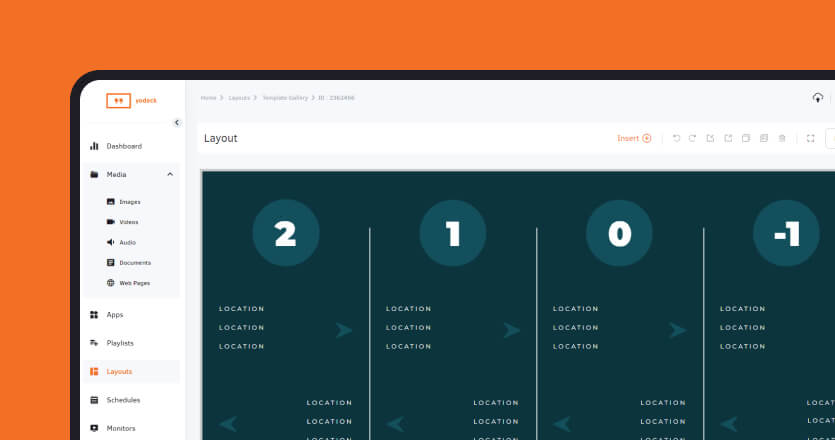 3. Use templates to make everything look slick
You want to make your digital signage as clear, professional, and visually engaging as possible. But you've got an event to run, so you're also looking for a fuss-free solution.
That's why, at Yodeck, we've got a whole selection of gorgeous free templates for you to use, each tailored to a specific event. But don't worry, we've got a custom slide builder too, should you want to make something totally bespoke.
4. Pick your apps
With digital signage, you're not limited to a static image or piece of text. Instead, you can really elevate your content by adding engaging and useful apps.
We've got a whole bunch for you on Yodeck, everything from world clocks, weather and news, to scheduling, queue management, and social media feeds.
Yodeck: Straightforward Signage for Your Next Event
Make sure your visitors know exactly where they're going with stunning digital signage from Yodeck.
Manage all your screens from one place. The days of running around with a USB stick in hand are over. Instead, use Yodeck to seamlessly manage all your screens in one place.
Hit the ground running. We know how busy event management is, so take advantage of our vast library of screen-ready templates and apps. Once you've decided which ones you like, it's as easy as drag and drop, then plug and play.
Try today, with zero commitment. We want you to see how versatile Yodeck is for yourself. That's why signing up for your first screen is completely free and no card details are required.
Get started with Yodeck today!