Explore the benefits of cloud-based digital signage, from cost savings and scalability to remote management and enhanced engagement.
Amidst the swift tide of technological progress, businesses are constantly seeking new and innovative ways to effectively communicate their messages.
Cloud-based digital signage solutions have emerged as a game-changing medium that empowers businesses to reimagine their communications and captivate their audiences like never before. By leveraging the power of cloud computing technologies, you can now deliver content across multiple screens from any location without hassle or needless costs.
Keep reading to find out how cloud-based digital signage can revolutionize your communications and propel your organization toward a more connected future.
Business Benefits of Cloud-based Digital Signage Software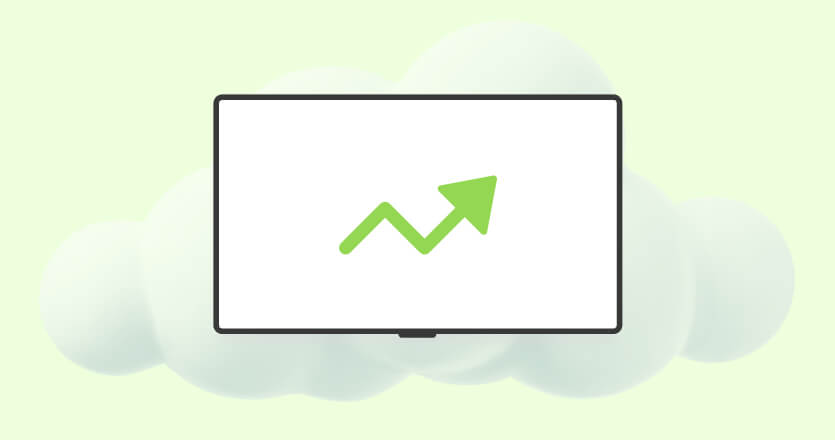 In the tech-heavy era of modern business, staying ahead of the curve is vital for success. Businesses that harness the transformative power of cloud-based digital signage platforms can unlock new opportunities for growth and establish a sharp competitive edge. The benefits of centralized content management and real-time updates will effortlessly lead to increased engagement and enhanced visibility.
Easy to use
Apart from being very easy to set up, thanks to a user-friendly interface, cloud-based digital signage software is also incredibly easy to use. You can immediately start creating and scheduling content after signing up without any IT skills or even a dedicated design team.

The most popular digital signage CMSs come with a broad range of free digital signage templates, stock images and videos. This means that you can quickly create engaging content without starting from square one.

Even more important, if you're unsure of what the end result will look like, you can try before you buy with zero upfront costs. Just sign up for Yodeck, use the free templates to create a design in just a few minutes and Yodeck's Web Player to see how it looks on your screen instantly. No hardware or technical expertise needed.
Scalability
The matter of seamless scalability is extremely important, especially for enterprise-level digital signage deployments that may include thousands of screens. In such cases, a cloud-based digital signage solution should be your only option.
Cloud signage technologies allow you to add as many devices as you need to your network, simultaneously or gradually, without having to worry about server sizing, storage space or bandwidth. That means that your cloud-server digital signage system can grow as quickly as your business does with minimal downtime and additional costs. Even better, you can easily monitor the status and performance of any new digital signage deployment from any location, through a central platform.
Finally, scalability is also crucial to organizations that need to add and remove digital signage screens constantly like businesses in the event sector, museums, art galleries and cultural spaces or even churches that occasionally host large congregations.
Remote Management
This is perhaps the most significant benefit of a cloud-based digital signage solution.
Cloud-server digital signage platforms make managing any number of screens and players much easier than on-premise solutions. Through cloud-based digital signage media players, you can effortlessly manage, schedule and update content from any location without having to physically access the screens.
Remote management is especially important for businesses that need to distribute content from a central platform to multiple locations simultaneously. This process can easily be scheduled and automated to ensure that the content delivered always reaches the right audience a the right time. In addition, it allows for real-time troubleshooting, debugging and configuring hardware settings on the go.
Finally, most digital signage software offer useful features that can help you analyze your system's performance, gauge engagement and optimize your content according to your business needs.
Real-time updates
Digital signage solutions hosted in the cloud offer the possibility of editing or rescheduling content in real time. This capability opens up a series of very significant benefits for businesses operating in any industry.
Being able to deliver content instantly means that you can communicate with your customers in the most efficient way possible with information that is always relevant and time-sensitive like offers, deals and discounts. This is essential to businesses with customer-facing screens that benefit from location-based advertising. For instance, real-time updates can take your retail digital signage campaigns to the next level.

Additionally, you can quickly convey important information to your workforce to ensure safety and improve productivity. For example, production display boards and KPI dashboards are widely used in manufacturing digital signage deployments to upgrade comms from the HQ to the production floor.
Finally, suppose you have multiple screens across different locations connected to a cloud digital signage system. In that case, you can also take full advantage of them by creating a digital signage advertising network for an additional revenue stream.
Enhanced analytics
In most cases, cloud-based digital signage software comes with several different types of built-in analytics and reporting features. You can use these to accurately measure the performance of your digital signage campaigns, assess how effective your content is and adjust your strategies accordingly.
Moreover, by combining built-in analytics and reports with all your data collected from integrated digital signage apps and tools, you can calculate and evaluate the ROI of your digital signage deployment and determine what an expansion of the network or an upgrade of your digital signage software will bring to your business.
Multi-user access
This feature is often overlooked by small businesses but it is of the utmost importance for enterprise-level digital signage deployments. Cloud signage solutions allow multiple users to access, edit and schedule content from a centralized platform. Even more important, you can assign access rights across your organization according to the employees' responsibilities and tasks.
For example, with Yodeck's user roles, groups, and workspaces features, you can easily classify users and grant special access to screens across the network according to their role in the digital signage network in a quick and secure way.
Seamless Integrations
Digital signage is a powerful tool that can take an organization's communication and marketing strategies to new heights. However, this often means that the digital signage system will have to be combined with a wide array of online tools, software and platforms in order to complement the business growth.
One of the most impactful benefits of cloud-based digital signage systems is the fact that they can be seamlessly integrated with most of the apps your business is already using. These may include analytics tools, customer relationship management (CRM) platforms, social media and anything in between. Those can be extremely useful for content displayed not only on customer-facing screens but also for internal communications digital signage and upgrading your meeting rooms.
Yodeck's cloud-based digital signage software features a broad range of free digital signage apps to suit every need. From news tickers and data dashboards to the most popular online design tools and financial reporting tools, you can display all of your existing content on your screens in just a few clicks.
Technical Advantages of Cloud-based Digital Signage Systems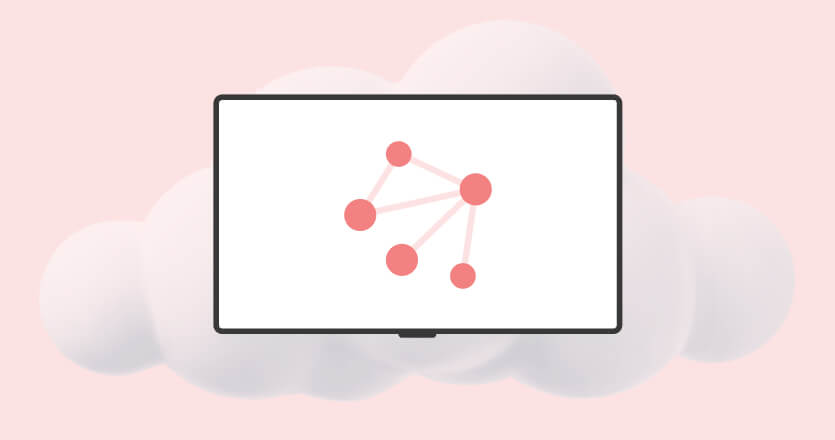 Apart from all the financial benefits and the competitive edge it will give to your business, cloud-server digital signage platforms also feature an abundance of advantages on the technical side of things.
Security
Security should be one of your first priorities when looking into digital signage platforms. And while it's true that with an on-premise solution, you'll have total control over your data, server and installation, it might not be the safest bet. In fact, cloud-based digital solutions are much more secure than any traditional system.
In a cloud-based digital signage system, your data is stored remotely offsite which reduces the risks that you would have with any physical infrastructure such as hardware failures, fires, floods, theft, or any kind of physical malfunctions or security breaches.
Moreover, most digital signage software providers offer multiple security layers to protect your data like safe IP addresses, two-factor authentication for users, central control over user access, data encryption, vulnerability scans and even bug bounty programs. In addition, constant software updates and hardware security features like remote media player lockdown, player storage encryption and digitally signed files will guarantee your complete peace of mind.
Finally, you won't have to worry about storage space or data recovery and redeployment in case of any failure. Yodeck's secure digital signage CMS can even guarantee that your media players will keep delivering content for up to 30 days without an internet connection since all media and schedules will be downloaded locally.
Support & Maintenance
Cloud-based digital signage platforms may eliminate the need for heavy-duty IT teams with technical expertise, but if something goes wrong? Digital signage providers offer technical support before, during and after deployment as well as software demos and extensive training to ensure that your staff can take full advantage of the digital signage CMS.
Furthermore, with a cloud-server digital signage platform you'll save time on software maintenance and upgrades since the CMS will frequently be automatically updated to the latest version. New updates are commonly released every few weeks, as opposed to on-premise solutions where new versions are released once or twice a year.
These updates frequently include useful upgrades and new features that can be crucial to the success of your business. Meanwhile, the software undergoes continuous testing to remove bugs and flaws to ensure an optimal user experience.
Some digital signage providers, like Yodeck, are also bound with strict Service-Level agreements to guarantee stellar support for all users.
Easy to Set up
The most self-evident advantage of cloud-based digital signage platforms is that they are extremely easy to set up compared to traditional systems. To begin with, you won't need the IT skills required to set up and configure a digital signage server. By extension, you'll never have to worry about managing backups and updates, monitoring server performance or hardware redundancy.
Cloud-based digital signage systems are usually offered as a complete solution that will help you avoid all that and skip directly to the good part. As long as you have digital signage software, a digital signage media player and a screen, you can start your own digital signage platform almost immediately. All that you are going to need from that point on is an internet connection.
Cloud-based digital signage platforms are ideal for small and midsize businesses (SMBs) since every moving part of the digital signage setup (along with all corresponding technical tasks and responsibilities) is managed by a provider. This shift of technical ownership minimizes the risks and significantly reduces the time and effort a new deployment requires.
Financial Benefits of Cloud-based Digital Signage Solutions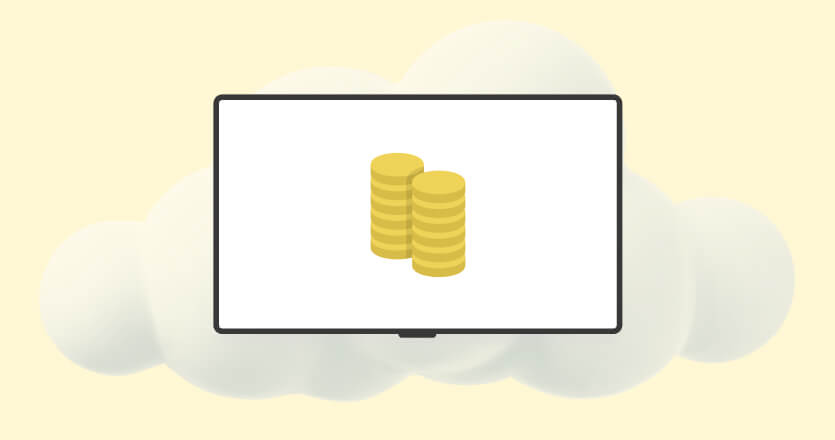 Cloud-based digital signage platforms feature a wide array of financial benefits that apply to a wide range of business sizes, from small retail stores to large multinational organizations. In fact, cloud-based digital signage solutions are more affordable than most professionals realize.
Infrastructure Costs
Compared to on-premise systems, cloud-based digital signage solutions are a significantly more cost-effective option. The main reason behind this is that there is no need to buy, configure and install a dedicated digital signage server onsite. Instead, hosting your digital signage system on the cloud means zero maintenance and support fees. Similarly, there are no associated costs with licenses, updating or upgrading the digital signage CMS. In both cases, your digital signage provider will be responsible for undertaking all corresponding costs for a fixed monthly or annual fee.
Laborforce Costs
Since your digital signage platform will be hosted on the cloud, you won't need to invest in expanding your IT team or committing your employees' time to tasks related to support, maintenance and content distribution. Additionally, the ready-made digital signage templates and apps of the digital signage software will reduce the time and effort needed by designers to create engaging content.
Pay as you go
Cloud-based digital signage solutions are typically subscription-based and offered as SaaS. Which means that there will be no hefty upfront costs for hardware or a software license. Instead, you can try out a digital signage CMS completely for free without any commitment and pay as you go. This way, you are always in control of the overall costs and you can add more screens to your deployment as your business grows or remove all the unnecessary ones instantly. Ultimately, you will only be charged for the number of digital displays that is truly useful for your business.
Taxation
This is one of the most important financial benefits of cloud-based digital signage solutions that are often overlooked. When subscribing to a software-as-a-service instead of buying a software license, you can book all charges and fees as business expenses in order to deduct payments from your taxable income. Moreover, you'll never have to worry about asset depreciation.
Cloud-based Digital Signage Benefits: Key Takeaways
To sum it all up, a cloud-based digital signage solution will have an immediate impact on your business objectives while keeping overall costs and the need for technical expertise to a minimum. From state-of-the-art security features and an effortless setup to easy centralized control and advanced performance analytics, digital signage in the cloud will unlock opportunities you can't afford to miss.
That's why cloud-based digital signage is taking over conventional means of communication across any industry and business size.
Are you ready to make the switch?
Get started with cloud-based digital signage with Yodeck
Yodeck's award-winning digital signage software will allow you to reap all the benefits of cloud-hosted digital signage at the most affordable price. All you need to do is set up a Yodeck account, create a design and see it in action in just a few clicks. All you need to check it out is an internet connection and a browser. Even better? Sign up for an annual plan and get Raspberry Pi-based digital signage media players completely for free!