Every manufacturing facility needs a sign system. To help staff and visitors navigate, ensure safety and compliance, and encourage productivity, clear visual signage is a must. But what should you know if you're looking at manufacturing sign systems?
In this guide, you'll discover what to look for in the best manufacturing sign systems. And we'll let you know why we've built Yodeck to tick all those boxes for you.
We won't beat around the bush. These days, the best signage solutions for factories are digital ones. Going digital adds versatility to your sign systems that would be otherwise impossible. You can display production goals, monitor equipment effectiveness, and show staff training videos and company announcements—all from the same place.
With Yodeck, all that is possible—and much more. But what makes our manufacturing sign system really the best out there for factories? It's just so easy. All you have to do is drag and drop content, add apps to import real-time data, and press play.
Read on to find out why your factory needs it, and how to get started.
Why Use a Sign Digital Sign System in a Factory?
The benefit of using a digital sign system in your factory is that it can accommodate all the different ways that you might want to use it. The alternative is separate signage for every single use case.
Here are some of what you can do with digital signage in your facility. But the best manufacturing sign systems will handle literally everything you can throw at it.
Equipment monitoring
In your manufacturing plant, productivity is limited by the effectiveness of your machinery. You'll likely be monitoring this closely already. But quality signs will provide you with equipment performance data in real-time.
For example, link up your production monitoring software to your screens and operatives never lose track of your equipment's effectiveness.
Safety and compliance
In every facility and workplace, some safety signage is obligatory. According to OSHA, ANSI, and HSE guidelines, for example, everyone present needs to be provided with clear visual warnings and guidance, around hazardous equipment and towards emergency exits.
Digital signage can host this too, to make safety messages more eye-catching and compelling.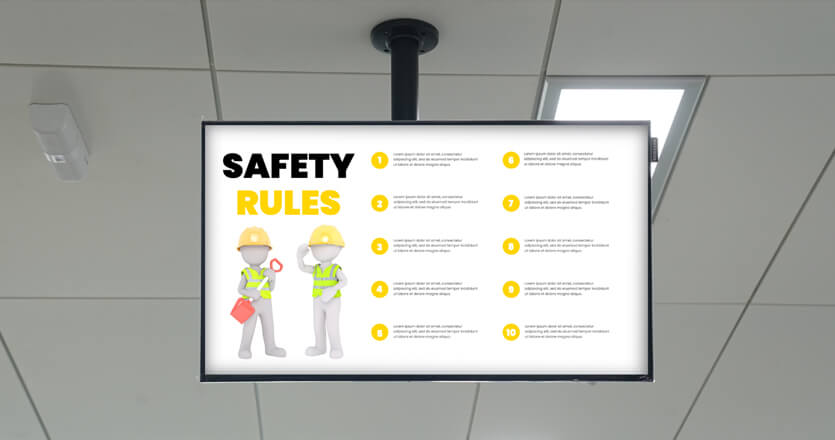 Targets and productivity tracking
Alongside monitoring your machinery's productivity and effectiveness, it can help your teams to have clarity on overall business goals and targets. Studies show that making goals clear and visible supports business performance.
The best manufacturing sign systems enable you to ensure key data and KPIs are always front of mind among your staff.
In every workplace, a comfortable space for downtime is a necessity. Manufacturing displays can double up as break room signage, allowing you to deliver informative, educational, and simply entertaining content to staff while they're resting.
For example, the best sign systems can display news stories, share social media feeds, and even stream media directly from YouTube. It can help give your teams the break they deserve.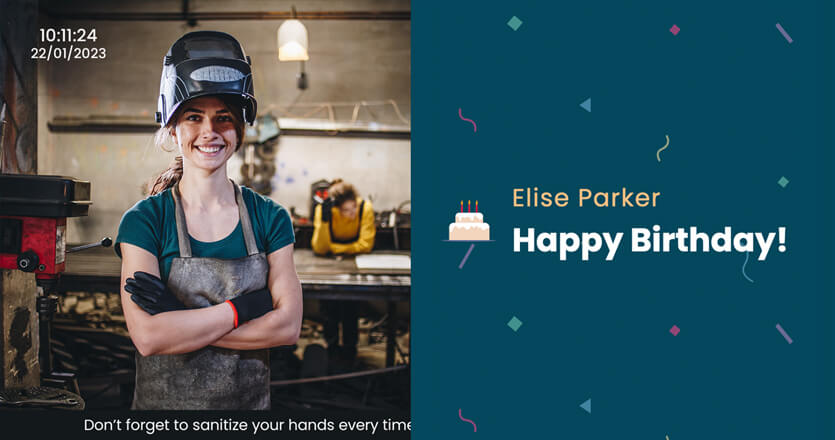 Staff morale and motivation
Showing that you appreciate your staff increases motivation and productivity, reduces turnover, and projects an image that you care. Digital screens are an effective way to do exactly that.
Recognize high-performing colleagues, welcome new recruits, or spotlight individuals for their years of experience.
Special events and company notices
Whether you're launching new products, creating a new brand, or throwing a workplace social, you'll likely want a way to spread the news to your team fast. Digital signage allows exactly that.
Training
The beauty of high-quality sign solutions is that they can stream any media you choose. That means that you can complement your company notices with video, slide decks, or pdfs.
When training your employees, this comes in really useful. You can use a variety of media to make educational content really engaging. What's more, you can integrate training lessons into signage throughout the day to reinforce the message.
Wayfinding signs
Whether new employees, potential customers and clients, or other visitors to your manufacturing facilities, many people won't know their way around the site. Digital displays can host wayfinding signage, so that everyone knows exactly where they're going.
This isn't just for convenience, but for safety and compliance too. Often, you'll be obliged to display clear signage to direct people to emergency exits, for example. Digital signage makes that easy.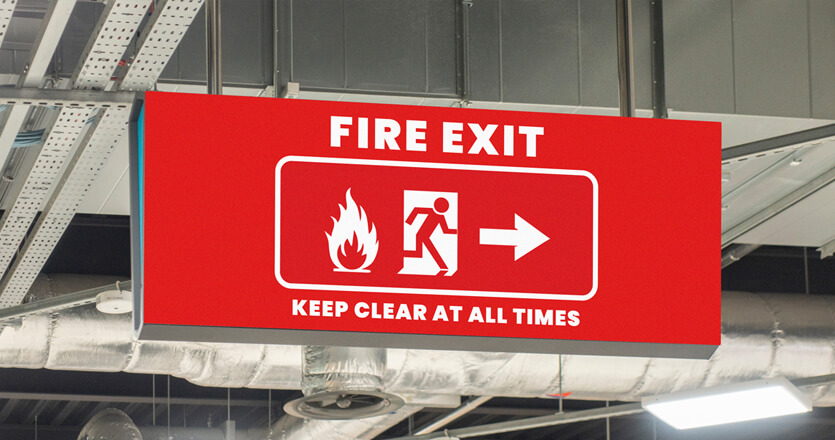 Find your own use cases for digital signage
However you want to use signage in your manufacturing space, Yodeck can help. Thanks to our content management system, you can build completely custom signs, showcasing your design, brand, and the message you want to convey.
What to Look for in a Manufacturing Sign System
You know what the best manufacturing signage can help you do. But what should you look for in sign manufacturers before you invest?
To get the most out of your signage system, it should have the following qualities:
Versatile. You'll want to know that your signage can really offer everything you want it to. Choose a solution like Yodeck that can handle any media you want to display, from video to web pages to pdfs and documents.
Explore our library of apps to see how you can effortlessly import your production information—and other data—onto your screens.
Affordable. We all know that in the manufacturing industry margins are tight. But there's no need to invest in a digital sign system that will break the bank. With Yodeck, the first screen is free and you'll pay monthly per screen after that.
What's more, you'll save up to $1,000 a year per screen compared to Yodeck's alternatives.
Compatible with every screen. Talking of affordability, you don't necessarily want to invest in a new range of displays if you have some already. With Yodeck, you can show your content on every screen.
Scalable. However large your facility, you should be able to trust that your signage solution will be able to cover it all. That's why with Yodeck you can scale up to as many signs as you need.
Secure. It's likely that you'll be displaying business-sensitive information on your displays. As a result, you'll want to make sure that none of that data can be accessed through your signage solution—nor that anyone else can take control of your displays.
With Yodeck, you can expect the most rigorous security practices. You can restrict which users and IP addresses have access to the software, while two-factor authentication will ensure it's inaccessible to intruders.
Easy to set up. Yodeck's solution is unbeatably easy. Here's all you need to do:

Sign up for your free Yodeck account and explore all of our offerings
Choose a pricing plan and get hold of your free Yodeck player to connect to your monitor
Plug in and play. There's nothing more to it. You're ready to kick off with digital signage.
Manageable remotely. Want lots of screens but don't fancy updating them all individually? We think that's fair enough. That's why with Yodeck you can control all of your digital signage from the same device, no matter where you are.
Why Yodeck is the Best Manufacturing Sign System Around
At Yodeck, we offer a versatile, affordable, and unbeatably easy manufacturing sign system.
Start with a free first screen and scale up to as many displays as you need. However many you use, they can all be managed from a single device.
Drag and drop content in all its forms. Show safety information, wayfinding, and productivity data all on the same screen. All you have to do is schedule a playlist and our content management system will handle the rest.
Choose from our range of premade apps and templates. You can get started without creating any content of your own. Just use our pre-designed templates.
Ready to get started with the best manufacturing sign system?