Undoubtedly, the first thing that comes to mind when talking about digital signage is large TVs or video walls. But consider the power of an Android digital signage tablet. It's affordable, easy to use and can fit literally anywhere – on retail or grocery store shelves, café tables, reception areas and even elevators. Also, you can set up an Android digital signage tablet quickly and easily. So, consider adding Android tablet screens to your existing digital signage setup.
In this article, we'll cover the following topics about how to use an Android digital signage tablet:
The benefits of using an Android digital signage tablet
Firstly, for those of you just starting out with digital signage, you can use an old tablet to test the waters. Or, if you want to expand an existing digital signage deployment, you can purchase an Android tablet for under $100. Therefore, affordability constitutes a huge bonus for you. Also, most of us know how to navigate Android devices, so they're easy to use. Crucially, Android tablets are wireless, so all you need is a WiFi network without any external ethernet cables. This, especially, makes Android tablets very practical as digital signs that you can set up anywhere.
Also, know that customers can't tamper with any other content saved on your tablet, as you can activate kiosk mode for security. Most importantly, it's easy to turn an Android tablet into a digital signage device.
What is a digital signage device?
Essentially, a digital signage device is the hardware that you use to show videos, photos, playlists – basically any type of content you want – on your screen. In this case, your Android tablet is your digital signage device.
What is required for digital signage?
Usually, you need an external physical device, such as a media player, as well as a TV screen and purpose-engineered digital signage software. However, the best part of using Android tablet digital signage lies in the fact that your tablet acts as both a media player and a screen for your digital signs. Then, you just download Android digital signage software and there you go – you have an affordable digital sign for you to use anywhere you want, that also offers you a host of easy-to-use features.
Tablets as digital menu boards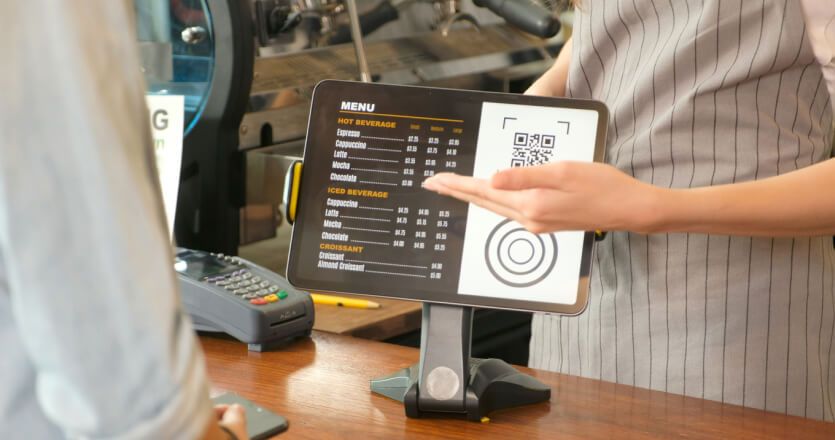 Ever thought of using an Android tablet screen as a digital menu board on tables in cafés, restaurants, bakeries and diners? Not only does it complement the bigger digital signage screens that people use to check out your specials as they wait in line to place their order, but it's also a great way to get them to add more items to their order once they sit down to eat. Most importantly, 86% of restaurant business owners see sales increase with digital signage. So, adding Android digital signage devices, such as tablets, can only increase your revenue.
Also, even if your décor doesn't include bigger screens for people to browse as they wait in line to order, you can easily add Android tablet screens at each table instead of paper menus. Or you can use tablets at checkout counters instead of bigger screens. Firstly, they're discreet and elegant, and we're all so used to using tablets and other mobile devices that they will blend in with your more sophisticated atmosphere. Also, you'll help the environment by eliminating paper menus and cut down on menu printing and design costs.
Additionally, think of using Android digital signage tablets in office common rooms or kitchens. Firstly, you can advertise the day's specials at on-site cafeterias, or even promote ads from employees' favorite restaurants.
On-shelf & end-of-aisle signage tablets for retail and grocery stores
An Android digital signage tablet comes in equally handy for promotions and offers in retail and grocery stores. For example, you can take advantage of the many benefits that come from using small screens inside your store. Just set them up on store shelves or end-of-aisle displays to showcase your new products. Also, you can use playlists or layouts of images and videos to cross-sell, up-sell or promote discounts and offers. Critically, research shows that 89% of retail businesses see an increase in sales because of digital signage.
Most importantly, you catch people's attention as they wait in line to pay, using a tablet advertising affordable items they can just add to their shopping carts at the last minute. Crucially, you can also display QR codes with signup links to loyalty programs, newsletters and social media pages.
Reception area Android tablet screens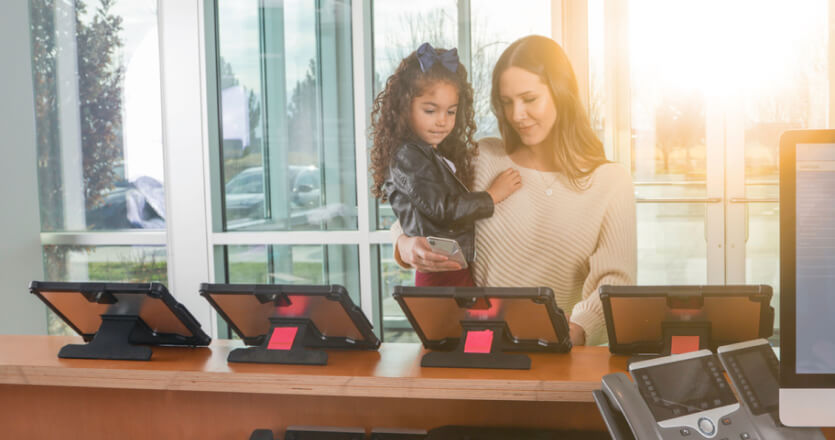 Furthermore, you can use Android tablet display signage software in reception areas. Firstly, it's an easy way of showing wayfinding information. Also, you can use your tablet digital signage devices to welcome visitors, offer helpful information, or even promote upcoming lectures, sessions or fun happenings at events.
Also, when you use a digital signage device to convey answers to frequently asked questions, you save your reception team time. So this way they can focus on providing more specific, tailored information to visitors, thus creating a more personalized and memorable experience.
Android tablets as digital signs in small areas with high traffic
Have you ever thought of using digital signage in elevators, bathrooms and even changing rooms? You should. Because they're all high-traffic areas where people have time to check out your ads and promos. However, traditional big-screen signage TVs just won't do in places where space is limited. So, just use Android digital signage tablets.
Also, think of these screens as an added source of revenue. In addition to your own promos and offers, you can also sell advertising space to third parties and create a digital signage advertising network. You can work with trusted organizations who complement your business or services. Or, you can sell that space at a discount to local non-profit organizations, so they can advertise fundraisers or other outreach programs. Most importantly, it's a great way to become part of your community through your digital signage.
How do you set up a digital signage Android tablet device?
Easy setup is crucial when it comes to deploying your digital signage. Most importantly, turning your tablets into Android digital signage players only takes a few minutes. Just follow these instructions and the uses for an old tablet that's just gathering dust will expand your business horizons. However, once you see how profitable Android digital signage tablets are, we know you'll go out and buy brand new ones to truly take advantage of all the benefits.
Android digital signage tablets are good for business
Firstly, you can use an Android digital signage tablet for everything from menu boards, to retail and grocery store screens that promote specials and offers, to helping visitors at reception areas. Also, these devices work perfectly in small spaces, such as elevators, bathrooms and changing rooms, where people have to time to focus on your promotions and advertisements. Most importantly, digital signage tablets are easy to set up, affordable and familiar to most of us – thus creating a great digital signage experience for you and your customers or visitors.
Start using Yodeck for Android tablets for free