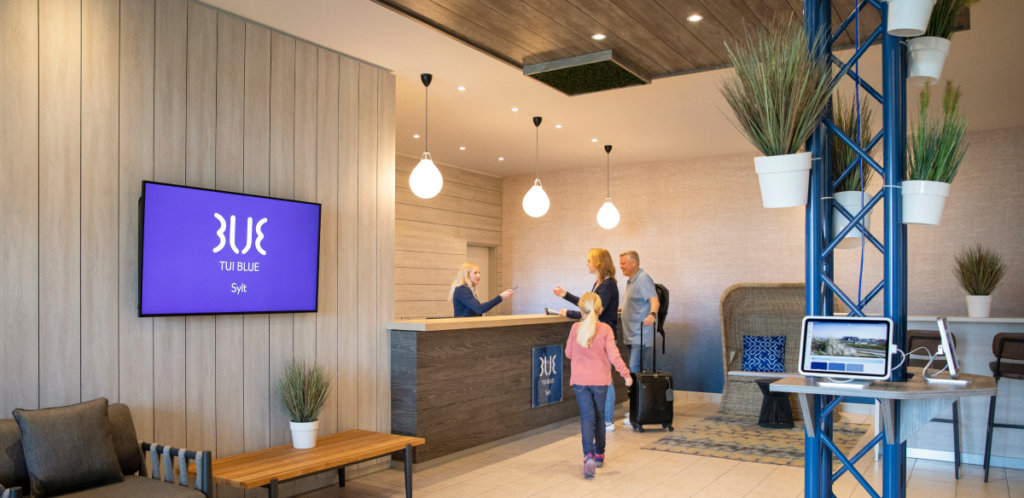 This case study explores why and how TUI uses Yodeck as a hospitality digital signage solution property-wide throughout their hotels located across the globe. The leisure, travel, and tourism company displays guest-centric local content and global branded promotions to elevate the guest experience from the moment of arrival to the end of a stay. Specifically, TUI uses Yodeck for hotel lobby digital signage as well as all other guest-facing digital signage. We interviewed Mr. Kai Wolffram, Head of Global Operations & Analytics at TUI, based in Hanover, Germany.
About TUI

TUI Group is a leading global tourism group and operates worldwide. The Group is headquartered in Germany. The TUI Group offers integrated services from a single source for its 28 million customers, 21 million of them in the European national companies.
The entire tourism value chain is covered under one roof. This includes over 400 hotels and resorts with premium brands such as RIU, TUI BLUE and Robinson and 16 cruise ships, from the MS Europa and the MS Europa 2 in the luxury class and expedition ships to the Mein Schiff fleet of TUI Cruises and cruise ships at Marella Cruises in Great Britain.
The Group also includes leading tour operator brands and online marketing platforms across Europe, five airlines with more than 100 modern medium and long-haul aircraft and over 1,000 travel agencies. In addition to expanding its core business with hotels, cruises via successful joint ventures and activities in holiday destinations, TUI is increasingly focusing on the expansion of digital platforms. The Group is transforming itself into a digital company.
Global responsibility for sustainable economic, ecological and social action is at the core of our corporate culture. The TUI Care Foundation, initiated by TUI, focuses on the positive effects of tourism, on education and training and on strengthening environmental and social standards with projects in 25 countries. It thus supports holiday destinations in their development.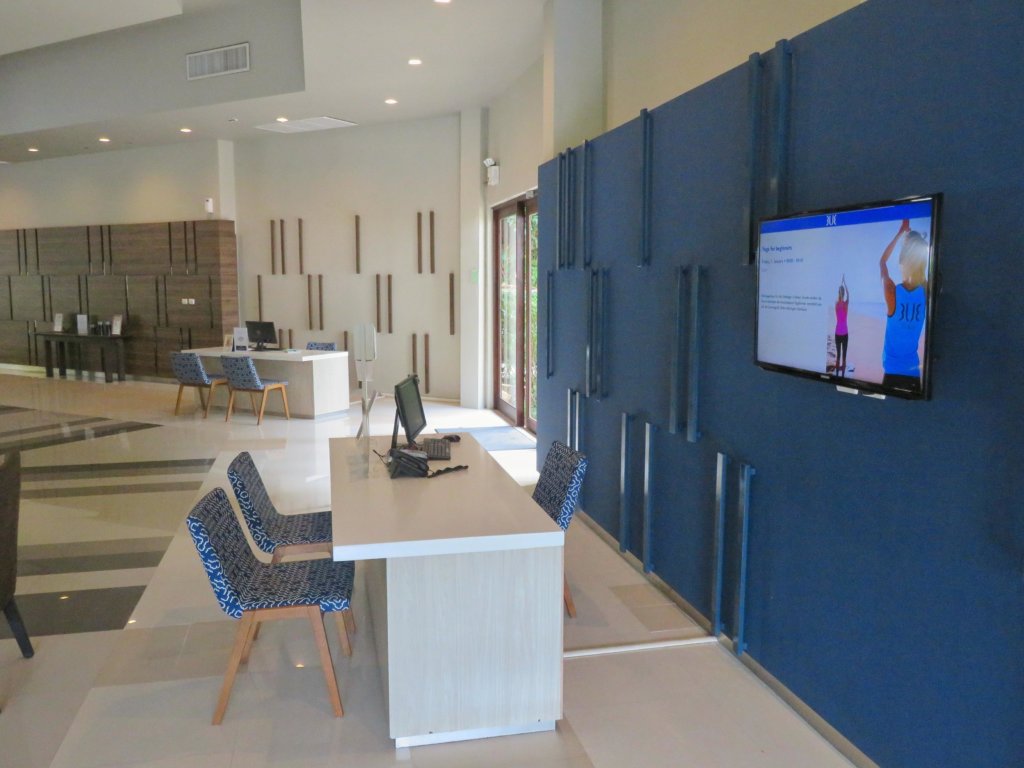 The Need
First and foremost, TUI was looking for a digital signage solution for in-room and onsite usage at their global properties. Specifically, they wanted user-friendly and easy-to-manage hotel digital signage with multi-user account management capabilities.
Importantly, due to site-specific internet connection issues in some destinations, they required a solution that had the capability to work offline. Also, they required a solution that would support various screen types and a full range of use cases.
Although they already had content ready to share, they lacked an effective web-based method for distributing it to their guests at scale. Prior to implementing Yodeck, TUI relied on methods such as printouts and USB sticks plugged into TVs to share guest-facing digital signage.
However, having to physically go to each screen wasn't efficient enough in terms of sharing time-sensitive information, such as excursions or special offers. Furthermore, from a technical perspective, the hassle of having to unplug USB sticks to update information and replug per screen meant they lacked flexibility and a streamlined system for their entire hotels' digital signage usage. Overall, the company was looking for a solution that could be updated remotely, such as Yodeck.
The Solution
After completing proof of concept (POC) demonstrations with a range of providers, TUI found that Yodeck digital signage met all their requirements. Firstly, it offered an easy plug-and-play setup experience. Moreover, onsite staff without technical skills could install the solution. Also, all teams could easily publishing content. Conveniently, staff could update content from the hotel offices without going to each room. This meant they could display content instantly on screens of their choice. These two benefits were huge advantages for the hospitality group.
Currently, TUI uses Yodeck to display different channels at each of their hotels in all guest-facing locations. These include areas such as the lobby, on-premise restaurants & bars, and spas or gyms. Content is site-specific and broad in terms of media and messaging. From showcasing amenities and hotel services to advertising special offers and communicating useful information with videos, playlists, or images. At present, the company has 100 screens and counting, operating in TUI Blue hotels across four continents. As such, Yodeck has made centralized control and management of their screens worldwide achievable.
With Yodeck's quick and easy implementation, TUI has put guidelines in place for reps to complete the 'go-live' within each property within 45 minutes. Although all screens are synced centrally, TUI empowers onsite staff to customize their own content displays thanks to the flexibility of media types and the straightforward content management system Yodeck provides. Additionally, as a result of operating in regions of Asia or Africa with hot climates, the company has benefited from the robust quality of the Raspberry Pi, which come with metal hardened cases that offer protection from overheating and general wear and tear.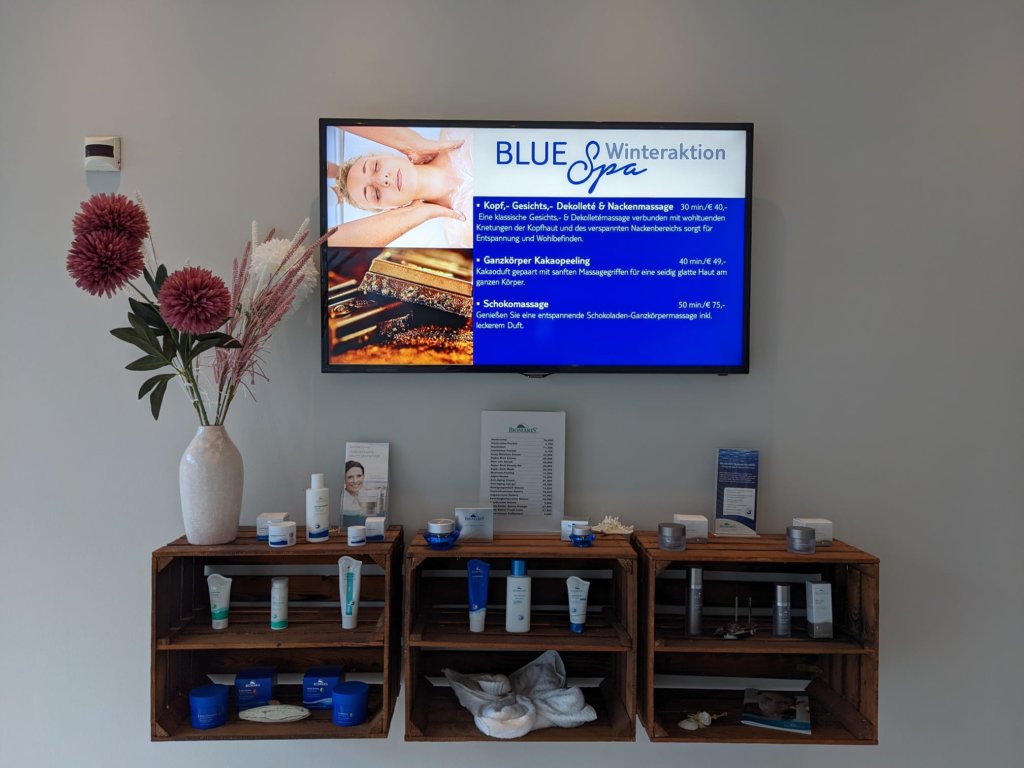 "We chose Yodeck because we were missing a global strategy and a global standard for all our properties. We operate so many hotels and different destinations. And we need to have the same content in our guest-facing facilities everywhere around the world."
KAI WOLFFRAM
Head of Global Operations & Analytics at TUI
The Results & Benefits
TUI has now seen brand engagement increase with Yodeck-powered digital signage screens for all their guest-facing content. Crucially, onsite staff can push location-specific content easily whenever required. Also, by quickly displaying engaging and informative information, they have increased customer interaction with their properties, excursions, and branded app, as well as more upselling capabilities.
Yodeck's Raspberry Pi digital signage has enabled the company to create a market-leading product tailored to each destination and property. Ongoing, they will continue to use and scale the product globally. What's more, TUI has also employed the recently launched web player. Specifically, they found it useful for rolling out their brand standards very quickly at newly opened properties.
Additionally, Yodeck met TUI's pricing criteria. Initially, the low start up cost was a benefit. Now, the global organization is in the position to negotiate special pricing based on the number of screens they use. Currently, they plan to scale out Yodeck's all-in-one digital signage platform across new hotels opening in the summer of 2022.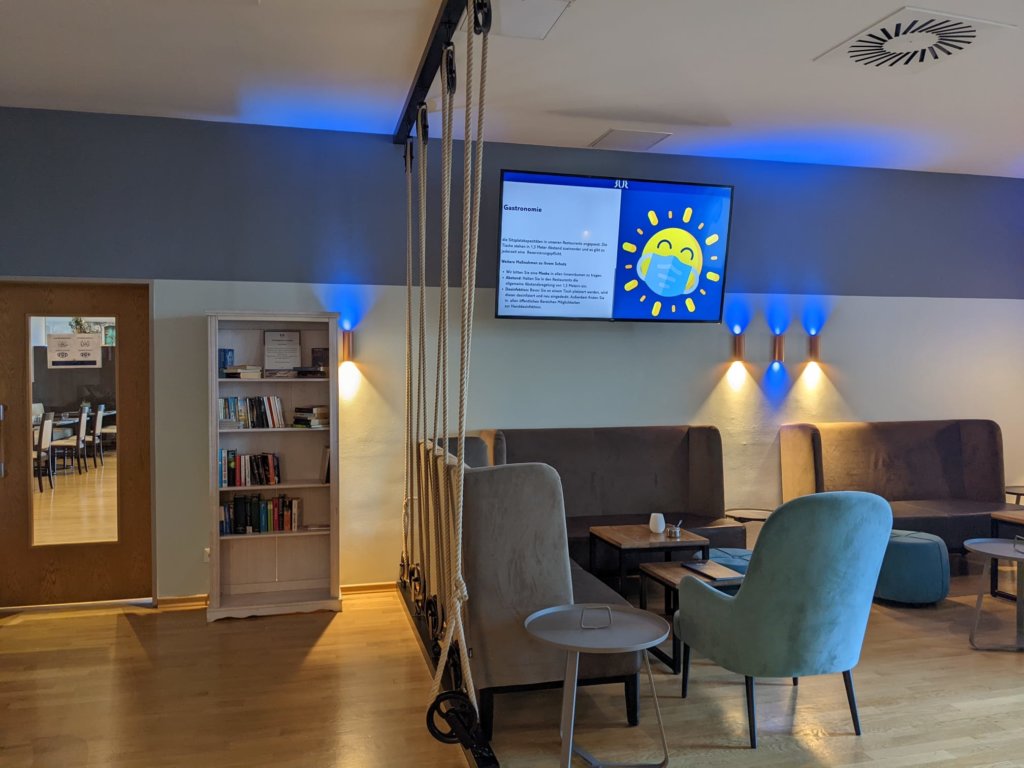 "For us, the top feature is having global control of all of our screens worldwide. So we can see what is actually being played in Vietnam and at the same time in the Dominican Republic. We can change the content from anywhere in the world at any time day. We do not need to ask somebody to change the content on our behalf. It takes just a few clicks, and 2 minutes later, the content is updated. That, for us, is the biggest strength and functionality of Yodeck."
KAI WOLFFRAM
Head of Global Operations & Analytics at TUI