Investing in the proper signage really helps your students fully engage with everything going on, from classes to sporting events and open days. And aside from helping students, staff, and visitors find where they need to be, great educational signage also provides opportunities for learning and helps keep everyone safe should an emergency arise.
Traditionally, educational institutions have relied on paper signage or other forms of physical signage. But here at Yodeck, we believe digital signage systems for schools are the way forward. Digital signage is perfect for educational settings—visually engaging, dynamic, and easily updated, it's a great option to engage students and staff alike.
And the best bit? Digital signage can be a cost-effective, lower-fuss solution than traditional paper signage. In this article, we'll explore how.
How Can Schools Use Digital Signage?
We know every educational institute, whether a school, university, or college, is different. But whether you teach kindergartners or college students, there are many ways that digital signage helps both staff and students get the most out of their experience.
Here are some ways your school can use digital signage:
For promoting your ethos. Your school is its very own community, so use signage to promote the core values that matter most. Student accomplishments, exemplary classwork, and expectations for behavior—all can be promoted using digital screens.
For wayfinding. Schools and colleges can be confusing to navigate—especially if you're new. Bright and bold digital signage can help everyone find exactly where they need to be (so there'll be no excuse for showing up late to class).
For up-to-date room allocation. Room clashes are a common consequence of a busy campus schedule. But with digital signage that's updated in real-time, double bookings can be avoided and room changes easily communicated, for example, by placing clear digital signage outside lecture theatres and meeting rooms.
For real-time alerting. In an emergency, effective communication is key. Digital signage can be used to keep everyone safe in the event of things like a live shooter, a fire, or an adverse weather event.
For promoting educational content. Digital signage is dynamic, not static. That means you can load digital screens with interactive content (such as inspiring quotes or fun trivia) to help engage your school community.
For advertising events and fundraisers. Life at school is about much more than classes and lectures. So use digital signage to keep everyone up to date with the latest and greatest happenings on campus.
Here at Yodeck, we're passionate about using digital signage in education to help staff connect with their students and build community.
We must be doing something right, as we're used by top-rated institutions including NYU, Princeton University and PennState. Take a look at our dedicated page on digital signage for education to find out more.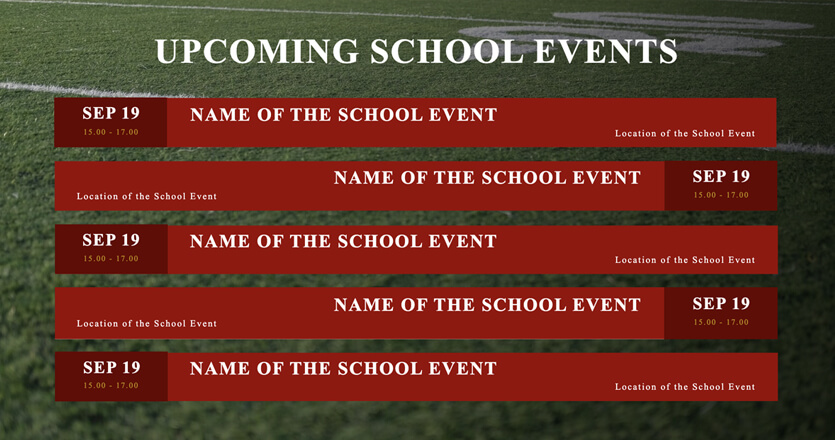 What are the Key Benefits of Using Digital Signage in Schools?
No matter how you choose to use digital signage, it offers significant benefits over physical paper signs. Updated at the touch of a button, and with no paper waste, a digital signage strategy always scores top marks.
Here are just some of the benefits:
Better attainment thanks to a more modern learning environment. Switching to a bold, image-based digital signage strategy really boosts engagement. For example, research tells us that compared to text, the processing of visual images is 60 000% faster.
Safer corridors and fewer bottlenecks. If everyone knows where to go, congestion is less likely. This is especially useful in emergencies and during busy times of the day such as at recess and lunchtime. And since digital signage can be updated at the push of a button, everyone can be kept informed as to where they need to be, anywhere and at any time.
Less waste. Do visions of college conjure memories of paper flyers everywhere? It doesn't have to be this way. With digital signage, you can scrap the paper, keep your campus much tidier and cut down on waste. It's a win for you (and for the trees!).
Overall, digital signage can be used to improve student and staff satisfaction—helping them get where they need to go, stay safe, and keep up-to-date with the latest news and events around campus.
Case study: New York University Uses Yodeck's Digital Signage Solution to Share Live Air Quality Data
A world-leading center of learning, New York University (NYU) has campuses in the United States, Abu Dhabi, and Shanghai. NYU actively invests in innovation in higher education.
Part of this commitment to innovation comes in the form of the NYU Environmental Sensing Group, which won funding to install air quality monitors and live data displays at the NYU campus in Shanghai. Project leader, Caspar Lant, was to oversee the project from his base in New York City.
Given Caspar's distant location, a robust, flexible remote management platform was needed. From his base in the United States, Caspar needed the ability to ensure that data from their air sensors was displayed accurately through live data visualization in Shanghai. In addition, Caspar needed his chosen platform to be affordable, flexible, and amenable to being open source.
So Caspar turned to Yodeck.
Here's how we made remote screen management work for his team:
Professional appearance. Credit card-sized Raspberry Pi computers plug into the back of TVs using a USB port. So they're less cumbersome than other digital signage hardware options.
Ease of use. Caspar had Yodeck's digital signage up and running in no time, which left Caspar precious time and resources to work on other crucial pers of the project, such as the website.
Centralized management of content. With Yodeck's online platform, Caspar can securely and easily make edits to screens, schedule content, and share live data from anywhere in the world.
"If we expanded this project to one of NYU's other campuses, I would definitely try to continue to use Yodeck. And, similarly, I would definitely recommend it to anyone that had a similar necessity. I think it's a cost-effective and scalable solution to digital signage."
Caspar Lant, Student Project Leader
How to Get Started with Digital Signs for Schools: 4 Top Tips
Thinking of giving school digital signage a shot? Here are our 4 top tips to help you stay ahead of the curve:
Get the right players
Media players need to be easy to set up, robust, and discreet. Learn more about the media players we are compatible with and find the one that suits your needs best.
Make sure you use the right digital signage software
Controlling individual displays is not a great use of your time, so make sure you use a digital signage platform like Yodeck where you can manage all your content from a single dashboard.
Away at a conference or working from home? No problem, all of your screens can be managed centrally, from anywhere, at any time.
Yodeck is also a top scorer when it comes to security and monitor compatibility, so you can rest assured that you're picking a digital signage solution that's both safe and hassle-free.
Engage your students with stunning templates
Don't sit slaving over the latest promo for your school event. Instead, let Yodeck do the hard work for you! When you sign up for Yodeck, our vast library of smart-looking templates comes bundled with your free account.
We've got tons more to choose from, and all of our templates are completely customizable—so you can change them as you see fit. Why not try adding your school's logo, colors, and motto to really make your digital signage stand out from the crowd?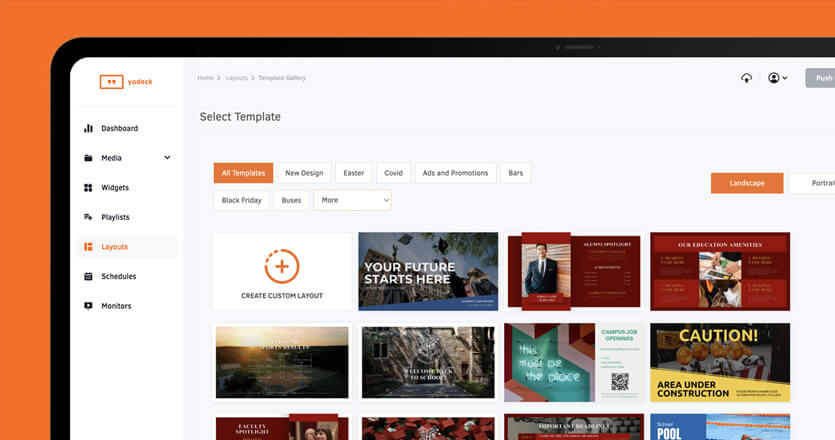 Add apps for increased engagement
One of the best things about digital signage is that it's dynamic. Rather than being stuck with a static image, you can use our whole host of free apps to bring your content to life.
Take a look at these great options for your educational signage:
A calendar events feed. We all know things can change quickly, especially on a busy campus. Use a live feed of the school calendar on screens outside lecture halls, meeting rooms, and classrooms so everyone's kept in the loop.
WikiQuotes. Inspiring students is part of what makes learning great. So why not harness the power of digital and use the WikiQuotes app to display relevant quotes for the day, for the week, or for particular events, like graduation?
Hourly weather. Is there an outdoor performance of Shakespeare's A Midsummer Night's Dream scheduled for the afternoon? Or a crucial soccer match due to start in a couple of hours? Stay ahead of the game with a live weather feed app, so you can easily put plan B into place if needed, all ahead of time.
Social media feed. Create a buzz with user-generated content from social media. It's as easy as creating a hashtag for your event and using the Walls.io app to create a beautifully displayed social media wall that's updated in real-time.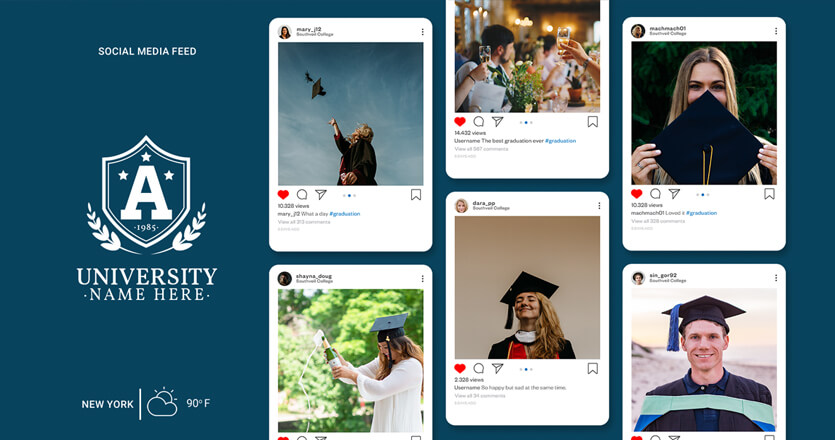 5. Custom RSS. Really Simple Syndication (RSS) means that you can create a live feed of content from a chosen website—whether that be news and current events, or from more specialist sources, such as updates on sporting events. With the Custom RSS app, you can easily customize the font color and size, for seamless integration with your existing visuals.
But the options don't end there. News tickers, birthday announcements, slide shows, QR cards—we've got loads of options for you to try out.
Yodeck: Top of the Class for School Digital Signage
Engage your whole school community with visually striking, informative and inspiring digital signage from Yodeck. Your first screen is totally free, and we've got a range of affordable plans available.
Seamless centralized, remote management. Our intuitive online dashboard means that you can control your screens from one place, wherever and whenever.
Tons of free templates and apps to choose from. Educators are busy people—we know. That's why we've bundled a whole array of eye-catching templates and useful apps with every Yodeck account, so you can hit the ground running.
Free players. Choose any of our annual subscriptions, and you'll get all the Raspberry Pi Players you need for free!
Inspire and engage your students with digital signage from Yodeck.