Black Friday is the retailer's boon, the biggest single-day shopping event of the year.
Optimizing your communication tools for this big event is essential to staying ahead and making the most of the Holiday season.
The day holds immense potential for sales and customer engagement, and thus it is hard to find a business today that doesn't set up a Black Friday campaign in one way or another.
But how can you up your game this year and make the best of it for your business?
Retail digital signage can help you get your offers in the spotlight like never before. It is a powerful communication tool that can showcase your sales, promote your special Black Friday offers and create a dynamic and engaging in-store atmosphere.
Let's see why and how!
Why Digital Signage for Black Friday?
Let's start with some numbers.
It's important to note right away that 89% of retailers have seen sales increase with digital signage on a regular basis.
Moreover, research has also clearly shown that in-store retail sales have been on a steady upward trend during the Thanksgiving Holiday weekend. Especially in the U.S., in-store retail sales on Black Friday have increased by 12% YoY!
You can begin to see now how digital signage and Black Friday is a perfect match.
Booming sales and an effective digital signage deployment means you stand to capitalize on the shopping-spree of millions of shoppers heading to make their biggest purchases.
That's because digital signage, with its dynamic capabilities, emerges as a vital tool for retailers to capture consumer attention by creating captivating sales signage.
But how can you ensure that your digital signage deployment will be successful for your business goals?
Let's take a look at some practical strategies below.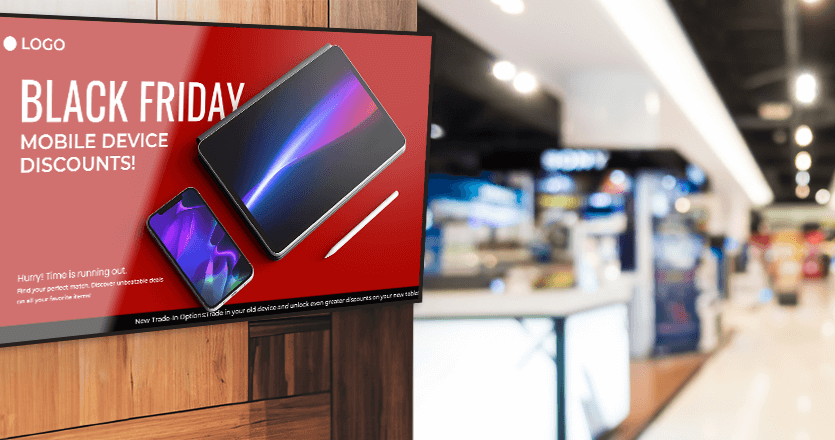 Be Prepared and Proactive
Black Friday mania demands early preparation and planning.
So you have to include digital signage in your marketing and communication mix with a heads up that showcases upcoming promotions and deals well in advance.
This is sure to stir up excitement and anticipation.
The best way to achieve this is to prepare some teasers that can fit right in your content playlists along with your regular content.
Make sure to feature the hottest deals for Black Friday, utilize an on-screen countdown ticker and run similar online ads to maximize the combined reach of all your channels.
Placement is Key
Placement of digital signs is as vital as the featured content when it comes to Black Friday campaigns.
Storefront screens, visible to passers-by, should be leveraged to display eye-catching promotions and deals. On that special day, when long lines are expected, you have to make sure that your signs are front and center.
For the in-store deployment, it is paramount that your displays are placed in both high-traffic areas and at key decision points.
Points of Sale
Checkout counters are prime locations for your digital screens. This component of your signage apparatus can positively impact the shopping experience to a great extent.
Just keep in mind that digital screens have the potential to reduce perceived wait times by as much as 35% at checkout counters. Particularly when the content is well thought out, diverse and dynamic.
PoS can also promote your loyalty programs and even upcoming sales like Cyber Monday (more on that later).
Also, factoring in the fact that nearly 7 in 10 customers have purchased something because a sign caught their attention, digital signage is a great tool to not only entertain and appease waiting or browsing buyers. It is also great for encouraging impulse purchases and upselling.
Focus on the Visuals
Ensuring that your Black Friday signage is media-heavy is imperative. How else can you guarantee that passers-by will be drawn into your store?
Visuals are processed much faster than text-based content. Like 60,000 times faster. So you now know what to focus on your signage content.
The content should not only be eye-catching but also relevant and helpful, providing customers with gift ideas, current and upcoming promos and information about your products, payment methods and everything else that customers will find helpful.
This approach not only attracts attention but also enhances the overall shopping experience, encouraging customers to make informed purchasing decisions.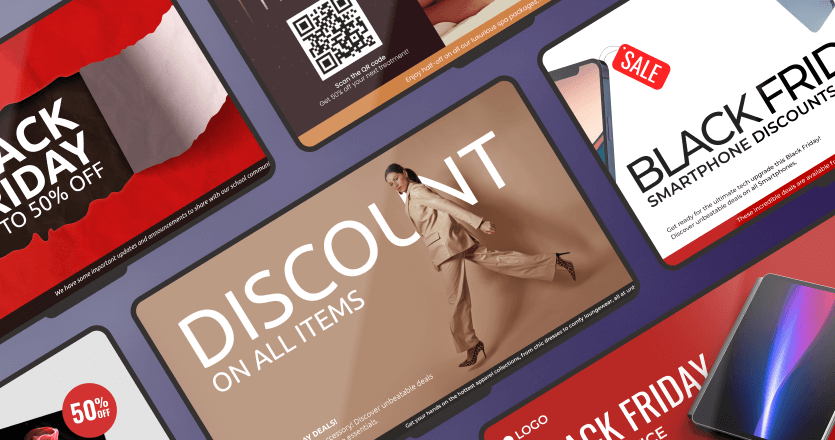 Small Business Saturday and Cyber Monday
The Thanksgiving Holiday weekend brings along more opportunities than just Black Friday. A record 196.7 million Americans shopped both in stores and online during the holiday shopping period from Thanksgiving through Cyber Monday.
Small Business Saturday
This counterpart to the heavyweight shopping events of Black Friday and Cyber Monday happens on every Saturday right after Thanksgiving.
It is where shoppers all around the US gather in big numbers to support smaller retailers and businesses. And these numbers can add up to millions. Like 77% of the 66.5 million U.S. Saturday in-store shoppers reported that they shopped specifically for Small Business Saturday.
And if you fall into this category of a smaller or medium sized business, Yodeck can do wonders for your in-store communication channels.
First of all, if your needs are limited, you can always run your first screen for free with Yodeck, while still maintaining the chance to scale up your network whenever you choose to.
Secondly, you have all the more reason to go digital with your signage, as this will cut your costs of designing and printing, offer you more flexibility in changing and updating your content, and present you with hundreds of free professionally designed templates that you can fully customize to fit your brand and messaging needs.
Cyber Monday
Cyber Monday on the other hand is not as straightforward a field when it comes to digital signage.
One would think that digital signage which promotes in-store merchandise and time-sensitive offers, like a Black Friday campaign, cannot do much for Cyber Monday. Or simply that Cyber Monday campaigns should only be run online.
But what if you showcase your upcoming online offers to shoppers when you can still catch their attention for free in your store?
By using the playlist feature you can alternate between the in-store offers and your online sales that are about to hit on Monday. You can also leverage your screens to inform your customers about your website, newsletter and online-only offers. Make sure to use the free QR code app to instantly direct your audience to your e-commerce site.
Place your screens right, craft stellar content, utilize the Yodeck apps, and you are guaranteed to catch their attention!
The Last Pixel
Whether you are new to Digital Signage or just hoping into it for the first time, Black Friday and the Thanksgiving Holiday period is a great chance to put your screens to work and watch foot traffic and sales soar.
Start with a thorough preparation, make sure the placement is impeccable and craft sleek content that showcases your offers.
Yodeck can be your partner to a successful deployment, offering you a reliable and easy-to-use CMS platform, professionally designed and customizable templates and apps that will make your screens pop.