How do you woo everyone back into your business after all that holiday spending and get them reaching for their credit cards for Valentine's? You'll have to flirt your way into their wallets – and Valentine's Day digital signage is a great way of creating shopping love at first sight. Also, it's worth it, as people spent 23.9 billion last year. Here are a few easy ways to romance your customers – and boost your sales – using your screens.
Use playlists with gift ideas – but go beyond the couples' cliché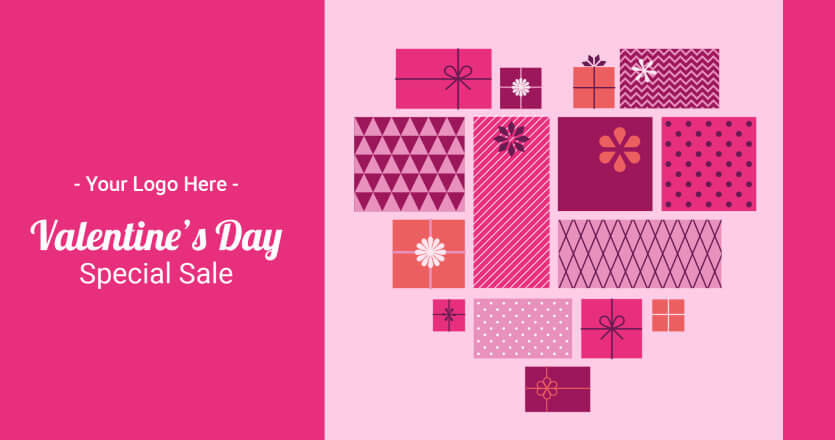 Firstly, create a playlist with gift ideas as part of your digital signage for Valentine's Day campaign. Whether you run a store, restaurant or hotel, just include your Valentine's Day promotions. Of course, focus on all the popular gifts that couples who are madly in love are looking for – from jewelry to giant teddy bears. However, remember one key thing. When it comes to Valentine's Day, people either love it or hate it.
Either way take advantage of the concept of love in general, whether it's romantic, platonic, or just a great excuse for friends to get together. Because if you widen the net, you'll get more people browsing your aisles, or perusing your menu boards and getaway offers – and then buying.
Crucially, remember that people just want to find the perfect gift for their significant other, best friend, sister or coworker. So, make sure you create different playlists that keep each target audience in mind. Show them what speaks to them, using specific Valentine's ad campaigns in your Valentine's Day digital signage content.
Just keep it simple. For instance, there's nothing like a box of delicious heart-shaped cookies with a range of feel-good messages to treat coworkers as well as friends on the day. Or let people know if you offer take-out Valentine's meals (for two or groups of friends). Show them that story in your playlist – it takes seconds to drag and drop images, videos and more into your playlist.
Storefront window screens set the tone for Valentine's Day digital signage
Go beyond in-store screens, and entice people into your store with TVs in your shop window for your Valentine's Day digital signage. Use them to show not only your classic Valentine's Day promo and ads, but that you also have gifts or menu items that appeal to all types of close relationships.
However, if you're a florist or jeweler, of course you'll focus on couples' gift ideas. So go all out with your Valentines Day advertising – use hearts, cupids and cuteness overload with your media. That, too, is easy to do. Just choose from thousands of free stock images and videos to make your screens swoonworthy.
Don't just sell, inspire, by using layout templates in playlists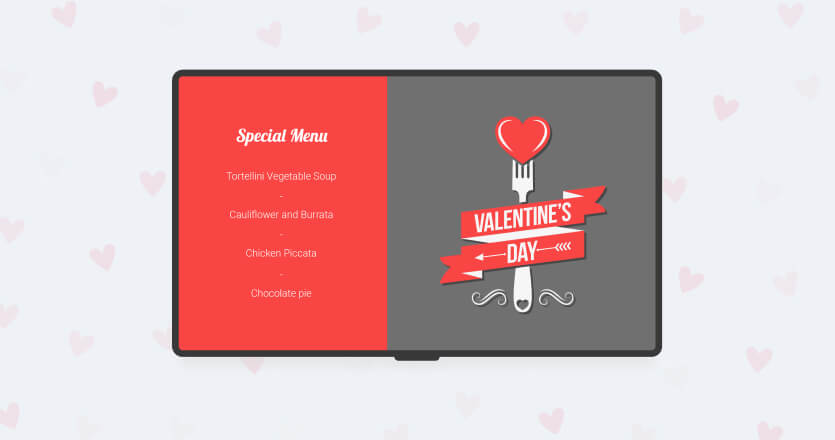 Everyone loves being in love, right? But this is a holiday that's often difficult for people. Therefore, avoid hitting them over the head with in-your-face selling tactics. Instead, make your Valentine's Day advertising subtle and elegant – just like great flirting. And that's what free professionally-designed templates are for. Customize them with your own promos and branding, and then add them to your playlists.
Most importantly, add some original gift ideas – get creative. Firstly, it will make your business stand out. Secondly, you won't just get them buying, you'll also gain a loyal return customer.
So, go ahead and advertise book bouquets and baskets (great for both significant others and friends). Or if your restaurant or bakery does recipe kits, do one for Valentine's. There's something about cooking with others – whether as a couple or with friends – that creates a special bond.
Then, just take a photo or video of your original gifts, and use them for your Valentines Day display TVs. Crucially, it takes seconds to upload your own media to your signage software, too. Finally, remember that you can add all your own photos and videos to layouts and playlists in minutes. No fuss, no muss.
Choose the perfect free template
Upsell and cross-sell with smaller screens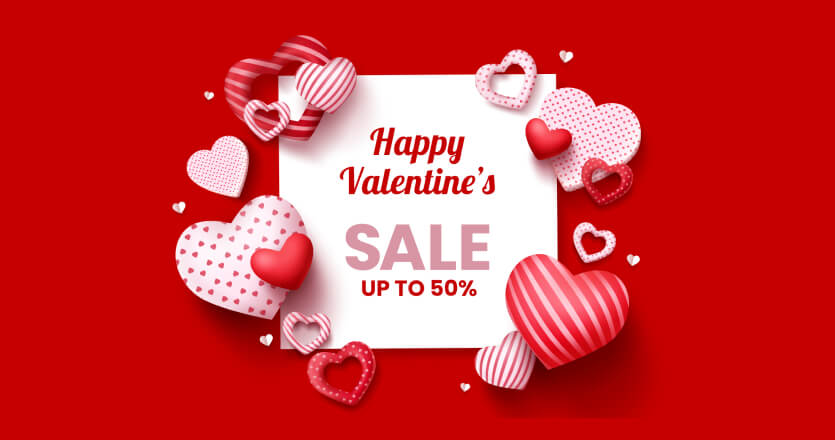 Of course, your bigger digital signage screens will grab everyone's attention. But don't underestimate the power of smaller screens placed strategically throughout your store, restaurant, bakery or hotel. How does this work? Use Android tablets set up on the shelf near popular gifts to advertise other add-ons.
Or set one up in areas near checkout, with a playlist of smaller gift options for that extra special something. As people wait in line, they'll see something in your playlist that sparks their interest – and make an impulse buy. Just make sure those items are right there, easy to grab and add to their shopping basket.
Also, if you run a bakery, bistro, restaurant or café, place tablets on tables with Valentine's Day menu boards featuring delicious images of your Valentine's day ad. They're bound to make that extra piece of Valentine's cake irresistible.
This tactic works great for hospitality, too. You can use smaller screens to not only advertise a mouthwatering dessert menu, but also showcase upcoming getaway deals.
Valentine's Day digital signage boosts your sales
Easily create great content in playlists and layouts that entice customers. Remember, seeing images and videos of your Valentine's Day promos grabs people's attention and gets them buying. However, keep an open mind and focus on creating digital signage content that appeals to all – couples, friends and coworkers. There's a reason Galentine's Day is so popular. So maximize these opportunities and boost your sales.