Smart digital signage can be a confusing term as most people would assume it requires dedicated computers or high-tech devices.
Yet software advancements are now capable of animating screens like never before while keeping ROI high. These advancements in turn can create smart digital signage systems that change what was possible up till now.
This guide is designed to clarify all aspects you need to understand about smart digital signage and the new capabilities they have unlocked for a wide range of organizations.
Introduction
During the last decade the proliferation of smart technology has taken over most aspects of modern life. From entertainment to personal phones and home appliances, smart tech is expanding and venturing into an ever growing array of fields that seemed, well, not-so-smart just a few years ago.
This wave of smart devices has been also spilling over into advertising and communication. This increasing expansion makes advertising placement and signage smarter in new ways. The application of these smart technologies into the signage industry has given rise to novel, smarter digital signage solutions.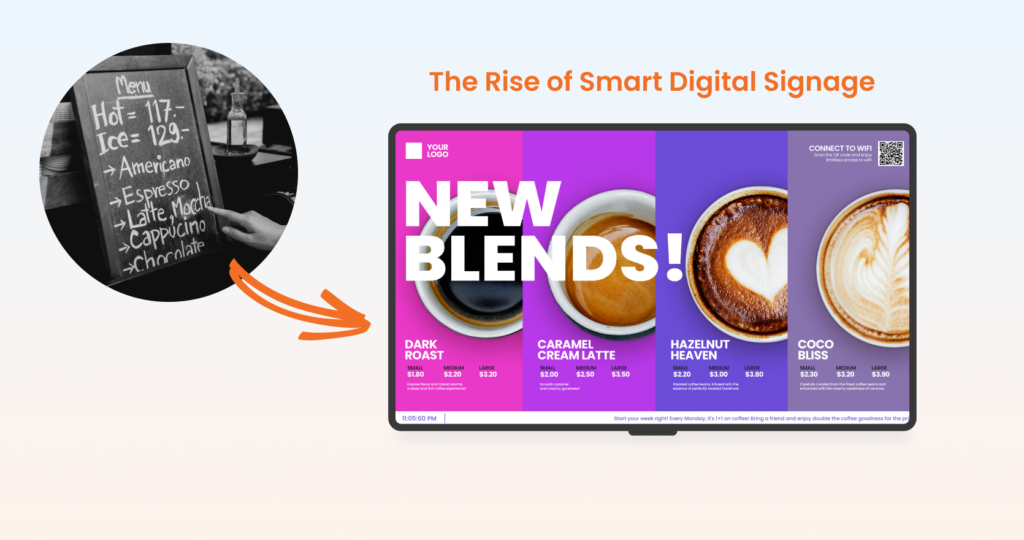 This new breed of digital signage boasts a broad range of features that make it so much more than static backlit displays. Up until now each individual screen had to be manually updated. This is achieved by using cumbersome tech such as USB sticks that were limited to playing just a few pieces content sticked together.
This is where cutting-edge smart digital signage comes into the scene, the trendsetter of the neighborhood. Today wherever you turn, a smart display warmly welcomes you!
What is smart digital signage?
A smart digital signage system enables remote management, publication, and modification of content from a single dashboard. It bypasses the need for conventional systems based on USB flash drives and dedicated PCs while allowing for new capabilities such as automatic rotation of content playback, app integration, and device management
is a modern and versatile communication platform that combines advanced technology with dynamic visual displays.
This (usually cloud-based) system constitutes a new way of conveying information, advertisements and announcements in an interactive and attention-grabbing manner. At the same time, smart signs minimize human involvement and supervision through easy and centralized management.
What makes a digital signage system smart?
Smart signage has come to engulf a wide range of features that make it smart. Below, we will delve deeper in what these features are and how they can be beneficial to organizations looking to up their signage game.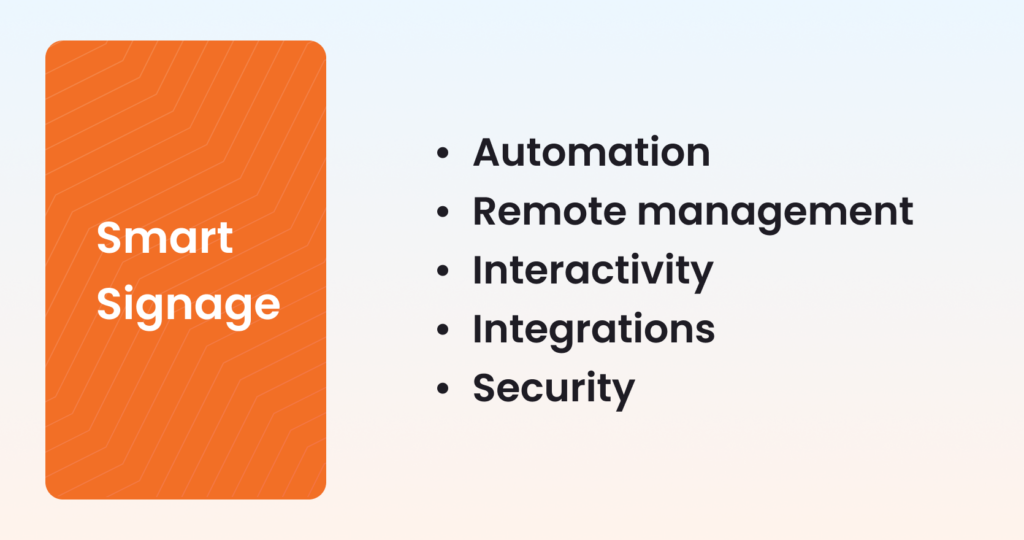 Content automation
One feature that makes a big difference from traditional static signage is automation.
Through scheduling capabilities, you can automate how your content will change throughout the day. Thus, adapting to different needs and business targets becomes a breeze. You can also automate updates for longer periods of time and not have to worry about day to day and seasonal changes.
There are many more ways that smart signs can automate your content. Integration of popular apps for real-time content (like weather updates, news headlines tickers, and emergency alerts among others) has become a staple feature of smart digital signage solutions.
These intelligent and immersive screens are more than just their static predecessors. They can now adapt their content and messaging dynamically. Some of such methods include audience demographics, location, time of day, or even using external data sources to display specific content on screens, such as a social media wall.
This flexibility ensures that the displayed information remains relevant, accurate and engaging.
Remote Management
On one hand, the ability to manage your screens and content from any location through a cloud based platform really frees up your resources.
On the other hand, the centralized handling ensures that you control what content is deployed and where. This means that you no longer need to be physically present in every location where your screens are located. Remotely managed digital signage is thus today a standard, yet powerful, tool in your communication arsenal.
After you strategically place your screens in various indoors and outdoors locations, you can connect them to the Internet utilizing new advanced connectivity features and run software that will transform your signage into smart displays.
These smart digital signage systems enable remote, real-time and hassle-free content updates and scheduling as well as precise customization.
Interactivity & Data
Smart signage can also be interactive and responsive. This allows the audience to engage with content through on-screen applications, touchscreens, gestures and mobile devices.
This two-way communication channel between the user and the display through touchscreen digital signage creates an engaging and immersive experience, and acts as the conduit for delivering personalized experiences. These experiences are powered by sensory capabilities fitted in the devices that interface with the user in new, previously unimaginable ways. 
Additionally, these systems often come equipped with analytics capabilities. This puts businesses in a position of knowledge and understanding, and – ultimately – improved control. They know more about the performance of their content and campaigns, and can thus make data-driven decisions to optimize their messaging.
Suffice to say this optimization of content becomes easier as the traditional processes of printing material or updating USB files become obsolete.
Integrating & Interfacing
Intelligent solutions also allow for better integration of various third-party services, devices and products into the frame. A smart digital screen can retrieve and display data from private servers thanks to secure and fast network-to-network communication.
Office signage for example makes it possible to show dynamic KPIs and business insights to employees in their professional setting. The smart display software fetches data from the organization's internal applications, like CRMs and project management tools, which have been connected to the smart signage software and presents them in real-time.
This implementation of smart electronic displays can empower departments to make better, data-driven decisions based on live insights.
Advanced Security
Access control, end-to-end encryption and high-standard security protocols make smart signage systems much safer and more secure than their predecessors.
This advanced security is crucial for enterprises that manage large numbers of screens, as the centralized management of content makes it more attractive for malicious attempts and unauthorized actions.
All in all, smart digital signage systems are a powerful information dissemination and marketing tool. Especially for businesses and organizations that wish to communicate on a deeper level.
Internet-connected, feature-rich, secure and highly interactive, smart digital signage screens will come to dominate information sharing in commercial and other spaces through their unique capabilities for both the audience and the organizations that will deploy them.
How can you create a smart digital signage system?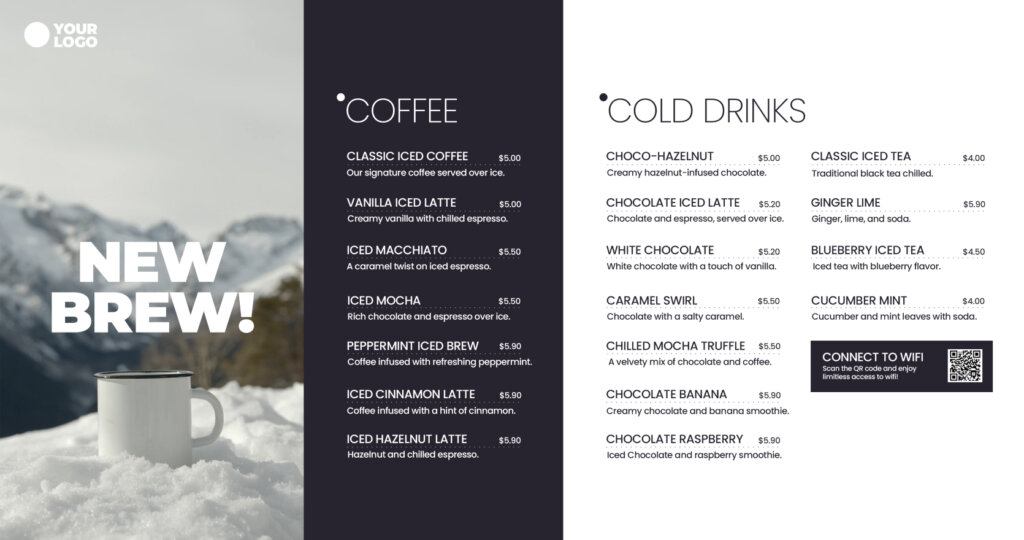 First of all, you will need a few (or many) high-definition screens to make sure you can display content in a slick and vibrant way. An internet connection will also be necessary to create a network of connected screens.
Specialized media players (or your smart TV's operating systems) will do the heavy lifting of content playback. And lastly, a cloud-based digital signage software platform will allow you to easily manage all your screens.
Put it to the test!
Keep in mind that with Yodeck's starting option, you get your first screen completely free, forever! So you might want to start here and test what Yodeck's top rated product is all about.
When everything is set up and configured, you will be able to schedule, personalize and deploy content and apps on your screens from a single dashboard on your tablet or computer, no matter your location.
Ready to get started? Book a demo to see how Yodeck works for you.