Digital signage is all about engaging your viewers – whether they're customers, employees, students or visitors. And nothing elevates engagement more than interactivity. You can easily turn your audience from passive viewers to active participants by creating an interactive Info Kiosk. Most importantly, it's easy to do, and the hardware and software required is extremely affordable.
Crucially, all you need is an Android device (or a touchscreen device with a web browser). Then, pair it with budget-friendly digital signage software that starts as low as $7.99 and you'll supercharge the digital signage experience. What's more, it can increase your revenue – an important factor for both digital signage partners and resellers, as well as retailers and small business owners.
What is an interactive info kiosk?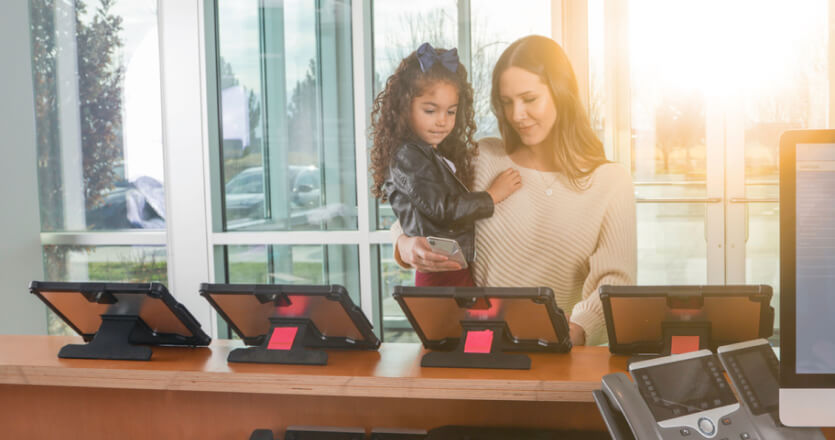 First of all, if big, fancy, high-tech installations come to mind as soon as you hear the word 'info kiosk', don't panic. Think touchscreens instead, that let people interact with the website they see displayed on-screen, so that they get more info. Tablets and touchscreen TVs work great as interactive info kiosks, especially in shops, offices and schools. Most importantly, you don't need expensive setups, such as what you see in airports.
In fact, people will interact with your digital signage info kiosk the way they would with their smartphones – which makes this especially attractive and familiar to your viewers. Also, the use of info kiosks has seen double-digit growth, which speaks to their popularity. So, if you're on the fence about expanding your digital signage network and including interactive info kiosks, just check the stats – and take a look around. You'll see them everywhere, with people using them to enhance their experience — and your bottom line.
Kiosk mode provides total security
Undoubtedly, your digital signage deployment must have guaranteed security at all times – even for interactive info kiosks. You certainly don't want people accessing other apps, websites or files on that device. For that reason, you can easily set that device to 'Kiosk mode' through your digital signage software platform. This means no one can change what you display on info kiosks – even if they're interactive. Also, people can't use the info kiosk to access other websites, either. So, you can enjoy the benefits while knowing your digital signage network is completely secure.
What do you need in order to set up an interactive info kiosk?
First of all, you need a touchscreen device. For example, Android tablets and TVs constitute low-cost options. You can also use any other touchscreen device that has a web browser and turn that into a digital signage info kiosk, too. Then, you can easily install an extremely affordable digital signage software platform that offers kiosk capabilities.
Most importantly, it only takes a few steps to turn an Android tablet or TV into an info kiosk digital signage screen. You also get the same ease-of-use when you want to transform a touchscreen web browser into a signage screen. Finally, just display the website you want viewers to interact with, and you're good to go.
Resellers and Partners boost revenue through interactive info kiosks
When it comes to growing your business as a digital signage reseller or partner, you must go beyond simple digital signage setup and support services. An easy way to diversify revenue streams and consistently boost profits is to offer responsive website creation and support to your clients, so they can effortlessly add interactive info kiosks to their digital signage deployment. Most importantly, not only will you offer a popular digital signage feature all businesses can benefit from, but you will also gain their trust and loyalty.
Why? Because they'll recognize the fact that you offer services that help them grow their business. And you can create responsive websites for a range of use cases, from retail and restaurants, to office building directories and wayfinding. Crucially, if you provide content creation services on top of digital signage setup and support, clients will consistently turn to you for website updates, expansion and maintenance. And that means a steady stream of revenue for you. The possibilities for your growth are endless, too.
Easy interactive info kiosks for retailers and small businesses
If you own a small business or have a retail store, kiosks will definitely engage your customers. Not only will they get more info about products or services they want to purchase by interacting with your website, it also cuts down on perceived wait times if you have info kiosks near checkout counters. Just set up a few Android tablets and people will browse (and even make impulse buys) as they wait in line to pay. Crucially, 89% of retailers see a boost in sales with digital signage. Therefore, if you've got a new product line, new arrivals or want to give your customers an easy way to find out details about product specs, interactive info kiosks are the way to go.
Also, with over 56% of shoppers identifying as conscious consumers, you can use your kiosks to highlight products that are eco-friendly, ethically and locally sourced. Most importantly, an interactive kiosk with a website that provides this info gives them the boost they need to make a more expensive purchase, specifically because it aligns with their principles.
Additionally, restaurant owners can benefit from interactive websites displayed on info kiosks for the exact same reasons. Use your kiosks to help patrons find out more about ingredients, nutritional information, and if ingredients are ethically, sustainably sourced. Also, 86% of restaurant owners see sales go up with digital signage. Therefore, providing valuable information through kiosks builds brand loyalty, too.
Crucially, you can create interactive websites quickly, easily and affordably. Just rely on easy-to-use services, such as Wix, and create an attractive, interactive website that your customers will love. Then, display it on an Android device or any touchscreen device with a web browser. And there you go, you have yourself an interactive info kiosk designed to engage your customers.
Benefits of interactive info kiosks
Firstly, the main benefit of using interactive info kiosks lies in the fact that your customers will trust you. Give them access to more information, or an added service, and they know you want to meet their needs. Brand loyalty, whether you're a reseller or small business owner, also creates strong customer retention. Crucially, this translates to increased profits. Most importantly, creating interactive websites and displaying them on info kiosks is easy and affordable. Also, kiosks help you create digital signage that truly engages your target audience, so they interact with you.